Business owners and the marketing community are usually up to their eyeballs in work that requires daily pressing attention. This is probably why many do not do the one thing that would help their business grow significantly in a short time span– build a customer persona (or a buyer persona). You should do this before you even get into building an online strategy. 
After all, your entire business depends on customers, so it's essential to understand who you are selling to thoroughly.
What is a customer persona? Simply put, it depicts your perfect customer(s) based on the solid data gathered from your existing customers (good and bad) and potential customers. Before we build customer personas (yes, you can have more than one), I'm sure you're curious about WHY you need a customer persona and HOW you can build yours.
What Does a Customer Persona Look Like?
Before diving into the details, let's grasp the essence of a customer persona—what truly defines it and sets the stage for the nitty-gritty.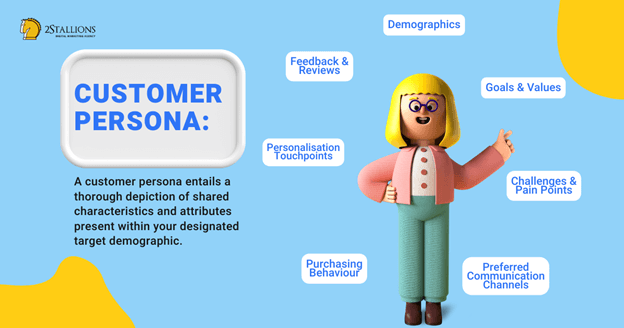 Visual Representation:
A customer persona is akin to creating a character profile for your ideal customer. It's a detailed and comprehensive portrayal, often visualised as a distinct and fictional individual. Imagine crafting a digital or visual representation that brings this persona to life – complete with a name, age, and perhaps even a face to humanise the data.
Detailed Descriptions:
Beyond a mere snapshot, a customer persona is a detailed dossier, providing an in-depth understanding of the customer. This involves diving into demographics, lifestyle, and psychographics, constructing a vivid picture beyond basic statistics. Think of it as painting a portrait with words, capturing nuances beyond surface-level information.
What Do They Comprise Of?
Customer segments and customer personas share a similar foundational concept – the practice of dividing a broad target market into more manageable groups based on shared characteristics, behaviours, or demographics. While customer segmentation focuses on categorising audiences into groups, customer personas take it further, offering a more detailed and personalised summarisation of individuals within those segments. 
This in-depth understanding empowers businesses to target their audience more accurately and craft content that truly resonates. Understanding the elements that make up a customer persona is crucial. Let's explore the key components that bring these detailed representations to life:
1. Demographics:
Begin with the basics. Age, gender, occupation, location – these demographic details form the skeleton of your customer persona. Understanding these factors is crucial for tailoring your products or services to a specific audience.
2. Goals and Values:
What does your persona aspire to achieve? What values guide their decision-making? This aspect taps into the deeper motivations of your customers. Are they seeking convenience, sustainability, or perhaps innovation? Knowing their goals and values helps align your offerings with their aspirations.
3. Challenges and Pain Points:
No journey is without obstacles. Identify the challenges and pain points your customer persona encounters. This could be time constraints, budget limitations, or specific industry-related issues. Addressing these challenges in your marketing strategy positions your product or service as a solution.
4. Media Consumption Habits:
Understanding where your persona spends their time online is pivotal. Are they active on social media? Do they prefer long-form content or quick visuals? Knowing their media consumption habits allows you to target your marketing efforts where they will most likely be noticed.
5. Preferred Communication Channels:
How does your persona like to be reached? Some prefer email newsletters, while others engage more with social media platforms.  Tailoring your communication channels to match their preferences enhances the likelihood of meaningful engagement.
6. Purchasing Behaviour:
Delve into how your persona makes purchasing decisions. Do they rely on reviews and testimonials? Do discounts and promotions influence them? Understanding their buying behaviour will guide your marketing strategy and ensure it aligns with their decision-making process.
7. Personalisation Touchpoints:
Identify opportunities for personalisation. This could range from personalised emails addressing specific pain points to customised product recommendations. Personalisation enhances the customer experience, making your brand more memorable and relevant to their needs.
8. Feedback and Reviews:
Incorporate insights from feedback and reviews. What are your persona's opinions about similar products or services? Learning from the experiences of others within your target audience provides valuable insights for refining your offerings.
By breaking down the components of a customer persona, you create a tangible representation of your ideal customer and lay the foundation for a targeted and effective marketing strategy. 
The more intricate and accurate your persona, the better you can tailor your products, services, and communication to resonate with your audience's needs and desires.

5 Reasons For A Customer Persona
Now that you understand the structure of your customer persona, you might wonder why you need one for your business. Having a customer persona is like having a catalogue helping you craft a message and tailor solution that perfectly matches their wants and needs in an undeniably organic way. 
Most marketing campaign fails come from the fact that campaigns fail because marketers have tunnel vision on their product and blast general messages that fail to communicate to the target audience. It's like seeing an advertisement about a mortuary while suffering from a chronic illness- it's not pleasant, and even if it is ironically relatable, that doesn't mean it's effective. 
A well-defined customer persona is an antidote to such pitfalls, ensuring your messages hit the mark with precision and authenticity. Let's explore more:
1. Crafting the Right Messaging
Your business or company may attract traffic online through content marketing and paid advertising. You create these pieces of content or adverts to connect with your ideal prospects. A customer persona would ensure you can provide relevant information about WHO you want to reach and their motivations and challenges. This allows you to speak to them in a language they understand, and if they 'get' what you're saying, there is a higher likelihood of converting them to paying customers.
2. Streamlining Company Communication
In businesses beyond solo entrepreneurship, every team member likely engages with clients daily. Integrating customer personas ensures a unified and consistent messaging approach, fostering a more cohesive and professional image. Even for solo ventures aiming for expansion, implementing customer personas facilitates a smoother onboarding process for new team members.
3. Humanising Marketing Endeavours
Constructing a customer persona involves rigorous research and creating a virtual individual with whom your business aspires to connect. This personalised approach simplifies marketing strategy planning, allowing you to envision your messaging from the perspective of your singular customer persona. Ultimately, this increases your campaigns' relatability and effectiveness.
4. Strategic Sales Positioning
Equipped with customer personas, your sales team gains valuable insights while prospecting and understanding the specific client profiles your company aims to attract. This targeted knowledge empowers your sales staff to tailor their interactions to align with potential client's needs and preferences, enhancing the likelihood of successful conversions.
5. Optimisation of the Sales Funnel
A well-defined customer persona offers profound insights into your clients' concerns and considerations during decision-making. You can significantly enhance your conversion rates and boost overall revenue by strategically addressing these concerns at various sales funnel stages.
For a comprehensive exploration of the benefits of buyer personas in business development, delve into the detailed insights provided in our guide, 31 Business Building Benefits of Buyer Personas.
I'm Sold. How Do I Build A Customer Persona? If you're still interested at this point, that's great! Let us show you how you can build customer personas for your business. You can have more than one (and most businesses do), but start small, especially if you're still getting your feet wet in online marketing (actually, personas work great for offline marketing as well – as highlighted by our reasons above).
Download The ARTICLE BONUS Now!
3 Steps to Your Ideal Customer Persona
A customer persona requires you to answer FOUR questions about your ideal customer: WHO, WHAT, WHY, and HOW.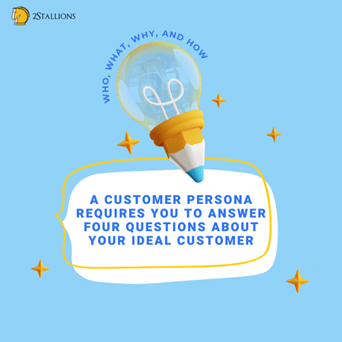 Step 1: Collect Initial Data
The easiest way is to go through your existing client database. If you have a website with analytics set up, that's also a great place to collect data. Try to sieve out the background and demographic trends – location, age group, sex, education level, professional title, and revenue generated.
Note down customers that fall into specific segments to form a large group. Also, think about the 'good' vs 'bad' customers. If you enjoy working with one segment over another, you may want to concentrate on building up the 'good' segment as your customer persona for the future. Remember to note why you found it easier to work with that segment, as these identifiers will prove useful for prospects.
Understanding your existing customers' demographics will help you create the 'WHO' portion of your customer persona.
Step 2: Set Up Interviews
Now that you have your WHO, it's time to call up some of your existing customers to ask them for some of their time for an interview. Set up at least 3 interviews. There is no rule on how many interviews you need to conduct. It's probably enough once you find yourself answering the questions you ask correctly. Don't limit yourself to just existing customers. Talk to prospects and those who chose NOT to work with you.
The interview data will form the bulk of your customer persona, so pay careful attention. What kind of questions should you ask?
For the WHAT section, you want to concentrate on the goals and challenges of your customers and what your business can do to help them. What are their motivations at work, and how can their lives be easier? Always ask why these are their goals as well. For example, someone might tell you their goal is to 'Meet 30 prospects each month'. Asking them why may reveal that as their base KPI at work or that usually, from 30 prospects, they can close enough deals to meet their targets. Probing will allow you to build a more in-depth persona that will help you.
You should note these interviewees' quotes and objections for the WHY section. This will help you understand their language and help your sales staff understand common issues that may stop future prospects from converting.
The HOW section is for your company messaging – what is the best way to approach your ideal customer? How can you describe your products to them so they can understand? Craft your main marketing messages here for this customer persona.
Step 3: Put It All Together
When you create your final buyer persona, remember to give him/her a name and a face. A standard practice is to have their job title and a rhyming name to make it simple to recall. For example, you can have HR Harry, Marketing Molly, and Sales Sameer. Find a stock photo online of someone representing your persona so that everyone in your company can visualise this person. You can create multiple personas for your business if necessary. Most companies have at least 2, which is quite alright.
Now that your customer persona is done, you can expect your marketing strategy to be more targeted and, hopefully, effective. The domino effect of this focus is greater conversions on your website (where your messaging will be aligned) and increased revenue!
To make building your first customer persona easy, we've created a FREE template for you to download.
We'd like to end this article with a word of caution through a story that has stuck with me:
A research company conducted a focus group research for Sony boom boxes, and during the interview, when asked about boom box colour preference between yellow or black, almost all the participants voted for a yellow boom box. At the end of the focus group, the participants were offered a free boom box to be picked up on their way out. Despite both options available for them to pick, almost everyone took the black boom box over the yellow.
I read this in 'The User Is Always Right' (a fabulous book for those looking to understand persona-building in depth) with the takeaway that although interviews may provide insights, it's also extremely important to observe your customers' actions. So, besides just noting the words, focus on your customers' actions to have a holistic understanding of them.
If you have built customer personas and have insights or questions regarding the process, write in the comments below or on our forums!
Originally published: 15 October, 2020
Updated: 1 December, 2023
✨ Elevate Your Brand's Presence with our digital marketing agency in Singapore. Our proven strategies drive traffic, enhance visibility, and keep you steps ahead of competitors for unparalleled growth and success. Partner with 2Stallions for premium digital marketing solutions.
Additional Resources:
Marketing Personas: The Complete Beginner's Guide
How To Create A B2B Buyer's Persona
GET YOUR FREE CUSTOMER PERSONA TEMPLATE
Frequently Asked Questions About Customer Persona
What Is the Importance of Creating Customer Personas For a Business?
Customer personas are essential for businesses because they help create detailed and fictional representations of their ideal customers. These personas guide marketing, product development, and customer service strategies by providing insights into specific target audiences' needs, preferences, and behaviours. Understanding customer personas enables businesses to tailor their approach, resulting in more effective and personalised interactions.
How Can Businesses Ensure the Accuracy of Their Customer Personas Over Time?
Customer personas must be regularly updated to remain accurate and relevant. Businesses can ensure this accuracy by consistently collecting and analysing customer data, conducting surveys and interviews, and staying attuned to industry trends. Regularly revisiting and refining customer personas ensures that they reflect the evolving needs and behaviours of the target audience.
What Are the Key Elements to Include When Creating Customer Personas?
Effective customer personas combine demographic information, psychographic details, behavioural traits, and specific goals and challenges. Businesses should consider age, gender, location, interests, pain points, and preferred communication channels. Including basic and detailed information ensures a comprehensive understanding of the target audience.
How Can Businesses Use Customer Personas to Improve Their Marketing Strategies?
Customer personas are a foundation for developing highly targeted and personalised marketing strategies. By aligning messaging, content, and campaigns with the characteristics of each persona, businesses can create more engaging and relevant marketing materials. This approach attracts the right audience, helps build stronger connections, and fosters customer loyalty.