Do you want to get results from your new websites?
Our clients typically get a 200% increase in the
number of sales through their new website.
Website Development
Persuade & Engage More Customers Online
Your website is your professional front for your company online – your international business card, the 24-hour salesman who never sleeps and works tirelessly for you. In the Internet age, a mobile-friendly website that markets your business is the key to online success. We make it happen for you.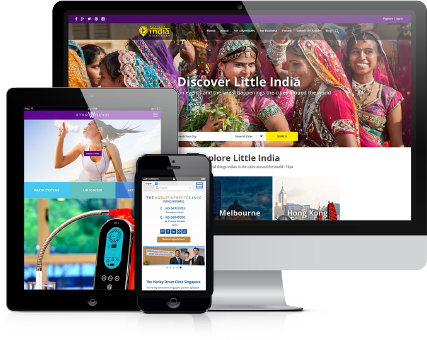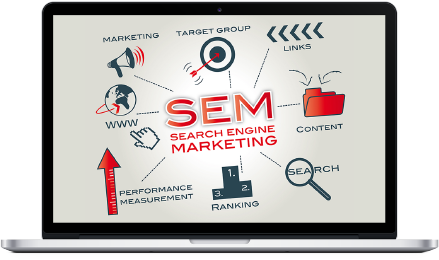 Search Engine Marketing
Generate More Qualified Leads
The quickest route for a business to generate qualified leads online is to advertise and we help you do just that. Set up, manage, and optimize your online advertising campaigns to drive QUALIFIED traffic that CONVERTS better to your website.
Generate paid, targeted traffic from search engines like Google to your website by paying for valuable keywords that convert to business growth.
Conversion Optimization
Engage & Convert Your Followers Into Sales
Convince your website visitors to become your customers and once you do that, you can refine that process to increase the number of visitors that convert to customers. Let us analyze your web presence to drive engagement and turn visitors to customer!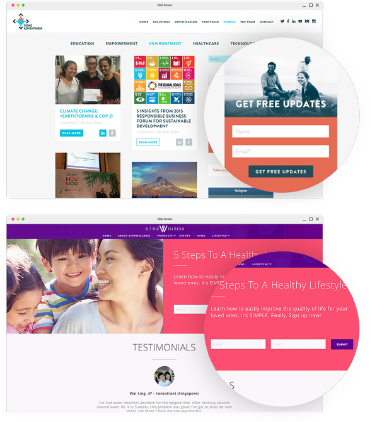 Social Media
Grow Your Brand & Establish Your Social Media Presence
Our social media strategic management is designed to grow your brand and establish a strong online presence. We support your brand, establish mutual trust and create relationships with potential online buyers.
What Clients Say
2Stallions revamped our old website to become mobile-friendly and optimized for search.

Besides getting compliments from customers about our new modern website, we also get many more visitors and more leads via our website than we ever did before, and at a very affordable price. The value we received from 2Stallions was worth more than we paid!
2Stallions has helped us break into the world of search engine optimization and marketing. With helpful insights and their expertise, we have made serious advances in both these aspects.
Interested in working with us?
Hit the button below or give us a call!
OR

Call us now

(+65) 9129 6248

(+65) 9155 4446
Latest From Our Blog
E-commerce in ASEAN is expected to grow to US$88 billion or 6.4 percent of all retail sales by 2025. You want to ride this trend and bring your offline business online with e-commerce. A quick search overwhelms you with a wide variety of do-it-yourself e-commerce store builders. You still have to contend with designing the store, driving sales with online marketing, thinking of shipping options and more.
The scenario above is a common problem aspiring e-commerce business owners face. Luckily, there is Shopify. Shopify is a complete e-commerce solution that allows you to set up an online store to sell your goods. It lets you organize your products, customize your storefront, accept credit card payments, track and respond to orders — all with a few clicks of the mouse.
Shopify as an E-Commerce Platform
In terms of finding out which is the best e-commerce platform to use for your business, Shopify is the most complete, flexible and functional e-commerce platform. Everything that you need to run your store online can be found on Shopify. It allows you to easily create your online website, build your brand, design the entire purchasing process as well as market and promote your brand. All this while providing great customer service and support.
But if you're reading this article, you're most likely already sold on the idea of using Shopify. The real question you have now is how to get started. Well, here's some good news. We're making it easy for you with this guide and by the time you reach the end, you'll be ready to kickstart your Shopify online business.
Below is a rundown of what you will encounter the moment you decide to put up your online store through Shopify.
Step 1: Create a Brand Personality
First things first. Before you even create your Shopify website, do you have a brand personality? If you do, feel free to skip to the next section on how to set up your Shopify account.
Creating a brand personality is important as it dictates the look and feel, as well as overall communication of your brand to your target audience. Whether you're selling your own products or dabbling in dropshipping, creating a strong brand personality helps you build a steady stream of loyal customers who recognize your product and realize its value.
Branding is what makes your product stand out from other brands. It is the unique name and image that you incorporate into your product or business to be able to distinguish them from the rest. Through your personal branding, you are able to strategize how to market your product and your business on Shopify.
How do you build a strong brand for your business on Shopify?
Start with identifying your target audience. One way to do this is to build a customer persona. A customer persona is a depiction of your perfect customer(s) based on solid data gathered from your existing customers (both the good and the bad) as well as current prospects. Creating this image of your ideal customer allows you to personalize your branding and tailor your messaging accordingly.
Ask yourself: Who are your customers and what are they like? What are their interests and where are they located? Which industry do your products or services belong? Do some research on who your top competitors are, check their pages and how they do their social media marketing. Doing this will enable you to effectively position yourself in the market and attract the right customers.
Secondly, you have to identify your Unique Selling Proposition (USP). A USP is simply what you have that your competitors don't. It is the message that you want to deliver to the online world which will attract your ideal customers. It is formally expressed in the form of a positioning statement.
Build a positioning statement. A positioning statement serves as a guide on how to formulate marketing strategies for your brand. There is an algorithm you can use to create the best positioning statement for your brand and it consists of these four elements: target customer, market definition, brand promise and reason to believe in your brand. A well-crafted positioning statement can help differentiate your brand, attract your customers and win market share from your competition.
Don't forget to put some thought behind your business name. Last but not least, your business name will largely reflect and represent everything your brand stands for. It is your identity and can literally or figuratively describe what your company is about or what it can do for your clients. It will influence your logo, your slogan and your marketing communication. It should also be unique as you wouldn't want to be mistaken for another brand (nor get sued for copyright infringement). Remember that your domain name will also depend on the your business name. As to choosing a memorable domain name for your e-store, the best way is to follow these five rules.
Step 2: Set Up an Account
To be able to use Shopify, first you have to set up an account for your store – but bet you already knew that.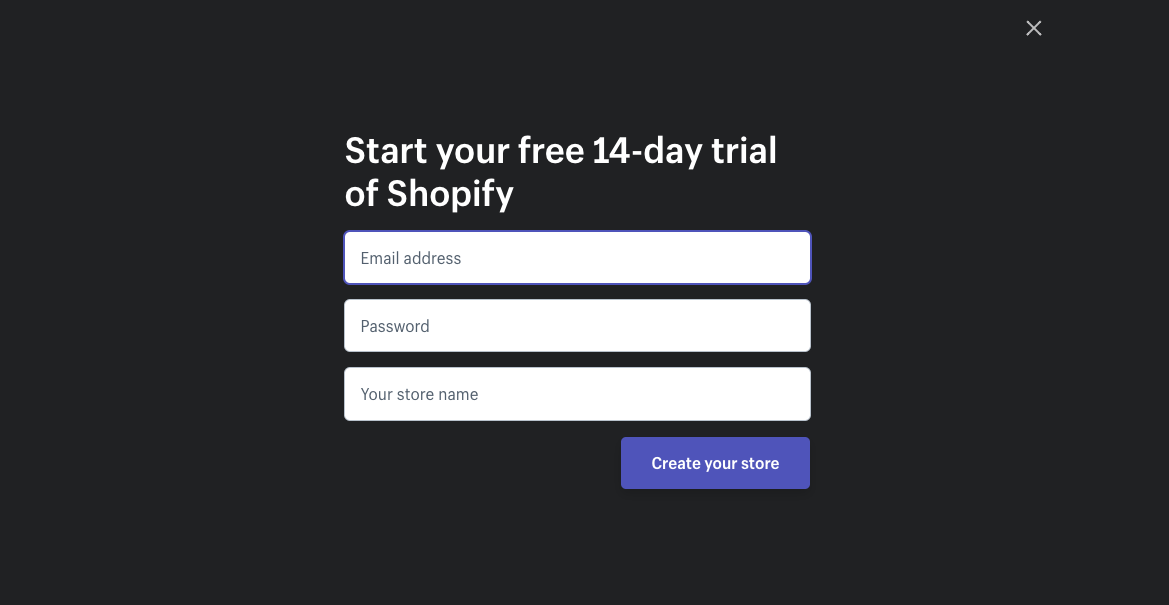 Go to Shopify.com and sign up by entering your email address, creating a password and naming your store. You will also have to provide in the next page your name, address, country, and contact number.
You have the option to explore the Shopify website first if you click the button labelled "I'm just playing around". Otherwise, if you're ready with products to sell, you will be asked to add them to your website.
Once you've proceeded to the dashboard, you can do any of the following: Add products to see it in your store, customize the look of your website or set up your domain.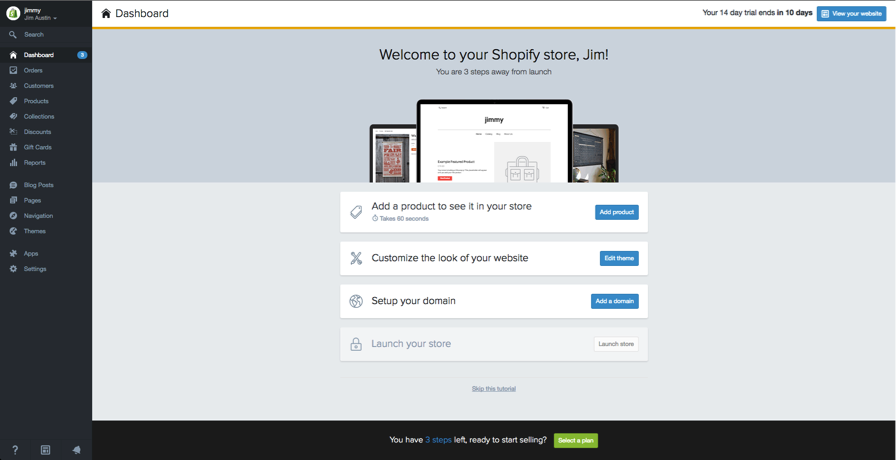 Step 3: Customize the theme of your website
Shopify is known for its easy-to-use customizable features – from themes, products, discounts, checkouts, and payments. Theme customization on Shopify strikes a balance between familiarity and originality for the benefit of customers and merchants at the same time.
You have the option to use available and ready-made designs or have full control on how to customize your entire Shopify website. Either choose from 100+ themes created by professional designers or have full access to the HTML and CSS of your store and be able to customize it with the help of Shopify experts from all over the world.
You can choose from designer themes available and alter it to your liking, making it distinctly "you". No coding is required, that is why Shopify is easy to use. The number of available themes depends on the package that you buy on Shopify which starts from as low as $13. Of course, the more add-ons you require, the price goes up and that really depends on what you need to run your online shop. As for advanced changes to your themes and layouts, getting help is an option. Ask the experts! As Shopify partners, agencies like 2Stallions can help you with the harder HTML and CSS stuff where you can build your Shopify theme exactly the way you like it.
Step 4: Customize the features of your website
There are many features that you can customise for your website on Shopify – from personalising your end-user experience with customisable Shopping Cart features to designing how you manage your online orders with Store Management features.
Here are some great features that can help you do that.
Shopping Cart Features:
100 payment gateways – Shopify has integration with 100 external payment gateways. It is so extensive that they even have integrations for bitcoin!
Free Shipping – Want to offer free shipping to your customers? You can do so and choose the exact price point where free shipping applies when your customer checks out
Multiple Languages – If your online store is available in more than one country, fret not. Shopify has a multiple languages feature for your online store checkout, available in 50 languages.
Abandoned Check Out Recovery – The great thing about e-commerce stores is the possibility of bringing back customers who changed their minds right before completing a purchase. With abandoned check out recovery, you can recover lost sales by automatically sending out an email to remind them to complete their purchase.
Automatic Taxes – Calculating taxes can be a hassle, especially when you're selling products in different countries where taxes vary. Automatic taxes allow Shopify to handle it by automatically calculating major country and state tax rates.
Store Management:
Customer profiles – With customer profiles enabled, you can learn more about your customers and their shopping habits, find their contact information and order history.
Fulfillment centers – This option allows you to connect to fulfillment solutions such as Amazon, Rakuten Super Logistics or Shipwire or a custom one.
Refunds – Refunds are common but the process can be troublesome. This option makes it easy for your customers to get a refund on some or all items in one order via their chosen payment method. On your business front, your inventory automatically gets updated. A win-win!
All these features above are some of the common features that might help you tailor your online shop to your needs. However, that's not all. Shopify offers way more features that you can customise for your online store.
Step 5: Create awareness of your online store through digital marketing
If no one knows about your e-commerce store, you can't start generating any sales. Therefore, digital marketing is important to your business.
Whether you're a new brand, or a well-renowned one, Shopify makes it easy for you to digitally market your business. Options that support SEO-friendly techniques for your website, SEO-friendly product reviews and email marketing are just a few of the things you can do via Shopify. It makes it easy to buy, sell, update, add, remove, manage, and list across multiple sales channels.
For you to fully optimize your Shopify store, you can leverage on using attractive and powerful images as well as make the most out of link buildings to increase your ranking. Also, there are different plugins available for your use. Meanwhile, you can measure your online store's performance by using Google Analytics. As for knowing if your pricing strategy works, you can conduct split tests.

Infographic by: Websitebuilder
Now, you're ready to get started!
For an e-commerce business to be truly successful, you have to create a strong brand personality, let your website stand out through a custom theme and allow customers to quickly reach your brand through effective digital marketing.
Shopify simplifies the process of setting up an e-commerce site for any business owner. You can find everything that you need to promote your products and business online on Shopify – from hosting your website, customizing your themes as well as processing your orders.
If you need help with creating custom themes or online marketing for your Shopify store, 2Stallions can help. As a Shopify partner, we have the expertise to help you develop your Shopify custom theme, or drive traffic and increase your online sales. Request a quote now!
"The Customer is Always Right" is a statement that holds firm for businesses even in this digital age. "Right" doesn't mean the customer's demands are always correct, but by focusing on customer relationships and doing right by your customers would certainly improve their loyalty and dedication to your brand.
Whether it's providing a service or fixing a complaint, delivering a positive experience for your customer is the best way to build a relationship with them. And better customer relationships lead to better sales.
The live chat is a modern example that proves being there when someone needs you builds instant rapport with them that leads to greater sales. This quick and open communication platform allows businesses to overcome objections and provide speedy responses. Research shows that you are 10X more likely to lose a potential customer just by being 5 minutes slower in your response.
This speaks to the importance of not just establishing good relations, but doing so quickly. Whether it's over live chat or phone, better customer relationships equate to higher conversions.
The challenge in today's digital world is the sheer volume of customer enquiries. It can prove difficult to keep afloat while responding to them all. Fortunately, there are tools that help you to not just keep afloat, but also push your business even further!
Loyalty and Advocacy
When customers have a problem, they expect businesses to respond to their complaints effectively and efficiently. If a service fails to respond quickly, at the very least, the customer will move to another business capable of providing the support they expect. At worst, you may have to do some reputation management online from irate customer rants.
Businesses with an effective support pipeline that takes care of its customers will create loyal customers that may even become advocates for your brand.
Australia's Official Queensland Business Site has some useful tips that I'd like to share again here –
On Good Customer Service:
Find out the customers' standards for good customer service
Research customers' expectations
Follow up on both positive and negative feedback you receive
Aim to improve the level of customer service you deliver
On Creating Long-Lasting Customer Relationships:
Show customers that you understand what their needs are
Build relationships with people who want your products and don't force those who don't
Go beyond the help you provide
Continue to keep customers aware of what's in it for them to do business with you
Manpower is the biggest hurdle businesses face when striving to establish excellent customer relationships.
This is where marketing automation can step in to streamline delivery of informative content, integrate social media updates, and drive customers through the marketing funnel through effective email campaigns. An efficient CRM system can handle repetitive customer support processes, which will ease the burden on your staff, while increasing the all-round feel good factor for your company. You can also check out our list of services to see how we can help you with this.
Ways To Improve Customer Relationships With Marketing Automation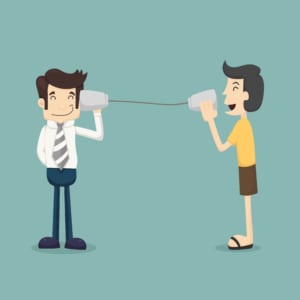 1. Maintain Every Customer's Concerns & Your Responses
Customers want responses and patience is no longer a virtue in the digital age. Your marketing automation system can automatically address simple concerns and for more complex questions, it can escalate it automatically to the right team to handle.
You can rest assured that no complaint or feedback is falling through the cracks and that for common concerns, your response times amaze your customers. You also build up a database of concerns that you can analyze to enhance your offered services, ensuring that common concerns are addressed with future customers.
Furthermore, the use of marketing automation leaves your manpower free to maintain human-powered live chat, email, or voice support for personal customer relationship management.
2. Improve Sales Funnels With Smart Email Marketing
Introducing automation to your email marketing campaigns helps your brand get "smart". How you ask? Marketing automation can help segment your CRM into different bands, identifying people highly likely to convert versus those requiring additional information. This then leads to more a more personalized journey for every person towards driving a sale.
Tailoring your emails for each customer introduces a positive experience where the customer identifies with your company values and feels that you understand their needs. Your customers are happy, and this builds greater brand loyalty and maximizes your profits.
For example, if someone adds something to their cart and then abandons it, sending them a small discount will encourage them over the line to a purchase. Or if a customer bought a product that usually lasts 3 months, reminding them close to the end of the quarter is something they'll appreciate.
Mailgen effectively used segmentation to improve their open rates from 20% to 29% in a short period by using behavioral segmentation. With an initial 20.5% email open rate, Mailgen improved the open rates simply by changing their headlines to better relate to their segment.
Meanwhile, MailChimp is another user-friendly email marketing tool you can use. You can read more about how easy it is to use here.
3. Be There For Your Customers' Important Moments
CRM systems give a lot of power to businesses to know their customers and collect important information about them. You can learn how your customer interacts with your website and your product/service offerings. You can ensure you know their birthdays and their anniversaries, and surprise them on those days with not just freebies, but with a specific item that they'd been last looking at on your website, making it a much more thoughtful gift. Marketing automation plugged in with a CRM can help automate this entire process.
If you use a CRM system for your offline sales team, you can keep notes from meetings and calls, so that before you meet them, you can refresh yourself. Even if you meet up again a few months down the road, they'd still be impressed by the personal details you remember about them. The best part is that you're not dependent on your sales rep for information as it is centrally stored and a lead can be reassigned easily without great disruption.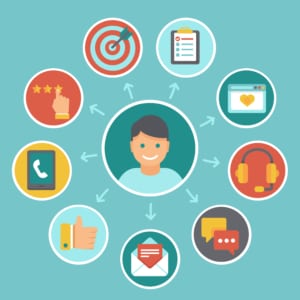 4. Connect Across Multiple Channels
Everyone has an account on social media these days. On average, people spend about two hours surfing social media on a daily basis, so they're highly likely to see an update you post.
By connecting your marketing automation tool effectively to social media channels where your customers are, you can send targeted messages DIRECTLY to them – whether it's via advertising or messaging. Reaching them on channels that they're comfortable on helps them connect and engage with your brand more.
Marketing automation tools can also help you manage multiple social media channels, allowing you to post a consistent update on multiple networks that are optimized for them.
Wrapping Up
Aside from its capacity to increase conversions, marketing automation tools and best practices reduce the need for hiring additional manpower and time organizing, managing, and responding to customer concerns. Therefore, it improves your relationship with customers without straining your operations.
Marketing automation creates well-informed customers. Information urges customers to make more purchases remain loyal as they place more value on your brand's product, and advocate for you if they experienced excellent complaint resolution. In addition, marketing automation gives businesses like yours an extra set of helping hands, allowing you to improve your services and brand as a whole.
Interested to learn more? 2Stallions provides marketing automation consulting services.