Do you want to get results from your new websites?
Our clients typically get a 200% increase in the
number of sales through their new website.
Website Development
Persuade & Engage More Customers Online
Your website is your professional front for your company online – your international business card, the 24-hour salesman who never sleeps and works tirelessly for you. In the Internet age, a mobile-friendly website that markets your business is the key to online success. We make it happen for you.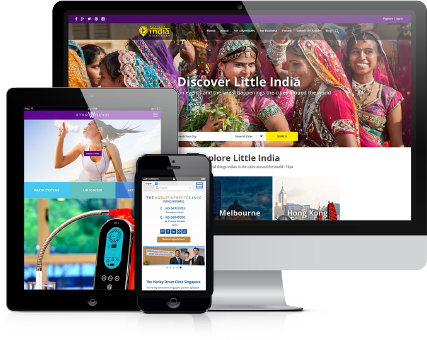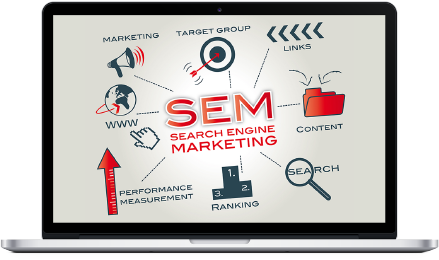 Search Engine Marketing
Generate More Qualified Leads
The quickest route for a business to generate qualified leads online is to advertise and we help you do just that. Set up, manage, and optimize your online advertising campaigns to drive QUALIFIED traffic that CONVERTS better to your website.
Generate paid, targeted traffic from search engines like Google to your website by paying for valuable keywords that convert to business growth.
Conversion Optimization
Engage & Convert Your Followers Into Sales
Convince your website visitors to become your customers and once you do that, you can refine that process to increase the number of visitors that convert to customers. Let us analyze your web presence to drive engagement and turn visitors to customer!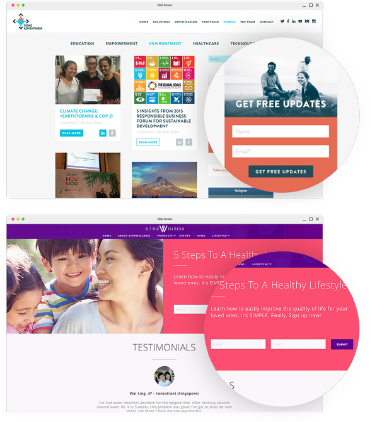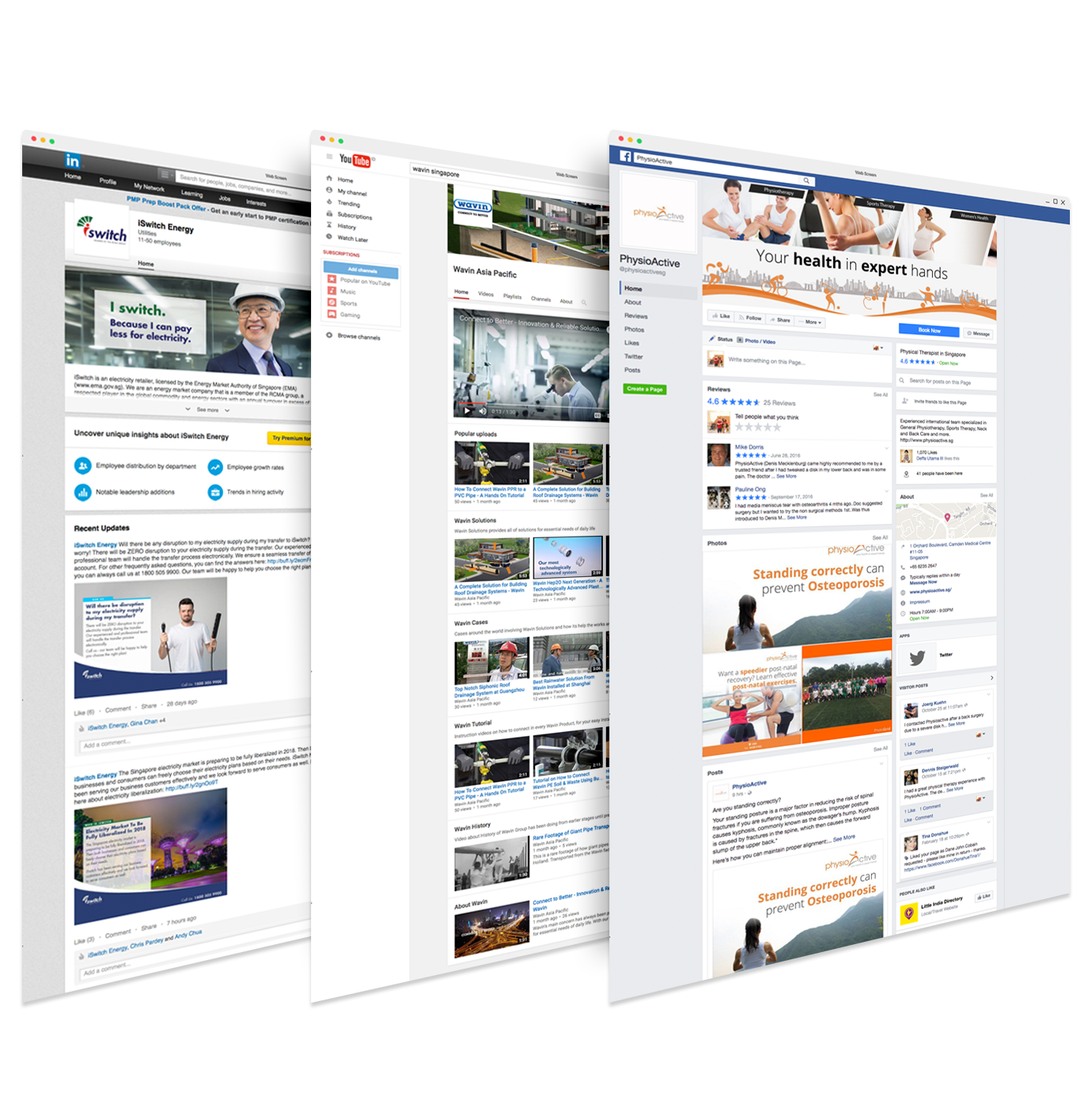 Social Media
Grow Your Brand & Establish Your Social Media Presence
Our social media strategic management is designed to grow your brand and establish a strong online presence. We support your brand, establish mutual trust and create relationships with potential online buyers.
What Clients Say
2Stallions revamped our old website to become mobile-friendly and optimized for search.

Besides getting compliments from customers about our new modern website, we also get many more visitors and more leads via our website than we ever did before, and at a very affordable price. The value we received from 2Stallions was worth more than we paid!
2Stallions has helped us break into the world of search engine optimization and marketing. With helpful insights and their expertise, we have made serious advances in both these aspects.
Interested in working with us?
Hit the button below or give us a call!
OR

Call us now

(+65) 9129 6248

(+65) 9155 4446
Latest From Our Blog
Which company profile below piques your interest more?
Example 1:
"Hey, we're Company A. We work to provide solutions to your issues. We have several high-profile projects coming up in the next few months. If you'd like to work with us, you can always give us a call!"
Example 2:
"Hey, we're Company B! We've been part of the recent (high profile program you recognize) in conjunction with (company you've heard of). It is focused on improving the welfare of people from (community or area you know). Our recent case studies, (case 1) and (case 2), have been published in (publication you recognize). These projects have (results that you would value for your business). If you believe we can help your business with a solution, inquire with us. We're here to help!"
Sometimes being short is not always sweet. Besides its length, Example 1 also lacks details. It is vague, using terms like "provide solutions," "several high-profile projects," and doesn't attempt to build any rapport.
On the other hand, Example 2 is specific. Its description sends a "value-driven" message, with examples and results that you, as their audience, can relate to. To top it off, it shows a more personable approach compared to Example 1.
Brand personality is critical in digital marketing. In an increasingly information-saturated world, it helps your brand stand out. Your company profile – from your "About Us" page to your social network profiles – shares your personality with an audience, and it's imperative that it resonates.
What makes a company profile boring?
In Example 1, any audience considering the company's services may find it ineffective because it does not provide any detail that makes it appealing. Less ambiguous statements that are backed by data and are specific can improve it tremendously.
In fact, Example 1 committed almost every company profile-writing sin on this list because it was too brief. In a way, it doesn't consider any interest of its audience, which just makes it plain boring.
The importance of company profiles for brand development
Your website is your virtual office in cyberspace, and your social media profiles are your online "outlets" representing your brand on their respective networks. Anything you say in these profiles reflects the image and values of your company.
A company profile should reinforce and proliferate your brand's authority in your respective niche or industry through a well-developed story. It is therefore important to invest some time in creating a good one. Here's how you can bank on your strengths without going overboard.
Five Ways To Create an Exciting Company Profile
1. Create Your Unique Tone Of Voice
Everyone knows this: black and white are boring when compared to the spectrum of colors on the color wheel. The same way a colorful website drives attention to elements you wish your audience to focus on, a 'colorful' company profile can really make your brand stand out and be noticed.
It is first important to develop the right tone of voice that resonates with your defined customer persona. More importantly, the tone of voice is something you must be comfortable with personifying to the world. The table below shares voice characteristics you may consider for yourself.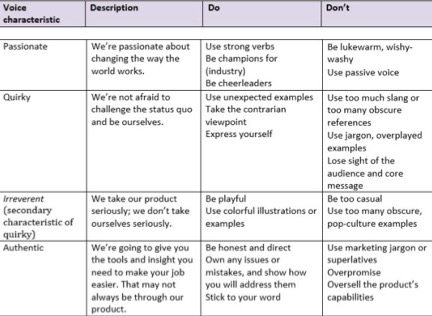 The right 'color' for your company profile can have an amazing inbound effect as it proliferates.
2. Keep It Simple
A company profile should not be too short, à la Example 1 above. At the same time, being overly verbose can be detrimental too.
Here is an example that comes across as tooting its own horn without caring for what a reader may be interested in:
"Hello there, we're Company C!
"We have recently worked with Company A's project in Africa. Handled by our personnel A, B, and C, each specializing in (expertise 1, 2, and 3), we've achieved stellar results in the project that made (variable 1, 2, and 3) each have a respective 230% increase while having only a 2% margin of error."
On the surface, it seems like it has all the ingredients that might sell your company right. However, it is too lengthy and has lots of unnecessary details that borderlines on narcissistic. Your audiences want to know what you did, how you did it, and how it ended up with just enough details that are easily digestible in a few seconds.
In comparison, Example 2 is about the right length. Each sentence is focused on improving the understanding of the reader about their business. Specifics are kept to a minimum, enough to impress readers, but shies away from overloading them with percentages as listed above in Example 3.
The language utilized also needs to be simple enough that even an 11-year-old can understand it. It is important to ensure audiences outside your industry can easily understand your profile. This helps it to proliferate faster.
3. Tell a Story
People bond over stories. While discussing your company's results with clients, your profile also needs to mesh its personality with a mission and purpose. Get readers to "be in your corner" when they read it. Humanize your profile to help your audience connect.
If pitching your profile online, via social media, for example, utilize the area provided for writing your "About Us" section. Try including the origin story of your brand and the values that make your company what it is. See Coca Cola's LinkedIn profile, a network that allows more space to write a lengthier profile. On other social networks, try condensing it while maintaining the story.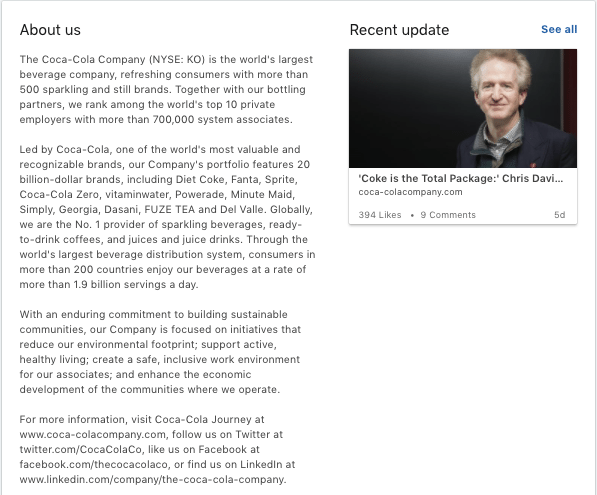 Read the "Do's and Don'ts of Writing Your Company Story" for more details.
4. Organize Your Narrative
As you may have guessed – there are many perspectives you can add to your company profile. We describe 3 different styles, each focusing on different things for their company narratives:
The Friendly Neighborhood Business: Small and medium businesses targeting their local communities benefit greatly from this type of narrative. The narrative focuses on the brand's values when it comes to creating their products or providing their services.
For example, Riverside Foods' narrative focuses on the founding family's first food mart and their experience forging the standards they have in providing their quality products and services.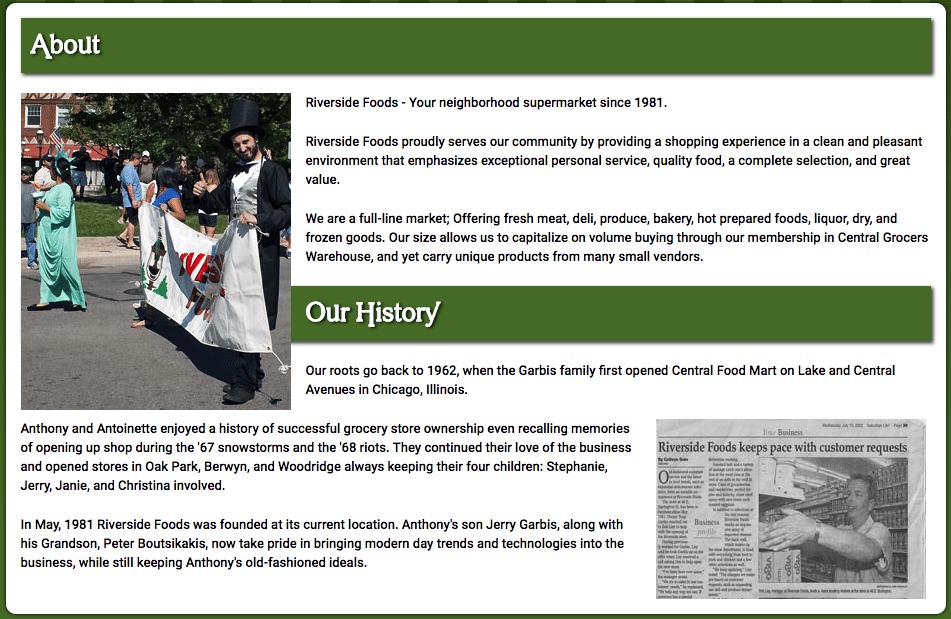 The Professional and Clean-Cut Solution: Medium to larger businesses targeting other businesses use this particular narrative in their descriptions. It focuses on their processes and continuous development of practices to optimize their operations.
An example is Addiction Foods. It is a custom pet food manufacturer for dog food brands, writes in their 'About' page that they focus on reinventing and revolutionizing pet food formulation and production consistently for their clients.
The Doer:  All businesses of different scales can find this particular narrative style efficient in developing brand retention despite its objective and achievement-driven voice.
Henrik Plumbing from California uses a third-person narrative approach in their description. It details their specialization in residential, commercial, and industrial piping services. Further stress is placed on their efficient operations due to their 25 years of experience providing their services.
5. Test It Out
Before publishing your company description, have someone else read your profile. This isn't just to spot editorial mistakes.
You can easily develop tunnel vision when writing descriptions. Another set of eyes helps to reveal areas to make it appeal even more.
The more people you share your profile with, the better. It'll allow you, over time, to collate feedback and craft an even better company profile that has a greater impact on your business.
Wrapping Up
Company profiles tell people what your company can do, how it began, and what it can, and has, achieved. It's something worth investing time in and crafting with care. Best of all, it's easy to do!
We hope these five simple steps can ensure that your profile stands out from the rest and creates the right traction for your brand.
In the aftermath of the recent Facebook and Cambridge Analytica scandal, terms like data privacy, website security, and data protection have become more than just buzzwords. Users are increasingly sensitive about security and demanding more. Pleading ignorance of undetected malware on your website, that can infect their systems and hijack their data, is no longer tolerated.
As a business, protecting your website not only protects your business data but also builds customer trust. Your website is the virtual office of your business and often your first customer touchpoint. Any hint of poor website security hurts your brand perception and could result in loss of business leads.
Prevention is always better than cure. While you may recover with a little effort from a security breach, it would take much, much longer to rebuild trust with your customers.
According to Google's Transparency report, some of the top sites in the world, like Alibaba.com and BBC.co.uk, still fail to deploy default HTTPS to their website. So what can YOU do to protect your website?
Security Must-Haves
There are some website security must-haves in order to maintain your website and protect your visitors and yourself from security threats.
1. SSL Support
SSL certificates are an absolute requirement for websites today, whether a small blog or a large scale e-commerce site. The Secure Sockets Layer (SSL) certificate encrypts all sensitive information between a customer and the browser, making sure that the connection is secure. That green lock icon and secure text beside your domain name when someone visits instantly put a visitor at ease. These days, a properly deployed SSL cert also improves your Google search rankings.
2. Strong Admin Passwords
The value of a strong password cannot be understated. Weak passwords make hacking your site very easy, especially when using open source CMS like WordPress. Therefore, it is important to ensure administrative passwords are lengthy, do not resemble an actual word or represent information about you that is easily found online – like your pet's name for instance. Use a strong password generator. In an ideal scenario, your website should only accept strong passwords, and make you change your password every 90 days. While painful to remember and continuously update, you'll sleep easier at night knowing your site is secure.
3. Bot Blocking
Friendly spider bots from Google crawl your website to collect information to index your site efficiently. However, malicious bots may scrape critical information from your website that can be sold and used with nefarious intent. Distributed denial-of-service (DDOS) attacks, whereby multiple systems target a single network, causing it to overload and crash can also be perpetrated by bots. They also result in a misrepresentation of your traffic analytics by unduly inflating it.
Avoid all these concerns with security tools that can provide protection from malware and bots, automatically blocking known troublemakers.
4. Regular Software Updates
It's easy to hit the "skip" button whenever a software update reminder pops up. However, updates are important to patch security holes in the system. Owners whose websites are powered by open source platforms such as WordPress, Drupal & Magento need to be vigilant, as hackers can easily take advantage of sites that are not updated.
Now that you're convinced by the necessity of website security and steps you can take, here is a list of website security services to help you sleep better at night.
Five Recommended Website Security Services
Incapsula is one of the most famous website security services on the web because it has a host of appealing features including:
Spam Blocker: Incapsula has a database of spam profiles that allows it to clean annoying emails even under its free plan. This no-charge plan even includes reputation-based security, which profiles the email's sender before filtering the messages arriving in an inbox.
IP Blacklisting: This feature is effective if you find a high amount of undesirable traffic originating from specific geographic locations.
Price: $59 for a Pro plan and $299 for Business
Overall Performance: Functioning as a website security and Content Delivery Network (CDN), Incapsula delivers great service for its price, but is still a bit behind top contenders in its particular industry. One factor that most reviewers found lacking was the performance of the CDN metrics. However, its blocking and security capabilities are top-notch. See the video below for more information:
Sucuri is an excellent choice for any website owner because of the following features:
Available as a WordPress Plugin: Almost 30% of websites today are powered by WordPress. Even we use WordPress and offer it to our clients as part of our website protection plans for it. Sucuri's WordPress plugin includes Security Activity Auditing, File Integrity Monitoring, Remote Malware Scanning, Effective Security Optimization, and more.
Efficient Bot Blocker: Users have raved about Sucuri's active firewall, which rarely fails in detecting blocked IP addresses, recognizable bot activity based on a rich database of patterns, and possible infiltration (where it automatically hands out a fix).
Limitless Malware Cleanup: Detected malware on your website? No worries – Sucuri security experts can help with that. A security expert may cost you $250 an hour but with Sucuri, it's more affordable.
Price: $199/year for a single website
Overall Performance: According to WPBeginner, they blocked about 450,000 WordPress attacks in the first three months they used Sucuri and its WP plugin. That speaks volumes about the efficacy of this service.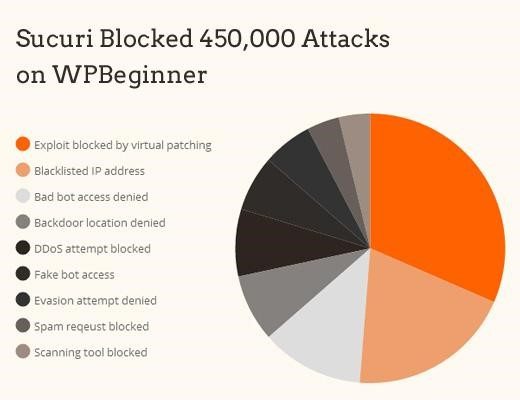 The rave is on about Cloudflare's useful CDN and website security features. Take a look why:
File Optimization: Similar to Incapsula, CloudFlare can compress file sizes and distribute the files in caches across its data centers for faster website loading. If a website is down, CloudFlare will present a backup of its latest interactive "screenshot."
Free Service with all the Perks: Cloudflare's free account gives your site excellent CDN service, SSL encryption but without a certificate, website analytics, a website application firewall, access rules (block users, bots, IPs, or email accounts based on profiles you had made), hotlink protection, email address encryption, and more! Talk about a steal!
Price: It offers a great basic plan at $0, which is perfect for personal blogs or websites. However, paying $200/month for their business plan gives you added security features such as web application firewall, custom SSL cert, and more.
Virtually Compatible With Any Website: Majority of blogs and small business websites in existence use Cloudflare. According to W3techs.com, 71.6% of websites in their survey use Cloudflare for their website security and CDN.
Smartbear's AlertSite website security service makes the list because it has all the features you need at a very affordable price.
Easy to Use Interface: Instead of overwhelming users with data, the platform allows users to indicate customizable summaries that they can progressively expand in detail where needed. The interface also shows in high priority any security vulnerability first before other low-priority activities detected on your website. The ability to group monitors together is truly useful for efficient viewing and navigation.
Blocking: Mail Server Monitoring, Availability Testing, Uptime Reporting, IP filtering, and others allow the website security service to implement sufficient site security to stop DDoS attacks and potential malware from entering.
Price: $99 yearly for pro and $999 a year for a small to medium enterprise.
Overall Performance: The security offered by Smartbear's Alertsite paid service pales in comparison to Cloudfare's features that are available for free. However, the ability to monitor multiple website variations, activity, and other metrics, allow your online presence to remain consistent by strengthening its foundations. You can watch the video below to see how AlertSite works:
AppDynamics is a great choice for SMEs because, in addition to security, their websites monitor performance in all areas for a better and effective website experience for audiences.
Monitoring:  All front and back-end activities are unified in a single monitoring display, measured by AppDynamics' software products APM, Real User Monitoring (RUM), Mobile RUM, Database, and Server monitoring. These features are useful for finding holes in your security and website performance.
Business Impact Analytics: This feature displays failed instances of transactions and their probable causes. It works well with its Customer Win-Back Analysis report that updates the entire website journey of the particular user. This is a great way to sniff out some possible bugs in your website.
Security Measurement: Real-time monitoring in all areas help identify whether a bot is inflating your metrics. It can also block the origin of these bots' addresses and blacklist IP addresses.
Multiple Websites: For its price, the support for multiple websites is unbeatable. All blocking and monitoring features are applied immediately on all sites owned by an enterprise upon a single click.
Price: Free or on a per unit purchase. Each unit costs $3,300 for a one-time payment.
Overall Performance: The product may be a little too expensive but proves very useful for integrating security and metric monitoring features for your website. Might not work for all business websites, but its one-time payment per unit use and unlimited support makes AppDynamics a worthwhile investment.
Wrapping Up
Bots, spam emails, and possible downtimes are real security threats to your website. Having a reliable website security and monitoring service is helpful in identifying patterns and tracing the sources of your possible attackers. Data monitoring also helps measure the possible damage caused by an exploitation of vulnerability, which helps you switch to plan B quickly.
2Stallions WordPress Maintenance utilizes multiple services such as Sucuri and Cloudfare to provide a security and maintenance package that lets our clients sleep soundly at night. If you aren't tech-savvy and don't want to juggle multiple accounts to manage your website security, we can help! Our Website Maintenance package can offer you peace of mind and technical know-how to easily manage your website security.