In the first part of our content marketing series, we discussed the what and how of content marketing. In this article, we'll bring you through 5 easy steps to build a personalised content marketing strategy that works for your brand.  
By now, you already know that content marketing is essential to take your business to new heights. 
This method of attracting and nurturing leads has been proven to be one of the most cost-effective and efficient ways of establishing brand awareness, build trust with your target audience and even acquiring new customers.
When planned and executed strategically, content marketing can boost web traffic to your business site, increase social following and establish yourself as an industry leader.
An effective content marketing plan is strategic in both its production and delivery. Without a well-developed execution plan, your content would lose all its meaning. 
The difference between content marketing and having a content strategy
| | |
| --- | --- |
| Content marketing | Content marketing strategy |
| Content marketing is all about using relevant and valuable content to attract and retain visitors, eventually turning them into paying customers. | Content marketing strategy is an overview plan you have for every piece of content related to your business. In other words,  it is the blueprint that maps out the production and delivery of content for your brand. |
If you're unsure of how you can start your content marketing strategy, look no further. In this guide, we will walk you through 5 simple steps that will help you develop a content marketing strategy that'll drive results and grow your business.
5 Essential Steps to Help you Develop an Effective Content Marketing Strategy:
Step 1. Set Your Goals Strategically
Step 2. Understand Your Audience
Step 3. Streamline Content Process
Step 4. Distribute Content Effectively
Step 5. Optimize Content for SEO
1.     Set Your Goals Strategically
"Setting goals is the first step in turning the invisible to the visible." This inspirational quote from Tony Robbins, an American author and public speaker is what you need to remember when you kick-start your content plan.
To know what content pieces work for your brand, you need to first map out an overview of your strategy (setting clear and defined objectives), establish ROI targets and outline a clear direction for your business' growth.
Here are some goals to help you get started:
Increase website traffic
Attract new prospects
Convert leads to customers
Gain influence and authority
Increase visibility in search engines
These are measurable and quantifiable goals which will help you measure the effectiveness of your content strategy in the long run.
Using tools such as Google Analytics will help you measure key metrics such as web traffic and top viewed pages. With these data, you'll know what content works and what doesn't. This will help you make informed revisions to improve your strategy progressively.
2.   Understand Your Audience
After setting your goals, the next crucial step would be to identify and understand your target audience.
This is important because a customer's purchase decision is highly dependent on whether they find your content valuable and helpful. Therefore, content marketers have to keep in mind their target audience in order to create content that sells. Otherwise, you might fail at creating content that your customers care about.
If your content resonates well with your customers or you helped them understand what to buy, they're likely to purchase from you.
Using data to segment your target audience
One way to can create the right content that reaches your customers is by collecting demographic data. Web analytics and social media sites are a reliable source of audience data. They often provide customer insights such as audience demographics, interests, education, income, and so on.
Here's an example of how you can use Google Analytics to collect audience data to plan topics and create content that suits their interests.
To obtain these sets of data, go to Audience » Interests » Overview. In that page, you will see the market segments of your site visitors. Under overview, take note of the affinity categories (that are grouped by interest) with a greater reach (higher percentage). These are topic categories that most of your audience are interested in and topics that you should be creating.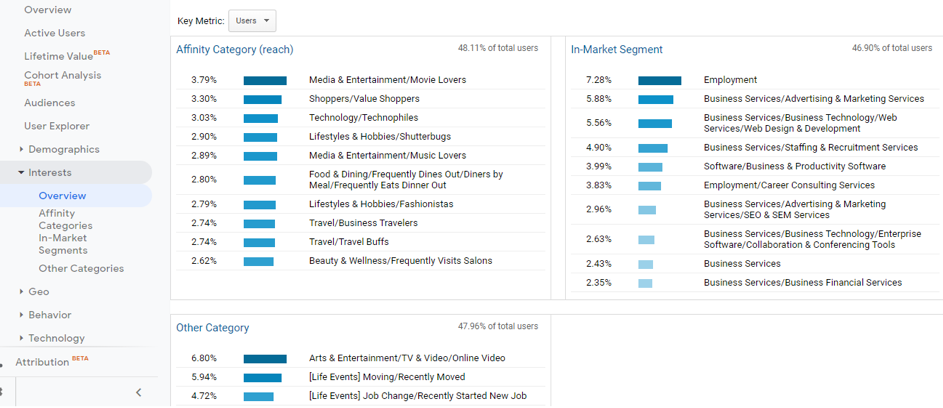 Social networks also offer similar data. For example, you can get demographic information on your Facebook fans via Facebook Page Insights.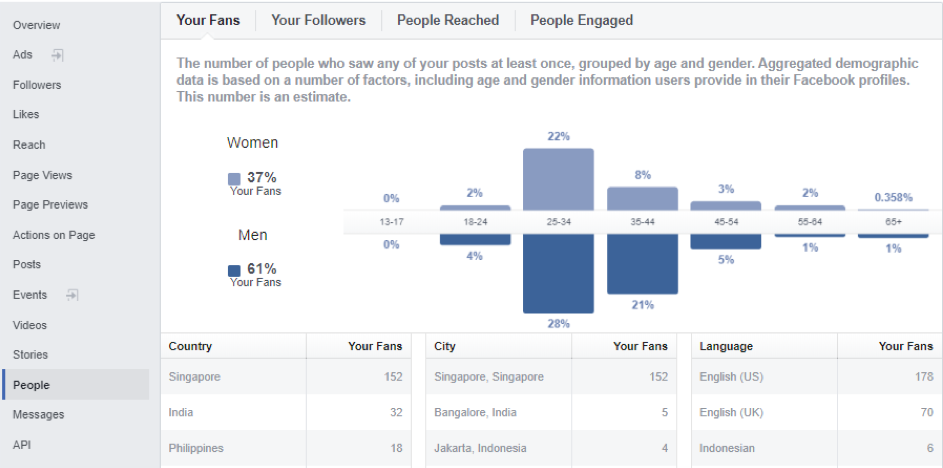 From these data, you can move on to categorise your audience into broader categories and create customer personas. Customer personas are extremely useful to help you identify the needs and wants of your customer. Knowing who your customer is will also will help you craft the right message that speaks to them directly, thus humanizing your marketing communication.
3.     Streamline Content Process
Once you're done with the first two steps, you may begin planning your content production. This is where you will streamline your content marketing efforts to produce fast and efficient content.
Start your plan by defining the buyer's journey. In most cases, you can base your strategy around these funnels: top of the funnel, middle of the funnel, and bottom of the funnel.
The first one is the awareness stage, where people seek answers to their questions through research. The middle funnel is known as the evaluation stage, where people conduct extensive research on whether your product or service is a perfect fit for them. Lastly, the bottom funnel or purchase stage is where people figure out what it would take to become your customer.
You should take these funnels into account when creating content. There should be content pieces (i.e. product guides, blogs, social posts, research studies, etc.) specifically designed for each stage of the funnel.
Next, you must plan an editorial calendar. Brainstorm content topics with your team and assign writing and editorial tasks to your key team members.
It's ideal to keep all your content ideas in a spreadsheet. However, spreadsheets have their downside. They lack automation and commenting functionality. If you want to see everything in place and avoid missing deadlines, you can opt for content calendar tools such as Google Calendar, Kanban Flow, Trello, Contently, and more.
4.     Distribute Content Effectively
Content marketing isn't only about developing high-quality content for your target audience. It also deals with the process of promoting and distributing your content through different channels.
If you fail to distribute your content effectively, it would be impossible to reach the widest audience possible. You're also likely to fail your ROI targets such as driving traffic to your website, attracting new prospects and customers, gain authority, and more.
2 Common ways to distribute content.
1. Building an email list.
It's important to have a mailing list because reaching out to people via email is 40 times more effective at acquiring new customers than Facebook or Twitter.
But how do you build an email list? Here are a few tips on how to encourage visitors to subscribe to your email list:
Include CTA buttons on every landing page on your website
Add pop-up images or slider on all your landing pages
Send out pop-up surveys while visitors are browsing
Add email captures at the end of your blog posts
Re-engage contacts inactive subscribers
To learn more about creating a mailing list for your business, click here.
Once you created your email list, you may proceed with content distribution. You can create a paid subscription model for premium content, send weekly newsletters and exclusive content (i.e. How-to videos, invitation, etc.), offer exclusive coupons or discounts, and more.
This will help you engage and connect with potential and existing customers at a lower cost (compared to paid ads to boost sales). Due to its greater outreach, conversion rates are also likely to improve.
2. Social media is another powerful platform for distributing content.
Globally, around 3.8 billion people use social networks including Instagram, Twitter, Pinterest, Facebook, and LinkedIn. This means you should establish your presence on at least some of these channels in order to attract a greater pool of customers.
Here are some tips to curate content for your social media accounts:
Repurpose and curate your own content
Be consistent with your updates
Share your blog articles and other content on social media
Post engaging visual content such as videos, infographics, slide presentations, and more
Create content based on the latest trends or news and share it across your social networks (increasing "shareability")
5.     Optimise Content for SEO
Content marketing and search engine optimization (SEO) are intertwined. The two might be different in concept but they are an essential combination for content marketing to generate results.
While the former focuses on creating and distributing content for a targeted audience, the latter helps to make your content visible in search engines. This combination is also known as SEO optimised content which will result in 2 main benefits for your business.
First, it will help your site rank higher on Google.
Quality content is what engages your target audience. As more readers pick up your content and shares it with their network, it creates greater engagement and traffic to your site.
With more engagement and clicks on your content, Google recognises your site to be relevant and valuable to users. That is because Google thinks online users are searching and liking your content, therefore prioritizing your page over others. Consequently, Google rewards your page with a higher position in their search results page (SERP).
After building a strong web presence with a higher site ranking, you will start to attract more targeted traffic and increase your customer base.
Over time, your brand can establish a strong brand presence online and become a reputable source of information when users search for content you posted about.
Secondly, SEO-optimised content like landing pages can prompt higher conversions.
SEO optimization is important to decrease loading speed of a page in order to provide a pleasant user experience for your audience.
When your webpages load fast, are easy to navigate, and optimized for desktop and mobile, site visitors may stay for a while and continue browsing for a longer time. In this case, you have a better chance of holding their attention and turning them into paying customers.
Optimizing content for SEO requires both the technical and content writing skills to ensure you enhance the effectiveness of your content for the search engines.
Search engine optimization typically involves the following procedures:
Perform keyword research
Write content based on keywords
Optimize content for main keywords
Build backlinks
Update links and keywords
Analyse rankings and traffic
To bring in more traffic to your website and achieve better results, hire a competent SEO specialist or SEO agency. SEO experts can help you to facilitate web results and monitor your campaigns.
The Takeaway
It will require some time before your content marketing strategy takes effect.
Nevertheless, you should still make your content marketing strategy the heart of your marketing initiatives. It's crucial for building your brand identity and winning the confidence of your target audience.
Whether you're new to building a content marketing strategy or you've been using the same approach for a while, it's important to constantly revise your strategy to ensure it stays up-to-date, innovative, and engaging for your customers.
Make use of our 5 steps guide we've provided, and you'll be able to develop a strategic approach to drive online visibility and growth for your business.
🚀 Elevate Your Digital Approach with 2Stallions: Your Route to Content Excellence! Discover top-tier content marketing solutions to elevate your brand's visibility through our unmatched services. Step into a world of limitless possibilities – contact us and embark on this transformative journey with us today!