Some businesses invest in mobile-friendly web design for the sake of following the trend. The truth is, it shouldn't be done that way. Mobile responsiveness isn't just a fad that everyone should jump on, but a need that demands attention, especially in the digital space.
It was long ago when personal computers (PCs) are the only medium used for browsing the web and connecting with people online. Today, people carry PC-like technology (a.k.a. smartphones) with them practically all the time.
These facts imply that the future is mobile and that creating a mobile responsive website is a must. Not quite convinced about the significance of building a site for mobile devices? Carry on reading.
What Does Mobile-Friendly Mean?
Websites with a mobile-friendly design are easily viewed on smaller screens like smartphones and tablets. The web contents (i.e., images, texts, videos, etc.) adjust themselves to fit within the screen to deliver a satisfying user experience.
A non-mobile-friendly website, on the other hand, doesn't adapt its layout and usability to the device. It requires zooming and scrolling to find and read information, not to mention that the text appears too small and difficult to read, and the images look pixelated and tend to load slowly.
Here's how a web design should look like from a mobile perspective: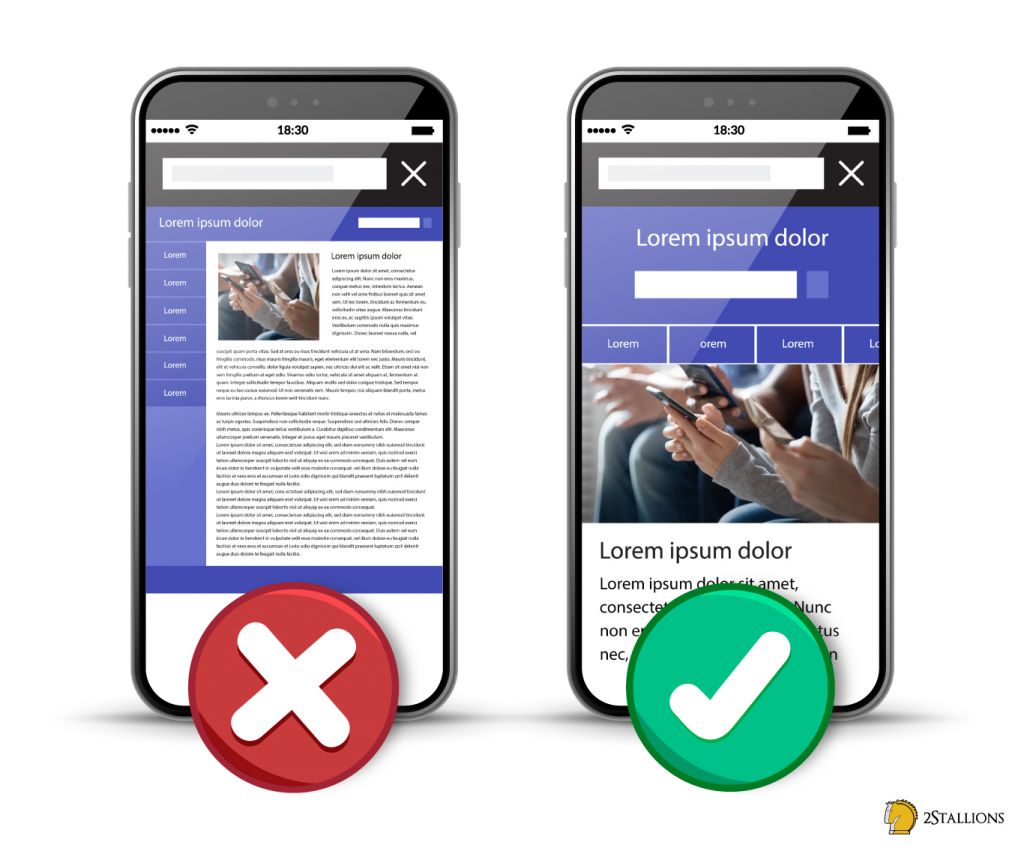 On the left, the mobile browser retains the desktop version of the website. The one on the right matches the device width, making the content readable.
Why Make Your Website Mobile-Friendly?
1. Google Recognises Mobile Responsive Sites
For several years, Google has rolled out handy algorithm updates designed to improve the quality and relevance of Google's search results. A relevant example of such an update is Mobilegeddon.
Mobilegeddon is the name for Google's search ranking algorithm designed to boost mobile-friendly pages in Google's mobile search results. Released in 2015, this algorithm remains a relevant ranking factor in present times.
This update was created to respond to consumer behaviour, which was trending in the direction of mobile. Google wanted searchers to easily find high-quality and relevant pages that show readable content without requiring horizontal scrolling.
If the search engine giant recognised the importance of mobile responsiveness, you should too. Your website may provide you with search engine optimisation (SEO) gains, so you should start making mobile-friendly web design a priority.
2. Smartphone Ownership is Rapidly Increasing
Mobile technology is taking over the world. According to GSMA Intelligence, around 5 billion people own and use mobile devices worldwide, which is 67.03% of the world's population.
However, the growth in smartphone ownership to date vary across nations. The Pew Research Centre reported that countries with advanced economies have higher smartphone ownership than countries with emerging economies.
The survey also showed that younger people in the countries surveyed are more likely to have smartphones, access the Internet, and use social media. And, majority of the people who own a smartphone in advanced economies are under the age of 35. Not only does smartphone ownership is increasing, but mobile internet usage is also growing steadily. As of April 2021, 56% of all web traffic are coming from mobile phones. This figure had increased over ten-fold from April 2011, having only 5.21% of web traffic on mobile.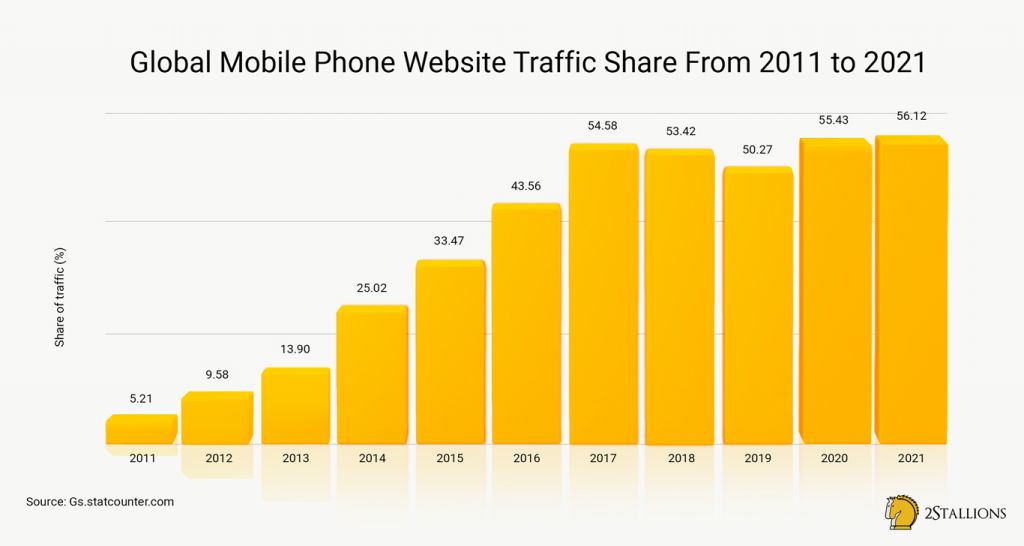 The figures say it all—almost everyone in the world use mobile phones. People might be using their devices differently, but another truth lies therein—browsing the web would always be one of those reasons.
To ensure everyone who drops by at your website becomes a customer, make sure your site has a mobile-friendly web design. A website that looks great and functions well on mobile can encourage people to stay and entice them to make a purchase.
3. Mobile Responsiveness Enhances User Experience
User experience (UX) is a critical factor in all business industries. If a business doesn't fulfil the prospect or customer's needs and goals, it leads to one thing—lost sales.
In e-commerce, poor usability is the culprit behind cart abandonment (people don't complete their purchase). Bad UX is basically like a box of burned chocolate cookies. No matter how people like the treats, they wouldn't finish eating them because of the burned taste.
The same thing applies to the world of the web. People who aren't satisfied with the experience they get while browsing your website are likely to tune away from the first few minutes of their visit.
Suppose your site has jumbled texts and unaligned images all over the place and requires users to scroll through endless pages to find the information they need. You're not helping them choose. You're putting obstacles between you and your prospects.
Don't let non-mobile responsiveness steal fantastic business opportunities away. Invest in a mobile-friendly web design. After all, your website is a crucial platform that influences your credibility, consumer behaviour, and many other things.
Time to Make Your Site Mobile-Friendly
People use mobile devices to communicate with their friends online, check emails, and do online searches, among other things. These many uses of smartphones and tablets suggest the need for mobile responsive sites.
If you're ready to make your site mobile-friendly, 2Stallions is the company to call. We create responsive, mobile-friendly designs focused on helping your users find information quickly and take actions.
Learn more about our website, app, and e-commerce design service here.
🔓 Unlock the full potential of your online presence with a trusted web development firm Singapore services. Elevate your website's user experience with our mobile-friendly web design solutions. Discover how our expert services keep your site at its peak performance today!