The COVID-19 Pandemic hit us all hard and drove many businesses – and inviduals! – online.
The result is that more people than ever before now use the web to search for products and services, make online purchases, and transact with e-retailers. Since customers have gone digital, companies should create digital customer experiences too. 
The new market reality encourages businesses to step up their marketing initiatives and takes advantage of digital media (i.e., websites, Facebook, YouTube, etc.). Otherwise, they would lose their customers and revenues to more digitally savvy competitors.
What Is Digital Customer Experience
As the name suggests, digital customer experience (DCX) refers to the customer touchpoints while interacting with a brand online. It involves a series of actions, including information search, evaluation of alternatives, product inquiry, and most importantly—purchase.
The approach to DCX is different from traditional CX. In brick-and-mortar shops, the store's ambience, customer service quality, security concerns, product display, and many other factors can influence customer satisfaction.
In the virtual space, there are several factors that affect customers' experience and buying decisions. These include website aesthetics and speed, mobile responsiveness, ease of navigation, language, information quality, and so on.
Remember, that when people visit stores in-person they are often greeted by a smiling store clerk; that sort of welcome is hard to replicate online. Your website and interface is all you have to ensure that your customers enjoy your products and services, even if they never see a friendly smiling.
Digitized customer experience matters now more than ever before – with more businesses online, it also means that the competition is fiercer than ever.
For these reasons, businesses should build a digital customer experience strategy to foster a satisfied online customer base.
Why Is It Important to Digitize Customers' Experiences?
1. More Customers Are Going Digital
Customers adapt to and grow with technological advancements and market trends. They learn and embrace such things, not because of the fear of missing out (FOMO) but because they want to satisfy their needs.
Take Internet commerce as an example. Most people now find online shopping more convenient than in-store shopping. The steady rise of mobile apps and eCommerce websites has also made it easier for customers to shop for anything they want without leaving their homes.
Online shoppers use a single device like desktop or laptop, tablet and smartphone, or a combination of each. Consumers prefer time-saving, no sales pressure, and convenience, not to mention discreet shopping method.
Shoppers are also getting smarter with their purchasing decisions, so if businesses fail to meet their expectations, chances are the business will not be able to regain the customer's trust or loyalty.
If building an eCommerce website is not possible, many other digital platforms can come to the rescue. Instagram's shopping platform, and other social commerce platforms, offer a great way to promote a brand and interact with customers. Users can also launch ad campaigns across social media to propel their marketing efforts and drive sales.
2. Digital Channels Uncover Customer Insights
In today's digital era, customers will experience fewer 'bricks' and more 'clicks'. The absence of human touch, however, is not a bad thing—rather the contrary as it happens.
While digital marketing channels lack face-to-face human contact and interaction, they allow companies to interpret sets of customer data easier than other traditional media.
Web performance, for example, can be measured by using analytics tools like Google Analytics (GA). Through this web analytics tool, marketers can examine website activities and understand customers' behaviours.
Here are a few digital metrics for websites that businesses should take advantage of to create a positive digital customer experience:
Traffic: the total number of site or page visits in a given time.
Page View: the total number of pages viewed; it includes repeated views of a single page.
Unique Page Views: the number of visitors who have viewed a specific page at least once during a visit.
Average time on Page: the average amount of time users spend viewing a specific page or screen or set of pages or screens.
Bounce Rate: the percentage of single-page visits or the number of visits in which people left your website from the same page they visited
Google Analytics provides insights on the above metrics. The tool can tell what path site visitors or users take, how long they stay on a specific web page, what actions they take during the visit, and more.
3. Tailor Products or Services to Individual Users
Digital transformation is not solely about technology. It is about one's ability to harness technology's power in creating individualized customer experiences.
When businesses decide to integrate digital technology into their business operations, it becomes easier to address each phase of the customer journey. The advances in data collection and analysis allow marketers to implement personalized approaches tailored to customers' specific needs.
Personalization is crucial in delivering a meaningful overall digital customer experience. It is the finishing touch to secure sales and generate brand loyalty.
Bonus: Tips for Digitizing Customer Experience
1. Combine Digital and Human Elements
Virtual customer assistants (VCAs) like chatbots are becoming increasingly popular in the digital landscape. These messenger bots can automate customers' inquiries and enable personalized interactions.
H&M is an excellent example of a company that combined digital and human elements successfully. The multinational clothing-retail company used a chatbot to provide users with a mix of user-focused technology and highly-personalized human connection.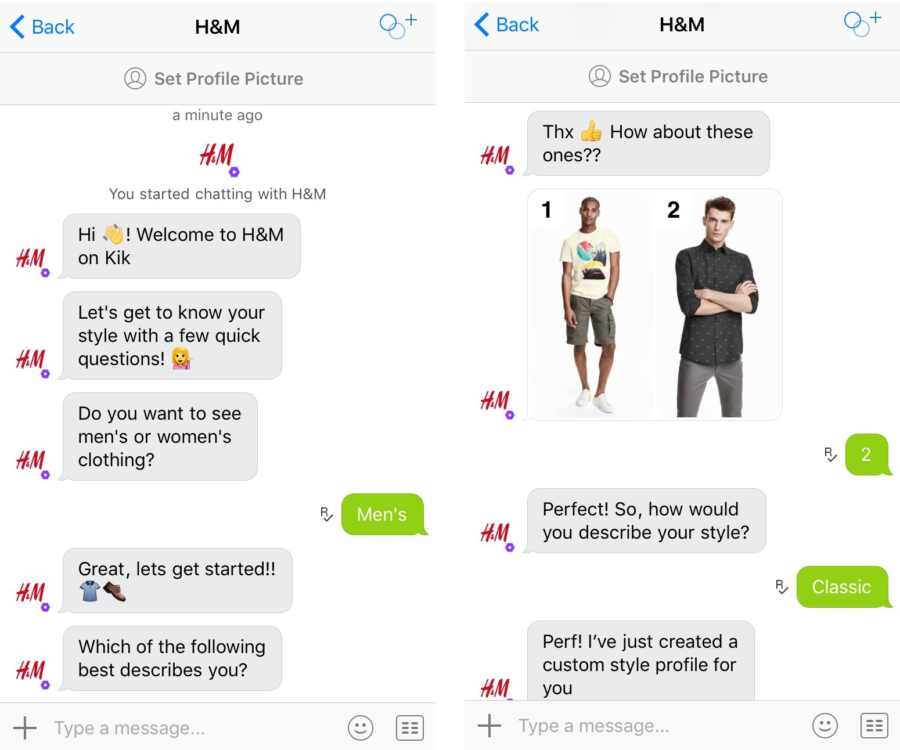 2. Provide Personalized Content
Thanks to digital analytics, it is easy to create a content plan that addresses customers' interests and buying habits. By looking at the available data, businesses can share content pieces—be they landing pages, social media posts, blogs, newsletters, and infographics—that speak to them.
3. Optimize Mobile User Experience
Mobile usage statistics vary per study, but one thing is clear—the global mobile population is ever-changing and increasing. People around the world own smartphones and use them for a variety of things, including shopping.
Businesses should make use of this insight and focus on improving customer experiences on mobile. Some of the ways that can help them optimize mobile user experience include:
Keep layouts simple
Use easy-to-read text
Aim for a responsive web design
Use faster-loading image formats
Improve the search feature in the app
Final Thoughts
As the world becomes increasingly digital, the need for pairing digital tech with a solid marketing strategy also increases. Brands should treat customers' online journey as a critical aspect and find ways to deliver optimum digital customer experience.
If you are thinking about developing a digital transformation strategy, 2Stallions can help lay the foundation so you can make the most out of digitization. We offer the right mix of digital marketing services, including SEO(search engine optimization) services, social media marketing, content marketing, and more.
Get in touch with us today to find out how you can further improve all your digital marketing efforts. 
Originally published: 28 January 2021
Updated: 25 November 2022