If the content is the "king" in digital marketing, eCommerce website design is the "key" to making positive first impressions in the online retail world.
The overall look and feel of your website greatly impact how prospects perceive your business. Your site's aesthetics, usability, accessibility, and many other factors are to your eCommerce business success.
Whether you're building a new online store or revamping your existing site, be sure to get your priorities right—and effective eCommerce website designing should be a part of it.
In this guide, we will walk you through the eCommerce basics and how to design an eCommerce website set for success.
Table of Contents:
What Is an eCommerce Website?
Why Should You Have an eCommerce Website?
Why Is Web Design Crucial in eCommerce Websites?
What Are the Essential Elements of a Good Web Design?
How to Design an eCommerce Website for More Conversions?
Exploring eCommerce Websites
An eCommerce website, by definition, is a website that allows retail companies to sell tangible goods or services over the Internet. It's a virtual space where merchants can showcase their products and facilitate transactions with online shoppers.
Businesses can build their online shopping stores in different ways. Among the popular options include:
Set up a storefront in an online marketplace, like Amazon

Create an online store using an eCommerce website builder

Launch a full-featured eCommerce store on a dedicated platform
While the first two are approved methods for setting up an online store, we recommend the third option as it offers a more simplified approach to building and designing eCommerce websites.
5 Reasons to Build or Overhaul Your eCommerce Website
Retail has evolved from traditional brick-and-mortar stores to online shopping stores. While there are still retail businesses that sell their products in their physical locations, some retailers have switched heavily to online selling.
One of the reasons for this shift is the growing number of online shoppers. According to Statista, there are around 2.14 billion digital buyers worldwide, which is about a 23% increase from the global number of online buyers in 2016.
So, if you don't have an eCommerce website yet or your current site fails to drive engagement, it's about time to give it a thought. Here are five reasons to create or revamp your online store:
1. Increase Brand Visibility
Your website serves as your extended digital business card; it helps spread the word about your brand and broaden your customer base regardless of the time of day.
The best part about having an eCommerce store is that you can widen your reach even more through a mix of search engine optimisation (SEO) and social media marketing (SMM) strategies.
You can run campaigns to boost your search engine rankings and grab the attention of your target audience.
2. Supercharge Your Marketing
Launching your eCommerce site allows you to maximise marketing opportunities. The possibilities are limitless—you can do cross promotions, utilise blogs and videos, leverage social media and capitalise on email marketing strategies.
These activities all have the potential in driving traffic to your website and bringing more revenue—which selling on the marketplace lacks.
3. Make Data-driven Decisions
Having a physical store indeed allows you to oversee daily operations and handle customer complaints quickly. But did you know that running an eCommerce website also offers the same advantages?
Several website analytics tools can help you gather data from all areas of your eCommerce store. Such systems let you understand your customers better, monitor their online behaviours, and study performance trends, among other things.
4. Reduce Overhead & Operating Costs
Unlike brick-and-mortar stores, online stores have lower startup and running costs. You can opt for a minimalist eCommerce website design that's within your budget, not to mention get your business and products in front of more people 24/7.
5. Revolutionise the Shopping Experience
Overall, eCommerce websites deliver a seamless and convenient experience. Shoppers enjoy the ease of browsing and ordering; they won't need to visit physical stores and mind the hassles of travelling—traffic, parking, and more.
Web Design: The Many Roles It Plays in eCommerce
Web design is one of the crucial factors that determine the success or failure of a website. It influences how potential customers perceive a brand and affects their purchase decisions.
If your website has poor aesthetics and falls short of functionality, you're doomed to lose a pool of e-consumers. Here's why you should put a lot of effort into your eCommerce website design:
1. Set the First Impression
Ever heard of the phrases seeing through the eyes of your customers or putting yourself in their shoes? Try looking at or evaluating your business through your customers' eyes. Do you like how your eCommerce site looks? Is it appealing or user-friendly enough to make sales?
The overall look of your website and its user experience significantly impacts your brand's authority and image. Prospects will immediately leave your site if it has a complex layout, takes too long to load, and contains confusing font styles or colours.
Contrariwise, an exceptionally designed eCommerce store will entice prospective customers to stay on your page longer. It drives them to learn more about your business and the products you offer, which increases the chances of turning them into paying customers.
2. Improve Customer Trust
Some customers are too quick to judge—but can you blame them? It takes just a quick glance, maybe a few seconds of scrolling on your website, to know whether your business meets their expectations.
Setting positive first impressions, especially for first-time visitors, is key in developing customer trust. The more e-consumers feel pleased and satisfied while browsing your site, the more you earn respect and trust from them.
With every new website visit or click, another prospect's impression of you is formed. These first impressions are nearly impossible to reverse or undo, and often set the tone for healthy customer relationships.
3. Boost Customer Satisfaction
According to the Society of Digital Agencies (SoDA)'s report, 77% of agencies identified bad user experience (UX) as the most significant weakness for their clients. Even if visual elements like colours and fonts are set right, other elements may ruin the overall user experience.
UX is an essential aspect, along with UI, in designing eCommerce websites for customer satisfaction. It involves all things that make your eCommerce highly attractive to consumers, such as usability, accessibility, and desirability—we'll talk about it more later.
It's also no secret that people's attention spans are short nowadays. If your web design offers the best online experience possible, you will reap many rewards, including increased revenue, improved brand loyalty, and better customer retention and loyalty, among other benefits.
4. Bring Additional Website Traffic
Did you know that web design and search engine optimisation (SEO) go together? SEO is a versatile approach that works (or should be applied along) with many other concepts, such as web development, content marketing, social media marketing, and more.
Search engine optimisation plays a major role in eCommerce website design and development. It helps drive traffic to your website and provides several optimisation opportunities to get your pages to rank even higher. Examples of web design elements to optimise include:
Website navigation

Website content

Mobile usability

Website speed

URL structure

Images
Anatomy of an Effective eCommerce Web Design
As discussed, website design contributes to the memorability of your branding, instils a sense of trust in your business, and impacts your website's performance in search engines.
With the great power that web design holds, you must ensure your eCommerce store wins in aesthetics and usability. Below are the essential elements you shouldn't miss when designing your website.
1. Visual Elements
eCommerce website designing involves meticulous planning, conceptualising, and placing of visual elements. The colours, fonts, texts, graphics, and other things shoppers see on your online store can either sway them to add to their carts or leave your site in a few seconds.
To ensure your prospective customers take the former path, take the following elements into account:
Layout

– refers to how the elements in your website are arranged. When choosing a layout, keep the

web design principles

in mind. Rank elements based on your business objectives, make use of the white space and apply the golden ratio of proportions, and rule of thirds.

Colour

– is an exciting component to play around with; it sets the tone and mood of your website. The general rule of thumb is to align your colour scheme with your brand. Using brand colours consistently helps build brand recognition, boost recall, and increase customer trust.

Typography

–refers to the style or appearance of text. This web element ensures your site visitors can comfortably read all the text-based content on your website. Implementing a perfect blend of fonts, colours, and spacing may attract and hold your reader's attention.

Images/Videos

– are an integral part of any eCommerce website; they're not only a factor of aesthetics but also serve as informational tools. Images bring your product or service to life, helping create trust and trigger emotions.

Lines/Shapes

– these are visual cues that evoke a sense of style, order, and balance and set up the focal point of your design. When used correctly, they can convey your brand image and message properly, spark interest in your content, and drive conversions.

Text Content

– is the backbone of your eCommerce store. Not only does it aid in your search engine placement, but it also keeps your site visitors informed about your business and product offerings.
2. Functional Elements
Web design goes beyond aesthetics, it also focuses on giving your prospects the best possible browsing and shopping experience. Here are the most important functional elements to prioritise in your website:
Speed

– refers to the load time of your website. Slow loading pages leave users with no choice but to go elsewhere. No matter how pleasing your website is, it will only deter opportunities for conversions if it takes too long to load.

Accessibility

– it is a practice that ensures your website is usable or accessible by as many people as possible. For example, people with disabilities (i.e., dyslexia, colour-blindness, etc.) or low-tech literacy level should be able to comprehend your web content.

Navigation

– refers to how your customers get from one web page to another. This element can dictate how long you can keep site visitors on your page and direct them to the last step—purchase.

User Interaction

– it is a component that aims to build engagement with every potential e-consumer regardless of the device they're using. Examples of common user interactions to incorporate are playable videos, clickable call-to-actions (CTAs), product searches, and more.
3 Tips on How to Design an eCommerce Website
1. Follow UI Design Best Practices
It's common for businesses to invest in UX design. However, some of them fail to realise that UI contributes to the overall user experience.
To clarify any confusion, UI refers to the user interface or the entire interaction shoppers have with a product or experience during the site visit. It involves the connection between users and visual elements, such as texts, buttons, icons, images, and more.
Little did people know that user interface sets the solid ground for the desirability of eCommerce websites. So, it's imperative to embrace UI design considerations, including:
Adopting a visual hierarchy

. Certain design elements are more important than others, hence the need for visual hierarchy. Suppose your website has five visual items (e.g., banner image, CTA buttons, forms, value proposition, etc.). Which item would you like users to click?

The thing is, hierarchy doesn't always come in order—some are made prominent using sizes or colours. Rank or highlight the elements you want to prioritise.
Ensuring brand consistency

. Make your branding consistent throughout your eCommerce website—whether it's viewed or accessed via a laptop, PC, or mobile device. Select colours and use a tone of voice that reflects your brand.

Implementing a clean web design

. Keep things as simple as possible. A clean, digestible web design is crucial for user-friendly navigation. Limit font formats, harness the power of white space and play with colours and shapes to a bare minimum.



Using symbols and icons effectively

. While symbols and icons allow you to inject creativity into your website, some users may find them confusing or frustrating. Avoid possible confusion by making them more relevant or accompanying them with labels.
2. Consider Key UX Design Factors
You probably know by now that UX design isn't limited to physical design or what e-consumers see on your website, instead, it focuses on the user's end-to-end experience.
If you're not confident about acing the UX aspect of your eCommerce web design, take the time to review the following aspects and implement them accordingly:
Seamless product search

. What happens when a shopper can't find the product they're looking for? Simple—they exit your website

.

To avoid such instances, build a versatile search function by putting a search box on every page or allowing sorting or filtering of results.

Relevant call-to-actions (CTAs)

. Use clear or relevant CTAs. For example, the primary goal of the shopping cart is to lead users to checkout. Make sure the checkout button is visible on your online store; choose a recognisable button colour, font, and shape.

Attractive product page design.

Design a product page that resembles an in-shopping experience. Add high-quality images of the product—including a zoom feature, a video, or a photo when worn or held—and descriptions about it.

Clear order summary/editable cart.

Make the shopping cart editable. Give e-consumers the option to change details, such as quantity, size, colour, etc. directly in the cart.

Multiple payment options.

Did you know that

shoppers abandon their carts

when they don't see their preference among the payment options? Don't fall into the same trap. Cater to as many payment methods as possible so shoppers proceed to checkout.
3. Provide a Clear Value Proposition
What completes UI and UX design? A good copy. Most shoppers visit your eCommerce website with the intention to make a purchase, so write a quality copy that conveys the value your product offers your target consumers.
When writing a copy, don't focus on features alone. Instead, detail how your product alleviates main pain points and offers more delightful benefits. Take Recess' landing page as an example: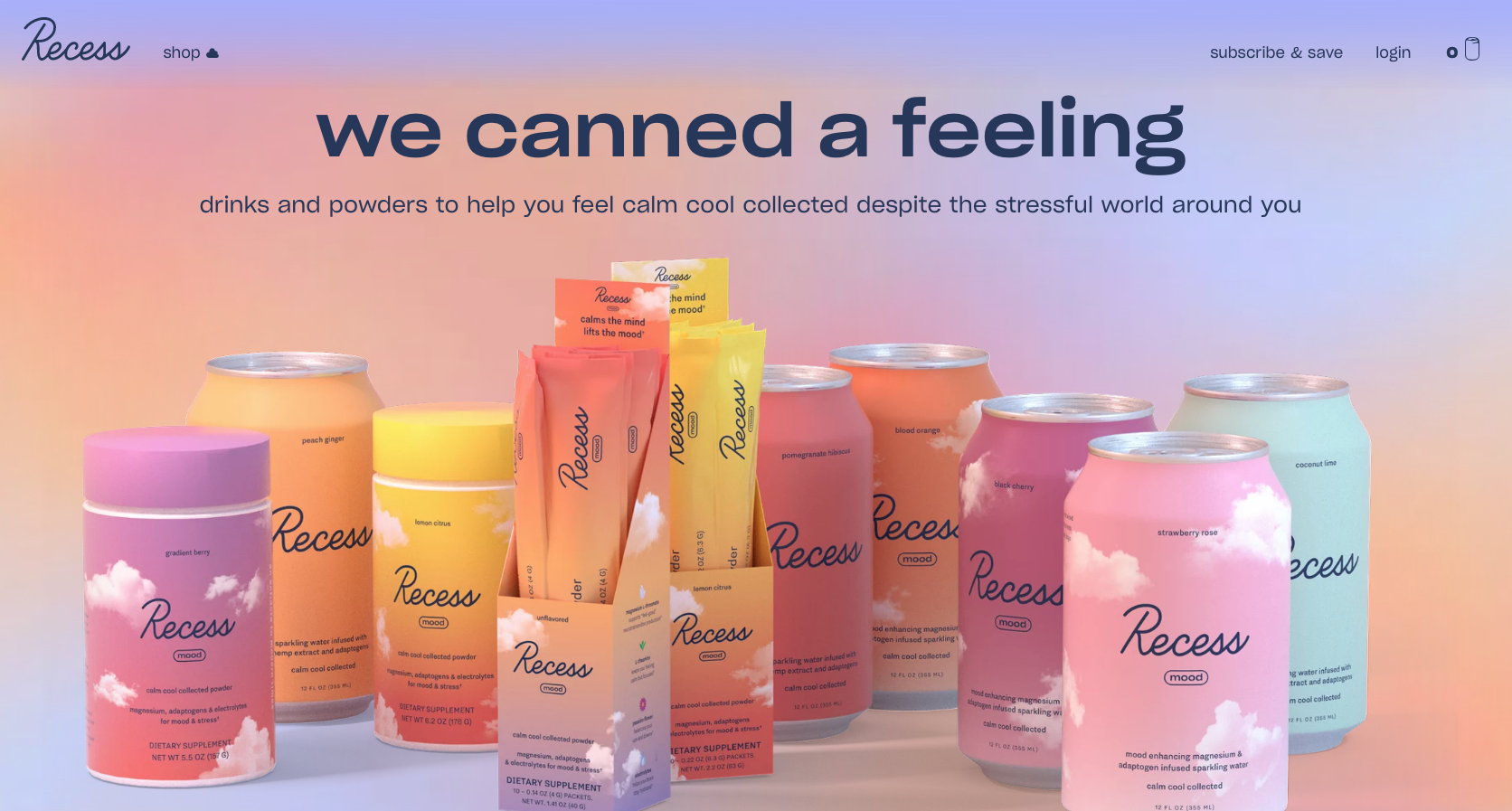 The beverage company highlighted the importance of feeling calm and introduced Recess as the solution to temporarily escape the stressful world.
When you scroll down Recess' homepage, you will see its clear value proposition: enable people to take a breather and think of other things that matter.

The content on your eCommerce site is as important as the visuals and other design elements. Craft them as engaging as possible and ensure they align with your website's tone and branding for consistency.
Commission Your eCommerce Website Design
Designing your eCommerce store for success may take a lot of time and hard work, but the benefits come in twofold, especially if you partner with a full-service digital marketing agency that specialises in web design.
At 2Stallions, we build eCommerce websites that drive engagement and generate sales. Our team of experts follow the best UI/UX practices to ensure your target consumers leave your site with a takeaway—a purchase and a memorable shopping experience.
Learn more about how we can help create your website here or contact us at (+65) 9129 6248 today!
📈 Elevate your online presence with skilled service from web development company Singapore. Our experts master the art of visual hierarchy web design, ensuring your site captivates and converts. Let's build your digital success story together!