Planning to hire a content marketing agency to manage your company's content? Whether you need landing pages, blog posts, infographics or other types of content, it's important to find the right fit.
Do you think all content marketing agencies are the same? We'd like to tell you different—every content agency develops and executes on campaigns differently. Each agency also has a unique team that brings a diverse mix of knowledge, skills, and creativity to the table.
There are two things to consider when searching for the "best fit" agency—the nature of your business and the kind of content an agency can produce. Overlooking these runs the risk of failing to add value to your brand.
Before we share tips for selecting the right content marketing agency, let's first discuss what the role of content marketing agencies should be.
What Does a Content Marketing Agency Do
The name itself is self-explanatory – "an agency that creates content". However, its goal isn't just limited to content creation. It should, through its expertise, help your business to leverage the content to establish your online presence.
Content pieces (i.e. blog articles, videos, landing pages, social media posts, etc.) may help spread a positive brand image across the Internet for your business.
A content marketing agency should also work on marketing initiatives for the created content to help your business achieve the following:
Generate traffic
Attract new leads
Keep customers engaged
Increase conversion rates
Track and monitor progress
Update the content strategy
So now that you're aware of the role of a content marketing agency, let's tackle something more interesting. Below are four tips on finding a content marketing firm that best matches your specific needs.
How to Choose a Content Marketing Agency
1. Examine Their Strategy
Content marketing needs to be planned and strategized. With an effective strategic direction in place, your business will gain more clicks, follows, and other profitable customer actions
According to CMI, 72% of B2B marketers said that content marketing strategy is a critical factor in content marketing success. The respondents with a documented strategy report more successful campaigns than those with a verbal strategy only, or no strategy at all.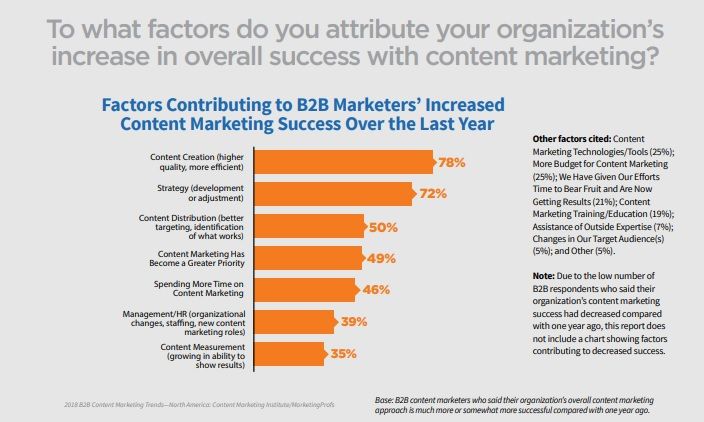 Source: CMI
When looking for an agency, ensure that they can develop a specific strategy that meets your business' needs and goals. During a pitch, you can request for a general content strategy for your industry and analyse their response.
Examine the proposed content marketing strategy and check if it addresses the following questions:
Who are your target customers and what content types best suit them?
The strategy should take a stab at defining your target audience, customer touchpoints and the content types needed to reach them.
What goals can you achieve using content marketing?
An agency should identify the goals that your business can attain through their content marketing strategy. Typical goals include increased website traffic, more leads, greater social media engagement, and so on.
How content marketing-related processes are streamlined?
The content marketing pitch should discuss who will be producing and managing your content. It should also present the tools needed and give an overview of the workflow and processes if you were to work together.
See: 3 Ways to Self-Learn Content Marketing  
2. Assess Their Team
Great things in business are never done by a person; they're done by a team of people. This popular Steve Jobs quote may come in handy when doing an agency search.
You should spend some time chatting with the agency's team members to check whether there's rapport. Doing this will also let you know if they have the needed expertise to achieve your goals.
For example, if you want to increase website traffic via search engines, social media and email marketing, the content marketing agency should have staff who specialise in those platforms with proven past results.
You can't expect a content writer to develop SEO-optimized content if he or she lacks knowledge about key SEO requirements. That's like asking a pastry chef to prepare the main course in a restaurant—it's possible but the results aren't guaranteed.
Besides focusing on achieving your goals, it's also nice to work with professionals who can market your content without making a cultural faux pas.
Remember the Pepsi advertisement that featured Kendall Jenner? Pepsi wanted to project a global message of unity, peace, and understanding. Unfortunately, many people were offended by the video and viewed the brand frivolous because of how they painted protests in today's political climate.
Your content marketing agency should anticipate any sort of misinterpretation during the ideation process.
The Pepsi commercial mishap also proves the need for a content team with different opinions, cultures, and beliefs. The more diverse a team is, the greater the chance to spot probable misconceptions and complete tasks efficiently.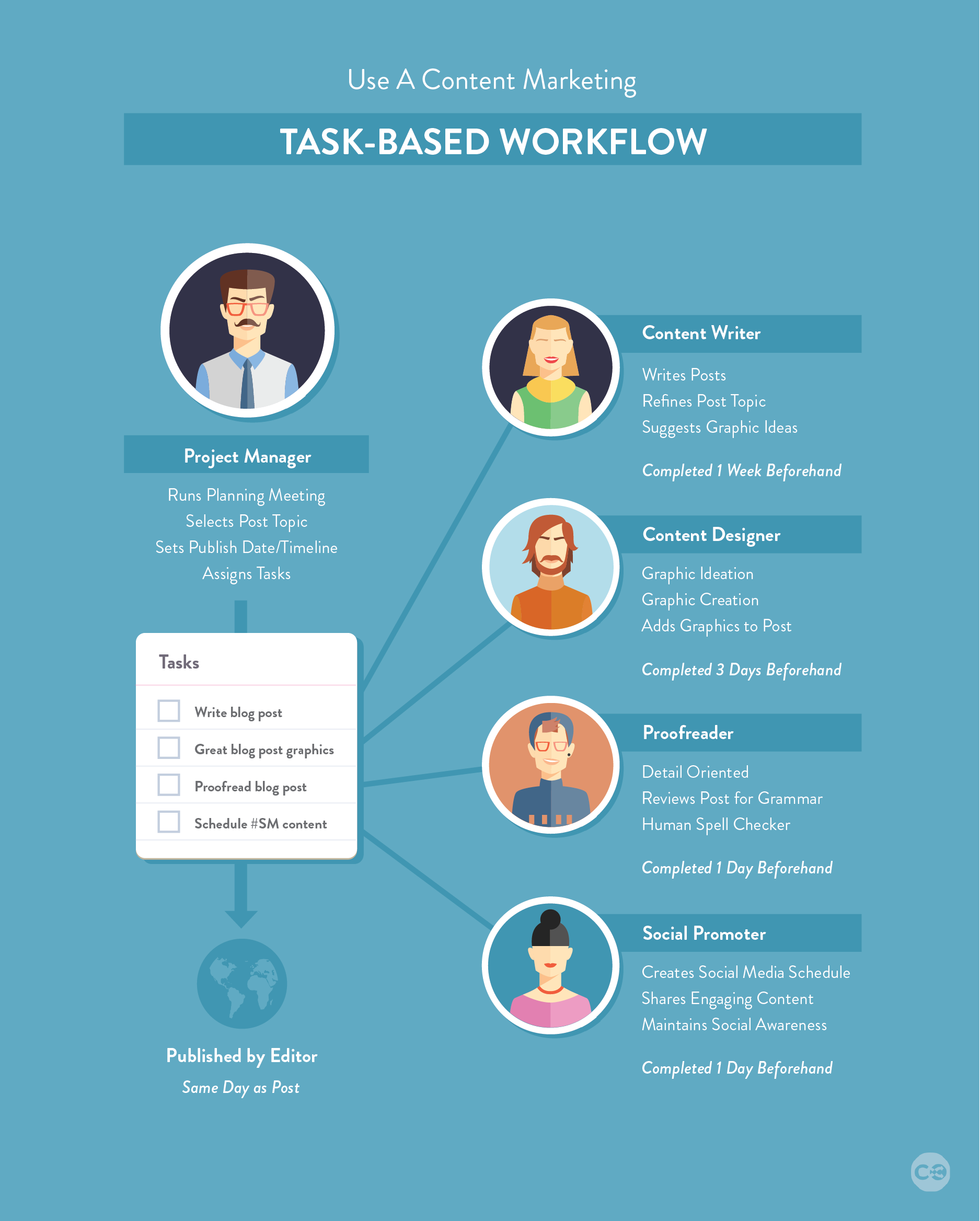 Souce: CoSchedule
3. Measure Results
Without proper tracking, it's hard to determine whether your content marketing efforts are working. You would not be able to analyse whether your different content supports your overall marketing and business goals.
This is where you should consider the ability of content marketing agencies to measure, interpret and analyse your content performance. A good content marketing agency should have analysts and the right tools on hand to perform such activities.
During your assessment, ask how they would measure your content performance and work towards aligning with and achieving your goals. They should be able to provide you with an effective measurement plan with metrics that help gauge your goals.
This chart from CMI's Vice President of Marketing, Cathy McPhillips, can serve as your reference: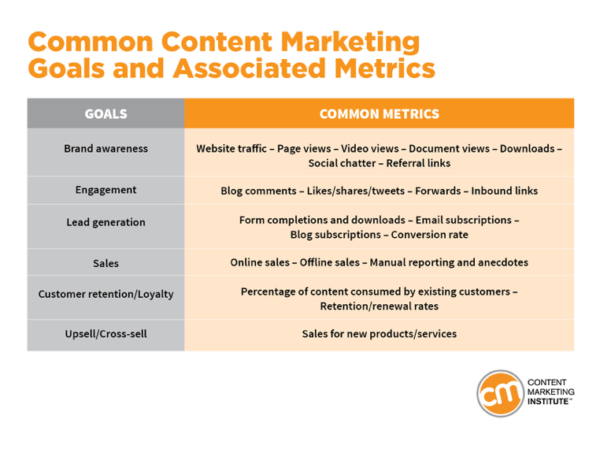 Source: CMI
Typically, content marketing agencies utilise measurement tools like Google Analytics to track, analyse, and report on performance. Examples of such reports are Site Content reports. This report lets you look at your website's traffic and further segment it to determine which source the traffic came from.

Behaviour > Site Content > All Pages report
4. Know Who You Are Working With
It's important to know who you will be working with before entering into any new business relationship. Evaluate first the agency's reputation and the work they do to ensure a fruitful partnership.
Ideally, it should be free of ethical or legal problems, have relevant industry experience, and most importantly—have a roster of happy and satisfied clients.
It also helps to look at their website. As a content marketing expert, their website should be filled with timely, helpful and excellent content. They should practice what they preach and use content marketing to market their own agency's services.
While browsing through their website, check for past clients vouching for their work. Positive client testimonials are proof that the agency and/or their services offer great value. If they don't have any public testimonials, ask them if they can provide you with a pitch deck consisting of their present and past clients.
Lastly, have a conversation with them. An in-person or virtual video meeting will make it easier for you to gauge their transparency and confidence. Ask them questions such as "Who will handle the campaigns?", "How often would the status meetings be held?" and so on.
Content marketing experts should be able to respond to your queries and enlighten you on their work procedures. They should brief you about how they research and plan out content, produce the content pieces, and monitor or analyse the performance.
Summing It Up
Content marketing isn't just a buzzword—it's a tried and tested approach that can drive profitable customer actions. So if you want to drive content marketing success, tie-up with a content marketing agency that understands your needs and goals.
Whether it's to drive more website traffic, capture the audience's attention, increase brand engagement, or improve brand recall, 2Stallions can help you out. We will run an analysis of your website and develop a plan based on your existing analytics data and your desired outcomes.
Transform your online approach with 2Stallions! Discover the ultimate content marketing solutions and enhance your brand's visibility with our top-notch content marketing agency. Seize the opportunity to collaborate with us today!