Since its inception, Instagram has evolved into a dominant force in brand advertising, boasting a user base of over 2 billion active users and high levels of engagement. It is essential to stay up-to-date with the most effective methods for optimising your Instagram presence. If you are currently reading this, it may be time to refresh your understanding of Instagram advertising.
Here are all the things you need to know about advertising on Instagram from its features, pros and cons, and what are the best practices to maximise it.
Instagram Advertising: What is it?
Advertising on Instagram refers to the practice of promoting products, services, or brands through sponsored posts, stories, or ads on the Instagram platform. 
These ads can be in the form of photos, videos, carousels, and more. They can be targeted to specific audiences through demographic, location, and behaviour-based targeting options. 
Advertising on Instagram is definitely an effective way for you to reach and engage with your target audience, increase brand awareness, and drive sales and conversions.
Important Features
In Instagram advertising or Instagram ads, you can leverage visually appealing content to reach a large and engaged audience through a robust platform. With a wide range of ad formats and targeting options, you have the flexibility to create campaigns that align with your objectives and resonate with your target audience.
Two key features of Instagram advertising are boosting posts and creating campaigns:
Boosting Posts 
Boosting allows you to promote your existing posts to a larger audience, beyond just their followers. 
This is a simple way to increase visibility and reach for specific posts, without the need for a full advertising campaign. By selecting the post to boost, you can choose the target audience, budget, and duration of the promotion. You can learn more about how to boost your Instagram posts here.
Campaigns
Campaigns offer a more comprehensive approach to advertising on Instagram. This feature allows brands to create and run multiple ads as part of a larger campaign, with the option to target different audiences and test different ad formats and creatives. 
Additionally, you can track the performance of the ads and make adjustments to optimise your campaigns. With campaigns, you can achieve greater scale and impact with creative advertising practices on Instagram.
Pros & Cons
Pros of Instagram Advertising
Large Audience
With over 1 billion monthly active users, Instagram offers a vast audience for advertisers to target.
Visual Platform
Instagram is a visually-driven platform, which makes it perfect for showcasing products and services in an attractive and appealing way.
Targeted Advertising
It offers various targeting options based on interests, behaviours, and demographics, allowing advertisers to reach their desired audience.
High Engagement Rate
It also has a high engagement rate, meaning that people are more likely to interact with content on the platform compared to other social media platforms.
Cons of Instagram Advertising:
Costly
The cost of advertising on Instagram can be higher compared to other platforms, especially for popular keywords and target audiences.
Algorithm Changes
Instagram's algorithm is constantly changing, making it difficult for advertisers to reach their target audience organically.
Competition
With more businesses advertising on the platform, it can be challenging to stand out from the crowd and get noticed by potential customers.
Limited Action Options
Instagram advertising options are limited to clicks to websites, profile visits, and direct messages, which may not be suitable for all businesses.
How To Get Started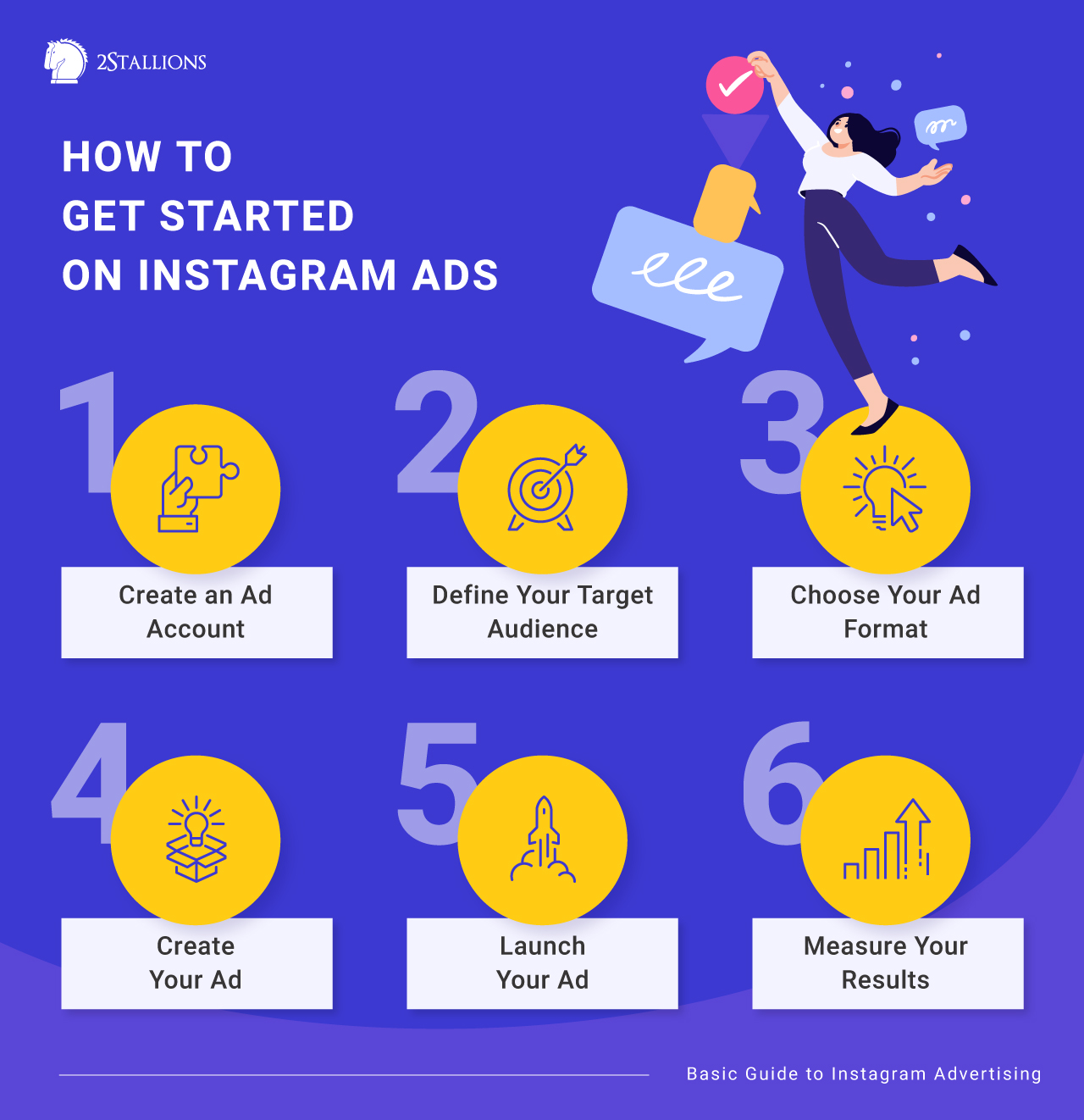 If you're considering using Instagram advertising for your brand, 2Stallions can help you with that!
Here are six simple steps to get you started:
Creating an Ad Account 
The first step in advertising on Instagram is to create an ad account. This can be done through Meta Business Suite, which allows you to manage your Instagram advertising alongside your Facebook advertising.
Defining Your Target Audience
Once you have an ad account set up, the next step is to define your target audience. Instagram offers various targeting options based on interests, behaviours, and demographics, allowing you to reach your desired audience effectively.
Choosing Your Ad Format
Instagram offers several ad formats, including photo, video, carousel, and story ads. You can choose the format that best fits your business goals and target audience.
Creating Your Ad
After selecting your ad format, you can create your ad by uploading images or videos and adding text and a call-to-action. You can also choose to target specific locations and select your preferred budget and bidding options.
Launching Your Ad
Once your ad is created, it's time to launch it. Instagram's advertising platform will review your ad and make sure it meets its advertising policies. After it's approved, your ad will be live and start reaching your target audience.
Measuring Results
Finally, you can measure the success of your advertising campaign through the analytics available in your Instagram ad account. You can track metrics such as impressions, reach, engagement, and conversions to see how your ad is performing and make any necessary changes.
Who Should Use Instagram Advertising
Instagram advertising is a perfect tool for a variety of businesses, especially those in e-commerce, business-to-consumer (B2C), direct-to-consumer (D2C), industries that rely on visuals, service-based businesses, local businesses, and non-profit organisations.
How Much Does Instagram Advertising Cost?
The cost of Instagram advertising can vary widely depending on several factors, such as the ad format, targeting options, industry, competition, and budget. 
Instagram uses a bidding system, which means that the cost is determined by how much advertisers are willing to pay for their ads to be shown to their target audience. The cost can be based on cost-per-click (CPC), cost-per-impression (CPM), or cost-per-action (CPA) models.
It is best to use Instagram's advertising platform to set a budget and determine the actual cost of advertising for your specific campaign. Alternatively, you can learn more about setting the right budget through Meta's Ad Guide.
Best Practises For Instagram Advertising to Achieve Marketing Goals
Define Your Target Audience
Knowing your target audience is essential for any advertising campaign. Instagram's advertising platform allows you to target users based on factors such as age, location, interests, and more. By targeting the right audience, you can increase the chances of your advertisements being seen by users who are most likely to engage with your brand.
Use Visually Appealing Content
Instagram is a visual platform, and users are more likely to engage with visually appealing content. Use high-quality images or videos that showcase your products or services in an attractive way. Utilise Instagram's various ad formats, such as carousels, stories, and reels, to create a more dynamic and engaging experience for users.
Utilise Instagram's Call-To-Action (CTA) Features
Use Instagram's built-in CTA features, such as "Shop Now" or "Learn More," to drive users to take specific actions, such as visiting your website or making a purchase. By making it easy for users to take the next step, you can increase the chances of converting them into customers.
Track And Analyse Performance
Instagram provides detailed insights and analytics that allow businesses to track the performance of their advertisements. Use this information to make informed decisions about future campaigns, such as adjusting your target audience, changing your ad format, or modifying your CTA.
Use Influencer Marketing
Partner with influencers who have a large following in your target audience. By having influencers promote your products or services, you can reach a new, engaged audience and increase brand awareness.
Wrapping Up
Instagram advertising is a powerful tool that can help businesses and individuals connect with a vast and engaged audience, leading to higher brand awareness, engagement, and conversions. 
By leveraging the various ad formats and targeting options available on Instagram, you can create compelling campaigns that resonate with your target audience and drive real results for your business.
If you are looking to maximise the potential of Instagram advertising and build your brand presence, look no further than 2Stallions. We're passionate about helping businesses of all sizes succeed, and we're here to support you every step of the way.
Contact us today to learn more about how we can help you create an effective Instagram advertising strategy that drives real results for your business!