Education is a vital aspect of modern society. Young people learn to navigate the diverse world around them, and grow their social skills during their educational journeys. Education, of course, takes different forms – homeschooling, private tuition, public schools, higher education like universities, etc – but they all have one thing in common: they are all striving to help build a better society through our youth.
Higher education marketing is a role that many of us will have encountered at some point in our lives, whether subconsciously or obviously. Physical flyers or digital advertisements have at all drawn our attention to different educational opportunities. In this issue of the Marketing Expert Series, we delve into the complex and fascinating world of marketing in the higher education industry. Join us as we speak with Ooi Lay Tin, Head of Marketing & Sales at the International University of Malaya-Wales in Kuala Lumpur. With her vast wealth of knowledge, Lay Tin talks in depth about her diverse experience in the industry and her outlook of its future.
---
Welcome to the Marketing Expert Series, Lay Tin, thank you for coming onboard. Let's kick off with a little background, can you tell us a bit about yourself? How did you get to where you are now?
During my school days in Penang and my uni days in Kuala Lumpur, I was an introvert. I also bloomed late in my career. For a time I worked in the publishing and the retail industry – all very much people-based lines of work. Since then, I have been in the private higher education industry for some 29 years.
The demands of a customer-facing and business development role, and adapting to constant change, moulded me into more of an extrovert in my work. I enjoy learning and solving problems. Somehow I never liked standardised operational or compliance work. In marketing, sales, business development, and communications no two days are the same. These areas are always evolving and are even more challenging to navigate in difficult times.
What was it that first attracted you to this work?
It all started with an opportunity to join an enterprising Malaysia education group (MBf Education Group) and work with the president. The internal Management Development Programme allowed me to move into areas I showed an affinity for.
At an international marketing conference, a topic on the "Importance of Branding Strategy" really spoke to me. I even did my MBA dissertation on it! Afterwards, all my bosses gave me opportunities in different roles to help their organisations grow.
Looking back now, I realise that my underlying interest was in writing and communicating, meeting many new people, while further developing myself.
Currently, you're the Head of Marketing and Sales at the International University of Malaya-Wales (IUMW). It seems like such a unique combination – Malaysia and Wales – can you tell us a bit about IUMW?
Yes, I am back in an organisation that has links or roots close to my heart. I am a proud alumna of University Malaya.
IUMW is owned by two prestigious universities – University of Malaya and the University of Wales, UK. Set up 8 years ago, it provides affordable study for students in Malaysia and more than 40 other countries. We offer programmes at the foundation or pre-university level to MBA, DBA and PhD.
The University is special because of its Dual Awards programmes. When students graduate, they receive 2 certifications, one from IUMW and one from the University of Wales Trinity Saint David (UWTSD) in the UK.
Dual Awards programmes also provide a valuable opportunity for students to experience global education by spending a semester abroad at UWTSD in the UK.
What is it like to shape the marketing strategy of a university like IUMW?
While there are similarities, each university I've worked at has its own organisational culture, is at a different product lifecycle stage, and attracts a slightly different market segment. The market strategy depends on differentiation, specialisation, segmentation and positioning.
Being young, IUMW has a much flatter and leaner structure. With its reputation and management, the academic quality is very much governed by the University of Malaya, a highly ranked university internationally and the oldest university in Malaysia.
This year, we looked for modest growth by increasing sales of existing programmes and introducing new online programmes. We are also growing distribution channels using student recruitment agents and direct digital marketing efforts, competitive pricing, and partnerships. Our efforts using omnichannel marketing focus on the highest return initiatives.
For 2021, it's about enhancing student experiences and rebuilding consumer confidence in online and blended learning.
Do you think that we will continue to see a growth in the online and blended learning opportunities in Malaysia and South East Asia even after the pandemic is over?
Students need to study and follow well-structured lesson plans so that they can graduate on time. With the uncertainties and the dynamic changes of the last year, institutions are blending online and face-to-face learning. This entails combining online seminars and tutorials with face-to-face delivery prioritised for workshops, and studio and practical laboratory work.
We expect growth; both students and lecturers find this blended method of learning viable. The downsides, however, include lack of social interaction, limited collaborative learning, and the need for more preparation and adjustment time.
The review of pedagogy (approach to learning), learning design, curricula and assessments to meet the needs of the future generations and global competitiveness of the education industry will need a lot of effort.
Before joining IUMW, you worked as the Deputy Director of Marketing at Monash University Malaysia, and before that you were at Taylor's University College, ACCA and at the International Medical University. You clearly have an affinity for marketing in the education sector. What is it about this industry that drew you to it?
I'm thankful to have led marketing at 5 top education brands, contributing my ideas, and sometimes even shaping structure at each institution.
Somehow opportunities were always there for me as a higher education marketer and I do like a people or service-related job. At IMU, I worked alongside professors of medicine, dentistry, pharmacy and nursing. These super smart yet humble colleagues inspired me. It's like they say: everyone you meet knows something you don't. I spent days talking to students and parents about study opportunities in Malaysia and abroad. We shared countless real-life experiences and stories with them. The end goal is to make someone else's life better.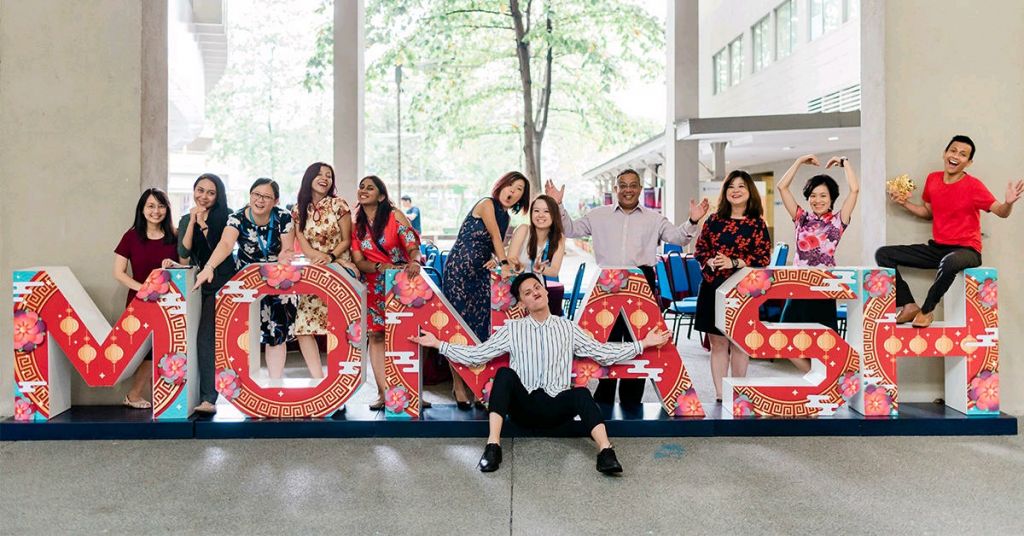 Can you give us some insight into your time at Monash and Taylor's? What was it like? Is IUMW very different?
Private higher education is very competitive and the Ministry of Higher Education strictly regulates it. Taylor's was always on-the-go and would invest a lot to have top-of-mind recall. It had large marketing budgets and produced amazing work, they still do it today. It was a place determined to be a trendsetter.
It was a privilege to work for Monash. Working with such a strong global brand, I got noticed and was even invited to events as a panel speaker at marketing conferences. I worked with the CMOs in Australia and was involved in brand refresh, brand reputation projects, research positioning, and digital transformation projects. The scale of marketing campaign projects aimed at global audiences amazed me. The 'Monash – Change it" campaign, for example, focused on research initiatives to bring real positive impact to communities. (For these projects, I worked with Ms Margot Burke and Mr Fabian Marrone, CMOs of Monash University in Australia).
In IUMW, my aim is to help in talent development, team upskilling, spearhead the digital marketing direction, and using resources effectively and efficiently. Exploring the huge Malay student market is an interesting new project. With the changing customer landscape, my team and I spend time to finetune our customer lookalike audiences and customer personas. We also work with industry and brand names that want to collaborate more with universities.
In every organisation, I have worked with incredible people – colleagues in Malaysia and abroad and mentors who have become personal friends. It is truly a satisfying industry to be in.
What is the best part of your role? Is there a specific thing you enjoy most about your work?
In a way, it's about getting visibility. Business viability rests on a strong and visible brand and annual student growth. With this knowledge and the skills I've learned, I can go places; I feel that I am seen and heard.
I enjoy working with many different people and learning from them. I like helping academic researchers profile themselves and their outstanding research. I feel relevant when it comes to digital transformation, especially in brand building and key market outreach. There's so much to learn and I enjoy sharing results with like-minded people from the sales and marketing fields.
Recently, however, I feel that it's much more about doing something meaningful for younger people. For example, I feel like we should be working with Student Councils and youth leaders of clubs and societies.
Universities have been under a lot of pressure during the pandemic. How have you and IUMW worked to overcome any obstacles or challenges you've had to face this crisis?
When the COVID-19 situation hit universities in March 2020, our priority was the health and safety of our students and staff. Communication and messaging played a key role in this area.
We also sought the help of our parent universities since we needed to accelerate our digital teaching readiness. Today, we use a plethora of tools such as Google Classroom, Open Learning, Zoom, Discord, and Labster (Science) to deliver the lessons.
On the marketing front, my team sets up virtual open days and exhibitions, runs live chats and FB sessions, hosts webinars, and responds quickly to our customers. I am grateful to have a team that can work outside the normal office hours; for example, when we reached out to interests from the Middle East markets in the virtual education exhibition.
What about for you, personally, when this pandemic is over, what's next for you?
I have yet to see many more exotic places and experience new cultures. Travelling within the country and to other new places abroad such as Scandinavia is on my agenda. Meanwhile, I have earned certifications for coaching and mentoring. I've also successfully completed the certification to be an HRDF trainer.
There is still so much I can offer. I would like to help SMEs (small-medium enterprises) set up sales and marketing functions. Help them build a talent pool, set KPIs, integrate and streamline key processes, that sort of thing.
Now, your career and your many successes are inspiring to women everywhere. I understand that you've done some work to help advocate for women entering more C-level, leadership roles. Could you share something about that with us? Why is it so important for women to be part of the leadership fabric?
Women improve the company's performance and gender-diverse teams have higher sales and profits (Gallup). Having women in leadership roles can bring some balance to male-dominated industries. My contribution would be in the area of 'brand visibility'. I am glad to assist many female academic staff tell their research-related stories. I also enjoy helping them get noticed by upper management, and be able to compete for and win grants or funding for their projects.
Now is an exciting time for women. We are strong and capable and we need to support one another by acknowledging achievements and encouraging each other.
My colleagues and I look forward to helping young students and student leaders increase their confidence and unlock their potential.
Any advice you'd give to young and aspiring marketers, particularly those with an eye for the education sector?
After all these years, it's truly a blessing to be in the private higher education sector. It helped me guide my own children in their educational journey and they are making good progress in their respective careers.
All experiences are individual, and for me, it would be to have a love for learning and keep company with knowledge workers. Be curious and have the ability to communicate well with a wide variety of stakeholders, from your customers (students and parents, alumni), corporate colleagues, media agencies, to the rest of the academic community. We need to emphasize interpersonal skills and learning to sustain conversations.
The decision to pursue a higher education degree or postgraduate degree requires a lot of research, thought, budgeting or financial commitments, as well as some soul searching for the intended career pathways. A young marketers planning to build a career in this specialised area of marketing should:
Enjoy working with people and be customer-centric or customer focussed. You will have to create campaigns that appeal to the emotions of students and their parents. You don't work on your own so you need the support of the academic team.
You must be digital savvy. Understand the purpose of your campaigns, and know which need investment: video marketing, podcasts, social media campaigns, website development, Google search, etc.
You should enjoy creative work and engaging with your target audience. You should also know that you must deliver the right message and outcomes (lower cost per lead, conversion rates, etc).
You can grow in this industry if you are someone who loves to learn and isn't afraid to ask "why?" or "how?".
Things to consider for career growth for young people in this sector:
The international education, distance learning, and virtual learning market are expanding. Aspiring marketers will find lots of opportunities to learn, contribute and to grow. Foreign universities are always looking for talents in Malaysia and the South East Asian markets.
Learn finance and analytics to understand the student enrolment numbers and to help you make business decisions.
As a staff benefit, most institutions offer full or partial scholarships for you to continue your postgraduate studies. We look for staff with open mindsets, seeking to do more.
It's been a great pleasure and privilege to learn more about you and your very impressive career, Lay Tin, thank you for sharing your experiences. How can people connect with you if they'd like to know more about you?
I am quite active on LinkedIn and use it as a learning and engagement tool with people around the globe. I am also active on Instagram @ooilaytin which I use to showcase my home cooked food and travel experiences.
---
The Marketing Expert Series features marketing and communications experts from across every industry. Every month, 2Stallions will showcase the stories and expertise of marketing experts from around the world, join us as we explore how marketers navigate the challenges of the regions and industries they work in. If you'd like to be featured in a next issue of the Marketing Expert Series. Please reach out to us via email.
Elevate your digital presence with 2Stallions the leading Search Engine Marketing experts in Singapore. Unleash the power of tailored strategies and optimized campaigns to supercharge your brand's online visibility and growth. Contact us now to ignite the brand's brilliance.