Despite being the tragedy of 2020, the COVID-19 crisis has driven a new wave of digital transformation and innovation approaches. Businesses learned to navigate the challenges of the coronavirus while addressing the needs of their employees, customers, and clients.
A study conducted by McKinsey & Company, a management consulting company, found that COVID-19 has forced many companies to accelerate their digital initiatives.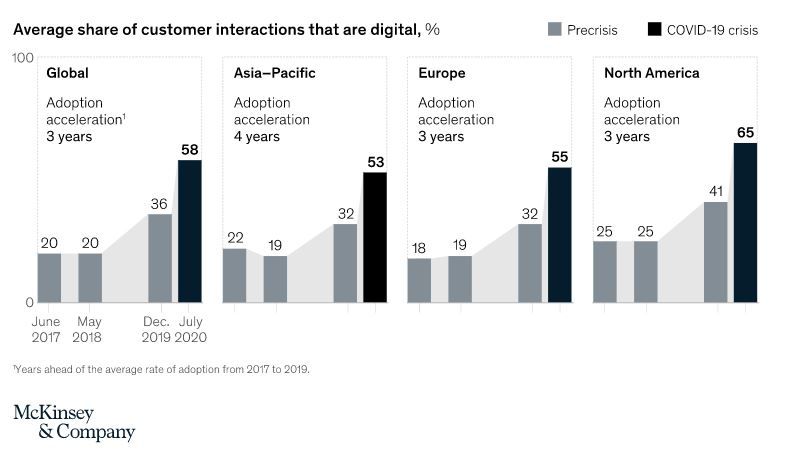 The research also reported that digital adoption rates during COVID-19 have increased compared to the previous surveys conducted in pre-crisis time.
These findings suggest that the coronavirus pandemic awakened businesses to the importance of digital technology. Most organizations have sped up their digital efforts to keep pace with changing consumer behaviour.
Impact of COVID-19 on Businesses
When COVID-19 broke out, businesses all over the world were impacted by a range of challenges: keeping employees and customers safe, maintaining operations, navigating government support schemes, and managing revenue.
Smaller companies, particularly start-ups, faced more devastating effects, including mass employee layoffs. In fact, small businesses had to lay off people just a few weeks after the onset.
According to Startup Genome's Global Startup Survey, a majority of startups saw a decline in revenue since the beginning of the crisis. The key findings from the survey include:
41% of startups globally are threatened in the "red zone"—they have three months or less of cash runway left.
16% of startups saw their revenue drop by more than 80%
74% of startups have had to terminate full-time employees a few weeks after the onset
39% of all startups had to lay off 20% or more of their staff, and 26% had to let go 60% of employees or more
North America is the place with the biggest share of companies reducing headcount (84%), followed by Europe (67%) and Asia (59%).
Also, micro, small, and medium enterprises' (MSMEs) struggle to survive the effects of COVID-19 as the crisis lengthens.
In the ILO SCORE Global Covid-19 Enterprise Survey, survey results show that 70% of MSMEs have had to shut down operations. Nearly 9 out of 10 businesses are experiencing a shortage in their cashflow, affecting business continuity.
Another study also found that the sectors with the most business closures globally were the following:
Travel or tourism agencies (54%)
Hospitality and event services (47%)
Education and child care services (45%
Performing arts and entertainment (36%)
Hotels, cafes, and restaurants (32%)
While many start-ups are moving closer to closure and bankruptcy, the pandemic has opened doors to many entrepreneurial businesses.
Entrepreneurs have pivoted to offer goods and services borne out of the crisis, such as face masks, commercial cleaning services, delivery and errand services, and so on.
Moreover, some businesses have managed to stay operational in the midst of COVID-19—and accelerating digital transformation has helped them a lot.
3 Ways Businesses Adopted Digital Technology During COVID-19
1. Reshape Remote Working
A vast majority of businesses across the globe have made an abrupt shift to remote work. Many have normalized the "work from home" model to protect employees, serve customers, and most importantly, establish business continuity.
Remote work and virtual teams also put a spotlight on the importance of technology.
For example, Zoom, a video conferencing application, emerged as one of the most useful tools during COVID-19. Organizations use it to collaborate with their team members, in real-time.
Other online productivity tools and employee-facing technologies have also helped employees to more easily operate at similar levels of productivity, despite working outside the office.
According to a Synergy Research Group study, cloud providers see aggressive growth amidst the coronavirus crisis. It only means that more businesses have moved to the cloud to support a remote workforce.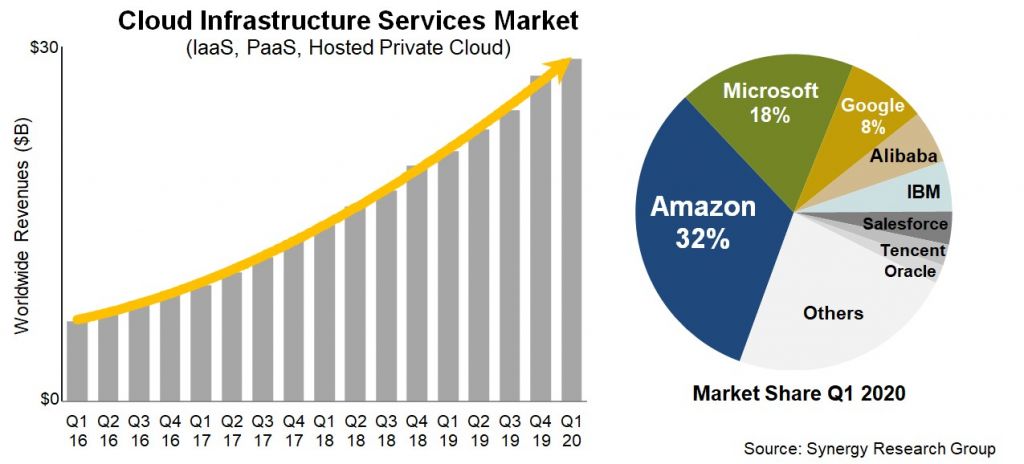 With COVID-19 making remote work the new normal, companies—small or large —should see cloud-based technologies as a digital transformation priority.
2. Adopt Technology-Driven Systems
The success of remote work setup during the pandemic depends on several factors, including digital technologies.
Small to medium-sized businesses, and most especially, larger corporations must invest in digital tech to manage remote employees and facilitate fast communication and collaboration.
However, the virtual work environment is susceptible to data protection and data privacy risks, requiring businesses to adopt a technology-driven system to allay the fears of security risks.
The latest Exabeam report finds that there has been a significant increase in enterprise adoption of cloud-based security solutions to support a remote workforce.
The data found that 44% of enterprises use cloud-based security products to protect corporate financial information compared to the earlier study, where only 12% were protecting corporate financial information in this way.
Additionally, about 90% of companies said they rolled out cloud-based security products at the right time for the business. Many deployed such software solutions to safeguard customer information while sending emails and sharing files.
Those who incorporated cloud technology have also seen improvements in monitoring and tracking cyber attacks (21%) and accessing the software's latest features (20%). These findings evidence that digital transformation minimises resources and overheads, allowing security analysts to complete tasks faster and focus on other projects.
3. Digitize Customer Experience
The virus not only changed the way people work but also the way people use the Internet.
With the lockdowns and limitations of activities, people seek out alternative entertainment and socialization. These include the uptake of the use of streaming services, such as Netflix, Amazon, and YouTube. People are also connecting with distant friends on social media apps like Facebook.
Time spent online has increased, and so has how much money people spend online.
COVID-19 has driven changes in consumer behaviour and put e-commerce at the forefront of retail. Pandemic-weary consumers are looking for new normal must-haves online from alcohol to hand sanitisers, face masks, cleaning supplies, skin care products, groceries, and more.
This new consumer behaviour pattern has encouraged many businesses to digitize customer experiences using technological solutions like chatbots.
Short for chatterbot, this Artificial Intelligence (AI) feature helped retailers to bridge the gap in customer communications. The tool lets customers receive quick replies to their queries, eliminating the need for emails and long customer service wait times.
The use of live video streaming also spiked during the pandemic. Amazon, a big player in the e-commerce industry, entered the live streaming space to add a human touch to internet shopping.
Facebook has gotten more involved with live streaming since many online merchants strive to provide personal assistance and in-store experience to their followers.
McKinsey & Company acknowledged the importance of elevating customer experience in the time of COVID-19. Engagement is a crucial aspect of digital transformation that businesses should not neglect to remain economically viable.
Final Thoughts
Businesses that embraced the digital transformation, adding cloud technology and digitized customer experiences to their arsenal, can weather any challenge, even a pandemic. They can innovate employee collaboration, protect sensitive data, and digitize the customer experience, among other benefits.
The role of marketing in this transformation is crucial. Companies should pair digital tech with a solid marketing strategy to create, drive, and deliver a customer-centric experience.
At 2Stallions, we provide digital marketing services (i.e. social media marketing, search engine optimization, content marketing, etc.) that will help businesses understand and connect with their customers in today's digital era.
🔍 Transform Your Business With a Leading Digital Agency in Singapore, Offering Comprehensive Digital Marketing Services. Our experts specialize in driving seamless digital transformation, ensuring your brand stays ahead in the competitive landscape. Elevate your online presence and reach new heights with tailored strategies designed for success.