The battle between social media and search engines has been going on for years. Some believe that search beats social, while others think it's the other way around.
In this blog, we're not going to weigh them against each other. Instead, we'll provide a better understanding of social networks and search engines, so you can put your time, effort, and spend your marketing budget on the appropriate medium.
First, let's explore the key differences between these two predominant platforms side by side.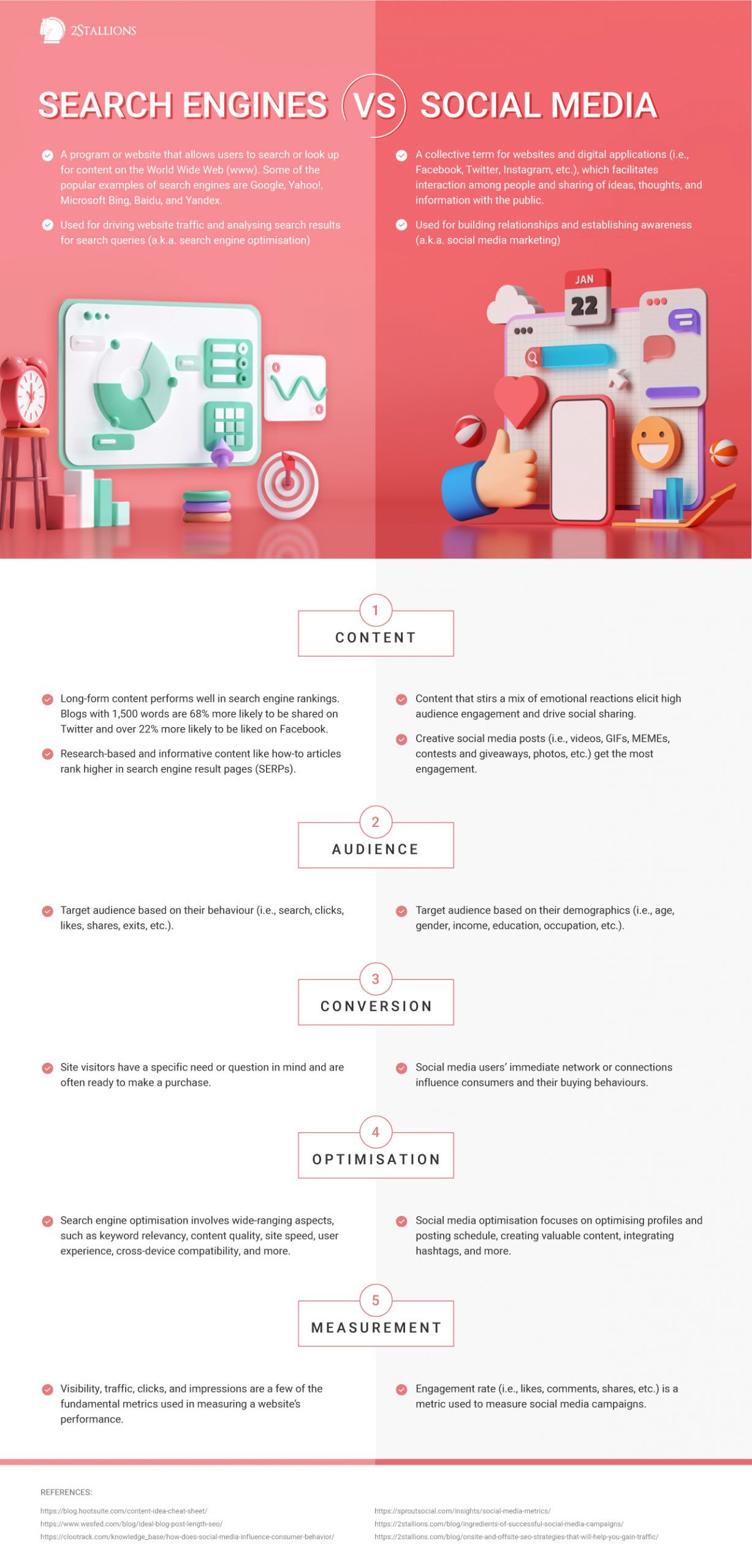 Citation Policy: Please feel free to use this infographic anywhere. However, we require a reference back to 2Stallions Blog.
A Closer Look at Social Media & Search Engines
Social media marketing helps companies establish meaningful connections and improve brand loyalty. Search engine optimisation, on the other hand, makes brands more discoverable.
While social media and search engines are conceptually different, they are critical components of a digital marketing strategy. Each medium offers companies unique business opportunities that can contribute to their overall growth and success.
The two, in fact, share common business goals—to attract new customers and expand market reach.
For these reasons, asking the question "Which medium works better?" is more appropriate than "Which medium is better?" Neither social networks nor search engines outdo the other. Each medium serves a specific purpose and is used differently based on the needs of individuals and businesses.
Let's take a closer look at each medium and how you can best utilise them.
When to Use Social Media
Social media target audiences are based on demographics like age, gender, job title, and education. These factors help you know who your social fans or followers are and what type of content may pull their emotional strings.
Since social media helps you discover your target demographic more easily, you can use this medium to build an engaged audience. Use the demographics as a guide to fine-tune your marketing strategy and reach the right people.
Suppose Facebook is your network of choice. You could analyse metrics, such as comments, reactions, and shares to understand what your audience engages with most. If your video posts gain the most attention, make sure to keep creating more video content that will entice them exactly the same.
It also doesn't hurt to explore other types of content like blogs, live videos, and images. Blog posts that discuss current trends and news gain better traction, while photos (i.e., memes, quote images, GIFs, snapshots, etc.) grab people's attention more than text-based content.
Live videos, on the other hand, are becoming increasingly popular on social media platforms because of the high engagement rate. Live streaming creates a direct connection to each viewer—everyone can access a live video, comment on it and even share it with other people.
Social media also binds the link between engagement and brand reputation. With social networks, your reputation is in your hands. You can handle negative feedback and criticisms, address concerns, answer questions, and stay connected with your audience easier.
When to Use the Search Engine
While social media and search engines are both trackable, the latter focuses more on analysing the audience's intent. Search engines go beyond knowing who your followers are and dig deeper into what they're thinking.
This explains why search allows for targeted marketing. Website analytics tools like Google Analytics let you measure the total visibility and traffic. You could see what pages or content get the most traffic, how long people stay on your website, and what actions they take on the pages they visit.
Unlike social networks, search engines direct your target audience to you. The keywords or key phrases they type in the search bar lead the customers to your website or social media profiles.
If your primary aim is to drive more traffic to your website, befriending search engines is the key. Search is the first stop on the Internet for most people, so you should optimise your site and its contents for search.
Search engine optimisation (SEO) encompasses three strategies: technical SEO, on-page SEO, and off-page SEO. Here's a quick comparison of these SEO techniques.
Technical SEO focuses on code and performance improvements on your website.
On-page SEO involves techniques implemented on your website to optimise its overall structure and make it search-engine friendly.
Off-page SEO refers to the optimisation techniques done outside your website to improve its trust factor.
Below are a few optimisation efforts that can double your search traffic:
Improve page load speed
Adopt a responsive website design
Insert keywords into your content (i.e., meta description, title tag, article title, article body)
Create informative and timely content pieces
Share content on your social media accounts
Optimise for voice search
Generate backlinks through business listings, social media marketing, guest posting, and more
Parting Tip – Use Social Media and Search Engines Together
Understand what your needs are and your main priority to know where to spend your marketing resources.
But if you're determined to get better results from your marketing efforts, we suggest capitalising on social media and search engines.
While social media focuses on audience engagement and search engine tackles on website traffic, both are all about reaching audiences and helping companies grow their business.
This connection between the two implies that they work better when together. Use social media marketing to drive engagement, gain new followers, get more shares and generate traffic to your web content. And invest in SEO to boost your discoverability and increase your customer base.
Do you need someone to do all the work for you? 2Stallions has you covered! Our team brings expertise in all areas of digital performance marketing to the table. We will help you be on the first page of search engines, grow your brand's social media presence, and more.
Learn more about our host of digital marketing services here.
📈 Amplify Your Brand's Reach With Our Social Media Experts. Harness the power of online engagement. Explore our social media marketing services and elevate your digital presence. Unlock success with effective and efficient strategies. Connect with us today!