Google's core business is continuously improving its algorithms to predict and rank the most relevant organic search results to show to you. Today, it has grown to a mega-sized corporation that includes YouTube, which it paid $1.4 billion for in 2006.
As of April 2017, YouTube is the second most popular site in the world according to rankings released by Alexa Internet, a web traffic analysis company. Over the years, Google has brought the same approach to ranking videos on YouTube, with marketers increasingly using it as a business promotion tool. So, what's in it for you as a business? At its simplest – the more views your video gets, the higher you rank on YouTube. However, those views can translate into the following benefits for your business:
Appearing not just on YouTube, but also Google search results
Higher traffic to your website or online store
Greater brand awareness amongst your audience
Increased trust in your brand
Higher sales
A wider reach for your brand
In addition to that, Cisco predicts that the by 2030, 70% of the Internet will consist of videos and 30% will be a mix of other things. Psychologically speaking, most people would prefer to watch a video rather than read a lengthy article about a certain topic. Hence using video will improve readability. But, there is a limit. You should stick to a length of 3-10 minutes per video to improve retention rate. As you can see from the Wistia graph, engagement drops off badly from the get-go for videos longer than 10 minutes.
Video also plays a huge part in the buying process. Most people look at product reviews before making a purchasing decision. In fact, Google says 68% of YouTube users watched YouTube to help make a purchase decision. What's better than a YouTube video to show products in-action rather than leaving it up to the imagination of the reader?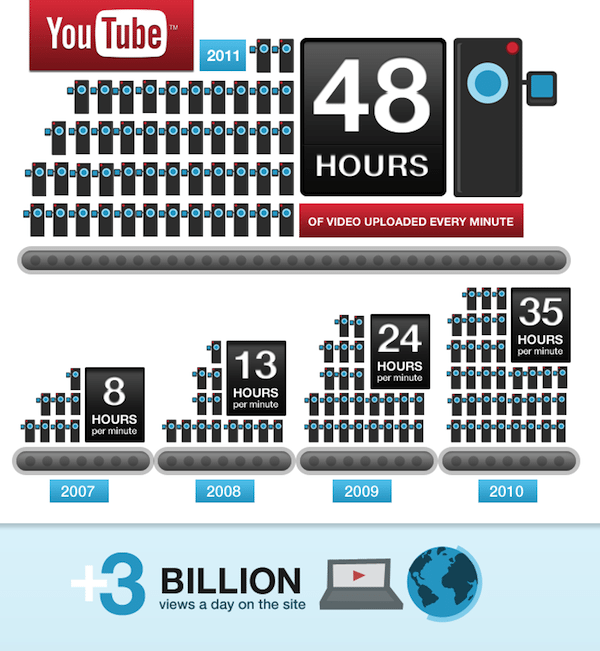 Steps To Rank Your YouTube Videos Higher
If you're convinced to take YouTube videos seriously as a driver for your business, then read on to learn about how you can dominate Google through the use of YouTube videos.
Step #1 Create the video
Creating a video is the most obvious step when it comes to ranking your YouTube video but it also presents the highest barrier to entry. The longer the video, the more expensive it will be. A minimum charge of US$250 is standard for a 90-second explainer video amongst freelancers, with the usual trade-offs of quality versus price.
You can also try creating your own videos if quality is not a major concern and you have time on your hands. There are apps such as Powtoon that help you to create your own professional looking videos. Just remember to make it short and sweet.
Step #2 Create a YouTube channel

Using your Gmail account, you can create a YouTube channel for your company. Be sure to have your brand name within the name of the channel.
Step #3 Upload Your Video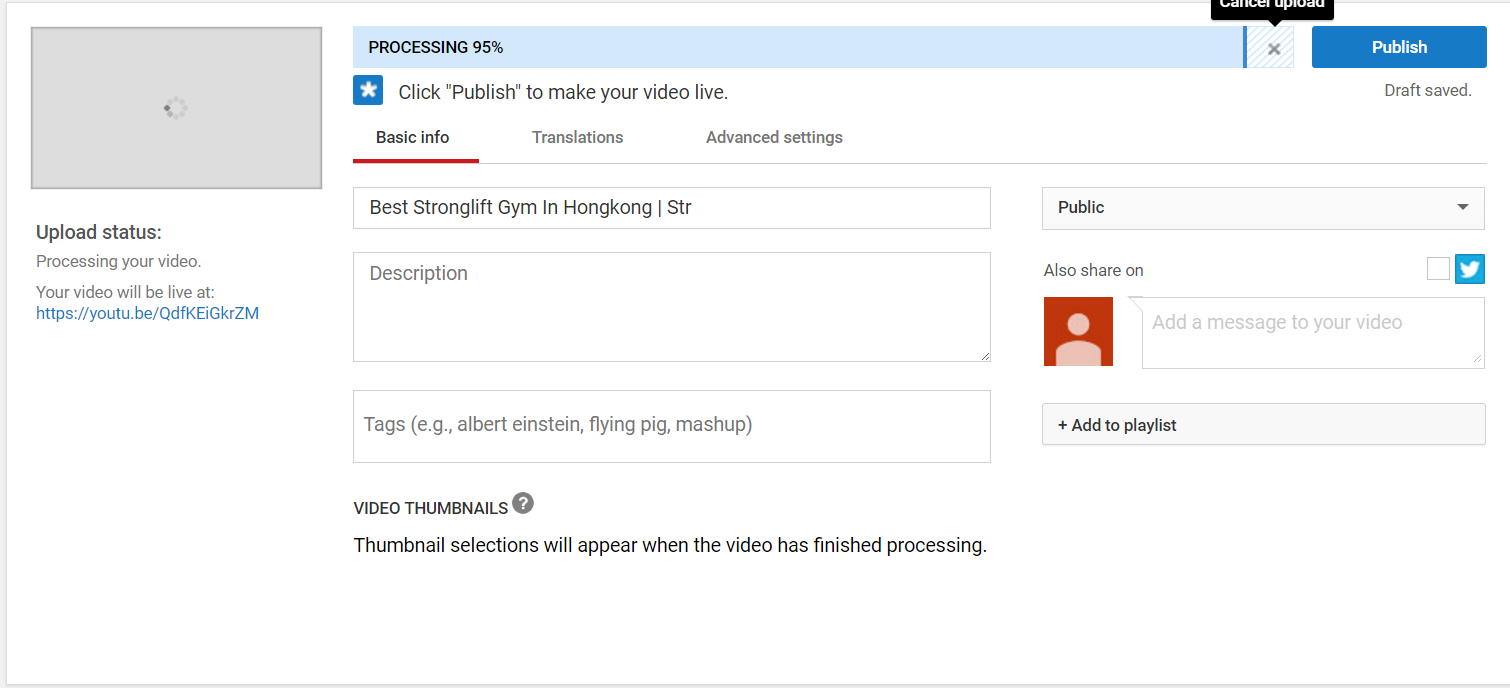 When uploading, make sure you fill in a description and add appropriate tags. I recommend you write around 200+ words for the description and add at least 10 tags that consist of targeted keywords and related keywords.
Step #4 Optimize the Video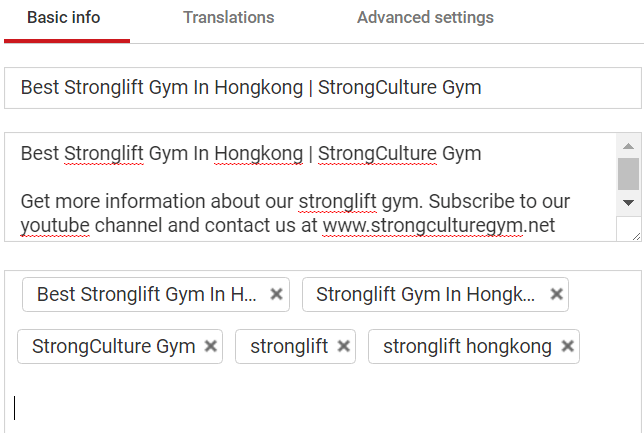 You can further optimize the video by changing the "location," "language," and "upload date" from the advanced settings page.
Here's an Example
Let's assume you own a powerlifting gym in Hong Kong called Strong Culture Gym, and you want to promote it online. The easiest and cheapest way to do this is to use YouTube videos.
Before you start investing in videos though, find out which keywords you should target. The best tool to use for this is the free Google Keyword Planner. You can find out more about using it here.
Below is the step-by-step process on how I ranked Strong Culture Gym:
First, I researched keywords for gyms and decided to go with "best powerlifting gym in hongkong" as it is specific and likely to provide the best ROIs from viewers despite lower search volume
Next, I created a 3-5 minute video about powerlifting
Then, I created a YouTube channel named "StrongCulture Gym" – using the brand of my gym
Finally, I optimized the video on YouTube
I added several appropriate keywords about the gym, together with related keywords, to the description and tags
You should also add annotations to your video to create clickable links directly on the video but since that requires having a website, which this hypothetical gym does not, I decided to make do with a phone number in the description to allow viewers to contact the company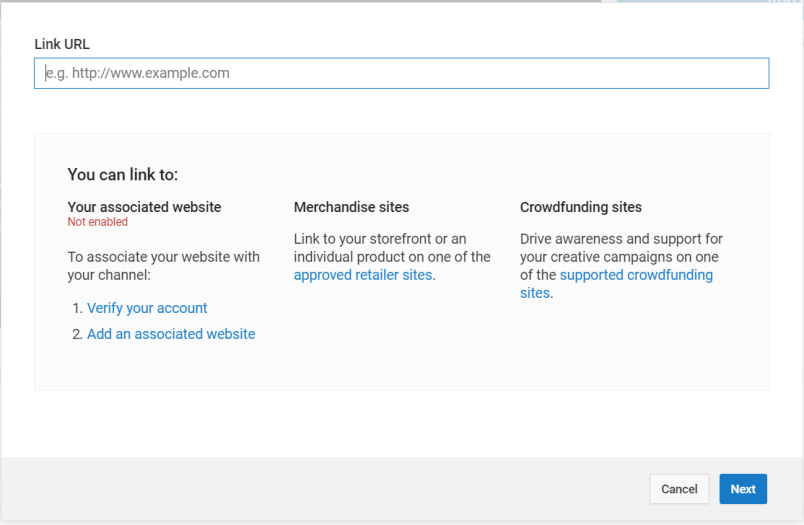 And voila! Upon publishing, I see a near instant result directly on Google HK search results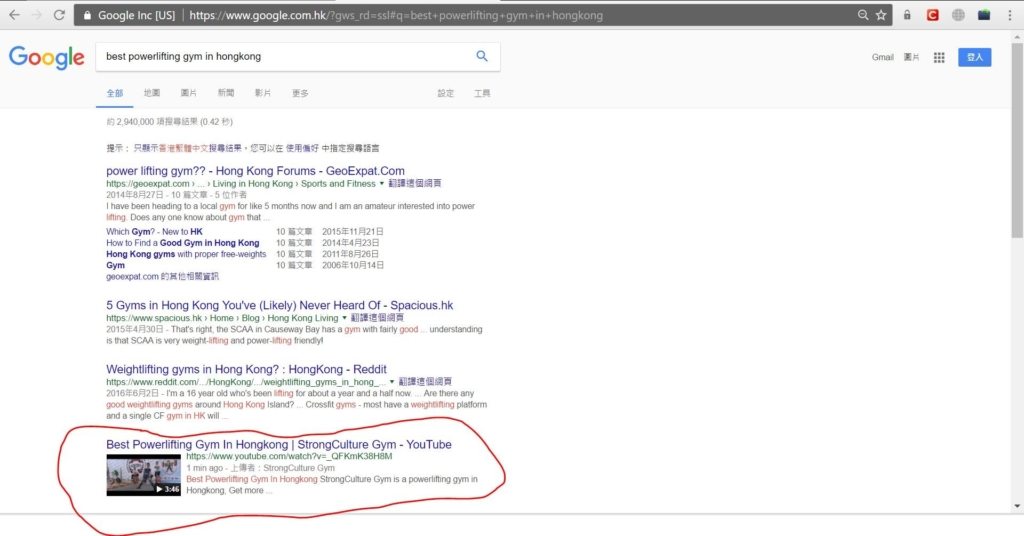 Not all examples may yield instant results, especially for very high competition keywords. And sometimes, after an initial surge, the result may also disappear from the 1st page if it doesn't generate sufficient engagement.
However, for many businesses, YouTube still presents a massive opportunity to generate awareness. Google's algorithm tries to show structured snippet results on the 1st page search results, and videos are a great type of those that deliver better click through rates (CTRs) for Google.
Quick FAQ To Dominate On Google With Videos
We're used to minds racing when we explain the potential of YouTube to businesses we work with, followed by some quick fire questions. We decided to save you and ourselves some back and forth by answering some of the most common questions asked to dominate Google using YouTube videos.
Will this method always work?
No, it depends a lot on your keyword research and video optimization. The key is to find niche keywords that get you the targeted traffic. Don't just aim for search volume.
Will my videos also give me instant results like your example above?
Yes and no. If you try for very high search volume keywords that convert, you will have a harder time ranking those keywords. Having said that, not many companies are using this technique yet – so you can use this to get a jump on them. You can maximize exposure with a well-thought out content strategy and uploading videos regularly that add value while targeting different keywords.
Will it bring my company more sales/leads?
Will my video stay on the 1st page forever once it is there?
We both know the answer to that. The 1st page of Google search results is the most volatile, and it requires a sustained effort to keep your videos there – similar to SEO for your website.
While we hope that our short primer on how to dominate Google through video provides most of you with food for thought, and spurs action in some, we cannot stress enough that optimizing videos to rank on Google can be time-consuming so don't get discouraged.
📈Looking to boost your online presence? Look no further! Our Singapore-based SEO company is staffed by a team of talented and innovative professionals who are committed to helping you stand out online. Don't wait any longer to make your mark – contact us today and get started!