The medical industry is a complicated sector, now more so than ever before. It's an industry many of us have taken for granted for many years, and it comes with many different facets. When we visit a doctor or go to the hospital, most of us don't even think about the compliance and credentials that the workers in this industry have to obtain before they can go into practice, we drop in to get the remedy for what ails us and then we're on our way again. The truth is that the world of medical compliance and accreditation is complex, and takes special understanding to navigate.
MedTrainer is a company that delivers educational and credentialing tools to help support the healthcare market, and leading their marketing efforts is Evan Fehler, Senior Director of Marketing. Join us for this issue of the Marketing Expert Series as Evan explains some of the ins and outs of this fascinating industry.
---
Hello, Evan! I'm very excited to have you join us for this issue of the Marketing Expert Series! Let's start with the basics, please tell us a bit about who you are and how you got to where you are now.
Hi everyone, thanks for having me.
I got lucky getting into marketing. I was always more of a business owner than a marketer, and a friend of mine helped me get a job on a marketing team in a product owner/GM type of role. My background was leading people and building businesses.
Marketing turned out to be a great fit.
Currently, you're the Senior Director of Marketing at MedTrainer. Can you tell us about MedTrainer and what it does?
MedTrainer was founded in 2013 to deliver affordable learning, compliance tools, credentialing, and accreditation support to the healthcare market all in one platform. In 2015, we launched the first iteration and quickly became a success primarily through word of mouth.
Today, MedTrainer has over 2,500 customers representing over 15,000 healthcare locations and supports over 300,000 healthcare professionals. We maintain a blend of technology and human-assisted support which has led to something unique in the software industry.
Our goal at Medtrainer is to make healthcare compliance easy. We do this by simplifying 3 core areas: learning, credentialing, and compliance tools. This ranges from training to accreditation, incident reporting, and so much more.
For example, we offer medical eLearning that helps medical and support staff maintain the education requirements placed upon those who work in the industry. As you can imagine, compliance and accreditation requirements can change from time to time, and, as a result, it can be tricky to stay on top of it.
Aside from education, we also help our clients with their credentialing process and maintain their regulatory compliances. To do this, we offer different software based on our platform.
And what does a Senior Director of Marketing role look like at MedTrainer? Are there specific channels or strategies that you use to raise awareness about the work that MedTrainer does?
I oversee the marketing team and strategy development. To me, marketing is simple: the better aligned you are with sales the more likely you are at being successful in supporting them which is our #1 goal.
On the whole, I like to say healthcare is 10 years behind when it comes to marketing and sales strategies; one step ahead of government. My team and I focus on bringing modern marketing tactics to a slow-to-adopt industry.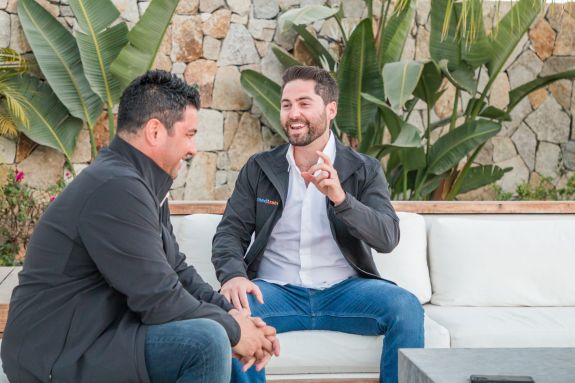 I imagine that MedTrainer is earning its stripes at the moment, so to speak. How has the global pandemic affected your marketing strategies?
Healthcare has stayed busy but the industry focus hasn't necessarily been on compliance software. As a whole we want to stay relevant and helpful to the market so when the time comes that they are ready to buy, MedTrainer is who they will go with.
Do you foresee any lasting trends for the industry that you will need to navigate as a digital marketer in the future?
Marketing used to be a game of 'how do you catch people that were ready to buy'. That's table stakes now. Nowadays, marketing has become a game of 'how do you build your brand'. In today's game, it's important to have brand recognition and make what you do clear so that when your audience is ready to buy you've already won the race.
Before you joined MedTrainer, you were Director of Digital Marketing at SmartRecruiters, a company aimed at helping companies recruit the best talent – it's a very different industry from what you are in now. Was it a tricky transition?
SmartRecruiters was very enterprise-focused whereas MedTrainer is very SMB/MM focused and we are beginning the transition to the enterprise. The strategies, operations, and daily activities are very different between the two. Fortunately, before SmartRecruiters, I came from Nextiva which was SMB/MM focused as well, which helped this transition immensely.
You also do some digital marketing consulting. It's something we're seeing more and more, with many digital marketers opting to share their knowledge outside their primary company – from your own experience, why do you think that this is the case?
As I mentioned before, catching people in the market for your software is table stakes – the minimum – and yet there are a lot of companies who don't have the skillset to set that up. There's a big opportunity for all demand marketers to take advantage of consulting opportunities, and I highly recommend it.
Any advice you'd give to young and aspiring marketers or entrepreneurs?
Get closer with the sales teams. Be a business owner. Be a learner, steal everyone else's best ideas.
The secret to getting promoted is driving results and having clear career development conversations with your boss. State your goal and ask what it will take to get there. This is the part that most people miss. After that, it's just about delivering results.
Thanks for taking part in this Series, Evan, and for sharing your experiences with us! How can people connect with you if they'd like to know more about you?
Thank you! You can connect with me on LinkedIn.
📈 Transform your brand with the unlimited potential of a top-tier Medical Marketing Agency in Singapore. With our expert team of marketing professionals, you can skyrocket your digital presence and elevate your business to unprecedented levels of success.