Do you want to get results from your new website?
Our clients typically get a 200% increase in the
number of sales through their new website.
Website Development
Persuade & Engage More Customers Online
Your website is your professional front for your company online – your international business card, the 24-hour salesman who never sleeps and works tirelessly for you. In the Internet age, a mobile-friendly website that markets your business is the key to online success. We make it happen for you.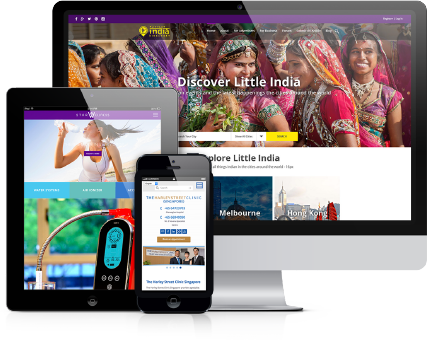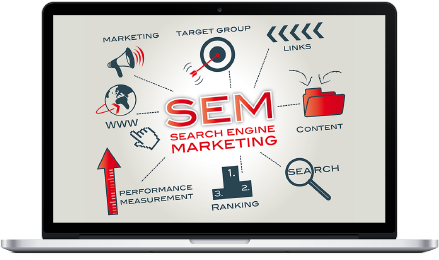 Search Engine Marketing
Generate More Qualified Leads
The quickest route for a business to generate qualified leads online is to advertise and we help you do just that. Set up, manage, and optimize your online advertising campaigns to drive QUALIFIED traffic that CONVERTS better to your website.
Generate paid, targeted traffic from search engines like Google to your website by paying for valuable keywords that convert to business growth.
Conversion Optimization
Engage & Convert Your Followers Into Sales
Convince your website visitors to become your customers and once you do that, you can refine that process to increase the number of visitors that convert to customers. Let us analyze your web presence to drive engagement and turn visitors to customer!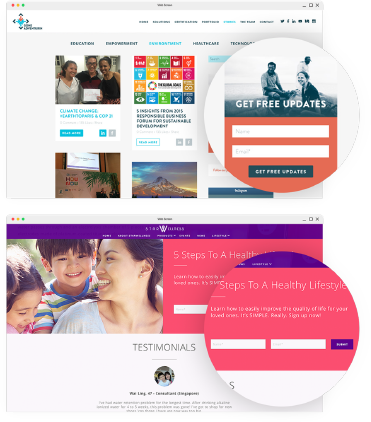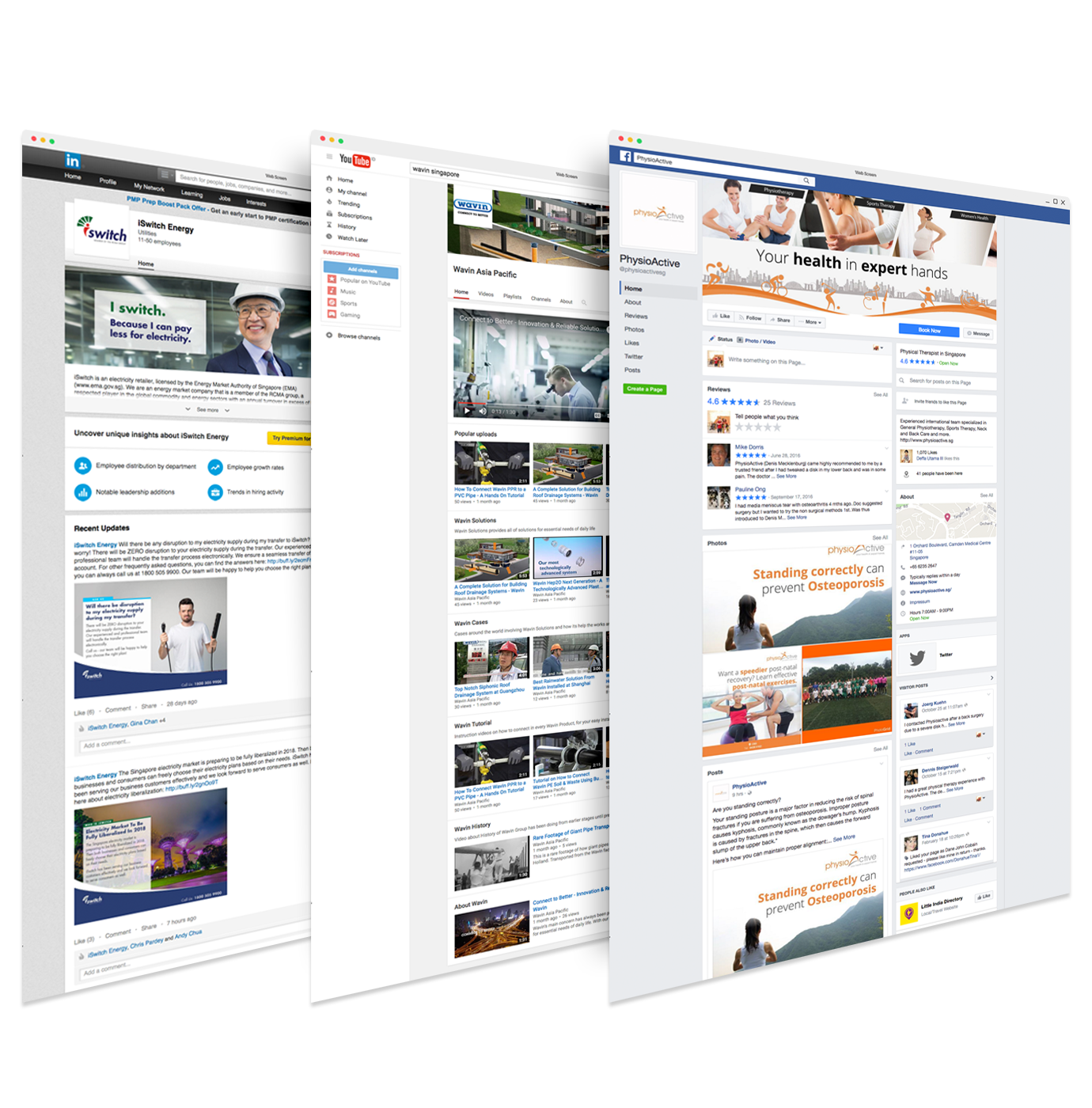 Social Media
Grow Your Brand & Establish Your Social Media Presence
Our social media strategic management is designed to grow your brand and establish a strong online presence. We support your brand, establish mutual trust and create relationships with potential online buyers.
What Clients Say
2Stallions revamped our old website to become mobile-friendly and optimized for search.

Besides getting compliments from customers about our new modern website, we also get many more visitors and more leads via our website than we ever did before, and at a very affordable price. The value we received from 2Stallions was worth more than we paid!
Interested in working with us?
Hit the button below or give us a call!
OR

Call us now

(+65) 9129 6248

(+65) 9155 4446
Latest From Our Blog
There is no way of stopping the mobile revolution that is currently happening in our world. More people prefer using their mobile devices to surf the internet than the Desktop PC. This is most likely due to the convenience and also the growing sizes of our mobile phones.
Think about it, there are probably even times where you use your phone to browse the web even when you have a desktop PC available. This is because mobile phones are normally within reach and could be used anywhere that has a 3G or 4G signal. Plus, with the "phablet" era continuously heating up, mobile phones are getting screen sizes that make surfing the net easier than the past smaller models.
Numbers do not lie, and the statistics are saying that mobile is dominating the web. According to Stone Temple, 55.79% of internet users are using their mobile phones to surf the web. In comparison, desktop PCs, which used to dominate this statistic account for only 44.21% in the latest study.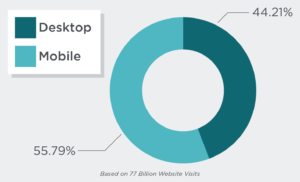 The same trend is happening in Asia where a huge population currently resides. According to China Daily, the country of China has already exceeded 1.3 Billion mobile users in 2016. And a whopping 30 percent of those mobile users are 4G subscribers. To give you a good perspective of that surge, there are 386 million 4G users in China which are triple from the number of users in 2014. And if you think about it, this number does not even include users who connect through Wi-Fi with their mobile devices.
Another big example is India. According to the Economic Times, India will have over 500 million mobile internet users by 2017. The same article also mentions a recent survey that prepaid smartphone users spend about 72% of their time accessing online content and only 15% making voice calls. That definitely says a lot about how the purpose of mobile phones has changed over the past few years.
And this is the main reason why your company should be adopting a mobile-first strategy. The trend of mobile phones as the dominant device is going to keep rising as the years roll by. Phones are getting more powerful every year and are inching towards desktop PC-like power and response. Your company should start adopting a mobile-first strategy or risk getting left behind.
Not yet fully convinced regarding this phenomena? Well, to put things in perspective, Google has already announced that they are going to roll out a mobile-first index. This means that the biggest search engine on earth is going to prioritize mobile URLs in their ranking.
Steps to having a mobile marketing strategy for your company
Make sure that your website is mobile responsive
There is a good chance that your website is already mobile friendly. But did you know that you still need to make your mobile website adaptive to various devices? Mobile phones have varying screen sizes, not to mention the numerous tablet sizes that plague the market. Make sure that your customer is having a pleasant time on your website no matter what device he/she is on.
According to Activemedia, 38% of users will stop engaging a website that is unattractive and unresponsive. That should be enough to tell you how much customers can be lost just because a website is not responding well to his/her screen size.
Take advantage of mobile wallets
The boom of the mobile phone industry has made a lot of big companies re-think of a new idea of payment. Mobile wallets work by using near field communication (NFC) to transfer data from your mobile phone to the payment reader. This makes it fast and convenient for people dealing with their transactions.
According to CMO, mobile based payments are expected to reach about $142 Billion dollars by 2019. The biggest mobile wallet services like Apple Pay and Samsung Pay are getting an increase in users as the years roll by.
In Asia, mobile wallets are already making moves. According to Business Insider, Singapore became the first country outside of the US to support all the major mobile wallets. It started with 20 retail locations and will most likely grow as time passes by. UnionPay, another major mobile wallet service, has already started entering the Chinese and South Korean market, this means that the rest of Asia is not too far behind.
Large companies like Starbucks are already using mobile wallets as a means for their customers to purchase. It would be a wise move for any company to start rethinking the way people can pay.
Start thinking apps
Mobile phones and apps come hand in hand, and plenty of companies have already taken advantage of this fact. This is because app usage is at an all-time high especially in places like Asia. Did you know that Asia is now the biggest market for mobile apps? According to lnternational Business Times, mobile app usage in Asia grew to 77 percent and has surged ahead of markets like the US in 2014 and 2015.
The main cause of this increase is the rise of shopping apps in various Asian countries. The same study found that usage in shopping and lifestyle apps have tripled in the span of one year.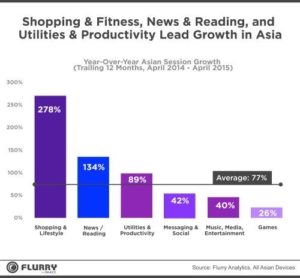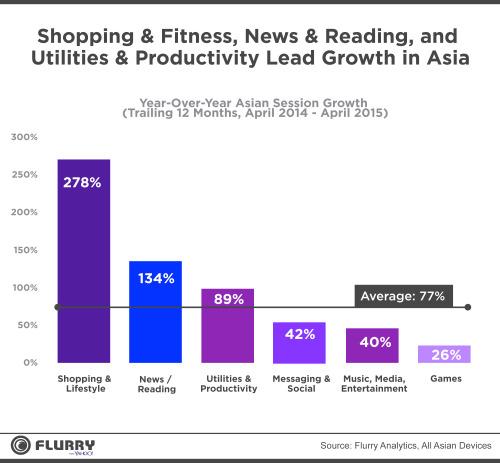 With this study, it is pretty evident that e-commerce is booming in Asia. Companies are figuring out that apps help create a direct marketing channel between them and their customers. Apps can be valuable in creating loyalty programs, promotions, and an easier shopping experience. Asia's top online fashion retailer Zalora, for example, has a mobile app that makes it possible for users to place coupon codes (normally found on their website) and enter that through the app.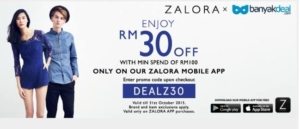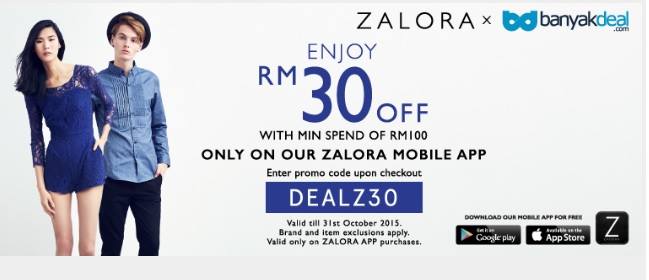 If a company really wants to adopt a mobile-first strategy, then thinking about having an app might just be the best move to show commitment.
Mobile optimize your email campaigns
You might be wondering why you need to optimize your email campaigns for mobile. The answer lies with the current trend of email reading. According to Email Monday, 54 percent of all emails are read first on a mobile device.
Automobile seller, Auto Trader, figured this little fact out and decided to make their emails more mobile-optimised. This resulted in a 391% increase in click through rates since they redesigned their emails.
Making your emails mobile responsive is not particularly hard. First of all is to find out what email clients tend to use. Once you have that data, see if that email client can support various applications like video.
Phone screens are much smaller than desktop screens so make sure that you use bigger fonts in your email. Good mobile-optimised emails have fonts that do not need any zooming in from the reader. Check out the following image for a side by side comparison of a small font on mobile and a large font one.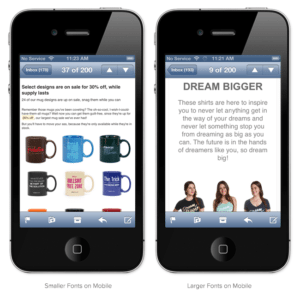 Image by HubSpot
De-cluttering your emails from less useful links and long paragraphs is also helpful in making your emails more mobile friendly. Make your words shorter and your headlines more concise. People don't want to be overwhelmed with so many things happening on a 5-inch screen.
Also, put touch friendly buttons on your emails. Don't forget to utilize sharing buttons so you could take advantage of the power of social media. Lastly, use a single column layout to make it friendlier to the eyes of mobile users. Check out this great email design from Superthings that looks great on a mobile device.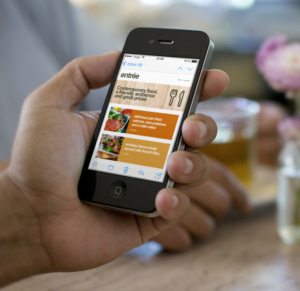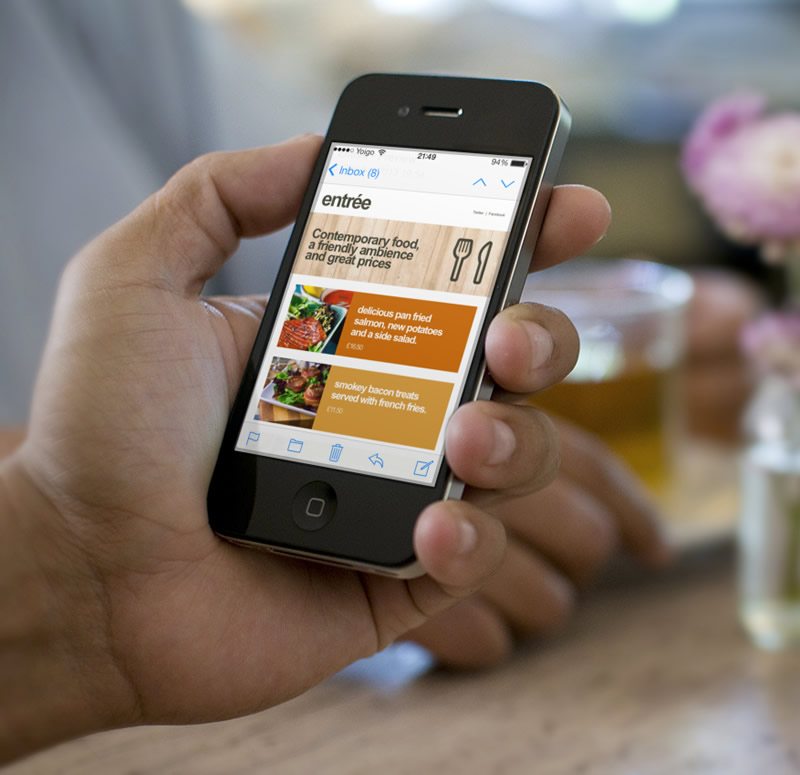 Image by SuperThings
Don't forget about SMS marketing
Despite cheaper online chat apps increasing in use, there are still companies sending us standard text messages with promos and ads. The reason is pretty simple – SMS messages has a whopping 82.1% open rate.
That makes SMS one of the most potent marketing tool for companies. Footwear retailer, Payless, still uses SMS to create awareness of their products through various promos. Below is an example of one of their SMS campaigns.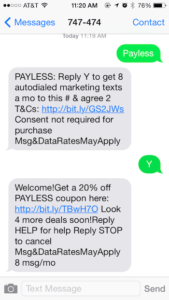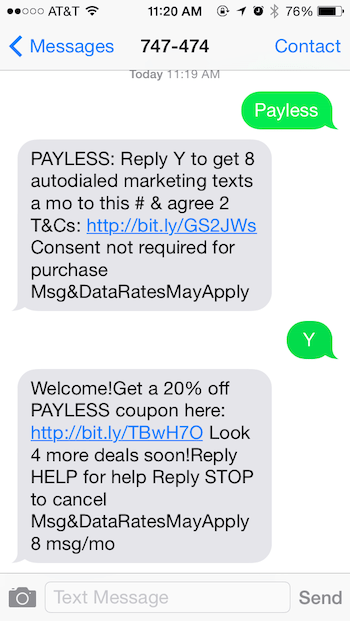 Sample SMS Marketing by Payless
Your SMS campaigns must have a clear call to action. For example, use simple keywords like BUYNOW or GETPROMO as what they should type before sending it to a number. SMS campaigns mostly fail because of unclear instructions which can cause users to leave your message quickly.
Keep in mind that you will need compliance before creating SMS campaigns. Check which entities govern the mobile industry in the country you wish to deploy your SMS campaign.
Take your company mobile in Asia
Mobile use in Asia is booming and marketers already started taking notice. There is no stopping this trend and it looks like companies are already taking a mobile-first approach. Emails, websites, and apps are just a few of the major things that a good marketer needs in order to be ready for the mobile-dominated future. With the rate of new technology and innovations, the next few years will be quite interesting in the field of mobile marketing.
Do you have any stories and experience about creating a mobile marketing strategy for the Asian market? Please feel free to write them all down in the comments section below. We'd love to hear from you!
Many companies now accept that an online presence is an absolute necessity to achieving success for their business and simply getting your brand out on the Internet will unlock numerous opportunities for your business!
And these companies would be… wrong! Despite the fact that it is easier today to reach multitudes of potential customers over the Internet, the competition is undoubtedly doing the same. What you need is to step up your game and separate yourself and your brand from the competition. While a visually appealing website can help, there is one thing that most businesses overlook – the value of copywriting.
Investing in copywriting for your website that is both informative and engaging, can bear great returns for your business in the long run. You keep visitors engaged and interested in your business offerings through content that is concise and targeting them on your website.
Even the most powerful businesses acknowledge the importance of quality web copy. Apple, among the many examples, invests in good copywriters. They apply proven copywriting techniques to capture and entice their audiences. As a result, Apple's copywriting team was successful in generating hype for their product, and ultimately persuading visitors to convert to buyers. You don't need to be Apple to achieve the same results. We have 8 kick-ass copywriting techniques to help you achieve success online as well.
8 Copywriting Techniques that Kick Ass
1. Rhyme Time
We are all exposed to the melodic beauty of rhymes from a young age as we tend to remember information better when presented in a witty rhyming package. Would you believe that the same holds true even as you get older?
In Daniel Pink's book To Sell is Human, he shared a study proving the association between rhymes and honesty. Apparently, people find statements that rhyme to be more accurate than plainly written ones, regardless of the message in the statement.
The study asked participants to rate two statements with the same meaning but written in different ways (Woes united foes vs Woes unite enemies). While both statements drove the same message, readers found it easier to accept the one that rhymed as the truth.
You don't have to fill every nook and cranny of your website with rhyme-packed poems though. Utilize rhyme to make important points stand out. That should make your website more memorable to your audience.
Grace…Space…Pace – Jaguar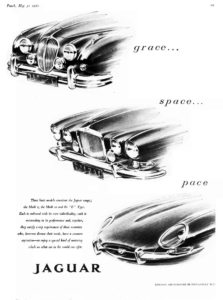 2. Repetition Catches Attention
Just like how mothers tend to repeat their wisdom-filled lectures to drill important life lessons into you, repeating key points in your copywriting does the same for your audience. Don't get us wrong, though. We don't mean you should repeat entire sentences, which makes your copy redundant as no one wants to re-read the same sentences over and over.
However, repeating the keywords within the copy in an effective fashion is where the gold mine is. If you repeat select words in your copywriting in different ways, it draws more attention to the overall message as a whole. And Google likes it too, so it could improve your SEO results.
More intuitive. More intelligent. More you. – Apple watchOS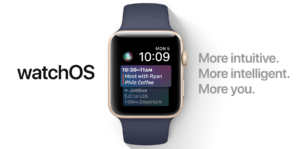 3. Break Thoughts In Half
Rarely does your website visitor read every word on the screen. Typically, visitors only spend 10 to 20 seconds on a website, and you have to make it count. Flooding your landing page with literally everything you have to say about your business and products is certainly not going to help you. Too much information can turn visitors away.
Short, simple, and concise web copy and copywriting work best. Potential customers should leave your website with salient, and memorable, information about your business. For that to happen, your copy has to deliver key ideas in a brief space of time. This is also where visual elements work together with your copywriting to deliver the message.
Always break down long sentences. Turn them into short and memorable statements.
4. Cliché's Make You Lazy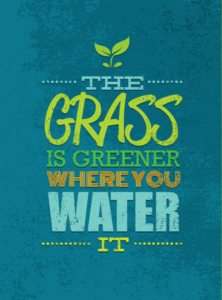 There are copywriting techniques, and then there are copywriting tactics. When you turn to techniques, your goal is to muster up copywriting that is effective and efficient. Tactics, meanwhile, are used to get things done quicker. When you use clichés, you are taking a shortcut.
Turning to an overused catch phrase or stereotype to represent your brand paints you as a lazy company. Visitors do not find such copywriting witty and it promotes a negative reputation.
Sure, phrases like "born and bred", "play your cards right", and "the grass is always greener" can be effective in delivering a message in a concise manner. However, it should be used minimally in your copywriting. People hear clichés way too much. Associating widely familiar clichés with your brand makes it seem un-original. So come up with something unique to your brand. In the long run, it will help differentiate you from the competition.
5. No Weasel Words
No one bets on, or trusts, something that seems uncertain. Your copywriting needs to reflect your brand as a solid and stable company.  Using weasel words, i.e. words that avoid direct command can be bad for your brand.  If your headline, sub-headings, and body copy consist of words like maybe, try, could, may, hope, it associates your brand with instability in your visitors' minds.
Let's say you run a courier service business. If your web copy states "We will try to deliver your parcel as soon as we can!" you should not hold your breath for new orders from your website.
Although that statement is accurate, as your delivery could be affected due to bad weather and calamities, your use of weasel words cast doubt about your business capability in the eyes of visitors.
Weasel words bend the truth. Considering that today's audience is sharper and wittier than ever, they can sniff the truth out in a jiffy.
Establish confidence. If you have confidence in your brand, so will your potential buyers. Use words like will, definitely, can in your copywriting to instill confidence in your visitors.
Just Do It. – Nike
6. More Active, Less Passive
Most of us use passive speech naturally. Even articles, such as this one, often use passive phrasing. Politicians opt for the passive voice to deliver messages at time. For instance, Donald Trump would say "mistakes were made" instead of "I made a mistake" to distance himself from it. Both statements are true, however, one is perceived differently from the other.
There are times when it is smart to use the passive voice, like in the instance above. However, when it comes to copywriting, it is best to avoid it.
The best example is the McDonald's slogan "I'm Lovin' it." Imagine if it were to read "I'm being loved." That would equate to a very weak slogan for the popular fast food chain. Passive writing adds unnecessary words to a sentence, and ultimately weakens its impact. Always lean towards the active voice.
7. An Exclamation Point Isn't Always Your Friend
A marketing e-mail filled with exclamation points in red text makes you cringe! You probably close the e-mail without absorbing anything!! You don't understand why the speaker is yelling at you!!! You've been cringing since the first three sentences of this paragraph!!!! Don't click away!!!!! Yet.
The point made above would have been clear even without adding 'excitement' and emphasis with exclamation points. It is unnecessary in most cases, and there are other ways to spice up your message.
Back in the 90s, it was a norm to use an exclamation point with a call to action. "Sign up now!" "Order here!" Nowadays, it has been ditched for a more minimalist call to action method. People realized that using exclamation points is similar to using pepper in a dish. Too much of it will ultimately overpower every other flavour and result in no one enjoying the meal.
An exclamation point can still be effective though. However, it has to be used sparingly. As F. Scott Fitzgerald once said, "using an exclamation point is like laughing at your own joke." Just keep that in mind whenever you feel the need to turn to a punctuation to inject excitement in your copy.
8. Avoid Overusing Techniques
As the saying goes, 'too much of anything is bad for you'. The same holds true when it comes to copywriting. Although there are many techniques to improve your web copy's quality, bad things can happen when you overuse them.
Just because an article provided you a copywriting tip that using rhymes is an effective way to create memorable web copy does not mean you keep using it on every other page. You'll end up with a satirical business site instead of looking like a reputable business marketing itself online.
Also, beware seeming generic. The competition is fierce, and they are probably studying effective copywriting methods, just like you. Relying entirely on proven techniques may not set you apart from all the rest. Make it a point to add your own unique spin to your business. An idea unique to you and your brand is the best and most effective way to stand out.
Make Your Copywriting Shine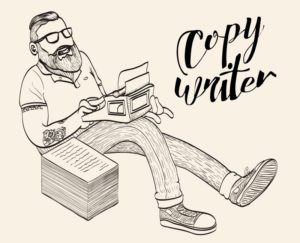 Much like every game-changing factor in business, copywriting requires mastery. If you want your online presence to shine, investing on improving your copywriting skills or hiring a master copywriter can strongly contribute to your online success.
Make it count. You didn't pay for a domain, hosting, and a whole website design only to blow your chances of success with bad copywriting. Written content is the core of your website. Although design contributes to a great first impression, the copy is your way to introduce your brand to visitors. Take these 8 kick-ass copywriting tips to put your business on the right path to online marketing success.