Do you want to get results from your new website?
Our clients typically get a 200% increase in the
number of sales through their new website.
Website Development
Persuade & Engage More Customers Online
Your website is your professional front for your company online – your international business card, the 24-hour salesman who never sleeps and works tirelessly for you. In the Internet age, a mobile-friendly website that markets your business is the key to online success. We make it happen for you.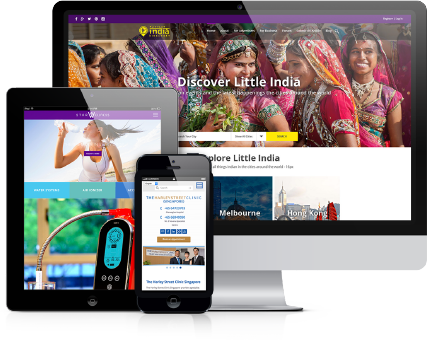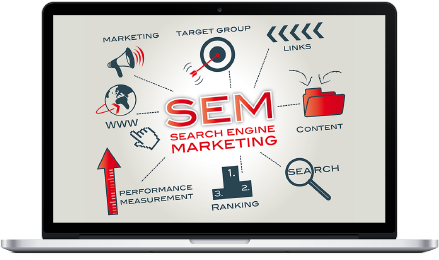 Search Engine Marketing
Generate More Qualified Leads
The quickest route for a business to generate qualified leads online is to advertise and we help you do just that. Set up, manage, and optimize your online advertising campaigns to drive QUALIFIED traffic that CONVERTS better to your website.
Generate paid, targeted traffic from search engines like Google to your website by paying for valuable keywords that convert to business growth.
Conversion Optimization
Engage & Convert Your Followers Into Sales
Convince your website visitors to become your customers and once you do that, you can refine that process to increase the number of visitors that convert to customers. Let us analyze your web presence to drive engagement and turn visitors to customer!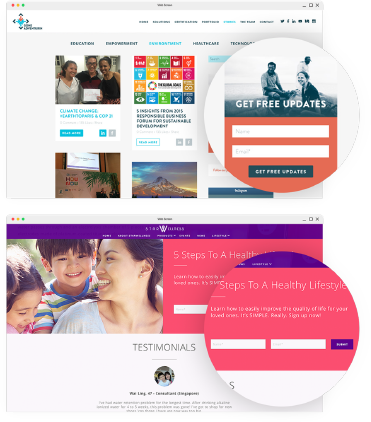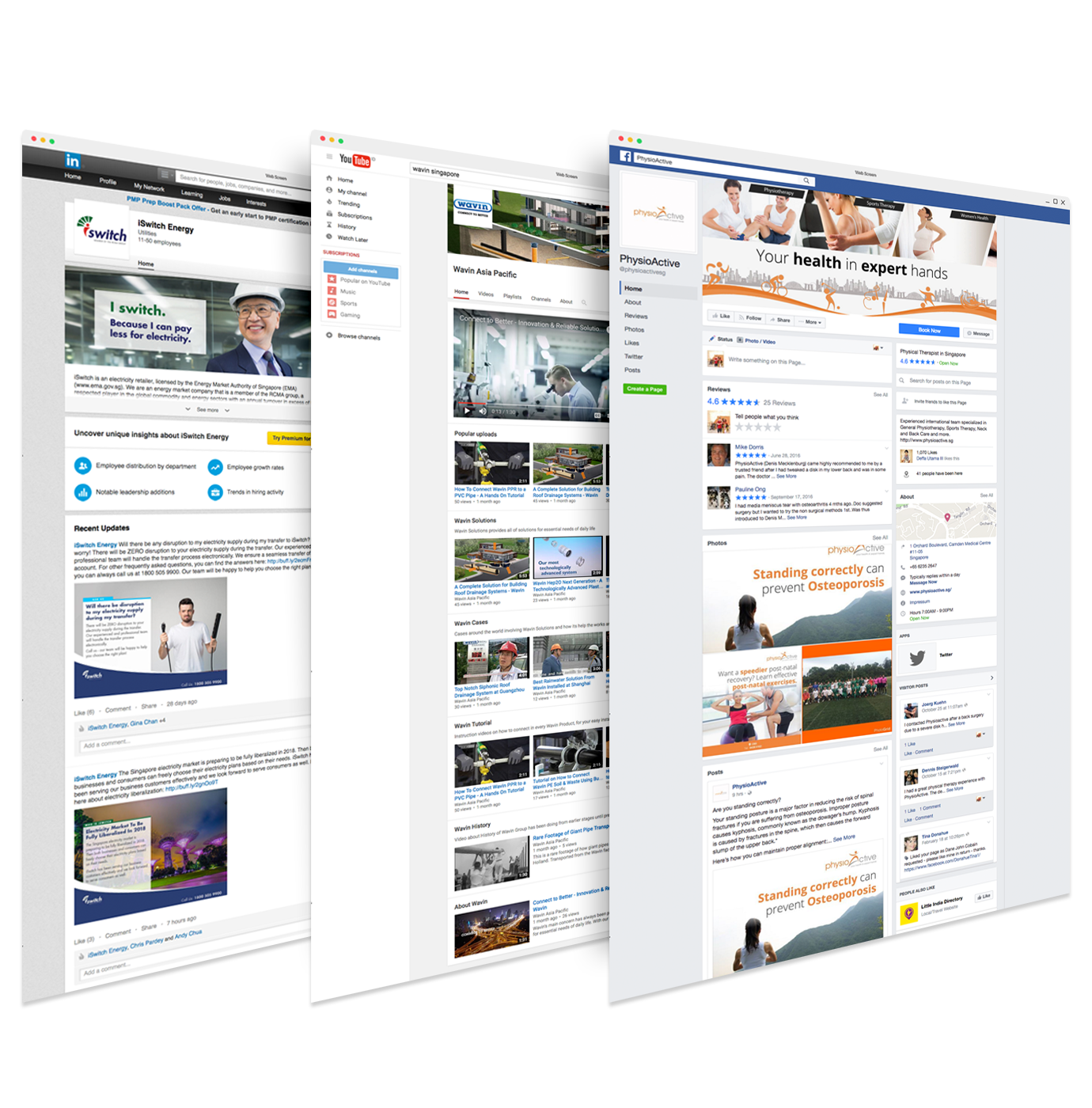 Social Media
Grow Your Brand & Establish Your Social Media Presence
Our social media strategic management is designed to grow your brand and establish a strong online presence. We support your brand, establish mutual trust and create relationships with potential online buyers.
What Clients Say
2Stallions revamped our old website to become mobile-friendly and optimized for search.

Besides getting compliments from customers about our new modern website, we also get many more visitors and more leads via our website than we ever did before, and at a very affordable price. The value we received from 2Stallions was worth more than we paid!
Interested in working with us?
Hit the button below or give us a call!
OR

Call us now

(+65) 9129 6248

(+65) 9155 4446
Latest From Our Blog
Design has been at the forefront of advertising for as long as the latter has been in existence. Whether it is a strong logo, striking headline, or eye-popping colours, design is one of the most important aspects of ads. It is no wonder that in today's advertising climate, where the competition is getting fiercer and tougher, Creative Agencies continue to thrive.
A lot of times, Creative Agencies get overlooked by its other more popular counterparts. One good example of this is the Digital Agency. The rise of online advertising has made Digital Agencies one of the most sought after service by advertisers. This creates a lot of confusion amongst advertisers on what type of agency they should use for their campaigns.
So what are the key differences between a Creative Agency and a Digital Agency? Before we answer this question, let us define the two agencies first.
What is the definition of a Creative Agency?
According to Playground Inc, Creative Agencies focus on design and often use outside partners like ad marketing consultants to fully deploy their work.
Most of the time, Creative Agencies offer print design services. Good Creative Agencies are typically "branding experts" and great at marketing and product design. Specifically, they are known for designing great logos, letterheads, business cards, and achieving a cohesive overall branding feel. Here's a very interesting video on what truly makes an amazing logo:
Toronto agency Smith Roberts wanted to rebrand their company in 2013. What they envisioned in the rebirth of the agency is a name and feel that will touch upon the traditional values of Toronto's Distillery District where the company is situated. But they also wanted a name that will embody the company's commitment to helping their client's grow. In the end, they settled for Corktown Seed Co. A quick look at their branding already tells you that the company nailed what they wanted with a minimalist and modern retro vibe to their collaterals. Check out the photo below.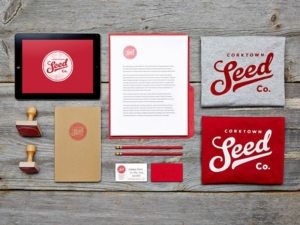 Image by Lovely Stationery
Company structure wise, Creative Agencies focus more on the creative team instead of marketing strategy. Large Creative Agencies are often filled with Creative Directors and graphic designers. Firms like Bruce Mau Design is a very good example of a big Creative Agency, just by checking out their personnel page, you will see how much they emphasize on creative talent.
What is the definition of a Digital Agency?
According to Upanup, a Digital Agency is defined as a company that gives the creative, strategic, and technical development of screen-based products and services. A full digital agency can offer clients search engine marketing, online advertising, web design and development, and e-commerce consulting.
Importance of a Full Digital Agency
Why is it important to know what a full digital agency is? Because digital agencies that do not provide full-service functions as consultants and outsources the production part. Not that this is necessarily a bad thing as some good agencies use this model. However, it would highly depend if you want to work with an agency that focuses on consultancy and outsources the rest or a company that does everything in-house.
A lot of advertisers and companies are slowly putting more focus on online advertising nowadays. And they have very good reason to do so. Just look at these statistics taken from Smart Insights.
Instagram's community has over 600 million users
Snapchat has over 150 million daily users since December 2016
Over 500 million tweets are sent each day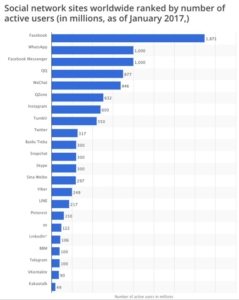 While those social media stats are definitely eye-popping, keep in mind that those sites do not even have the largest database of users. That honour belongs to Facebook, which has over 1.86 Billion users online. Thinking twice about email marketing? Well, according to Email is not Dead, you will be missing out on over 2.586 billion email users worldwide. And what about those silly videos? According to Banner Snack, 76% of businesses who use video believe that it provides a good ROI.
To drive the point even further, an annual survey by ComScore has stated that in 2016, a whopping 51% of shoppers prefer to do their shopping online. From the looks of the trend, this number will just keep going up.
This is why advertisers are turning to Digital Agencies for help when it comes to their marketing strategies. Not only does digital advertising give you the biggest audience, it is also cost effective, statistics-based, and audience targeted. If you are looking for an example of a full-service Digital Agency, look no further and visit our list of services.
So why do you still need a Creative Agency? Well, there are still some compelling reasons to do so. The next part of this article will tackle just that.
Benefits of Creative Agency
Creative Agencies are still king when it comes to design. These companies focus on creating the best designs for your brand and they will still do wonders for your campaign. Creating visual content is still a huge priority for business to consumer companies.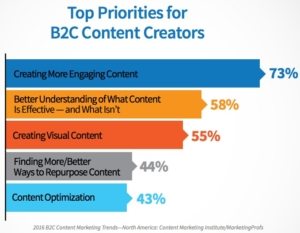 Image by Hubspot
According to Adobe, design-driven companies are still leading the way for over ten years now. The companies that focus on creativity enjoy 1.5 times market share than those that do not. There is a good reason why the CEO of Nike is a designer – despite other forms of advertising popping out, people still value design and creativity.
Which is better?
It is true that using a Digital Agency makes the most sense for your money. The sheer volume of users as well as it's cost effectiveness makes it really a tough choice to beat. However, design is very important too when it comes to your campaigns. A good design will boost your promotion's effectivity as well as polish your branding further. If you can spare some cash, having a great Creative Agency work with an amazing Digital Agency may just be the best combination for your company.
Any thoughts regarding Digital and Creative Agency? Please share them with us in the space below.
No matter how companies do it, advertising remains one of the most important aspects of a business. However, advertising has evolved so much over the past decades that it has become nearly impossible for businesses to keep up. From simple flyers to giant billboards to taking your ads into the online realm, advertising continues to grow at a rapid pace.
Advertising boomed during the 19th century and the most common mediums used were newspapers ads. However, it was in the mid-1800s where the idea of the billboard was born. Billboards and other out of home advertising (OOH) became the go-to choice when it came to advertising. It helped people pick out which soda they wanted and even convinced men to sign up for wars.
However, the success of the Internet opened new frontiers for advertising. The sheer online audience was too juicy for companies to ignore. Google and Social Media like Facebook, Linked In, and Instagram made sure that people would devote a huge chunk of their time online. As a result, the Internet also became a place of commerce and along with it came advertising. Today, companies spend over $191.85 Billion in digital advertising.
While the Internet is fast becoming the choice of companies for advertising their wares, OOH advertising still remains a popular and effective medium. As these two types of advertising medium fight for supremacy, companies are left with the gargantuan task of finding out which is better between digital advertising and OOH advertising.
Before going any further, let us first define the two terms in a much detailed manner.
What is Digital Advertising?
Digital advertising is when companies use the internet to showcase promotional materials to consumers. Common tools used in digital advertising are e-mail, social media sites, search engine ads, and online banner ads.
However, since the Internet is a relatively young invention, digital advertising is a continuously evolving product. Today, companies are already dabbling on the use of chatbots and virtual reality for their advertising needs.
See:  Digital Trends To Disrupt The Consumer Goods Landscape In Asia
What is Out of Home Advertising (OOH)
OOH is defined as any advertising material shown outdoors that promotes a business. Common tools and spots used for OOH are billboards, benches, vehicles, and walls. OOH also includes newer advertising tactics like flash mobs and digital billboards.
Now that we have a clearer view regarding this two types of advertising, it is now time to learn more about when you should use OOH and Digital advertising. Which one should you use?
Is OOH right for me?
While most companies are quickly transitioning from traditional to digital advertising, it might be wise to step on the brakes and reassess your strategy. According to Ad Age, OOH advertising is the only form of traditional media to get a bump in terms of sales. In 2015, outdoor advertising grew from $7 Billion to $7.3 Billion.
And there is good reason for companies to still patronise OOH. While it is true that this type of advertising has been overshadowed by the digital kind, there is still some merit that OOH can give to businesses. Outdoor advertising still has a huge audience – Bus bench advertising in cities like Los Angeles, for instance, can still command an audience of 35000 to 50000 people per day.
The reason for this is because OOH has evolved with newer technologies. The spike of digital billboards, as well as creative advertisements still makes OOH relevant to this day. A good example of the evolution of OOH is an ad campaign created by online video streaming giant, Netflix. When the company launched in France, they placed digital screens on outdoor boards that showcased GIFs of their original shows. The clever bit is that these GIFs reacted to the current events of France. So when France was eliminated in the World Cup, the billboards showed a Martin Freeman looking upset with an accompanying headline that tells the viewer to take their mind off the bad news by watching Netflix shows. Check out the video below:
Outfront media has created case studies regarding the effectivity of outdoor ads. One of their campaigns was to help their client, BAI, a sparkling beverage brand, reach more audiences. With attractive billboards, they were able to increase awareness by 19% across three markets and the people who tried their product increased by 8%.
However, there are certain rules to be followed when it comes to making an effective OOH campaigns. According to Hangline, here are the 10 commandments of outdoor advertising.
Why you should join the Digital Advertising wave
While you should not completely whitewash the worth of OOH, you also cannot deny that digital advertising is the way of the future. While a lot of companies still invest in OOH advertising, that segment of the industry is losing ground. According to E-marketer, OOH will account for over 4% of total media spending in 2015. That percentage will continue to drop by 0.1 points each year. Here's a graph on where marketers in China are spending their budget on: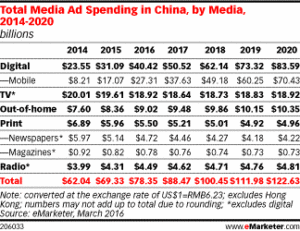 According to a study conducted by Ad Age, in 2015, 80% of companies will increase their digital advertising in the next 12 to 18 months. This is because most companies nowadays are already reaping the benefits of promoting themselves online. Digital advertising is highly effective when it comes to driving sales, according to a report from Nielsen, Consumer packaged goods (CPG) brands who utilized online campaigns experienced three times in incremental sales for every dollar that they spent inondvertising. The study also solidifies that there is a healthy relationship between online advertising and offline sales.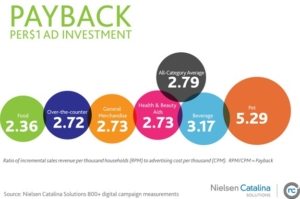 More than just Advertising
Digital advertisements are also the best form of media to drive "word of mouth" marketing (besides actual conversation with people). A lot of personal engagement happens online and the various Internet tools speed this up to another level. Social sharing has been at the forefront of this phenomena and advertisers have utilized this to their advantage. According to Upward Labs, a highly recommended share can increase a value of a product by an average  8.8%.
Digital Advertising is also more efficient when it comes to targeting the right audience. According to Marketing Land, digital advertising is seen as five times more effective than direct mail in terms of cost-per-conversion.
Digital is also becoming the media of choice among people. In 2013, digital media has already surpassed TV in terms of time spent usage. The lead is expected to be even wider now and will continue to become even bigger as the years go on. In terms of wider audience, nothing beats digital advertising at the rate it is going. The graph below shows that digital media has overtaken TV in China.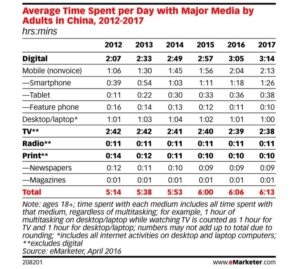 See: How Much Of The Company's Revenue Should Be Invested In Marketing?
Parting Words
Digital advertising is the safe bet when it comes to where you should start investing your promotional budget. The average adult spends about an hour a day surfing the internet. The same group also spends nearly the same amount on their mobile phones. Advertising's biggest audience have surely gone online.
However, it would be a big mistake to ignore OOH advertising completely. If done well, OOH advertising could still be effective depending on the needs of your business. People still spend 70% of their times outdoors and there are still some advertising opportunities that you should not miss there. So it would highly depend on the needs of your business. OOH advertising is still effective to those seeking long-term brand awareness and targeted results (i.e. car owners for billboards). If you have any stories or experiences regarding our topic today, please feel free to write them down in the space below.