Do you want to get results from your new website?
Our clients typically get a 200% increase in the
number of sales through their new website.
Website Development
Persuade & Engage More Customers Online
Your website is your professional front for your company online – your international business card, the 24-hour salesman who never sleeps and works tirelessly for you. In the Internet age, a mobile-friendly website that markets your business is the key to online success. We make it happen for you.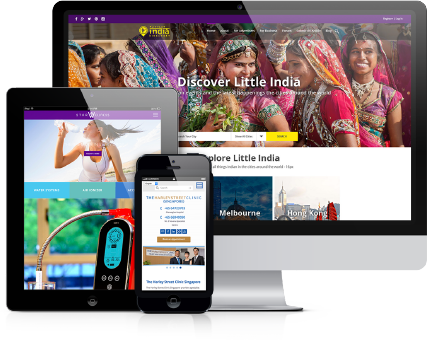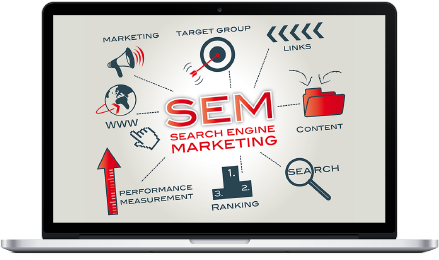 Search Engine Marketing
Generate More Qualified Leads
The quickest route for a business to generate qualified leads online is to advertise and we help you do just that. Set up, manage, and optimize your online advertising campaigns to drive QUALIFIED traffic that CONVERTS better to your website.
Generate paid, targeted traffic from search engines like Google to your website by paying for valuable keywords that convert to business growth.
Conversion Optimization
Engage & Convert Your Followers Into Sales
Convince your website visitors to become your customers and once you do that, you can refine that process to increase the number of visitors that convert to customers. Let us analyze your web presence to drive engagement and turn visitors to customer!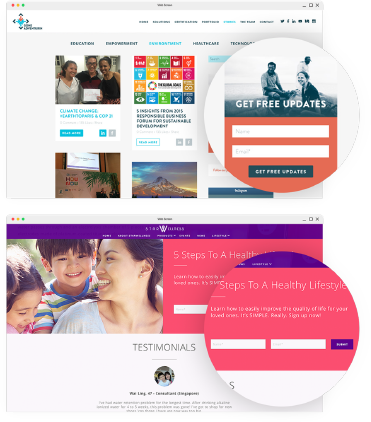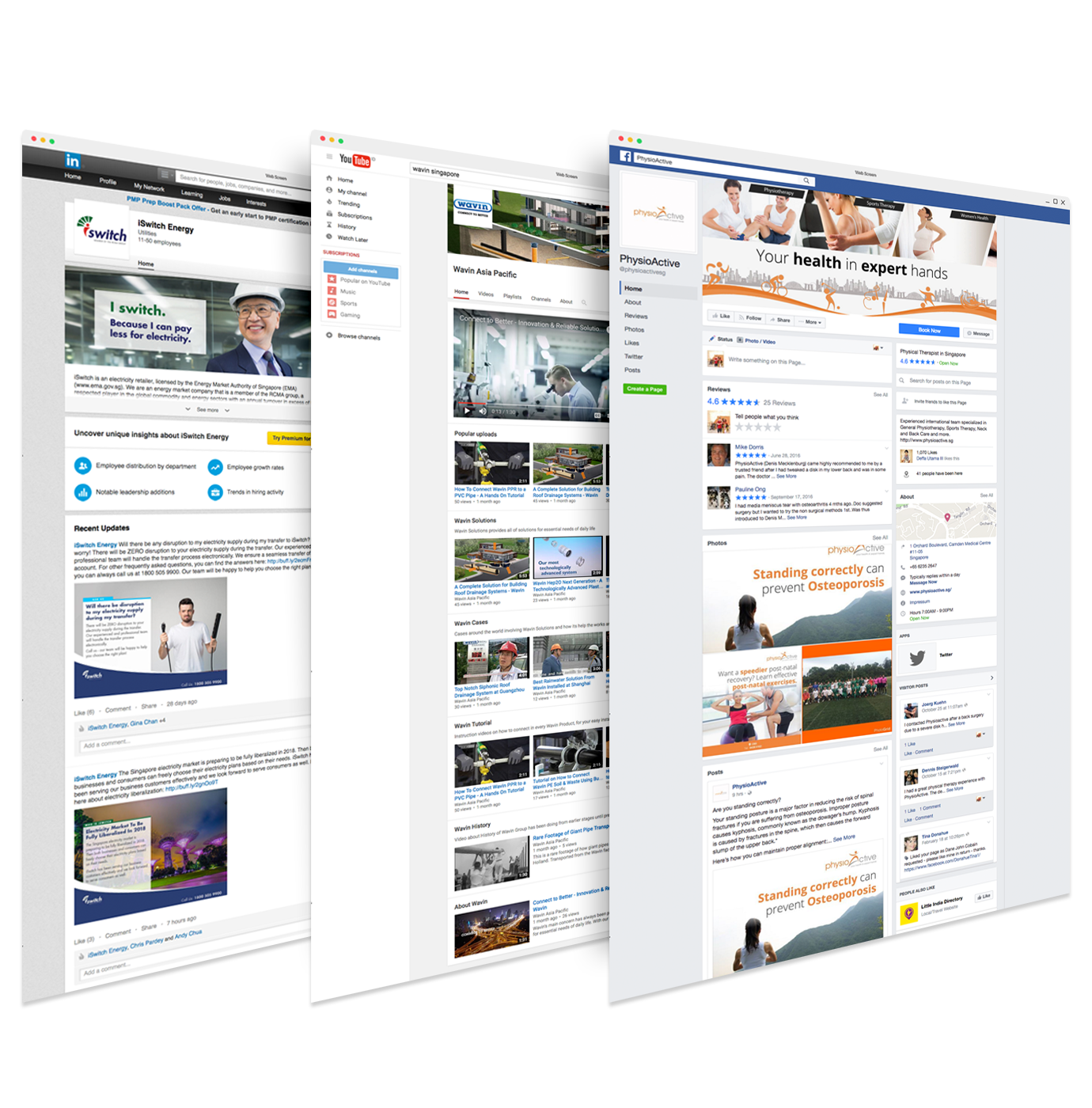 Social Media
Grow Your Brand & Establish Your Social Media Presence
Our social media strategic management is designed to grow your brand and establish a strong online presence. We support your brand, establish mutual trust and create relationships with potential online buyers.
What Clients Say
2Stallions revamped our old website to become mobile-friendly and optimized for search.

Besides getting compliments from customers about our new modern website, we also get many more visitors and more leads via our website than we ever did before, and at a very affordable price. The value we received from 2Stallions was worth more than we paid!
Interested in working with us?
Hit the button below or give us a call!
OR

Call us now

(+65) 9129 6248

(+65) 9155 4446
Latest From Our Blog
With all the massive changes in the digital landscape over the past few years, you might be tempted to think that SEO is a thing of the past. However, SEO remains one of the most potent online marketing strategies around. SEO has been evolving with every Google update to their search engine, but the desired results remain the same. An effective SEO strategy should be able to increase your website's traffic, brand awareness, and ultimately your conversions.
A sound SEO strategy is not a wand that you can just wield anytime for instant results, though we may all wish a hidden Harry Potter inside us. According to Forbes, it takes at least 6 months or longer to implement an effective SEO process. This often involves a step by step process consisting of research and planning, technical SEO work, content creation, and analysing results. The amount of legwork involved would take an awful lot of man-hours.
However, we also understand the need for quick wins although 'fast' here is a relative term. If you want to see improvements for your website rankings on Google, there are a number of things you can start doing immediately.
1. Publish content regularly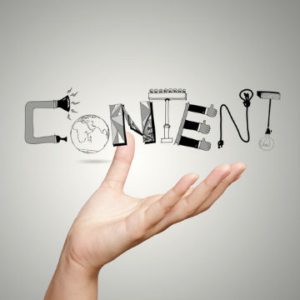 One of the driving factors of SEO is quality content. Making sure that you are publishing quality content on a regular basis means you are already on a certain path to having your website rank higher in search engines.
The critical word here is quality. Make sure that your content targets your ideal customer or audience. After publishing the post, be sure to share it with family, friends and current customers as well as on relevant forums and social media channels. Then, watch your website's traffic increase!
Don't forget to identify a keyword phrase for each page that you want the page to rank for. A good exercise would be to make an educated guess on how your audience would search for the content you've just published. Lastly, repeat that phrase and variations of it a number of times within your content.
As long as you can publish smart, quality content on a regular basis that people enjoy reading and sharing, you're on your way to good search engine rankings.
2. Create a sitemap for Google Search Console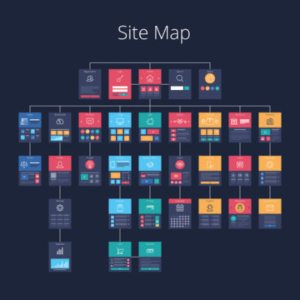 A lot of marketers overlook the value of creating a sitemap. According to Google, if a website keeps putting new pages then it is likely that Google web crawlers might overlook some of them. However, creating a sitemap is vital whether your website page count is constantly growing or it's stagnant and small.
Even if your site is new and contains few external links, submitting a sitemap to Google is important. Googlebot and other webcrawlers scour the Internet by following links to go from one page to another, which may result in your website getting overlooked if you do not submit a sitemap.
How to Submit A Sitemap
The first thing that you need to do is figure out which pages on your website need to be crawled by Google. Find a canonical version for each page. Figure out which site format you want to use (you can find a list of sitemap formats here). There are numerous third party software that you could use to make your sitemap, including Google Sitemap Generator.
Next, you should test your sitemap. This will determine if the sitemap that you have created is valid. In order to do this, just go to Google Search Console (formerly known as Google Webmaster Tools), click on Site Configuration and go to Sitemaps. There is a tool at the top right called Add/Test Sitemap.

If the test Google runs is successful, add your sitemap to your robots.txt file and submit it to Search Console.
3. Check your Metadata
Your webpages contain metadata or information regarding the content of that page. Meta tags have been around since the early days of webpages and are an important element of SEO. Metadata is not as huge a factor as it once was in Google's algorithms, but it can still play a big role in your website's ranking. There are three types of metadata that you should know about:
The first is Title metadata. This is the title that will be displayed within the tab in your browser window when you load a page. It is also shown as the clickable link within Google search results. See the image below.
Browser Tab

On Google

The second is the Description metadata and it is the text description that will be used as your site's summary. This should be short but insightful, providing the right information to get readers to click. It shows up on Google under your main link. See image above.
Lastly, we have the Keyword metadata. These are the search phrases that your audience will may type to find your pages. Don't overpopulate this. Try to keep this under 6-8 phrases containing 1-4 words. Do note that meta keywords are not a Google ranking factor but are a nice-to-have, so if you want, you can also ignore them.
4. Create a better URL structure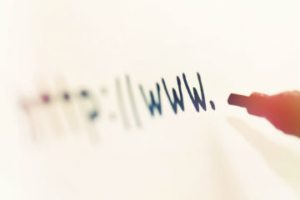 Check the URL structures of your pages and make sure that they are optimized. Making it easier for Google and your audience to decipher your URLs will yield you better results in page ranking.
For example, make your URL easy to read so that people will easily figure out what they should be expecting from your page. You have probably seen webpages with URLs like "mydomain.com/ hdh23hrakhd/44uh34su2iu/jasnja=f#loaddelay" Not only is it impossible to remember, it's also confusing and looks unreliable.
Wouldn't it be better if your website URL was "mydomain.com/amazing-outdoor-photography/landscapes"? It is clean and gives the reader an instant idea as to what he/she should expect to read on your page. Furthermore, it's much easier to recall. Just like humans, Google also prefers URLs to read like this, as it makes it easier for them to determine the topic of your page and rank it.
5. Create relevant anchor text for links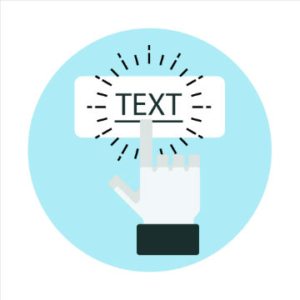 Anchor text is the characters or words that is visible for your hyperlinks. Different people have various approaches to what they use as anchor text. Some prefer an exact match, which means that the anchor text uses an exact keyword, from the page that it links to.
Others use a variation of the keywords as their anchor text. There are also other ways like images, generic words such as 'click here', or brand names.
Anchor Text Guidelines
There are some guidelines to what makes great anchor text. First and foremost is to make the anchor text relevant to the page that it is linked to. The next would be to avoid using generic words for anchor texts.
For example, instead of using words like "click here", try using words like "check out some amazing landscape photos". Try to keep it as short and as clean as possible. A good rule is to decide on the fewest number of words to still make the anchor text pop.
Final Thoughts
What we've shared are quick action items to start improving your website ranking today! However, if you want an in-depth and effective long-term strategy, then check out our Search Engine Optimization page for our services. We would love to hear from you and discuss how we can further improve your search rankings and drive more traffic to your website.
Do you have any anecdotes or additional tips about quickly improving a website's ranking? Please feel free to share with us in the comments section below.
Did you know that most website visitors prefer information to be in their native tongue?
Having lived in Jakarta, Kuala Lumpur, and now Singapore. I have seen many users seek localized websites despite their fluency in English. Clearly, explicitly localized sites like SG, ID or MY, have the upper hand compared to generalized or international website domains (.com, .edu or .net).
Search Engines like Google work furiously to match their users to the best possible search results depending on their needs. Most of the time, they are often directed to pages that are localized or have originated from the user's location and language.
If you are not entirely convinced, here are more reasons why local is better.
Benefits of Localizing Your Website
1. Global brands are doing it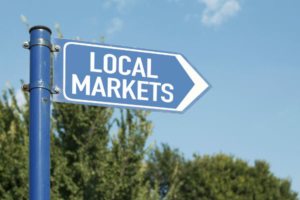 People nowadays normally use the internet to purchase goods and services. As corporations start to globalize, e-commerce starts to rapidly grow in Asia as an industry. This provides companies with great opportunities to reach the masses in a relatively easy and cost-effective manner.
A great example is ASOS, a large online fashion and beauty retailer originally from the UK, that has both global aim and local reach in Southeast Asia. Using an E-commerce platform, consumers across different countries like Singapore or Malaysia can purchase their clothing with minimal hassle.
Despite the significant number of Internet penetration in Southeast Asia, only a few global brands make the right effort to compete on a local level. One good example of a global brand making the right moves is Amazon Japan – they allow Japanese customers to shop online and pay later at their local convenience stores. Amazon realized that in Japan, convenience stores are a huge part of the culture. In Southeast Asia, Coca-Cola capitalized on Singapore's landmark SG50 celebration in 2015 by creating the "#SG50 Share a Coke campaign." This is a campaign where Coca-Cola encourage their customers to share their coke experiences on social media.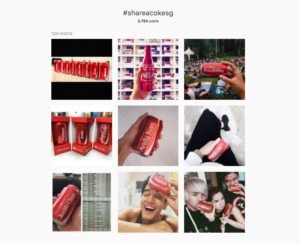 The examples above mean that translating a web page to its localized language from English is not enough to consider as execution of E-commerce or global/local websites. Just because customers in Malaysia, Indonesia or Singapore can access your website and recognize a significant part of your content, it doesn't mean they will choose you over a local competitor who speaks their language and understands the local culture and norm. Every country, particularly in Southeast Asia is unique. There is no one-size-fits-all. To win their hearts, every country-unique content you create requires a different approach. At the end of the day, it boils down to the basics of truly understanding your customer's needs in the digital space.
2. Native English speakers only makes up 1/4 of web users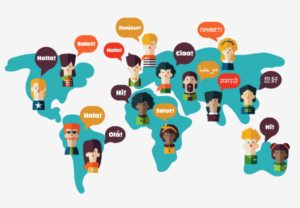 Southeast Asia has an amazing collection of languages. The major ones include Bahasa Indonesia, Bahasa Melayu, Thai, Vietnamese, Burmese, Tagalog, and Khmer. In a world where English is more or less regarded as the global language of commerce, translating and adjusting your website to local needs seems unnecessary. However, it will pay off in a long term.
Despite this, only some big companies like Unilever and Coca-Cola, understand the need to communicate with their customers in their own language. Statistically, native English speakers account for only 25% of global web users. This means that translating your website into a local language is one of the best things you can do to serve your customers better.
A great example of a company is Danone and their Sarihusada brand which houses products aimed at pregnant and lactating mothers. In Indonesia, certain towns are rife with malnutrition. Sarihusada brands itself as being based on in-depth scientific research, by stating that their products are backed by a century of experience as well as 400 scientists. The company does not only speak to Indonesians using their native language, they also try to address a situation that is a known problem in the country.
3. More customers for your business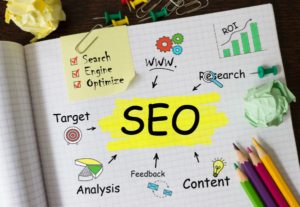 Whether you're setting up a new regional or local website or improving an existing site, it is vital to step up your local SEO (search engine optimization) to get more customers.
A report in 2016 by Smart Insights say that websites ranked number one in Google received an average click-through rate (CTR) of more than 30% while number three drops to a CTR of 12%. This means that reaching the first page of Google may not be sufficient. You have to rank #1 for the keywords that grow your business.
So, what does that imply for your local vs. global business? Without a strong (local) SEO strategy in place, you are halfway out of the competition regardless if you're B2B or B2C oriented.
See 7 Essential Google SEO Strategies Every Marketer Should Know
 4. Attract the "right" local talent
It is important to set up your website properly to attract the right talent for your business. An outdated or Global website might be insufficient for the potential local talent to review the current state of business and consequently might not do justice to your brand on the local scale. For instance, you may alienate the Internet savvy Generation Y, which tends to seek answers to questions via the digital space.
According to Workology, a recent study has stated that a whopping 90 percent of job candidates use mobile devices to look for work. This means that you could potentially lose out on the best talents if you are not taking your recruiting advertisements online, especially in Southeast Asia, whera according to the Philippine Daily Inquirer, there is a weakening talent pool despite the volume. Ensure that the best talent pool applies to your company by setting up a local website for recruitment purposes.
Search for your company name in the country you want to set up a local domain on the prevalent search engine (i.e. baidu.com in China and Google in Singapore) and see what the results are for the first 2 pages.
5. Target audiences are different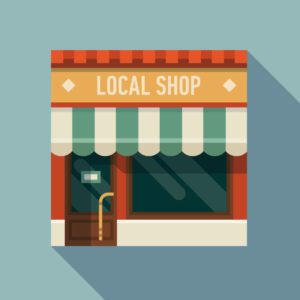 For multinational corporations (MNCs), recurring tension over the control of company content between the HQ and local business unit could be detrimental to the latter. Keep in mind that target audiences are different no matter what. Giving a significant control to the local offices can provide them with additional opportunities in terms of localized content marketing.
While studies show that big companies are still figuring out the best way to pass the baton to their smaller counterparts, it is clear that companies are recognizing the worthiness of globalizing and localizing their digital materials even as translated content. A good example of this would be multinational FMCG company Royal FrieslandCampina's dairy brand named Friso.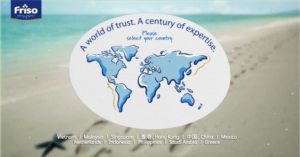 The brand has localized their website in the countries that they are in and have successfully communicated with customers using a language that they understand. This has worked well for them as their local websites are ranking higher in Google.
A study on EU countries about user language preferences online has concluded that 9 out of 10 web users would access the web in their own language if given the choice. The same study found that 44% of European internet users thought that they were missing information on English-only websites and only about 18% would purchase goods or services in another language.
These are just some of the many reasons why you need to localize your website content. However, knowing all those reasons will only be beneficial if you can implement it well. Here are some tips you can consider when localizing your website content.
Tips for localizing your website
1. Avoid duplicated content from global websites
Sometimes content is translated across websites for different regions and languages. This is perfectly fine – as long as it works. It is strongly recommended to do exclusive content creation for each target group. While filling all pages and variations from the start is not necessary, you need to make sure that you don't get penalized by Google or your SEO efforts may become futile and you have to start all over again.
There are multiple tools on the web that ensures content exclusivity. We suggest using sources such as  SEO Review Tools to make sure you don't duplicate your content.
2. Make a credible and trustworthy website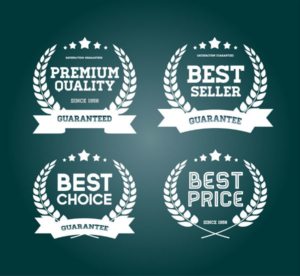 Southeast Asian Clients, especially from Singapore and Malaysia, tend to have different needs compared to Western/European clients. These clients might not be so familiar or accustomed with your company (e.g. your company is well-known in the West but not yet in Southeast Asia.). What you can do to enhance your credibility is to showcase localized case studies or testimonials to promote your business and convince clients to join them.
If your company has won awards, make sure to include them on your website. Especially if those awards came from local governing bodies. Do highlight how many years your business if you have been around for a long time now. Customers tend to trust websites that have all of this in them.
See 11 Reasons You Need A Professional Website
3. Plan your Multi-regional website domain
When planning sites for multiple regions (usually countries), don't forget to research administrative requirements that might come into play first. These requirements help you to structure your business and give you the choice if you want to localize your website domain or have a more general domain.
There are 2 types of domain names in the market:
CCTLDs (country-code top-level domain names): These domains are fixed to a specific country (for example .sg for Singapore and .my for Malaysia). Users and search engines use this as a strong sign that your website is explicitly for a certain country.
GTLDs (generic top level domain names): These domains are not fixed to a specific country. Examples of GTLDs are .com, .net, and, .org. Google sees regional top level domain names such as .eu and .asia as GTLDs since they cannot be tied to a specific country. You can set geo targeting for websites with GTLDs using the Webmaster Tools Geographic Target setting.
4. Be the industry "Thought Leader"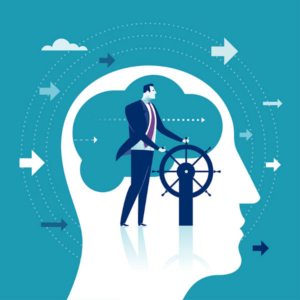 Every industry possesses great opportunities to express your thought leadership. One of the low hanging fruits can be blogging and the showing of relevant articles in your particular industry. These blog articles can be read by your employees as well as potential or existing clients.
Another thing you can do is network with other influencers in your field. Be a bit more social and watch as these influencers help you build your own brand and following. Lastly, get heavily involved with social media and attend networking events. Becoming a Thought Leader would require all of your marketing and networking prowess.
According to Thought Leadership Lab, "Thought Leaders are the informative opinion leaders and have in-depth knowledge in their field of expertise. They are generally trusted sources who make a big difference with in corporate or entrepreneurial innovative ideas; turn ideas into reality, and know and show how to re-do their success."
Thought leaders have the uncanny ability to persuade and the power to go to any direction in your expertise. People naturally flock to those who are knowledgeable and a great influence.
Just take a look at one of Unilever's recent activities. The Unilever Foundry launched a new co-working space in Singapore called Level 3. The huge space brings together start-ups and investors as well as making the whole place accessible to Unilever themselves. The place will hold various events, workshops, seminars, and training sessions. While this is a great way for Unilever to promote harmony between other companies, it is also a great way for them to gain new ways of thinking, fresh communication ideas, as well as learning more about the changes in finance, logistics, and supply chains. This just goes to show that even big businesses feel the need to learn more about the industry through various influencers and thought leaders around the area.
See 21 Reasons why your business should start blogging
5. Know what your competition is doing
The easiest and fastest way to find out what works and what does not is to check with your direct & indirect competitors in the country where you operate in. Are their websites and contents regionalized or localized? If some competitors already have it, it's time to take action. If no one has it then you should start leading the trend.
There are some SEO tools that can help you get prized data from your competitors. Google Alerts, for example is a great tool to alert you every time a rival company is mentioned online. You can also monitor certain keywords as well with this nifty tool. Another great example is the Search Monitor, which is a tool that zones in on competitor data and could also monitor affiliates and trademarks.
Scout the competition not only for strengths but also for their weaknesses. Being one step ahead of them by taking advantage of those weaknesses. Make sure you have a good list of all your competitors through good old fashioned research and networking. Try looking at advertisements, local business directories, internet, trade fairs, and information by your customer.
Remember the old saying to keep your friends close but keep your foes closer.
Even if your company has roots that started miles away from your new destination, there are still a dozen ways to localize your website content in the Asian market. Try some of the tips above and watch as your regional presence grow. With such massive pool of evidence pinpointing towards the benefits of localized content, it is great that you have started. If not, then what are you waiting for? If you have any experiences or stories about setting up a localized website then feel free to share them with us in the comments section below.