Do you want to get results from your new website?
Our clients typically get a 200% increase in the
number of sales through their new website.
Website Development
Persuade & Engage More Customers Online
Your website is your professional front for your company online – your international business card, the 24-hour salesman who never sleeps and works tirelessly for you. In the Internet age, a mobile-friendly website that markets your business is the key to online success. We make it happen for you.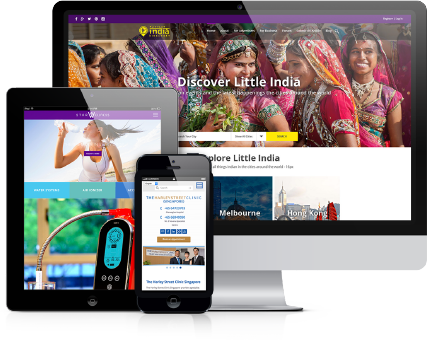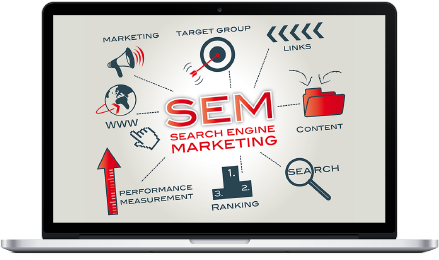 Search Engine Marketing
Generate More Qualified Leads
The quickest route for a business to generate qualified leads online is to advertise and we help you do just that. Set up, manage, and optimize your online advertising campaigns to drive QUALIFIED traffic that CONVERTS better to your website.
Generate paid, targeted traffic from search engines like Google to your website by paying for valuable keywords that convert to business growth.
Conversion Optimization
Engage & Convert Your Followers Into Sales
Convince your website visitors to become your customers and once you do that, you can refine that process to increase the number of visitors that convert to customers. Let us analyze your web presence to drive engagement and turn visitors to customer!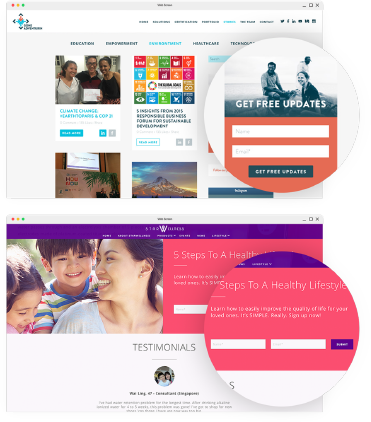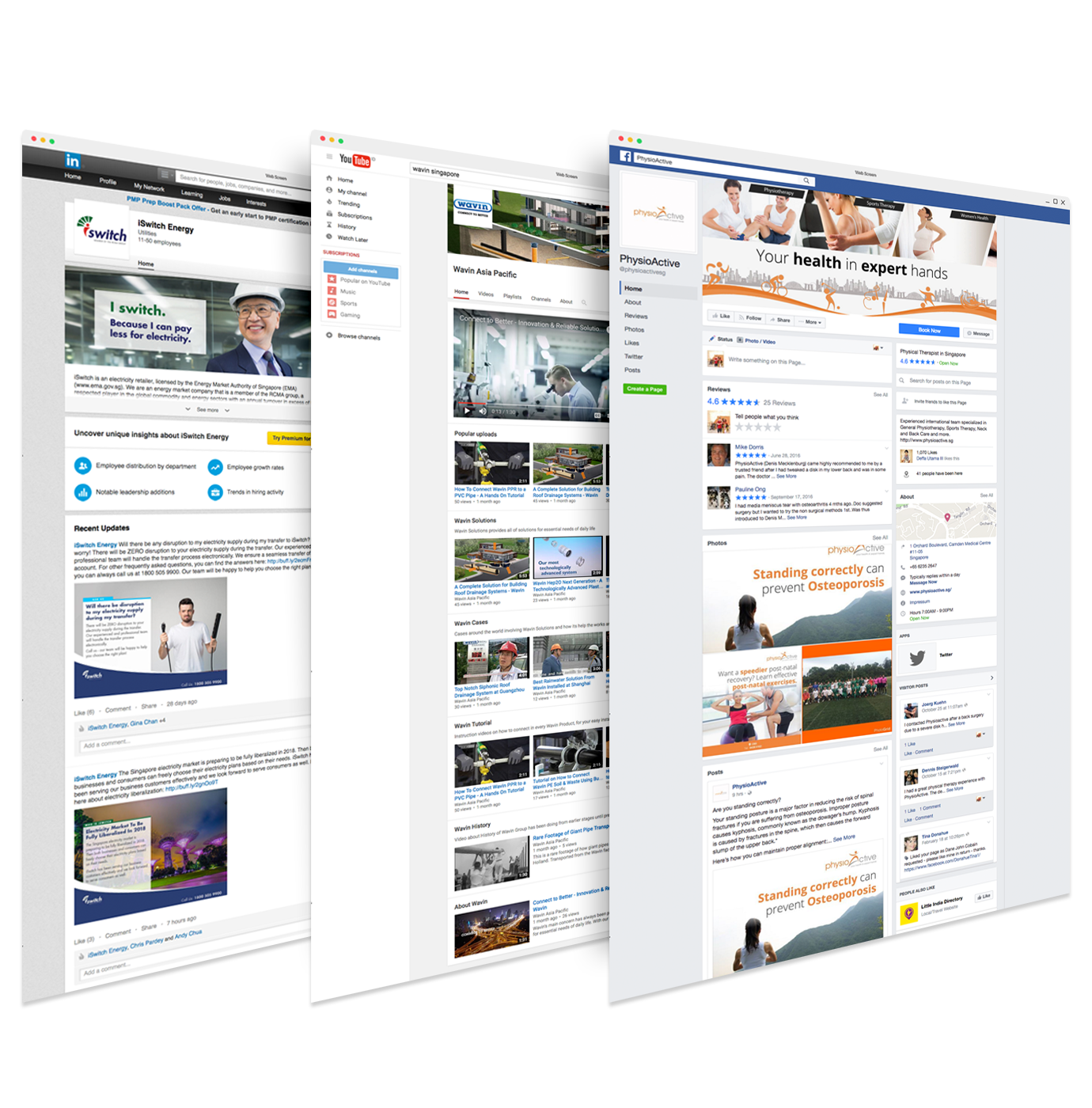 Social Media
Grow Your Brand & Establish Your Social Media Presence
Our social media strategic management is designed to grow your brand and establish a strong online presence. We support your brand, establish mutual trust and create relationships with potential online buyers.
What Clients Say
2Stallions revamped our old website to become mobile-friendly and optimized for search.

Besides getting compliments from customers about our new modern website, we also get many more visitors and more leads via our website than we ever did before, and at a very affordable price. The value we received from 2Stallions was worth more than we paid!
2Stallions has helped us break into the world of search engine optimization and marketing. With helpful insights and their expertise, we have made serious advances in both these aspects.
Interested in working with us?
Hit the button below or give us a call!
OR

Call us now

(+65) 9129 6248

(+65) 9155 4446
Latest From Our Blog
Neuromarketing is a term that has been gaining a lot of traction in recent years. But somehow, the exact definition of neuromarketing seems unclear. For me, the best way to define neuromarketing is that it scientifically studies the brain to benefit marketing. For example, medical technologies like brain scanning and brain activity measurements are used to gauge a person's response to different marketing elements like packaging, videos, ads, billboards, etc.
Sounds like utter science fiction right? But here is some food for thought – large companies like Ford motors and Coca-Cola have been investing heavily on neuromarketing since the 1990s. Today, a lot of other companies have already followed suit.  There are good reasons why you should start thinking about using the consumer brain when it comes to your marketing. Let's discuss the most notable ones.
Five clever ways companies are use Neuromarketing
Great packaging
Have you ever gone through an entire aisle of potato chips in the supermarket and had to choose one among the multitudes of bright collared packaging? It turns out, the brand you pick might be the work of your brain's preference.
Companies have figured out through Electroencephalogram (EEG) what elements consumer prefer on their packaging and subsequently, what they do not like. When Chips Ahoy decided to use neuromarketing in their packaging, they discovered that people had a negative emotional reaction to the "resealable" words on their packaging. This is because people found it a bit hard to read.
Surprisingly, the photo of the chocolate chip cookie on their packaging failed to garner great reactions amongst the test subjects. As a result, Chips Ahoy redesigned their packaging with a "resealable" tab that was more clear and a cookie visual that is more exciting (with flying chocolate chips).

Image by Neuro Science Marketing
Simply put, making sure that people will like your packaging is one great way to steal their hearts.
Limited Editions
Have you ever heard of the story about limited edition Nike sneakers causing mayhem among "sneakerheads" on opening day? Well, there is a reason for that and that has something to do about Neuromarketing.
The effect of consumers love for limited editions and limited-time offers are called marketing with scarcity. Marketers put limitations on a product like timed offers and dwindling supplies to pressure them into buying fast. Creating a sense of urgency for the customer has been a technique that has been used countless times and has proven to be so effective. Think midnight sales, limited edition items, and McDonald's McRib.
Image by Summit Evergreen
Think about this, a report by Experian has noted that emails with words of urgency have a 14% higher open rates and a whopping 59% higher transaction rates. Marketing scarcity rushes the consumer mind and is a great tool to turn up the sales.
Multisensory stimulations
Companies are taking their marketing efforts to another level nowadays. This includes giving their customers an experience that goes beyond sight and sound. As marketers keep learning more and more about how the consumer mind works, we are going to see a lot of marketing elements that utilize the other senses – smell and touch.
A good example is the video game, South Park: The Fractured but Whole. In order to promote the game, the developers invited journalists and bloggers to try their latest gadget, the Nosulus rift. This gadget is supposed to be an accompanying peripheral for their game that emits an ungodly odour for various scenes. This blends perfectly well with South Park's crass humour.
Suffice to say, the journalists love it and the story went viral. This just goes to show how various companies are turning their attention beyond visual marketing.
Striking Headlines
Headlines are one of the most important elements in advertising and its impact has not waned to this day. Oftentimes, headlines are what grabs the attention of people in an ad. So making sure that your headlines are attention grabbing and exciting is very important to surprise the human brain.
Here is a great tip: Try a technique called "Hippocampal Headlines." This means that you can use familiar everyday phrases and tweak them a bit. This type of headline activates the brain making your headline more eye-catching and memorable.
For example, Silver Patron tequila used the slogan "Practice Makes Patron" as a twist on the familiar phrase, "practice makes perfect."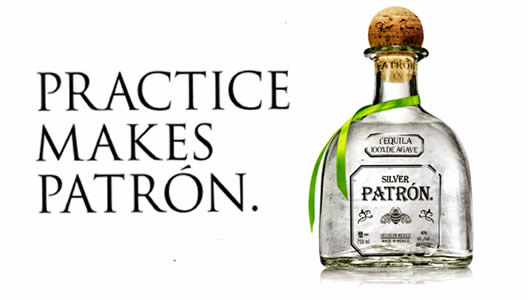 Image by Neuro Science Marketing
Effective web layout
Neuromarketing in web layout aims to improve your visitor engagement and conversion rate. This is based on the cognitive preferences utilised within your website's content and design. Little things such as the font, colour schemes, and layout have an effect on the visitors.
You've probably recently encountered websites that utilises modern horizontal design. This is often done by designers to keep up with the current trends. However, neuromarketers found out that the traditional vertical design engaged visitors more than the newer horizontal design.
The study revealed that people are more inclined to explore websites that are designed vertically. Neuromarketers explained that the vertical design sends a signal to the reader's brain that there are more contents below, as opposed to the horizontal design. You can also read more about how you can optimise your website in our Design page.
Neuromarketing is here to stay
Neuromarketing is a relatively new player in the realm of business. However, the effects and results of neuromarketing have been impressive, to say the least. Marketers should be on the look-out for future neuromarketing trends such as eye-tracking and biometric engagement.
The consumer mind is still continuously evolving and companies have turned to science to keep up. There are still so many opportunities to explore and a lot of research to be conducted. With that, it definitely looks like that neuromarketing is here to stay and is definitely worth a look at.
*This article was first featured in The Singapore Marketer July-Sept 2017 issue. 
Let's start by traveling back to a time when Google and Yahoo! were still evenly matched. Imagine Google's clean homepage were to take 10 seconds to load, while the Yahoo! homepage loaded in 2 seconds. Do you think Google would be the top search engine in the world today? Speed matters – you have 8.25 seconds to capture the interest of your reader. If you fail, they will move on to the next site.
According to a report by the Microsoft Bing search team, a 2-second delay in page responsiveness reduced user satisfaction by 3.8%, increased lost revenue per user by 4.3%, and reduced clicks by 4.3%. Google is blatant about including your site speed into its ranking algorithm, with their PageSpeed Insights tool to test your site speed.
The importance of website speed when it comes to SEO, visitor attention and retention and eventually, your bottom line, cannot be overstated. This infographic by KissMetrics further drives home the point of having a fast website.
3 Steps To Speed Up Your WordPress Website
There are 3 simple steps to speed up your WordPress site.
1. Perform A Speed Test
The first step is always to know where your website currently stands. Use one of the following three tools to test your website speed. Not only do these tools provide you your site speed, most also offer a slightly deeper analysis to fix the problems.
1. GTmetrix 
Type in your website URL, and GTmetrix will generate a report for you to analyze. It only tests from a server in Canada for their free version.
2. Website Speed Test By Pingdom
Put your website link and choose "test from" to select a location nearer to your server, if you're a localized website.
As mentioned earlier, Google's own tool to test your speed.
2. Address The Low Hanging Fruits
Once you run your site speed test, you will likely be left with a score, a ranking or a grade, and an analysis of what you could improve. Depending on your technical know-how, you may or may not be able to understand all the items mentioned, which is why we wrote this. Take note that there will likely be some items, such as 'Server response time', that you cannot directly control. If you're on a shared server hosting, you may face this problem and you probably cannot address it unless you switch to a higher level of hosting.
That's why it's always best to focus on the low-hanging fruits when it comes to the analysis.
3. Call In The Developers
Once you tackle the low hanging fruit with your WordPress site, you may find your site speed has improved to a satisfactory level. You may see anywhere between a 20% to 70% improvement in speeds, which is good enough for most folks. However, if you REALLY want to push the envelope, then it's time to give your WordPress developers a call to fix the final few issues and bring your website to blazing speeds.
Basic Site Speed Tweaks
The following are tweaks you can attempt for yourself on your WordPress website to see some immediate wins in the loading times for your website.
1. Optimize Images
This is the simplest thing you can do if it is highlighted as a problem. Many of our clients tend to upload high-resolution images, which may be unnecessary for the web. A lossy compression on an image can reduce its file size by over 80% while still looking great. While WordPress has built-in functionality that you can activate for compression of images, it requires some technical knowledge. So we suggest you use one of the following 2 free image optimization WordPress plugins instead. Do be wary of the settings and keep a backup before proceeding.
WP Smush (Go Pro for more benefits) – https://wordpress.org/plugins/wp-smushit/
Explore optimizing images further with this WooCommerce article on how to get fast-loading, fantastic-looking product images.
2. Enable Gzip Compression
If Gzip compression is currently not enabled for your website, you need to get on it right away. It is a standard practice for most websites and in essence, it compresses files, making them smaller for a faster transfer over a network.
Your hosting provider may be able to do this for you, so drop them an email or open a ticket to see if they do. If they do not, you can either install a WordPress plugin that just does Gzip compression or you can use a caching plugin, which we discuss in the next section.
3. Leverage Browser Caching & Enable CDN
For these items (and more), you would make use of one of the popular caching plugins available for WordPress. Some of the free ones you can utilize include W3 Total Cache, WP Super Cache, and the one we're going into detail for this post – WP Fastest Cache. If you have a specific preference (you're already ahead of the curve if you know your caching plugins and have a preference), then here are guided articles for the other two WordPress caching plugins:
W3 Total Cache Plugin + Cloudflare (CDN) is a great combination to speed up your website – http://www.bloggingwizard.com/w3-total-cache-cloudflare/
WP Super Cache Configuration Guide – https://www.shoutmeloud.com/wp-super-cache-wordpress-optimization-plugin.html
The purpose of creating an actionable guide for WordPress caching is to show you how simple it can be. To make our guide comprehensive, we also show how to set up a working CDN option (free as well) to ensure you get the best improvements possible. Do note that every WordPress site uses a different set of plugins and themes, so it's possible this configuration may not work the best for you.
Speed Up Your WordPress site with WP Fastest Cache + Jetpack
Even though there is a premium version for WP Fastest Cache plugin, the free version is usually good enough to get considerable benefits from. It is a plugin that is gaining in popularity – with over 300,000 downloads already! When we tested it against other free plugins, we found that it was the best in terms of usability and simplicity. Jetpack, a popular WordPress plugin pack with over 3 Million installs, comes bundled with new WordPress installs and provides you with a free Content Delivery Network (CDN).
So let's begin!
Setup & Configure WP Fastest Cache
Go to your WordPress dashboard
Go to Plugin -> Add new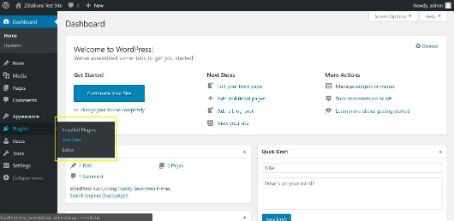 Search for WP Fastest Cache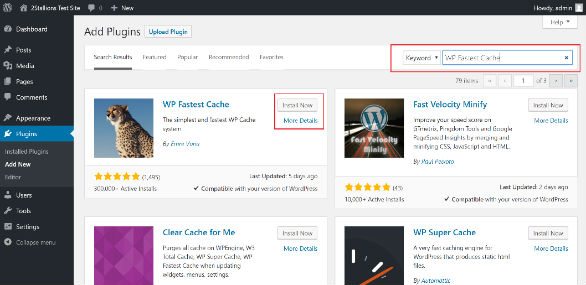 Install & Activate the Plugin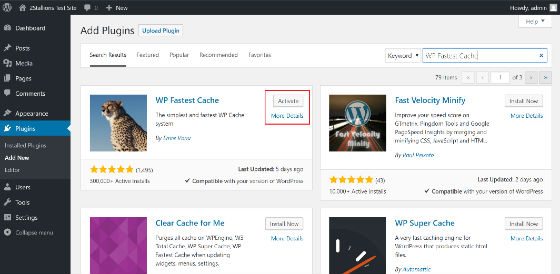 Navigate to WP Fastest Cache settings from your sidebar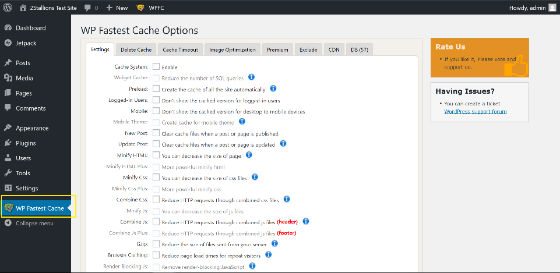 Choose the settings as below. These are usually Minify, combine, Cache System, Gzip and Browser Caching. Be careful with the settings – it's better to take things slow. Make one update at a time and refresh your browser to test if anything is broken before moving on to the next. That way, if your website doesn't work correctly, you can quickly roll back to a working setting.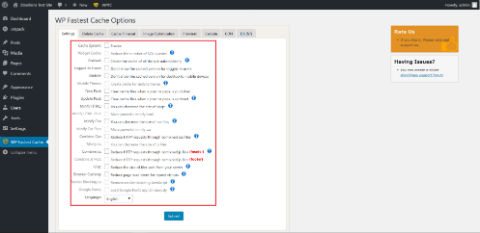 If everything is fine, test your website's speed again for any improvements.
Setup & Configure Jetpack
Go back to your Plugins page and search for Jetpack.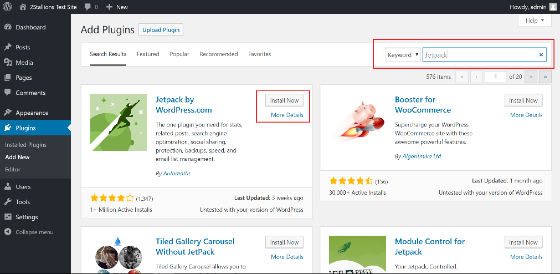 Install the plugin & activate it.
Connect your website to wordpress.com (If you don't have an account, you can create one for free).
Follow instructions and choose the free plan.
After Jetpack redirects you back to your WordPress dashboard, click Activate Recommended Features.
After that, go to the Settings Tab and select "Media and Activate Speed Up" image.
Now go back to WP Fastest Cache settings, go to the CDN Tab and click CDN by Photon.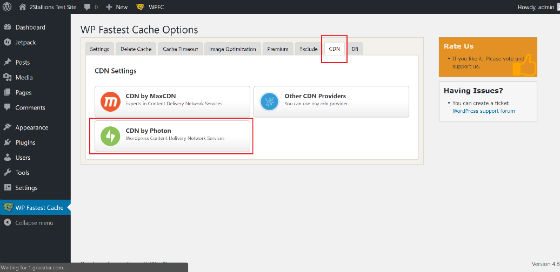 When you click it, a popup will appear, and all you need to do is follow instructions.
When "Enter CDN URL" field appears, choose one that you like.
After this step, your setup and configurations are complete!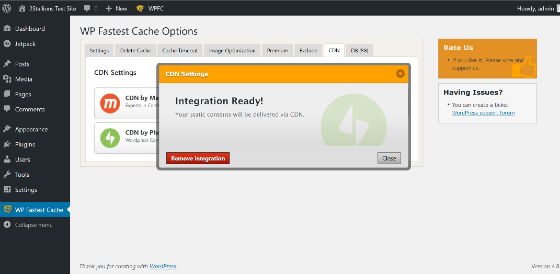 At this point, check your Page Speed again. You should see a significant improvement.
Is This Enough?
The answer is no. Aside from the issues mentioned earlier, there are still other factors that can affect your WordPress site speed. In fact, some items in the Page Speed Insights test are extremely hard to resolve due to services that Google themselves offer, like Analytics or Google Fonts.
Many novices end up with a broken website after installing a caching plugin, because they are unable to grasp the nuances of minifying the files on their site.
If you cross that hurdle, you will notice that every new plugin you install will degrade your site speed. While a fast website is great, it is also paramount to have tight WordPress security and your marketing will surely require additional plugins. Therefore, it's an on-going process and you should probably seek a professional to help keep your page speed up and everything running smoothly every quarter.
A Case Study – Does Speed Really Matter?
A case study is able to illuminate the impact of speed on an actual website much better, in our opinion. We recently did a talk on Features Of A Good Business Website, where we presented a case study of a client we helped with their page speeds. While you should probably go through the entire slide deck, we've clipped the case study results slide below.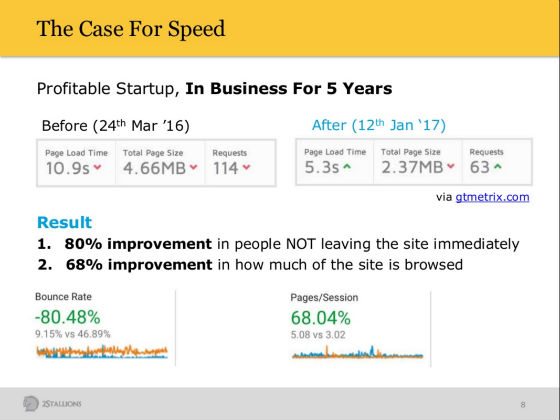 For the startup client mentioned in the slide above, the GTmetrix data on the left shows the results before we worked with them. The GTMetrix on the right shows data 9 months AFTER we worked with them. The 51.4% improvement in page speed down to 5.3s has had a significant impact on the business for this startup.
More visitors are not immediately leaving their website, as evidenced by the bounce rate improvement of over 80%. This, in turn, has led to visitors spending a lot more time on the site, and looking at 68% more content than before. These online improvements have translated into more leads and greater revenue for their business. And we still work with them every quarter to tweak their page speeds and help their site metrics keep improving.
Conclusion
By this point, I hope you have a definitive conclusion of your own as to the importance of website speed, as well as some actions you can take right away to improve your own site speed. If you have any concerns or experiences with making your website faster, feel free to share in the comments section below or contact us directly.