The ever evolving digital age has created new ways for consumers to purchase from various businesses. Before this, when customers learned of a product or service, they would have to go to a physical store to buy what they wanted. The old way of doing it was a potential customer stepping into a big retailer to choose from the various competing products on the shelves, often relying on salespeople who were hovering about for the information that they needed to make their purchase.
Over the years, technology has rapidly evolved the purchasing process of consumers. Today, most people tend to use the Internet to make informed decisions about their purchases. Not only that, but the Internet has also allowed them to make their purchases online.
This has led many marketers to start thinking differently about their marketing and sales strategies. These companies are now starting to dabble into something called Omnichannel Marketing. This is a strategy wherein businesses want to provide a seamless selling experience to their customers across multiple channels.
Omnichannel Marketing should not be confused with Multichannel Marketing as they have some differences. The next part will tackle what the difference is between the two.
Omnichannel Vs. Multichannel Marketing
Multichannel Marketing is the company's ability to engage with their audience across different platforms. For example, if a company has a physical store, retailers, trade show booths, and a website, it can be said that it is engaging in Multichannel Marketing.
Omnichannel Marketing, on the other hand, wants to marry all of these marketing and sales channels into one seamless and integrated shopping experience for their consumers. This means that a customer can shop online using various devices like mobile, tablet, laptop, shop at a physical store or call a sales representative and the whole experience will still be cohesive and seamless.
Omnichannel Marketing also allows businesses to listen and respond on preferred channels and devices. Most marketers think that just because mobile is the hottest thing right now, they should focus all their marketing efforts in that channel. However, this is dangerous thinking, and the next part will tell you exactly why.
Image by On The Mark
Omnichannel Allows You To Listen And Respond To Consumer Preferences
A friend of mine was looking at the latest console from Nintendo at Lazada. He clicked on the "add to cart" button and decided to leave it there while he mulled things over. After a while, he noticed that the same item was still left in his online shopping cart on his phone with the Lazada app. He still did not budge and remained firm on not buying yet.
A few days later, he opened an email from the company telling him that there were only two items left in stock. Needless to say, he was the proud owner of the console after that. A few clicks directed him back to the purchase page and voila! Another transaction for the company.
Lazada, a popular online retailer in Southeast Asia, knows the value of Omnichannel Marketing. By offering a seamless and integrated shopping experience to the customer across desktop, mobile and email, they finally got the purchase. While Lazada obviously invests a lot in mobile, they also make sure to put some money in email retargeting. According to Baymard, 78 percent of items in people's online shopping carts are abandoned. Retargeting those customers via email is proven to be an effective method of getting them to buy.
Nowadays, consumers use two or more devices when making a purchase. According to Forbes, Google's vice president of display advertising, Neil Mohan, once stated that over 90 percent of consumers start a task on one device and finish it off with another. For the marketer to practice a successful Omnichannel marketing, one just needs to listen and respond to consumer's preferences.
The Omnichannel Buying Journey
Mobile is still king when it comes to the starting point of multi-device shopping journeys. According to Marketing Charts, 65 percent of buyers started their shopping experience on a mobile phone, and 61 percent continue their shopping on a laptop or PC (4 percent on a tablet). On the other hand, 25 percent of people started their shopping journey on a PC/laptop and 19 percent of those finished their shopping on a mobile phone (5 percent on a tablet).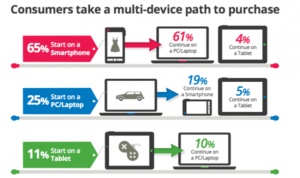 Image by Marketo
To better illustrate how a well-oiled omnichannel marketing machine works, Disney is one of the best examples. First, Disney starts you off with a grand website that is both desktop and mobile responsive. Their booking page for their Disneyland packages made it easy to make a  purchase. If that is not enough, they also have the My Disney Experience tool which lets you easily plan your entire trip to their resort. Things like attraction schedule, fast pass purchases, and even lunch/dinner preparations can are done on this tool. And once you are enjoying your time inside the park, they have a mobile app that lets you find the rides/attractions that you would like to experience as well as the estimated waiting time for each.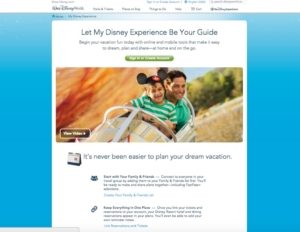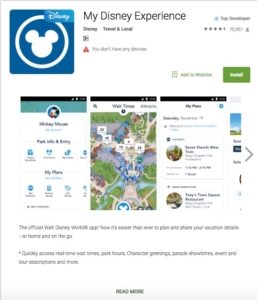 See: Future Proof Your Business By Using These 6 Data-Driven Marketing Strategies
The Growth Of Omnichannel Marketing In Asia
The continuous growth of omnichannel marketing is evident in Asia. In Singapore, where mobile shopping is huge, omnichannel marketing is going to be something that companies are striving to perfect. According to Go-Globe, more and more Singapore shoppers are using their mobile devices to make online purchases with the average consumer spending $1,861 annually on consumer goods. To make it clearer, over half of the shopping population in Singapore prefer to go online to do their shopping.
Major companies in the region have already noticed this trend and started fortifying their sales and marketing channels. One good example is the online grocery retailer, Red Mart, a company with a website that lets you purchase groceries. It now has a mobile app that lets consumers place orders anytime and choose a two-hour timeslot for home deliveries.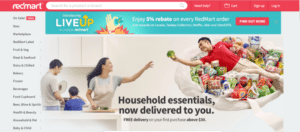 With more and more customers using various devices when making their purchases, Omnichannel marketing is the future of consumer buying journey.  Big brands all across the world have already begun using this marketing system and the results have been quite positive. Don't get left behind and make sure that you apply Omnichannel Marketing to your company or business. If you have any experiences of questions about Omnichannel Marketing, then feel free to share them with us in the comments section below.
Dominate your brand's reach with our unmatched online marketing services. Effortlessly unify your campaigns using our cutting-edge omnichannel marketing system for unbeatable impact. Partner with us and let's achieve epic success together!