Having a professional website is a crucial business differentiator in the digital age. It helps companies establish brand identity and create an online presence. Having a website is not enough, setting up web analytics will maximise results.
This is why digital marketing and web analytics go hand-in-hand. Without analytics, opportunities to shape and strengthen marketing strategy can be overlooked.
Still not using website analytics? Read on to learn more about the business role it plays.
What Is Web Analytics
Web analytics is the process of collection, reporting, and analysing website data. It provides site-specific metrics that aid in making informed decisions about web presence and site performance.
Metrics such as page load times, time spent on a certain page, page views per visit are good examples of web analytics that should be tracked and analysed. Data sets like these interpret how users interact with your website, track every event, and map out conversion paths.
Google Analytics (GA) is the most popular analytics tool. It has been the go-to platform of many marketers because it offers "freemium" service. There is also a paid version of GA, which is called Google Analytics 360. (We will discuss how to use this tool effectively later on).
Other commonly used tools for website analysis include platforms like:
Matomo (formerly Piwik) –,also a free and open-source analytics solution with similar functionality as that of Google Analytics;
Adobe Analytics – highly-customizable real-time analytics platform. Adobe bought analytics leader Omniture in 2009;
Kissmetrics – a powerful website analytics tool that focuses on individual users and behaviour;
Mixpanel – an advanced analytics platform that tracks user interactions with web and mobile applications;
Clicktale – a cloud-based analytic system that taps into customer's behaviours and experience
How Analytics Tools Fuel Marketing Success
1. Know Where Your Traffic Comes From
Knowing where your site traffic comes from makes it easier to engage audiences and identify the best platform to use.
Google Analytics does this perfectly. The acquisition tool helps you find which channels are driving the most traffic to your business website.
Simply head to Acquisition > All Traffic > Channels. Here, you can see whether your audience found you through search (organic), paid advertising (PPC), social media or direct (they knew your URL).  The report will also show the number of users, sessions, bounce rate, and conversions.

For a further in-depth look at each source, Acquisition > All Traffic > Source/Medium will narrow down the traffic sources of a specific channel.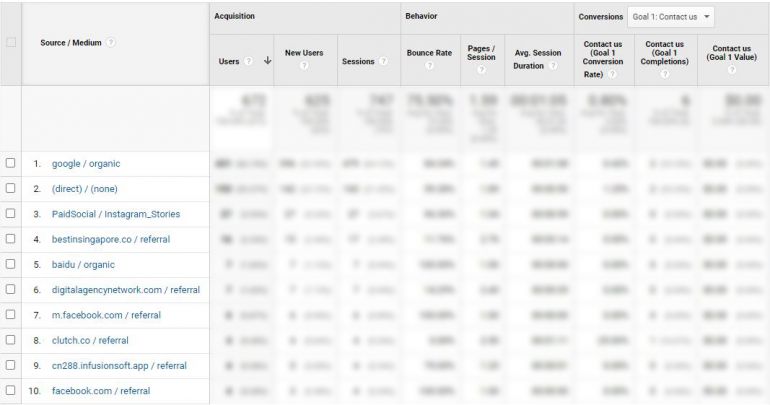 2. Learn Your Website Visitor's Behaviour
A physical store sees plenty of daily walk-in customers, but only a few leave with a purchase.
Online stores, on the other hand, can track the reasons why customers leave your website with or without a purchase.
Google Analytics, specifically, provides insights into your visitors' actions. It tells you what pages people visit and what actions they take on those pages.
Using the same sidebar menu of the Google Analytics dashboard, click Behaviour > Overview.
[Insert Overview report]
The Behaviour Overview report provides the following data:
Pageviews – the total number of pages viewed; this number includes repeated views of a single page;
Unique Pageviews – the number of visitors who have viewed a specific page at least once during a visit;
Average time on Page – the average amount of time users spend viewing a specific page or screen or set of pages or screens;
Bounce Rate – the percentage of single-page visits or the number of visits in which people left your website from the same page they visited;
% Exit – the percentage of users who exit from a page or set of pages.
Google Analytics also lets you see the path your site visitors take. With GA's Behaviour Flow report, you can see the pages visitors first viewed, tracking their movements through your website to the last page they visited before they leaving.

3. Gauge Individual Page Performance
GA is every marketer's favourite web analytics tool because of its ability to provide a detailed look at how visitors engage with specific pages on a website.
By clicking Behaviour > Site Content > All Pages, users can gauge the performance of each webpage.

The All Pages report shows the top-performing pages based on traffic, as well as each page's pageviews, unique pageviews, average time on page, entrances, bounce rate, % exit and page value.
This data provides insights to improve your pages and improve conversion rates.
If your website has subfolders, the Content Drilldown report allows you to see the top content sections on your website. To find this report, click Behaviour > Site Content > Content Drilldown.
Similarly, the Landing Page report can help determine the top web pages where your visitors enter. It shows metrics such as acquisition, behaviour and conversions based on your website goals.
4. Analyse & Track Social Media Impact
Google Analytics is also used for tracking and analysing social media impact. Users can get the most out of their social media campaigns and strategize for the future.
Here are some of the benefits of coupling GA with social media:
Learn which social media platforms give you the most traffic
Calculate the ROI of your social media campaigns
See what content works best with a specific social media platform
Ensure traffic from the right demographics with social media
See how many sales conversions your business gets from social media
To generate social media reports, Google Analytics must be set up for it. Follow the step-by-step procedure below.
Create an account on the Google Tag Manager dashboard, set up an account and a container. Then click create, review the Terms of Service, and agree to those terms.
You will be given the container's installation code snippet. Copy and paste the two snippets of code onto your website.
Once you do that, set up Google Analytics. First, create a Google Analytics account by signing up on the GA page.
Enter your account and website name, as well as the website's URL. Then, accept the Terms and Services to get your tracking ID.
Once you have the tracking ID, set up an analytics tag with Google Tag Manager.
Go to your Google Tag Manager dashboard and click on the "Add a new tag" button. There are two areas of the tag you'll be able to customize. First, configuration—where the data collected by the tag will go. Second, triggering—what type of data you want to collect.
Choose what you want to customize and click Save.
5. Improve Your Content Marketing
Given the detailed and in-depth insights about your website and your visitor's behaviour on your site, web analytics tools can offer you a hand in improving your content marketing efforts.
Since Google Analytics tells you where your customers are coming from and their behaviours and habits, engaging with them can be a piece of cake. You can tailor your content according to their interests and even promote on the channels they prefer.
GA's ability to gauge individual pages, on the other hand, allows you to discover the room for improvements.
For instance, the All Pages report showed that some of your blogs have a few numbers of pageviews. What you can do is to update those blogs, optimize them for search engines, and promote on social media. Doing this will help increase your pageviews per visitor.
Similarly, you can update the top landing pages with the latest information and targeted keywords or revamp the layout and content. These things will not only increase search traffic to your site but also boost site engagement and reduce bounce rate.
Ready to jump into the pool of data analytics?
Bonus: How to Use Google Analytics Effectively
1. Define Your Business Objectives
Set the right goals for your website. Whether it is boosting sales, moving from offline to online, or increasing user engagement or awareness, set them up in GA so you can measure how your website meets these objectives.
2. Translate Objectives into Goals & KPIs
Align KPIs with your business objectives. If your business objectives are sales-driven, then you can create a goal on Google Analytics.
For example, if you run an e-commerce store, you can track each sale or lead using a contact form for corporate sites. You can even create goals based on the URLs people land on, the time they spend on your site, and the number of pages people visit per session.
Track what business objectives by understanding metrics can gauge business objectives. Learn how to set up goals via Google Analytics Help.
3. Set up Google Analytics Dashboard
Once you have defined your goals and identified the key metrics, it is time for you to set up Google Analytics dashboard.
The dashboard will show you the metrics every time you log in. Not only that, but you can also set scheduled reports to keep a finger on the pulse on the performance of your website.
4. Improve Your Website Based on Analytics
The true power of Google Analytics comes from being able to see WHERE improvements are needed. For example, with your conversions and events set up, you can explore the Multi-Channel Funnels (MCFs) to see the path that visitors take to conversion.
This feature helps you easily understand the customer acquisition process. It shows you the visitor paths that convert and how interaction occurs on your site. With MCFs you can improve pages, remove them or add new ones that will drive your goals.
Watch the video below to understand multi-channel funnels better.
The Takeaway
Web analytics is not just another buzzword. Businesses should find a greater meaning in their website data to create a strategic plan that will drive marketing success.
The process eliminates guesswork from planning marketing campaigns, content creation, and measuring the campaign's performance.
Speaking of effective marketing, 2Stallions can help you discover the right mix of digital marketing services to achieve your objectives. We also use a range of tools to ensure our clients receive nothing but the best service.
📈 Supercharge your online presence with expert website maintenance services! Elevate user experience, increase engagement and drive conversions. Leverage our sharp and insightful analysis for the good of your brand today!