Bringing your business online is a big step and for any business. This decision is motivated by business objectives that are unique to each. For any business, including yours, there will be business objectives that lead to a decision to create a business website.
However, all of these objectives eventually lead to the same end – improving the bottom line of your business. In this article, you will find out how to convince your website visitors to become your customers. And after that, you'll know how you can refine that process to increase the number of visitors that convert to customers.
Definitions
Before going ahead, we want to define some terms that you will encounter here:
Conversion – An action desired by you taken by a visitor to your website
Conversion Rate – The % of website visitors that took the desired action
Conversion Funnel – An actual channel through which you send website visitors to convert to your desired goal, such as becoming customers
Conversion Optimization – Tweaking your website to improve your conversion rate at different parts of your funnel
Call-To-Action – A call to action is anything that entices your visitors/leads into taking an action desired by you on your website.
Conversion Funnels
Let's take a moment and look at your brick and mortar store. You probably have a few ways to draw people to your store through your business strategy and marketing efforts. You hope that each person that visits buys something from you.
When a visitor steps into your store, he/she may either approach one of your friendly sales staff or may prefer to browse on his/her own. Based on their conversation or browsing, some decide to leave without buying anything. There will be some who may mull over products and decide not to buy this time. However, there's a possibility that they may return to purchase. And finally, some of these visitors will end up purchasing. If you were to analyze your sales, you may find that those who interacted with your sales staff are more likely to buy from your store or that the items closer to the front of the store or in the display as they are walking in or those at the eye level of your customer end up selling better than other products.
What we walked through above are the conversion funnels for your physical store where you acquired visitors, activated them by getting them to engage with staff or products and finally monetized some visitors by selling to them.
Setting up your Conversion Funnel
Setting up conversion funnels will allow you to mirror a similar sales experience on your website. While there are many versions out there, we really like the customer journey stages depicted below as it outlines the customer journey beyond conversion. Your relationship with customers should not end after the initial sale.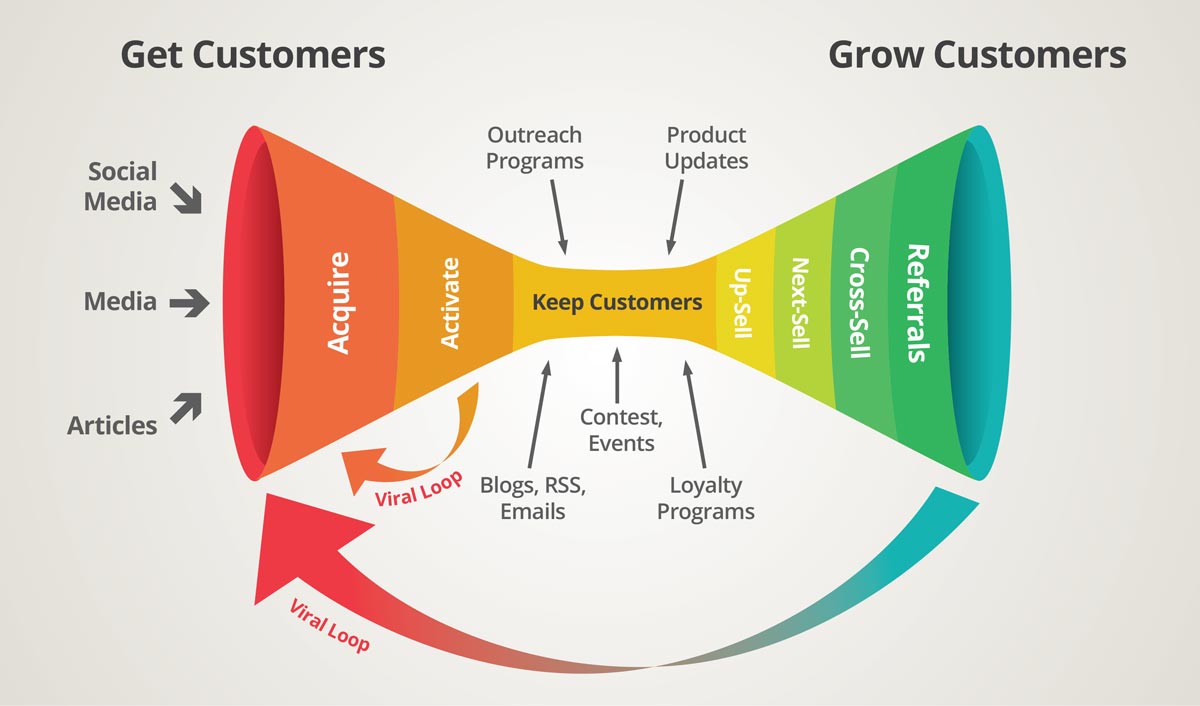 Do not confuse the above for a conversion funnel. A conversion funnel is an actual path that you set up for visitors while what is shown above are the potential stages of people in their interaction with your business online.
As a business, it is extremely difficult to focus on building conversion funnels for every stage of the customer journey at once. As outlined by the Digital Marketer, it's wiser to create funnels for different stages of the customer journey to nudge them towards your goal. They proposed – Acquisition, Activation, and Monetization – which concentrate on customer psychology progression to improve your conversions.
Acquisition – Converting a visitor to lead
If you are a business just starting out, you likely want more targeted visitors to gain awareness of your business. Here is an example conversion funnel for acquisition:
If you are a fashion eCommerce site, you can incentivize visitors to sign up to your site by giving away a free Lookbook. Why a Lookbook? The Lookbook acts as a fantastic lead magnet because the people eager to download it are exactly the type of visitors you want as leads. Your Lookbook is also a great way to provide these readers with value through your own product advertising. At the end of the Lookbook, you can push these leads with an offer of a coupon code for a low-cost item. You should continue sending them useful content in the fashion space to keep your brand in their mind. A potential conversion funnel for this scenario is an email opt-in form that shows up on the homepage or as a pop-up on sub-pages with the desired action of typing in their email address and pressing the 'subscribe' button.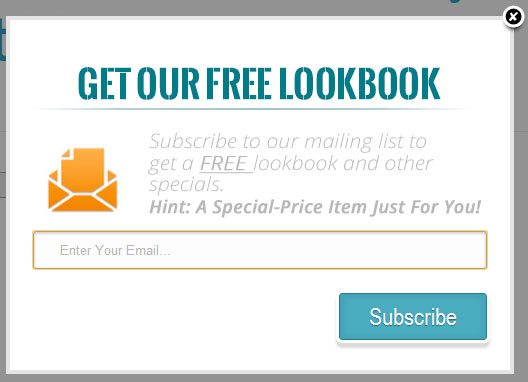 Do not SELL to someone who has just landed on your website. Most visitors need to trust a brand before becoming customers. That is why you create trust by providing them something of value by using a free lead magnet. This lets you push the qualified leads to the next stage in the customer journey. Remember, at this point, you should not be looking to make a profit or a sale with these leads.
Activation – Converting a lead to a first-time customer
If you're a business that already has a good online presence, your focus will be on Activation. This is where you prompt and engage your leads to become customers. Back to our example: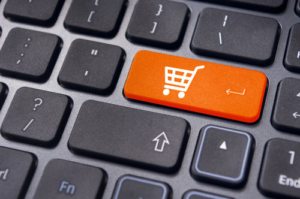 If a lead has downloaded your Lookbook and then used the coupon code, then this lead is ready to make a purchase. If they haven't made use of the coupon code, you can follow up with a reminder to use the coupon code. A coupon code is meant to make it easy for the lead to make a purchase and it's important to push them to make that purchase – this purchase shouldn't be a big-ticket purchase as these leads are still on the fence. Something simple like a tie would suffice. Price at something they wouldn't balk at. You can also consider offering time-limited offers to spur them into action. The touch point with the lead would be through their email collected via Acquisition to get them to land on the tie product page. The desired action would be adding the product to the cart and completing the checkout process.
To activate users, you are trying to drive them to purchase from you and move them from being a lead to a customer. Begin by getting them to take small actions. Consistently send them useful content and asking them to like it or comment on it.
Monetization – Converting first-time customers to regulars
Finally, once you have built a community of customers, you need to ensure these existing customers continue to buy from you and refer more leads to you. Going back to our earlier example:
Someone who has bought a heavily discounted tie from you is now invested and trusts your business. You can send them content on up-sells. This can be a shirt or pants that would go well with the tie they bought. These items are of higher value but now, the customer trusts your business and the quality you provide. Get these customers to refer friends by incentivizing them with discounts to continue feeding the conversion channel you built for Activation of leads.
Your goal is to drive your customer to purchase higher ticket items that complement their earlier purchases and incentivize them to refer their friends.
Conversion Optimization
Once you have the funnels set up for the different stages of your customer lifecycle on your business website, track them using Google Analytics and set up goals for your conversions. Google Analytics provides you data. This is essential feedback as to how your strategies are doing. You will also know whether it is giving you the returns you need. This data is important when it comes to conversion optimization. It will show the exact touch points of visitors from the page they land on your website and the different steps they take on your website. Although you build specific funnels, it is likely that visitors will end up landing on other pages in your site before beginning on the funnel you set for them. A conversion in the diagram below is defined as an enquiry left by a visitor.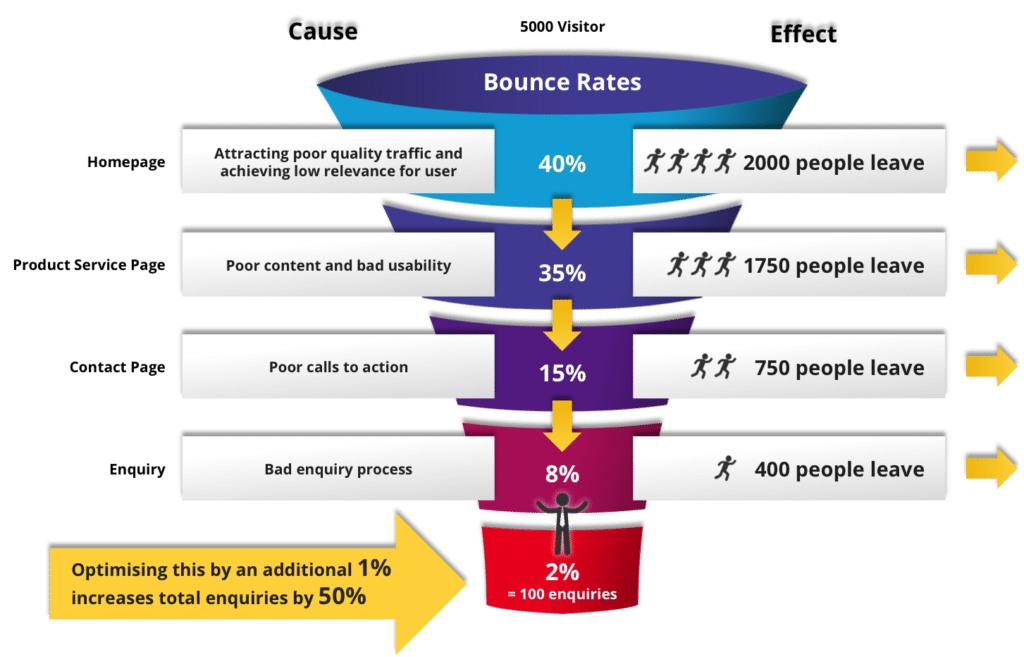 As you can see, at every stage, there are many visitors that leave your funnel. This is known as 'drop-off'. When you think about conversion optimization, your goal is to reduce the drop-off rate. There are a number of approaches to improve that figure.
Optimize By Page
Optimize the inquiry form page by experimenting with the copywriting or changing the call to action design. As stated in the image, optimization of 1% has the potential to jumpstart your enquiries by 50%. A general rule of thumb is to begin tweaks from the bottom of the funnel (unless there is an identifiable website page which has a significant drop off that requires immediate attention). Small improvements further down the funnel lead to significant changes to overall results. It is crucial to do constant testing. It's also important to give changes enough time to identify which ones improved your results.
Besides the pages that you specifically built for your funnel, look through your analytics. See the path visitors take on your website to reach your desired action and optimize the most popular ones.
Optimize By Referrals
Through your analytics, it is possible to see where your users came from. The source of this traffic can also be tweaked. For example, if you're running a PPC advertising campaign and you see this source is seeing the most drop off in your users in the funnel, you can assume that either your ads need to be tweaked or it's not a marketing channel that's working for you.
Optimize By Device
Look at what device your users are using to view your landing page. If you have a high number of mobile users and your landing page isn't mobile friendly, you should change that pronto.
Optimize by Browsers
Often, it never crosses your mind that your funnel needs to work across different browsers. This is because you are used to using Chrome or Firefox. Check your analytics to see which browsers are the most popular. Test on those browsers what the user experience is like for them in your funnel. Optimize your code to work well across the most popular browsers based on your analytics.
Conversion is a time-intensive endeavor that requires plenty of research. You need to have an understanding of your customers and their habits, as well as of your own business. Although it is a time-consuming process, conversion funnels are the best way for to turn website visitors into regular customers. This will eventually help you meet your ultimate business objectives.

🌟 Transform your online presence with a web development company specialist. Discover how we expertly convert visitors to leads through a conversion funnel strategy. Ready to keep your site at its peak? Explore our top-notch website maintenance services now!