Have you been making social media campaigns, but your business still isn't generating many impressions? If yes, then it's time to do some social media tweaks.
Social networking platforms offer a wealth of benefits, from increasing brand awareness to generating leads, boosting sales, and more. However, it's hard to reap any of these benefits without a vital element—audience engagement.
The word "social" in social media relates to interaction with other people, meaning social media without engagement is just media. Unlike traditional media such as TV ads and print ads, social networks are a two-way street that creates a connection between two or more parties.
This connection plays a pivotal role in increasing organic reach on Facebook and other social media platforms. Facebook posts, for example, that spark meaningful conversations appear high up in the newsfeed.
Here's why the social media giant sees engagement as a crucial metric in getting more reach:
"Interacting with people is associated with a greater sense of well-being… On the other hand, just scrolling through your Facebook feed, passively reading or watching without interacting with others, tends to make people feel worse." – Facebook
How to Tweak Your Social Media Campaigns for Better Engagement
1. Create Viral-Ready & Value-Adding Content
Companies should ride the wave of social media marketing and inject a little creativity into their campaigns. And, guess what? Your business isn't exempt from this.
The reason behind this is because the number of social media users grows each year. Facebook, in particular, has reached roughly 2.8 billion monthly active users in 2020, up from 1.35 in 2014.
Since more people spend their time on social networks, it's crucial to up your social media game and make some social media tweaks.
Update your old blog posts and re-promote them on your social media platforms. Revamp the content (i.e., update the statistics, discuss timely news, etc.) to retain your blogs' usefulness.
It's also a great idea to plan a full-blown viral marketing campaign. Viral posts have the highest likelihood of boosting engagement levels. Here are a few things that make a content viral-ready:
emotional triggers
relatable theme or story
displaying uncommon talent
provide a unique experience
Learn from companies that gained massive support from the online public and increased their social media following base.
Scoot Tigerair Pte Ltd or Scoot, the budget carrier of Singapore Airlines Group, is one example. The low-cost airline launched its "Minute to Wing It" campaign in 2016 to celebrate its second year in business.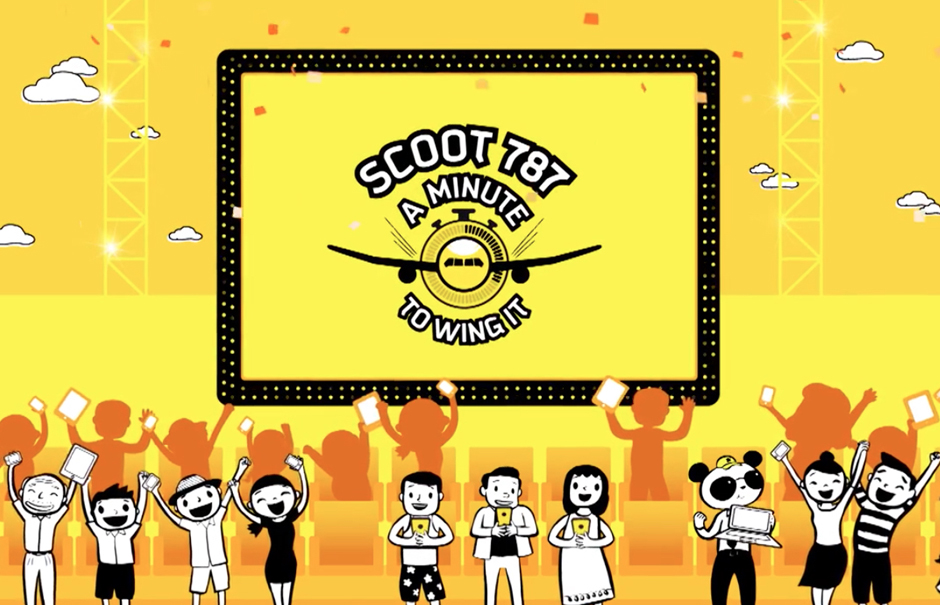 The campaign included one-minute Q & A videos, and participants who answered quickly received SGD2,000 in travel vouchers daily. Those who won in all their short video campaigns received the grand prize of two airline tickets.
The "Minute to Wing It" campaign won the Singaporean Marketing Magazine's "Agency of the Year Award 2017" for having the best digital campaign idea and best social media content during the time.
2. Discuss Current Trends, News, or Events
Engaging your customers in social media can sometimes happen naturally. When audiences relate to or like a post you share, it's easy to engage in stimulating conversations and turn those conversations into followers and customers.
The term "engagement" covers a range of actions across all social platforms, including:
likes and favourites
comments, DMs, replies
shares and retweets
saves
clicks
mentions
These metrics measure the effectiveness of your posts. They gauge the level of engagement generated from your social media campaigns.
To ensure you get more likes, comments, shares or clicks, create content that resonates well with your audience. One way to that is by discussing or following a current trend, news or event.
If that's not clear to you, then let these two brands/campaigns do the explaining:
Coca-Cola: Socially Distanced  Logo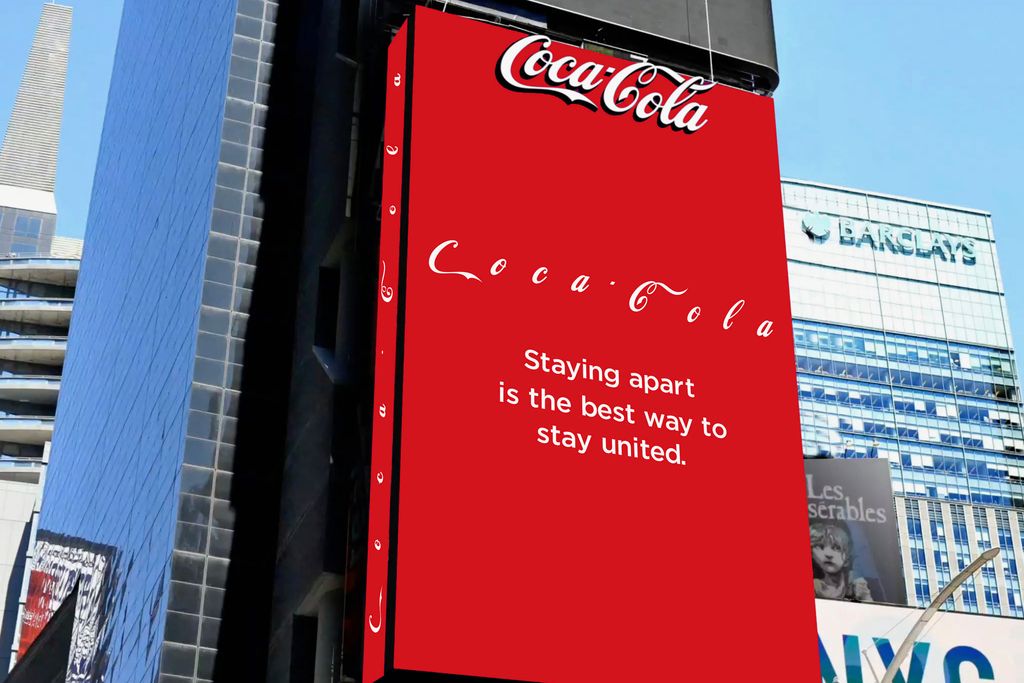 Credit: The Coca-Cola Company
The beverage giant ran a billboard in New York's Time Square, which showed each letter in its brand name separated. This logo tweak encourages people to maintain social distancing amid the COVID-19 crisis.
Berger Paints India: Dalgona Coffee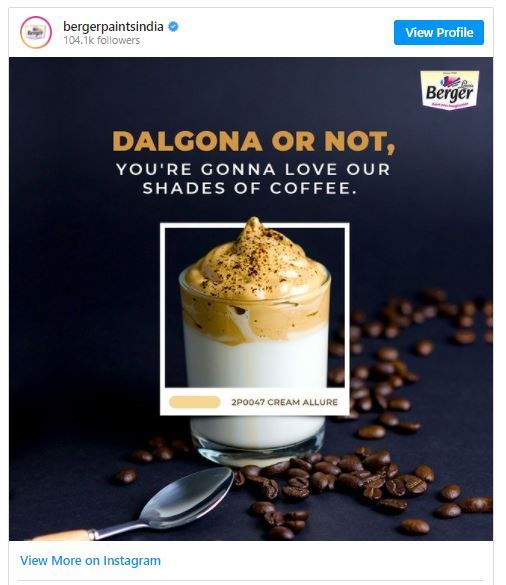 Credit: Berger Paints India
Dalgona coffee has gone viral during the pandemic. The coffee recipe became popular on social media globally, and brands like Berger Paints were clever to incorporate the Dalgona trend into its campaign.
2. Livestream Your Most Important Events
Live streaming on social media platforms, such as Facebook and Instagram, is blowing up the scene. But what is live streaming anyway?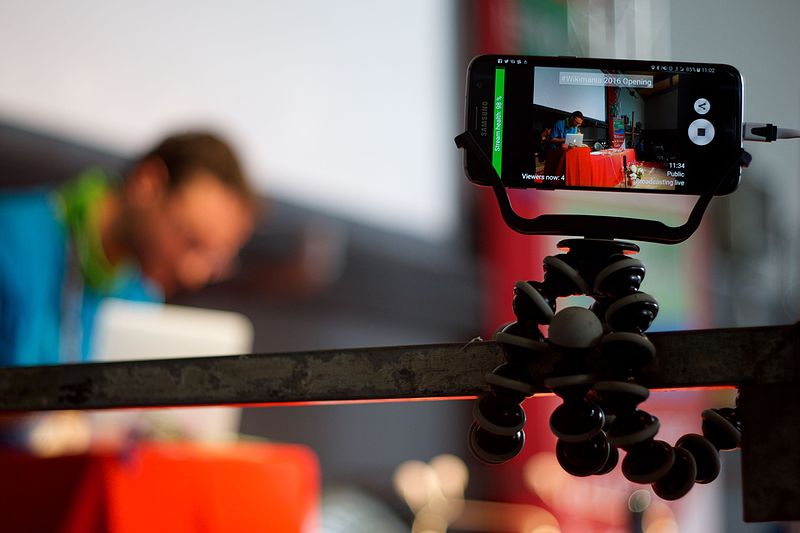 Image Source: Wikimedia
At its simplest, live streaming is a practice that lets people stream digital data, such as audio and video, simultaneously. The streamed data is broadcasted in real-time for viewers over the Internet.
If you haven't discovered yet the potential of going live on social media, that's enough reason to include it in your social media tweaks list. Start live streaming your events to enjoy a wide range of business benefits, including:
Diminish marketing costs. Facebook Live costs little-to-zero dollars. All you need is to show up on your live video and engage in a real-time discussion with your target audience.
Generate a bigger audience. Live streams have no geographical and physical restrictions and are accessible to a worldwide audience.
Develop direct engagement. Live streaming creates a direct connection to each viewer. When a social media user views your content, that person may see it as if he/she is interacting with your brand personally.
Create new business opportunities. A live-streamed event can provide new business opportunities. Integrating promotional offers into the live stream video, for example, can generate large numbers of sales.
Here are some live stream event ideas to consider:
Host a contest or Q&A
Raise money for a cause
Announce a new product
Do a live consulting session
Stream an inclusive interview
Take a virtual tour of your space
4. Write Personal & Intriguing Captions
Sharing your company blog posts or other relevant industry news across your social media profiles is a widely used marketing technique nowadays. When done right, it can help you get a positive return on investment (ROI) from your content marketing efforts.
So, how do you get more traffic and reach a wider audience from this tactic? Here's a tip: make your captions more personal and intriguing.
Avoid simply putting the title and URL of your blog article. Your readers can already see your article headline, and doing it will appear like you're putting less effort into creating social media captions.
Here are a few tips on writing engaging captions on social media:
Write the important stuff first and within the character length limit
Pull inspiring quotes or statistics from the content you share
Ask open-ended questions to prompt interaction
Include a call-to-action (CTA) in your caption
5. Use Hashtags Effectively
Social media presence and engagement are intertwined. Having a solid social media presence can drive better audience engagement. While driving a lot of engagement on social media can get your business in front of more followers or customers.
For this reason, it's crucial to make your content or business discoverable for other people via hashtags. This tactic is one of those social media tweaks that you should prioritize, especially if you're struggling with creating interactions around your brand.
Hashtags are an essential part of social media marketing. They're a metadata tag prefaced by the hash symbol (#), which allow users to label content and find relevant topics, events, or conversations.
Since hashtags aggregate all content with that same hashtag, it makes great sense to incorporate them into your social media posts. Doing so helps improve your searchability and encourage people to connect with your business and other social media users.
Below are some tips for a successful hashtag marketing campaign:
Keep the hashtag relevant. Use a hashtag that is relevant to your content and company.
Make the hashtag brief. Avoid using too many words in a hashtag. Instead, use the most simple keywords or phrases possible.
Find the right hashtags. Find hashtags on Twitter, Instagram, and Facebook and see if other people are using them and if they fit your content.
Include trending hashtags. Adding a trending hashtag to your social media post can get your message seen by a larger audience.
Limit the number of hashtags you use. Don't overuse hashtags. Here are the hashtag restrictions per social media channel:

Twitter: 2 hashtags per tweet is ideal because of the character count limit
Instagram: 11 hashtags offers the highest level of engagement
Facebook: 1 to 2 hashtags with 10+ characters work best
6. Respond to Comments
Have you ever sent someone a text and got no reply? If yes, how does that make you feel? Do you feel ignored or mistreated? Or do you regret the idea of trying to interact?
The same thing applies to how your followers or social media users feel when they leave a comment on your Twitter, Facebook, or Instagram post. Their impression of you is put at stake when they had a negative customer experience while engaging with your business.
Social media engagement is a two-street. That's why you must respond to comments, whether they're questions, praises, criticisms, or negative feedback.
Here are some ways to do just that:
Establish a consistent tone. Always use your brand voice and be consistent across social channels.
Make personal responses. Avoid copy-pasted responses. Whenever possible, include the name of the commenter to make it more personal.
Remain professional. Maintain a professional stance, especially when replying to negative comments.
Respond quickly. A quick response shows that you care about your customers and their concerns.
Final Thoughts
Social media is a powerful tool for business marketing. With millions of active social media users, your marketing and advertising efforts have a strong chance of succeeding.
By taking note of these six social media tweaks, you can create a compelling campaign that can help you generate leads and improve your conversion rates.
Revitalize your social media profiles with 2Stallions, your trusted social media marketing agency! Our team of experts will transform your online presence by crafting compelling content that truly engages your audience. Experience the difference – Connect with us today and let your brand shine like never before.