With Asia Pacific making up more than half of social media users globally, it's important for every business, no matter how small, to have a social media presence. So you got yourself on Facebook, LinkedIn, Twitter and every other social media platform you can think of. Now what?
Creating a social media strategy from scratch may be daunting, especially if you're a small business owner stretched on resources. But like everything else, take it one step at a time, follow our plan and you'll find yourself with an effective social media strategy for your business.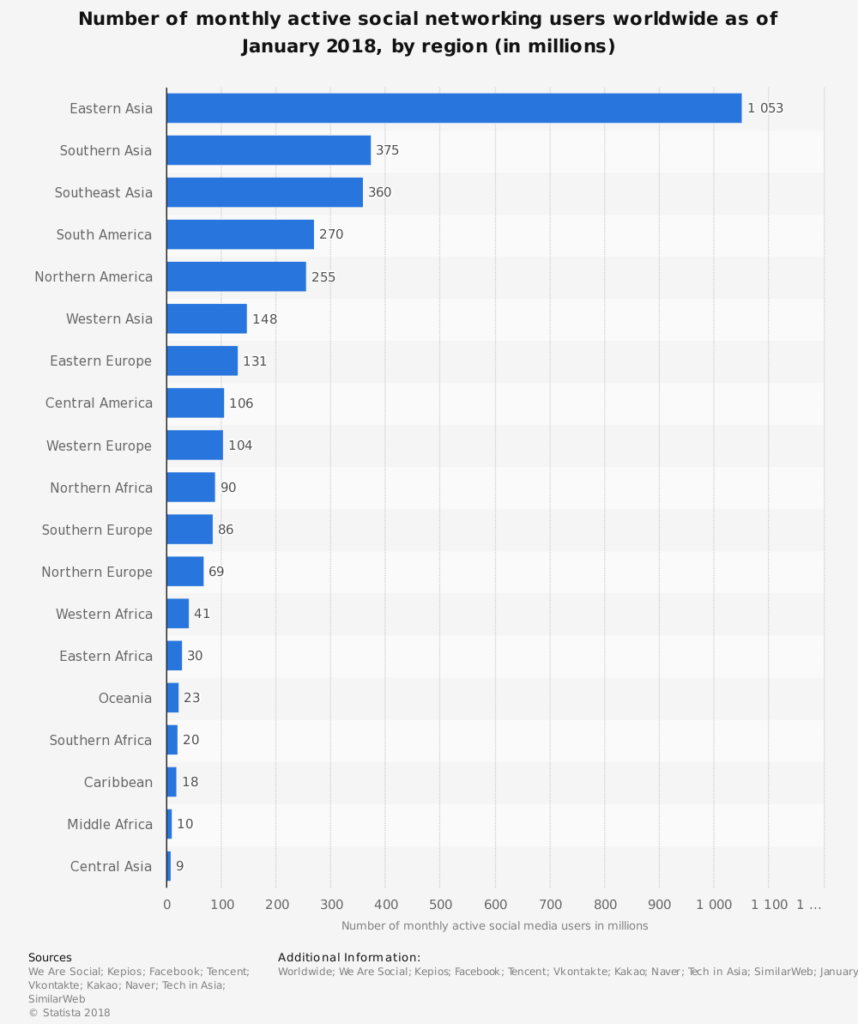 Image Source: Statista
1. Smart plans require SMART goals
Every great plan needs goals and your social media strategy is no exception. Your social media goals should be aligned to your business ones, ensuring that your strategy solves business challenges. The key to creating good goals is making them SMART – Specific, Measurable, Attainable, Relevant, Time-bound.
Specific: Be specific about what you want to accomplish. Include the who, what, why, when, where, which and how of your strategy.
Measurable: Ensure there's a way for you to measure the goals you set out. It could be an increase in likes on your Facebook page or the increase of social traffic to your website.
Attainable: Goals should be attainable. It's better to set small, achievable goals that you can review and tweak every quarter instead of impossible high standards that can stress out and demoralise your team when you don't achieve them.
Relevant: Social media goals should be relevant to your business and aid in achieving both long-term and short-term business goals. Otherwise, efforts put into your social media would be a waste of time and resources.
Time-bound: A smart goal is time-bound, ensuring that you and your team are working towards a specific deadline to achieve that goal. Without deadlines, it is easy to lose sight of your goal and let it fall to the wayside.
2. Perform a social media audit
Once you've defined your social media goals, an important next step is to perform a social media audit. A social media audit helps you systematically review your brand's current social media health. From discovering what's on it to categorizing and evaluating how well each social channel is performing for your brand, you can figure out the gaps in your current social media strategy.
Start by creating a social media audit template that answers the basic 5 "W"s – Who, Where, What, When, Why. Include your company, your consumers and your competitors in the audit to gain a holistic view of how each channel is being used by each entity.
Check out this example of a good social media audit template.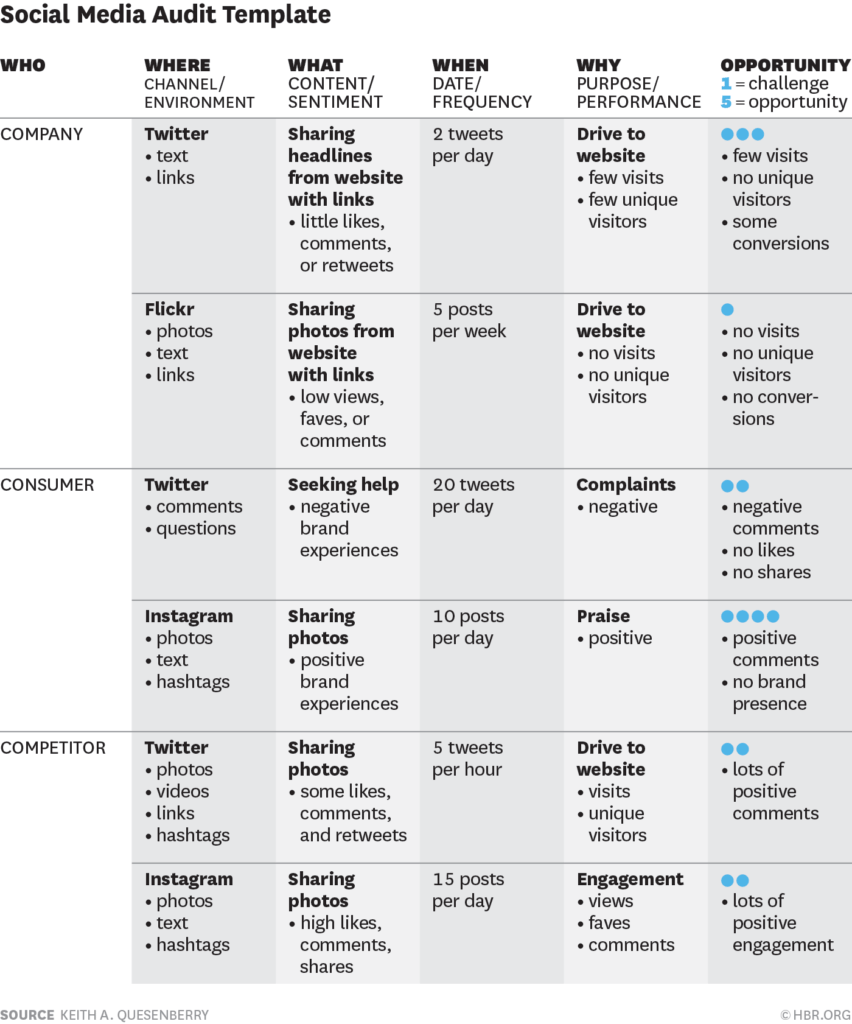 (Image source: Harvard Business Review)
Compare and identify which channel presents challenges for your brand and where your opportunities lie.
Challenge: If a channel is not working the way you want it to based on your goals, you've identified a problem area. Based on your goals, evaluate if this is the right channel you want to be in. If your consumers are there, and your competitor is using it successfully, figure out what you're doing wrong and resolve them.
Opportunities: If a channel is working well for you, your efforts should not end there. Identify which content receives the kind of engagement you want and produce more of that. Study how your consumers use the platform and see if there are needs that are currently not met. In this way, you further encourage brand discussion and interaction.
When you do a social media audit, you would get a better sense of how your brand is currently doing and be equipped with the knowledge of creating a sound social media strategy.
3. Choose your channels
As a small business owner, part of a successful social strategy is choosing the right channels to be on. It's a waste if you find yourself spreading your efforts across all platforms and not seeing an increase in targeted website traffic or qualified leads.
This is why some companies prefer engaging experts to identify the right channels for them. However, here's a guide that can help you identify what works better for your business.
(Image Source: Blue Corona)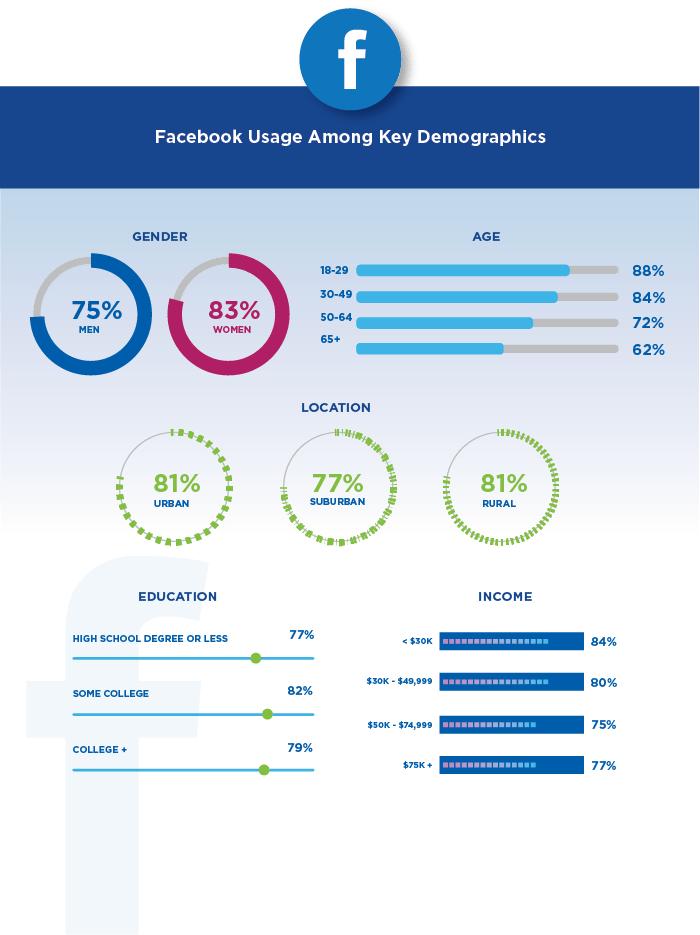 Facebook: Works largely for B2C, although some B2B find it good for them too. However, with over 2 billion monthly active Facebook users, you can't afford not to be on it. A Facebook presence also matters as it also improves your SEO.
Twitter: Twitter works well for B2C and some B2B. It recently increased its 140-character limit to 280, making it easier for brands to create branded content in a single tweet. Its short-form text and ability to add images, gifs, polls and conduct live stream videos, pushes brands to get more creative in crafting compelling content.
What may be surprising is that Twitter direct message campaigns are seeing an average of 300% higher click rate than one-off email campaigns. Brands should take advantage of these statistics to build up their following, draw brand engagement and encourage conversation with their audience on Twitter, which might pay off in the long run.
Instagram: Works best for B2C, especially brands with very visual products. However, high quality images are a must and stock photos won't work on this platform. It's also mostly popular among the millennials.
If influencer marketing is part of your social media strategy, Instagram is a definite "must-have" social channel. A survey found that 99.3% of influencers use Instagram, making it the top social network for influencers in 2018.
LinkedIn: The social media of choice for B2B as 4 out of 5 LinkedIn members drive business decisions and its audience has 2x the buying power of the average web audience. It is not only the go-to platform for networking professionals but also proves to be a powerful social marketing tool for businesses.
4. Plan your budget
A common misconception among many businesses is that social media is a free advertising tool and requires little or no budget. However, that is not the case. In fact, The CMO Survey has found that marketers are likely to increase their social media spend by 90% in the next 5 years.
You can start by thinking about your marketing budget. Most companies' marketing budget is about 5% to 15% of their total revenue. From this, usually 10% to 50% of the marketing budget is dedicated to digital marketing, including social media marketing (SMM).
How much you set aside for your social spending would be dependent on your business goals. Be realistic about your budget. By consistently monitoring your social analytics, you can tweak your campaign to get the best Return on Investment (ROI) and ultimately maximise your social spend.
5. Create a customer persona
Before you plan and create content, knowing who you're creating content for is important. This is why you need a customer persona.
You customer persona is the profiling of your ideal customer. With them in mind, you're able to craft the right messaging and have a consistent brand voice in all forms of company communication online.
The first step to creating it is figure who your customers are and like your social media audit, the "WHO, WHAT, WHY, HOW" is key.
Who: Who are your existing customers? Look through your current database to define the background and demographics of your typical customer.
What: Find out what their goals and challenges are. Conduct surveys or interviews to glean these information from them.
Why: Through surveys or interviews, understand the motivations behind their goals and challenges to better understand common issues faced by customers and why.
How: How can your company best address them? Based on your understanding of the customer, how do your products and services solve their challenges? Craft your messaging around it.
Once you have this information, you're ready to create your final buyer persona. You can create one or multiple personas for your business.
For more reasons why a customer persona is important for your business and a detailed plan on how you can create a customer persona for your business, read our article "Customer Personas – A Business Tip For Increased Revenue".
6. Plan and create your content
Remember your content audit? This comes in handy when you're planning your content. You know what works and what doesn't and have identified the gaps in your current content strategy. Plan your content around it.
Conducting a survey of your current customers to identify their challenges would also help you create content that they're interested in.
When creating your content, think of the formats that work best on the social channel you're posting. Video is a rapidly growing trend on all channels especially Facebook, Instagram and Twitter. Short videos between 3-90 seconds that are entertaining, informative or educational drive more engagement.
Research and explore the various features unique to each social platform to best leverage it. For example, as a business, Facebook check-ins and reviews are a great way to establish your brand, as people trust in them.
However, remember to be consistent with your core content on whichever channel you pick as social users go through thousands of posts a day. You don't want to get lost in the clutter or be forgotten.
7. Leverage on your employees for amplification
Amplification is important in social media as channels like Facebook prioritize engagement. The more people see your content, the more likely they interact with it, and the higher the engagement. Your post gets boosted to the top, as it is deemed as quality content.
If you're just starting out, it's common to see little or no engagement on your social pages. This is where your employees come in. Make it simple for your employees to share social posts, and incentivize them if you have to. The more they share, the larger your reach as you tap into their network of friends and family.
Using your employees as your first advocates of your brand is part of trust building. Their network trusts them so their word-of-mouth testimonials hold more weight and tend to leave a more positive impression of your brand on others.
However, don't overwhelm your employees with sharing company messages as it may come across as forced. That is why it is important to create meaningful, quality content that makes people want to readily share it.
8. Evaluate your social media strategy
Once you've figured out your social media strategy, it's important to know how to evaluate it. Know which ones are important to your business and how to interpret them. Here are the main metrics to look out for.
Volume: Number of page likes, page views and website traffic indicate how interested people are in your brand.
Reach: Reach helps you measure how far your social content is spreading. While a large audience is good, you need to check it against other metrics to see if you are reaching the right target audience.
Engagement: Engagement measures how people are interacting with your content. Number of likes, retweets, Facebook shares, etc, are all telling of how well people are engaged on your social page. Engagement metrics like "Reactions" on Facebook also gives insight to whether a post is garnering positive or negative sentiment.
Be consistent in evaluating your social strategy so that you can know what works and what doesn't and tweak it accordingly.
Wrapping Up
It doesn't take a genius to create a social media strategy. All you need to do is define your goals, evaluate your current social media health before choosing the right channels for your business. Remember concentrating on a few channels instead of casting your net all over the social internet is more effective and cost-efficient for your business.
Planning and creating quality content, and with a little bit of help from your employees to stir higher engagement, you'll be able to propel your social strategy to success. As social media is constantly evolving, remember to evaluate what's working and what's not and adjust your strategy to always be at the top of your game.
Now you know how to get started, see what it takes to ensure your social media strategy is effective: http://2stallions.com/effective-social-media-strategy/
If you're looking for an agency to help you with your social media campaign, 2Stallions can help! Click here to request a quote today!