Articles sensationalizing the "death" of SEO are clickbait. Google commands over 90% of worldwide search traffic today. In short, SEO is never going to die. If your company wants to prosper online, you need SEO.
However, Google continuously updates its search algorithm – more than 1 update a day at last count. What this means is that SEO and how it is achieved is in a state of constant evolution.
An example would be the featured snippet algorithm update in Jan 2020. Featured snippets (short texts that answer a search query) now count as one of the ten web page listings on the search results page (SERP).
This means that when you focus on SEO for your company, you need to also try and appear in featured snippets – something that wasn't part of the SEO scope just a year ago.
Before we dive into the five reasons your company must optimize for search engines or become obsolete online, let's explore what SEO is.
What Is Search Engine Optimization
Short for search engine optimization, SEO is the process of optimizing a website and its content to be discovered through non-paid (also known as "organic") search engine results.
The practice involves understanding what people would search for on a search engine to find businesses in your industry —including the words they use, type of content they prefer, and answers they seek.
As a business, it becomes easier to connect with these people by developing content that adds value to your audience by solving their needs, optimizing it so it ranks on Google's 1st page and driving organic traffic back to your website to convert into more sales for you.
Why Your Business Needs SEO To Prosper
Let's go through some key reasons your company needs to invest in SEO to do well in the digital space.
1. The Best Place To Hide A Dead Body Is On Page 2 of Google
This section's title is apt because only 0.78% of Google searchers click on something from the second page. This means 99% of clicks happen on page 1 of Google. Think about that.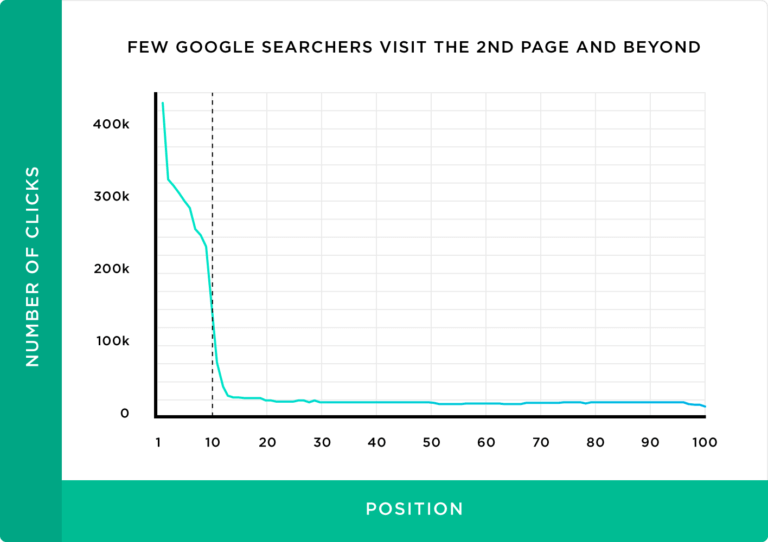 Image by: Backlinko
Couple the data above with a 2018 Clutch survey that found that 56% of businesses do not invest in SEO. As a company in this category, you run the real risk of becoming irrelevant online.
SEO may be a less popular digital marketing channel to invest in due to a longer time frame for returns. However, take this "downside" with a pinch of salt by looking at success stories of companies that fully embrace SEO like AQ Services.
The mystery shopping services provider worked with 2Stallions to improve its website traffic for a niche audience on the Internet.
Over a two-year span, our agency worked with them to conduct thorough relevant keyword research, on-site and off-site SEO, and coupled it with strong, fully-optimized content marketing efforts.
These initiatives yielded excellent results. In a niche industry, AQ Services grew their organic clicks to 1,949 from 22,333 impressions and were ranking for 26 keywords on the first page of Google, previously having ranked for none.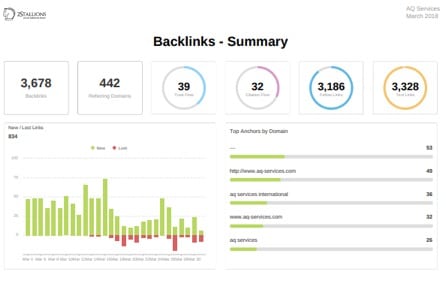 Every converted lead from these clicks potentially generates tens of thousands in revenue for them. They can rest easy that due to their SEO efforts, they are the first name that potential leads click on when searching within their niche industry.
Over the long-term, their investment and the investment of the many other companies that invest in SEO pays off with multiple returns on their initial investment.
This reason alone should convince most readers, but if you're not, carry on reading.
2. Focusing on SEO Will Improve Your Bounce Rate
Are you guilty of clicking the "Refresh" or "Back" buttons when you land on a website from a search result that doesn't load quickly enough for you or if the content isn't relevant? Of course, it is your choice whether to stay on or leave any website.
What if the same thing is happening on your website though? What if potential leads are leaving without interacting with your brand because your webpage design took too long to load or your content isn't compelling enough?
Google Analytics defines bounce rate as the percentage of single-page visits (i.e. visits in which the person left your site from the entrance page).
A high bounce rate indicates that your content (i.e. webpage, article, etc.) didn't match the user's intent (i.e. what they were looking for) or that your website is loading too slow and they got impatient.
A big part of search engine optimisation is technical and on-site optimization. This is achieved with a laser focus on a fast-loading website and performing keyword research followed by optimizing your website content to be high-quality and relevant so that it would rank on Google.
This, in turn, lowers your bounce rate and helps you to rank higher and generate a lot more leads over the long term.
In short, investing in SEO leads to better user experience on your website and the creation of better quality of content that is optimized to be found on Google.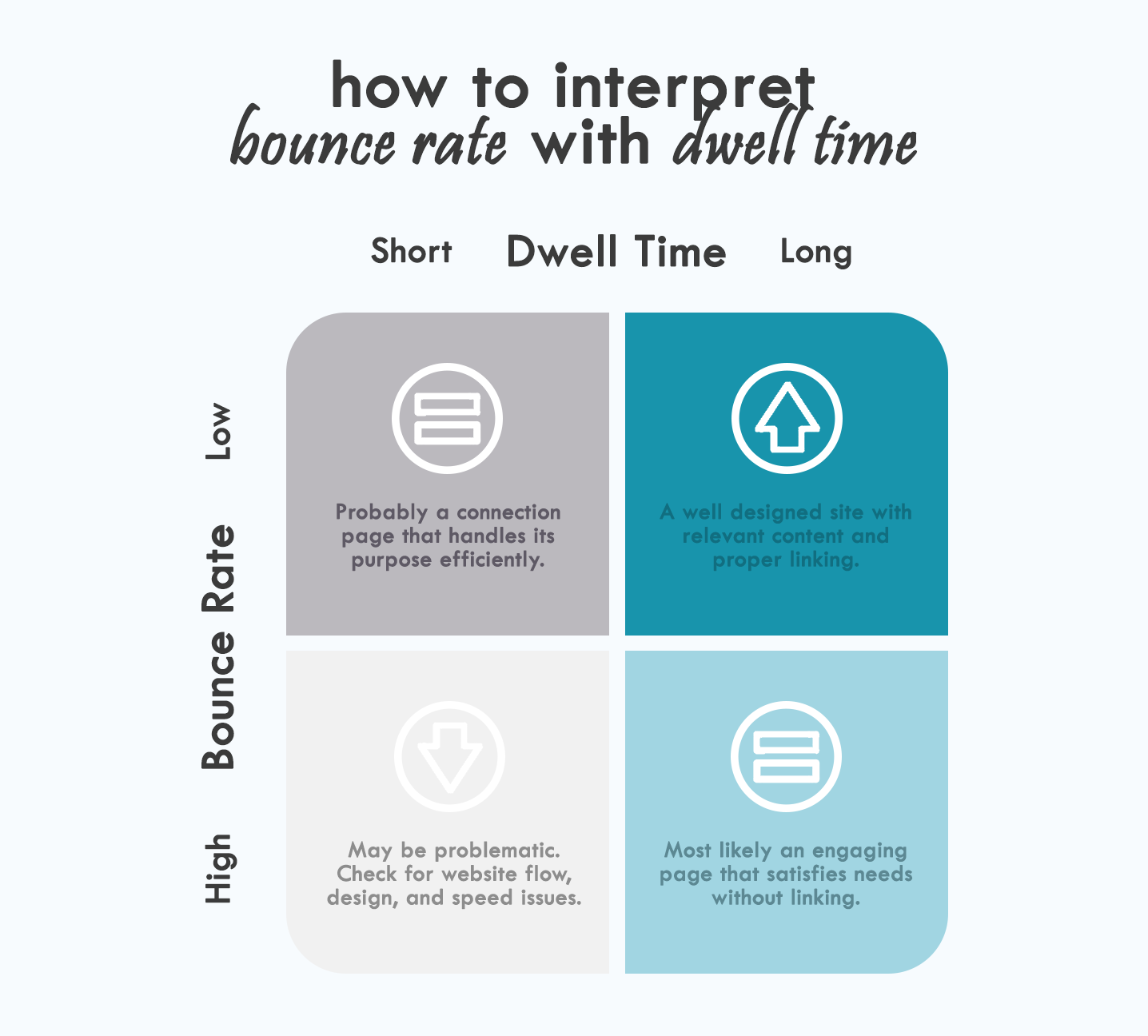 Image by: Conversion XL 
3. Mobile is the De-Facto Search
Consumers nowadays tend to finalize their transaction on mobile phones. In addition to that, searches made from mobile phones have increased from 65.1% to 80% across Asia.
Since 2015, Google has made it official that over 50% of searches now happen on mobile and in 2019, they started rolling out mobile-first indexing, showing the significance of mobile to digital.
So why does this mean YOUR business needs to invest in SEO?
Think about how people use their smartphones. Whether on Android or iOS, when they need to find ANYTHING, they turn to Google as their de-facto.
Looking for a place? Open Google Maps and type in a search. Looking for information? Open their browser and type in the search term to get results from Google Search or use Siri or Google Assistant to do a voice search.
A major part of SEO these days is Mobile SEO and Local SEO. These strategies help to ensure your website is mobile-friendly and is indexed or found on search via mobile devices and Maps.
Failing to do this means the only traffic your brick-and-mortar business will likely see is opportunistic foot traffic.
4. Have an App? Your Apps Are Discovered Via Search Too
The mobile era has also ushered in a deluge in mobile apps. In fact, more than 90 percent of all smartphone users have various apps installed on their phones including a social app, utility app, entertainment app, search app, and shopping app, among others.
These apps can be found in app stores like Google Play or the Apple App Store. Unlike Apple, Google incorporates its app store in its search engine results.
According to a Google report, about 27% of users find applications through a search engine and growing. While the number using Google Play directly to search and download apps is still higher, the future trends show optimizing an app for search engines still makes great sense.
App search could be an important driver of app installs in the very near future. That's why businesses with a mobile app should implement an SEO strategy to rank their apps on search engines.
5. Content Marketing and SEO Are Partners In Crime
Oftentimes, companies do not want to invest in SEO because they are already investing in content marketing and fail to see the connection to SEO.
An article from The Guardian states: "It looks like Google has tired of its old friend SEO and is instead cosying-up to the new kid on the block, content marketing."
This certainly makes it sound like there is no need for SEO if you're investing in content marketing.
The evolution of the search algorithm has led to success via the original SEO fire dwindling over time. Content marketing is the gasoline that can ignite the wildfire digital success for your business. However, it is just the fuel. Without SEO, there is no fire to begin with.
Content marketing relies on SEO to get audiences to your website. Producing high-quality content if nobody reads it is useless.
SEO, on the other hand, doesn't rely on content marketing for success – it can also be applied to business websites without a blog or a content marketing strategy. However, success will take much longer.
Content marketing pieces such as blogs, videos, eBooks, or even your website itself needs keyword optimization, quality backlinks and technical SEO requirements to rank on search.
In short, do not discount SEO just because you have invested in content marketing. This, in fact, is more reason to invest in SEO.
Parting Tip – Befriend Search Engines (or Google)
Search is the first stop on the Internet for most people in most cases. If you don't befriend the search engines, you will miss out on a lot of opportunities and the chance to grow your business even more.
📈 Take your online presence to the next level with our top-notch SEO services. Our team of experts will blend engaging content with proven techniques to catapult your search rankings. Don't miss out on this opportunity to make your mark online. Get in touch with us today.