Background
Nearing the end of March 2017 at 2Stallions, we realised that we had failed to "walk-the-talk" for search engine optimization (SEO). Despite offering SEO services in Singapore to many happy clients, our own website's presence on Google for keywords was lacking. Most keywords were on the 2nd page and beyond, with none ranking on the 1st page of Google. Frankly, this did not help our standing with potential clients, who often searched for, and failed to find us. We decided to change this state of affairs and decided to target a vanity keyword – "SEO" – to rank our website for (amongst others).
Vanity Keywords vs Valuable Keywords
A 'vanity keyword' usually describes what the website is trying to sell. However, it is not likely to drive qualified traffic nor produce high conversion rates. These have high search volume and are highly competitive, meaning they're difficult to rank on the 1st page of Google for. However, they also tend to have higher bounce rates due to being broad.
At 2Stallions, we highly recommend targeting 'valuable keywords' to all our clients. Generally, we target such keywords for our own efforts as well. While these may have a lower search volume, the traffic is bound to be much more targeted and likelier to convert. For a business, this is what matters.
Why Rank On 1st Page Of Google For "SEO"
You may be wondering why then, did we select a vanity keyword for 2Stallions to rank for? Quite simply, we needed to make a bold statement, and show off our SEO skills to potential and existing clients. Hence, ranking on the 1st page of Google for a competitive keyword like "SEO" appealed to us for this case study. We analyzed the keyword on Google in Singapore.

The term "SEO" has 4,400 average monthly searches and is considered a 'medium' competition keyword. The suggested bid of over $17, which is what advertisers are expected to pay per click for it, was what made the effort to rank for "seo" worth it. Even 1% of the average monthly searches and clicks back to our website, i.e. 44 clicks, would save $748 per month in potential ad spend. Cool!
Ranking Results For "SEO"
Here is the fluctuation in rankings for the keyword "SEO" from mid-April, when we started, to August 2017. As you can see, we hit the 1st page of Google Singapore for the term within 3 months, by mid-July 2017. You can observe on the graph that since we hit the 1st page, we've actually fluctuated between 9th and 12th position. This confirms that there is no resting on your laurels when it comes to SEO, and that staying on the 1st page can be tougher than getting there.

If you are interested in learning about the techniques our SEO team used to rank our website for the term "SEO", now!
Impact Of Ranking On 1st Page Of Google For SEO
Search Impressions, Clicks & Leads
As a business, your main objective from any SEO effort should be to drive targeted traffic to your website that can convert to a lead for you to follow up on, and generate revenue from.
Unfortunately, Google isn't open about how much traffic a particular search term generates, so you may or may not be able to view this depth in data for specific keywords. Therefore, for a client SEO campaign, we focus on overall Organic & Referral traffic as our metrics, together with conversions (read our Guide on Web Analytics to learn more about how to set this up yourself).
As we do not have exact data for the specific search term for our website, we decided to pivot and analyse results from the perspective of the landing page. For SEO-related search terms, we're focusing on having visitors land on to our SEO Services page. The table below shows the improvements we saw since we started our SEO efforts in % improvements from the previous month period.
Month-over-month Improvements
May
Compared to Apr
Jun
Compared to May
Jul
Compared to Jun
Impressions (%)
4,497.6
69.9
69.1
Clicks (%)
∞ (divided by zero)
600
57.1
Conversions (%)
0
0
∞ (divided by zero)
We saw an immediate, and dramatic, increase in impressions and clicks to the website when we began SEO work. However, we've only recently started seeing this traffic start to convert. Another reason for this low conversion could be that the vanity keyword resulted in traffic to the site that was not targeted or intent-driven.
Following the publishing of this case study, we shall be focusing our efforts mainly on valuable keywords rather than vanity keywords.
Analyzing Our 1st Page Ranking On Google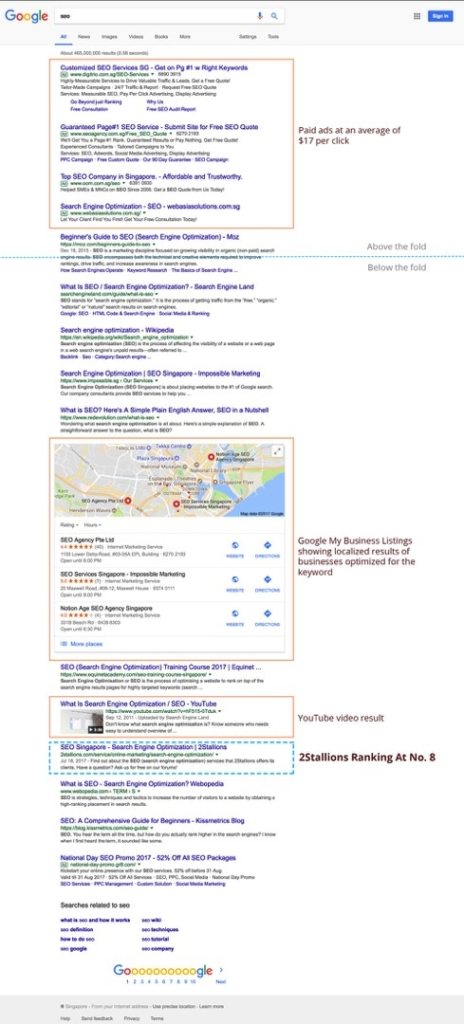 In an ideal world, being on the 1st page, and especially being ranked in the top 3 positions of Google should result in a dramatic website traffic increase. However, reality can be different. Despite organically ranking 8th, our visual ranking on the search result page is closer to 15th.
We took a screenshot of the search result page for the term "seo" on Google Singapore to illustrate our point. We have marked the area above the fold (light blue dotted line), which is what you see immediately when you land on the search result. We've also highlighted the area occupied by paid ads and areas taken up by rich snippets like business listings and video results.
For this particular search term, even the top organic result from Moz.com is only partially above the fold. The 8th position, where our 2Stallions SEO service page organically ranks, is towards the bottom of the page. Google now shows up to 4 ads at the top, with expanded ads like the 1st 2 ad results. You can't really blame Google – after all, they stand to make $17 for every click. Statistics are clear that the top 3 results get almost 60% of the clicks, so the ads there are a major source of revenue for Google.
For a new business with poor organic traffic, that is trying to generate leads, SEM is vital. On the other end of the spectrum, existing businesses have their own reasons to continue SEM spends. For them, the goal is merely to keep their brand awareness high and prevent competition from occupying the top positions. Therefore, you should never discount SEM services for your own business. You can reach out to us for such services as well.
Furthermore, search results these days devote a great deal of real estate to localized business listings and YouTube video results. To show up amongst business listings, you can use Google My Business to set it up for your own business and optimize it.
Next Steps
Does this mean we should not be doing SEO, and focus our marketing spend on Adwords & PPC instead? Absolutely NOT! As you can see from the stats shared above – our organic search impressions have increased dramatically. There is now a greater chance of people seeing and recognizing our brand. To top it off, we have seen an increase in organic traffic to the website. We're now also starting to see conversions to leads on our landing page from organic visitors.
We could focus on ranking at number 1 on the 1st page for "seo" going forward. However, it makes little sense fighting such fierce competition. It would mean overcoming established content from behemoths like Moz, Search Engine Land, and Wikipedia.com. These have been around for YEARS and have collected a ton of trustworthy backlinks that our content is unlikely to achieve.
Now that we rank on the 1st page of Google locally, it provides credibility with potential clients. We finally "walk-the-talk" when it comes to SEO. As this keyword does not generate targeted traffic, we'll spend little effort to maintain its ranking. At the same time, we are shifting our focus to more valuable keywords.
To learn the techniques used to achieve 1st page results, !
Leveraging On Rich Snippets
Google's apparent favouring of rich snippets makes it seem prudent to leverage on other forms of content, especially video. Therefore, 2Stallions has created and optimized a YouTube video. Specifically for our SEO services (see below), we are looking to generate additional traffic directly via YouTube. It also serves to increase our landing page relevancy to Google. If you're interested in taking this path, our team has developed methods to dominate Google search results via YouTube videos.
Conclusion
SEO will not catapult your website to the top and keep you there without consistent effort. Also, while the techniques we discuss in our worked great for this particular keyword, it may not be the case everywhere. As an SEO agency in Singapore, our 2Stallions SEO team continuously refreshes our SEO skills. We learn and try out new techniques that help us to rank websites for our clients and ourselves. So if your business is looking to achieve similar results and boost its organic lead generation, reach out to us!
📈 Boost your brand's online presence with our comprehensive SEO services in Singapore. Dominate search rankings and increase visibility. Explore now to harness the power of our effective SEO strategies and drive success!