Digital marketing and thought leadership go hand in hand. With the recent rise in key opinion leader (KOL) marketing, personal branding has become even more important to successfully dominating the thought leadership arena. This issue of the Marketing Expert Series introduces us to one of the most prolific advocates of digital marketing and personal branding in Malaysia. Nowrid Amin discovered a passion for digital marketing and turned it into a successful career, choosing to share his knowledge and expertise with those around him. Currently the Head of Digital Marketing for Juwai IQI, Nowrid is also extremely active in the marketing community, speaking at numerous conferences and running several workshops every year.
Join us as Nowrid takes us through his passion for digital marketing and vast knowledge of personal branding. Learn why he believes it's so important to help pass on knowledge, and how he has managed to lead his team to great successes, despite the Covid-19 crises of 2020.
---
Welcome, Nowrid! Happy to have you with us for this next issue of Marketing Expert Series! Let's get the ball rolling with an easy question. Can you tell us a bit about yourself? How did you get to where you are now?
Hello, thanks for inviting me! Pleasure to be here.
I am a passionate Digital Marketer who loves everything about digital marketing. Currently, I am working in Juwai IQI as the Head of Digital Marketing. I love and enjoy public speaking, and have attended more than 50 conferences as a speaker, including Tedx Talk. Besides that, I am a freelance digital marketing trainer and have trained more than 10,000 people so far.
Were you always interested in digital marketing, or did it grow on you?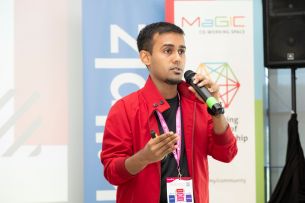 My love for digital marketing started after I read a book called 'Purple Cow' by Seth Godin in 2011. He is my marketing guru. I then explored more on it, and read more books about marketing. However, implementing what I learned into real life was challenging because of the language barrier. Most of the books I read are from US or European business perspectives, and I was working in Bangladesh during that period of time.
In 2014, I found out about digital marketing and realized that it is something AMAZING. Implementing and measuring the performance of digital marketing is universal. The targeting, marketing spend and operation were all very exciting to me. As a result of my newfound passion, I left my well-settled job and joined a startup in 2015 to learn more and further execute it in real life. From there, my journey has never stopped.
Currently, you're the Head of Digital Marketing for Juwai-IQI. Can you tell us more about IQI and the work that you do there?
Sure! Currently, I am working as the Head of Digital Marketing in Juwai IQI, leading the digital marketing team in Malaysia, Canada and China which consists of a team of 22 people. My core job is to manage my team, and to set the strategy and direction to ensure a strong digital presence. Optimizing existing resources and usage of marketing budgets is something I need to take care of as well.
Juwai IQI spends 80% of its budget on digital marketing. When we are talking about digital marketing, it covers operations for: Facebook marketing, Instagram ads, Linkedin marketing, SEO, blog writing, and video production. All this and more, we implement it ourselves using our internal resources.
And on that note, I would like to add that the marketing team has made a significant impact to grow the business in 2020 for Juwai IQI. We brought in more than 320% increase in website traffic and business leads from our paid ads, and optimized our ad cost up to 50%. I believe that we are among the few companies who not only hit the target in 2020 successfully, but also excelled in performance despite the Covid-19 crisis.
Back in 2019, I first ran into you at an Inbound Marketing Masterclass hosted by Hubspot and Launchpad in Kuala Lumpur, where you gave an in-depth talk about using LinkedIn. You're very active in the digital marketing community, online and offline – can you tell us more about these activities? What drives you to do them?
I told you, anything about digital marketing or content creation just gets me excited!
Why am I massively active in the digital marketing community? This is because of the two challenges I faced when I first came to Malaysia from Bangladesh. I was keen to learn about digital marketing. Firstly, not everyone is the expert or practitioner they claim to be to the public. Secondly, people who are actually the real deal may not be willing to spend time or give any information for free. Malaysia is a country where people are keen to learn about new skills and want to listen to you, if you can offer them added-value.
I saw this window of opportunity and seized it. I know that I have the expertise and if I want people to listen to me, I have to offer good value for FREE. I did just that, and I got an overwhelming response! Following that perspective, I decided to assist people in digital marketing with free content. To do that, nothing can be better than LinkedIn.
LinkedIn not only helps you to connect with industry leaders, but also allows you to consume content from industry practitioners. Most importantly, you can share your voice there and make an impact in society. You can probably tell that Linkedin is something very close to my heart, that's because LinkedIn made me what I am today.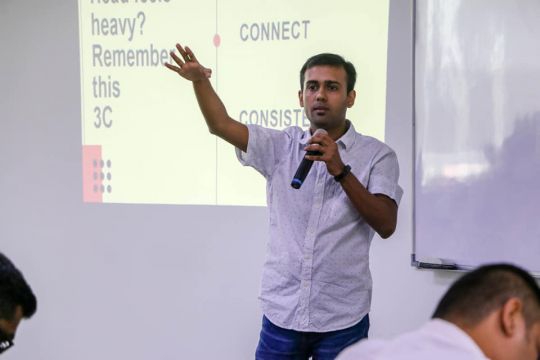 You're certainly a strong advocate for teaching digital marketing. What is it like, working with – most often – younger people looking to break into the marketing and communications world nowadays?
I have been working in Malaysia for the last 5 years and let me tell you something, the young generation here is immensely talented. They don't stop! They are hungry to learn new things and keep improving themselves. They are finishing their Bachelors or even a Masters degrees, and they are still going for professional training and online courses! Impressive.
Most of my team is aged between 22 to 26. Honestly speaking, when I was 26 I had no clue what to do with my life and career. These very people are the ones playing vital roles, taking care of different projects, and making it happen. Most importantly, they are not afraid to grow!
If you ask me to highlight one of their most promising key aspects, it's speed. They are blazing fast and know how to take up responsibilities.
I've heard you speak on the importance of personal branding and what it can do for anyone, even a non-marketer, why the focus on personal branding?
If you would like to grow yourself or your business, personal branding is key. In 2020, people didn't want to believe what companies were saying. People are interested in people; what they do, where they travel, where they eat, etc. If people are paying attention to you or are interested in knowing about you, they will eventually find out about your work and business. If you can influence your followers, it can make a great impact on your business. This is the reason social media stories, influencer or key opinion leader (KOL) marketing are getting more popular.

We all know digital marketing now is no longer a choice, it is a must. The same thing is happening with personal branding and KOL marketing as well.

Some people ask me: how can I become a KOL? My answer is that personal branding is your first step. The steps for creating a personal brand? It's simple. Discover your passion, find your niche, create content out of your passion, find the platform to share your content, be consistent, and connect with people. Boom. You just kick started your journey to become a KOL.
Now, COVID-19 – the topic on everyone's mind this last year. WIth lockdowns and movement control orders in Malaysia driving everyone a little crazy, has it had any impact on your work at all – either as a digital marketing influencer or at IQI?
I think Covid-19 has brought change to the way we used to think and how we live our lives. For most, Covid-19 sounds negative, but I try to see it in a positive light. Come to think of it, Covid-19 actually exposed us. Exposed us to the fact that we know what we need to do, but we are still not doing it. However, if you are someone who can adapt to change, be agile, complain less and focus on working, you can surely survive in this tough time.
With regards to my job and workplace, Covid-19 has definitely made an impact on everyone, as we have never experienced anything like this before. However, we adapted to it very quickly and as a team, we have sold more units in 2020 than in 2019. My team has even achieved exciting improvements in times like this, with them being a part of a conference as a speaker or a trainer in a workshop.
We can go anywhere with digital and technology, and we never tried to use its best elements before Covid-19 hit us.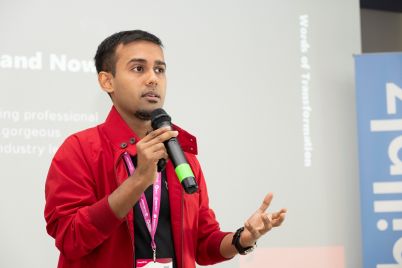 And when, finally, this pandemic is behind us – what's next for you?
This pandemic made us all feel one thing for sure, and that is that you have one life, literally one. There may not even be a tomorrow, we shouldn't waste it by over thinking, dwelling, or complaining.
I am so excited about 2021 for so many reasons. I am officially launching #IamSocial, my very own platform. It will be for youths! They can enjoy free training, write blogs, share their ideas and also be a part of different global events. I am also excited as I am now promoted as the Head of Digital Marketing in Juwai IQI. From now on, I will take care of the digital marketing operations for a few other countries alongside Malaysia, Canada and China.
Aside from this, I am also excited to see how business will evolve, and to make our youths ready to be active in business and grow during and after this tough time.
Any advice you'd give to young and aspiring marketers specialists?
Don't chase or do something just to please others, or to get social media engagement. Put in real work. As a trainer, I found out recently that people go crazy to get certificates from sessions, or focus too much on CGPA while not actually interested to learn in class. So focus on what you need to grow, personally and professionally. No one cares about certificates or CGPA if you cannot explain your learning in an interview, or it cannot reflect in your work.

Learn from the right source, improve your knowledge and implement your learning in your work. Look at how you can make an impact with your learning. Your work can make a difference, not the amount of certificates.
Thanks for spending some time with us, Nowrid! How can people connect with you if they'd like to know more about you?
Thank you as well. Anyone can connect with me on Linkedin or Instagram. On Linkedin, you will find me as Nowrid Amin and on Instagram you will find me as nowrid.
---
The Marketing Expert Series features marketing and communications experts from across every industry. Every month, 2Stallions will showcase the stories and expertise of marketing experts from around the world, join us as we explore how marketers navigate the challenges of the regions and industries they work in. If you'd like to be featured in a next issue of the Marketing Expert Series. Please reach out to us via email.
Experience the power of our Digital Creative Services and elevate your brand to new heights. Our team of experts will create captivating visuals that will make your brand stand out in the crowded online space. Contact us now to ignite the brand's brilliance.