It has been a year since our designs adorned the facade of two HDB apartment blocks at Telok Blangah Constituency. We were thrilled to get the opportunity to contribute to the PAssionArts Festival once again.
The theme for the PAssionArts Festival 2017 was "Arts of Wonder, One Nation." Our brief was to conceptualize designs that would befit the theme. The design would then be printed on a large canvas without the colours. In addition, we were to create a colour guide to help the residents get together and add colour to our designs. Residents of Telok Blangah and neighbouring schools would then gather over a few weekends to collectively paint the canvas. This would give them the opportunity to work together, get to know each other allowing the theme to extend from beyond the canvas and into the real world.
Here is a look at the work that we did:
1. Condo Facade Art at Harbour View Towers
The façade art at Harbour View Towers features an illustrated Merlion – a cherished icon of Singapore. The Merlion was designed in 1964 when Singapore had just ceased being a British colony. It represents bravery, courage which is aligned with the theme this year. The Merlion is also a symbol that Singaporeans love. In our design, everyday Singaporeans surround the Merlion. Each of these unique cartoons represent the different faces that make up our nation.
2. HDB Façade Art at Block 1 Dover Road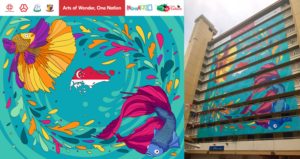 The beautiful façade art at this HDB apartment was conceptualized and designed by the art club at ACJC. Our role was to translate this design onto a large canvas and also with colours that make it stand out. The ACJC team chose fighting fish as they symbolize not only resilience but also independence and potential. Additionally, the colorful streamline smudges represent the diversity of races and religions in Singapore.
Since everyone in the community had a part to play in painting the artwork, they felt a great sense of pride and ownership. Many of them including students from the schools that helped to co-create the designs came to take pictures.
We managed to get a quote from one of the students who participated in painting the artwork.
"It was an awesome experience to paint with people from different walks of life. I feel very happy that people can admire something that was painted by my friends and I. The facade art design is very beautiful. I really like the colours which are very vibrant." – Nashitha
Transform Your Brand's Online Presence with Our Cutting-Edge Digital Creative Solutions. Our skilled team seamlessly merges technology and visual design to craft mesmerizing user experiences. Elevate your brand's identity and make a lasting impact on your audience.