You just started a consumer-facing business (Congratulations!) and you've heard the Internet is a great way to gain traction and get the masses flocking to your place of business. Without any online business strategy, though, you are likely to jump into the following scenario:
You decide to start small and 'simple' – with a Facebook page. After all, almost 1.5 billion people, including all your friends, use this platform. You set it up, and invite your friends to like your page to get the ball rolling.
And then… your business loses its way online.
You post regularly on your page but can't seem to get anyone apart from friends to like the posts – and even their enthusiasm wanes quickly. You discover that those 1.5 billion people you hoped for are only accessible with a fee. So you pay to promote each post and get more likes but it does not translate to more business in your store.
After a while, you choose to cut your losses and let it slip into oblivion. You decide that you are going to do things 'old school' instead and convince yourself that you are not losing out.
You are not alone in this state of denial – plenty of business owners sabotage their online business presence through the lack of foresight and investment in professional guidance. Here is how you can start formulating a foundation for a successful online business strategy.
1. Know Your Motives
It is extremely important to first know WHY you want an online presence. Is it to increase brand awareness? Provide alternative means for customers to make purchases? Generate leads for your business? Or something else?
This motive will aid in determining what assets you need for your online business strategy.
2. Understand Your Customers' Online Intent
In order to know what sort of online presence you need – you must understand your customers' intent i.e. how they find you and why they use a particular online platform.
How: Google conducted a study, which found that 4 in 5 consumers conduct a local search on search engines for product information, directions and operating hours of businesses near them. Speaking to existing customers of yours will also help you answer this question.
Why: The table below shows you the user intent behind using search engines and social media – the two areas in which consumers spend most of their online time.
| | |
| --- | --- |
| INTENT ON SEARCH | INTENT ON SOCIAL |
| Navigational: user wants to go somewhere | Socialize: user wants to find out what friends have been up to and communicate with them |
| Informational: user wants to know about something | Discover information: user has information – photos, videos, articles, news, brands – fed to him based on his likes and what his network likes |
| Transactional: user is looking to buy something | Share: user posts information on products/services/articles that interest them |
|   | |
The user intent explains why Google Adwords – Google's paid advertising offering – is booming. Businesses know that visitors coming through search will likely turn into customers because they are actively seeking a solution. For social media platforms like Facebook, however, although 66% of marketers claim that social indirectly impacts their business performance, only 9% claim it can be directly linked to revenue. This is probably because users on social media don't actively search for things – they tend to discover them through their news feed.
3. Your website is the key to an online business strategy
We came up with 11 reasons why your business needs a website but to go a bit deeper (it gets technical here), it is to have your content appear in search results.
Facebook does not allow Google to look at the content on their Facebook pages (yes, they control your content on their platform) so the content you produce on your Facebook page cannot be found via Google search. This means you lose out on opportunities to be found organically by users looking for your products or services if you do not have a website. Whatever online business strategy you adopt, your website needs to be central to it.
A website is like your physical storefront. Build it according to your brand guidelines but understand that making it look pretty does not guarantee you any "footfall" or traffic. What helps you get traffic? Marketing, of course. Getting your website indexed by Google so that Google knows your website exists, is just the first step in a long journey to online success. The results on the first page of Google get 71.3% of the clicks for all search results. In a nutshell, if you're not on the first page of Google, you're not going to get much traffic.
4. Online Marketing To Attract Your Target Audience
So, how do you get on the first page? Focus your online business strategy towards Search and Social media once your website is up.
4.1 Search
Your options for search are Search Engine Optimization (SEO) and Search Engine Marketing (SEM).
Search Engine Optimization (SEO) is a long-term approach which helps your website to rank organically, without paying for it, on the first page of Google and Bing! search results. The white-hat technique recommended for improving your SEO is content marketing. Write articles on topics within your business domain that users would search for or find interesting. Share these on your social media channels.
Use traffic drivers like guest posting on 'authority' blogs in similar domains to get a backlink and engage an interested audience. Other traffic drivers include YouTube (for videos) and Slideshare (for slide decks). All these pieces of content would end up ranking for a myriad of keywords that drive targeted traffic back to your site from search.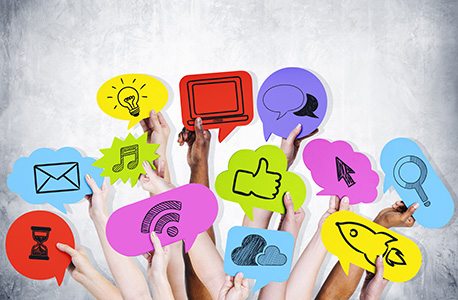 Search Engine Marketing (SEM) provides an immediate possibility of showing up on the homepage of Google through paid advertising. Besides Google, your advertising can also show up on related sites on the network of sites that use Google Adsense.
4.2 Social Media
The number of social media platforms out there means the options here are astonishing. There is Facebook, YouTube, Twitter, Pinterest, Instagram, LinkedIn, and Reddit just to name a few. What you need to understand is that not all of these are relevant to your business and you should choose what suits your motives best.
For example, Facebook can be a great way to provide customer service and increase brand awareness and that may be the only tool you need. However, an eCommerce brand with product photos could be better off including Pinterest and/or Instagram to their online business strategy.
5. Putting it together for a robust online business strategy
Your strategy needs to frame every platform you are targeting and cover the basics: how, what, and when. All your online assets should have key performance indicators (KPIs) that would be analyzed every period of your choosing (usually monthly or quarterly) and tweaked accordingly.
The following infographic titled 'Ins and Outs of Web Traffic' shows how your online actions will drive traffic back to your website. This should give you a clearer understanding of how your online assets rely on each other for the overall benefit of your business and aid in the formulation of your own strategy.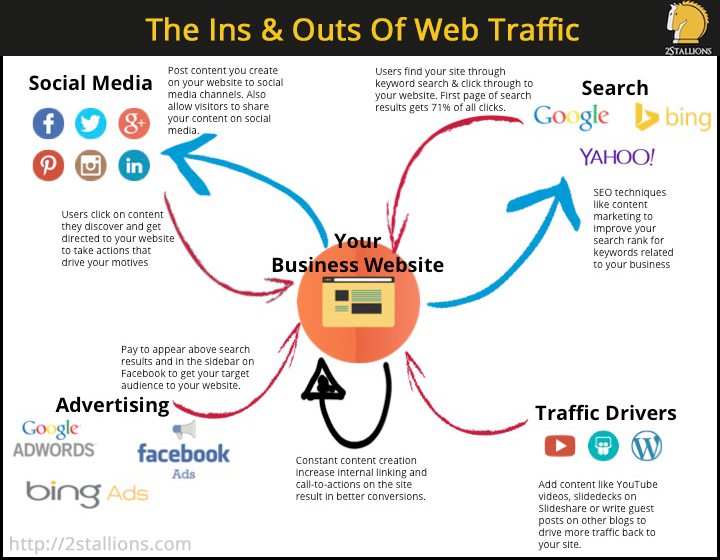 The online business strategy you develop serves to keep you focused on your motives. However, it is also important that it remains a flexible document which adapts as you discover things that work or don't work for your business.
🚀 Supercharge your brand's reach with our unbeatable online marketing services. Seamlessly unite your campaigns using our state-of-the-art omnichannel marketing system for epic impact. Join forces with us and let's conquer success together!