There is no way of stopping the mobile revolution that is currently happening in our world. More people prefer using their mobile devices to surf the internet than the Desktop PC. This is most likely due to the convenience and also the growing sizes of our mobile phones.
Think about it, there are probably even times where you use your phone to browse the web even when you have a desktop PC available. This is because mobile phones are normally within reach and could be used anywhere that has a 3G or 4G signal. Plus, with the "phablet" era continuously heating up, mobile phones are getting screen sizes that make surfing the net easier than the past smaller models.
Numbers do not lie, and the statistics are saying that mobile is dominating the web. According to Zippia, 54% of internet users are using their mobile phones to surf the web. In comparison, desktop PCs, which used to dominate this statistic account for only 46% in the latest study.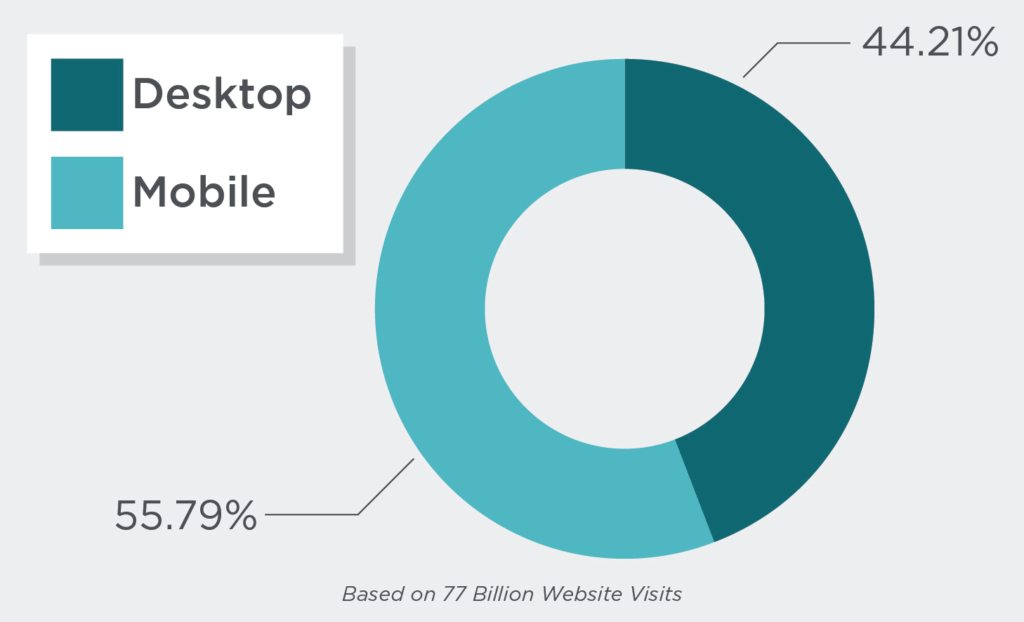 The same trend is happening in Asia where a huge population currently resides. According to China Daily, the country of China has already exceeded 1.3 Billion mobile users in 2016. And a whopping 30 percent of those mobile users are 4G subscribers. To give you a good perspective of that surge, there are 386 million 4G users in China which are triple from the number of users in 2014. And if you think about it, this number does not even include users who connect through Wi-Fi with their mobile devices.
Another big example is India. According to the Economic Times, India will have over 500 million mobile internet users by 2017. The same article also mentions a recent survey that prepaid smartphone users spend about 72% of their time accessing online content and only 15% making voice calls. That definitely says a lot about how the purpose of mobile phones has changed over the past few years.
And this is the main reason why your company should be adopting a mobile-first strategy. The trend of mobile phones as the dominant device is going to keep rising as the years roll by. Phones are getting more powerful every year and are inching towards desktop PC-like power and response. Your company should start adopting a mobile-first strategy or risk getting left behind.
Not yet fully convinced regarding this phenomena? Well, to put things in perspective, Google has already announced that they are going to roll out a mobile-first index. This means that the biggest search engine on earth is going to prioritize mobile URLs in their ranking.
Steps to having a mobile marketing strategy for your company
Make sure that your website is mobile responsive
There is a good chance that your website is already mobile friendly. But did you know that you still need to make your mobile website adaptive to various devices? Mobile phones have varying screen sizes, not to mention the numerous tablet sizes that plague the market. Make sure that your customer is having a pleasant time on your website no matter what device he/she is on.
According to Activemedia, 38% of users will stop engaging a website that is unattractive and unresponsive. That should be enough to tell you how much customers can be lost just because a website is not responding well to his/her screen size.
Take advantage of mobile wallets
The boom of the mobile phone industry has made a lot of big companies re-think of a new idea of payment. Mobile wallets work by using near field communication (NFC) to transfer data from your mobile phone to the payment reader. This makes it fast and convenient for people dealing with their transactions.
According to CMO, mobile based payments are expected to reach about $142 Billion dollars by 2019. The biggest mobile wallet services like Apple Pay and Samsung Pay are getting an increase in users as the years roll by.
In Asia, mobile wallets are already making moves. According to Business Insider, Singapore became the first country outside of the US to support all the major mobile wallets. It started with 20 retail locations and will most likely grow as time passes by. UnionPay, another major mobile wallet service, has already started entering the Chinese and South Korean market, this means that the rest of Asia is not too far behind.
Large companies like Starbucks are already using mobile wallets as a means for their customers to purchase. It would be a wise move for any company to start rethinking the way people can pay.
Start thinking apps
Mobile phones and apps come hand in hand, and plenty of companies have already taken advantage of this fact. This is because app usage is at an all-time high especially in places like Asia. Did you know that Asia is now the biggest market for mobile apps? According to lnternational Business Times, mobile app usage in Asia grew to 77 percent and has surged ahead of markets like the US in 2014 and 2015.
The main cause of this increase is the rise of shopping apps in various Asian countries. The same study found that usage in shopping and lifestyle apps have tripled in the span of one year.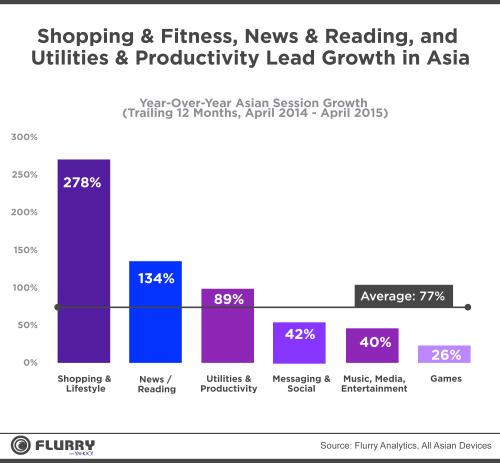 With this study, it is pretty evident that e-commerce is booming in Asia. Companies are figuring out that apps help create a direct marketing channel between them and their customers. Apps can be valuable in creating loyalty programs, promotions, and an easier shopping experience. Asia's top online fashion retailer Zalora, for example, has a mobile app that makes it possible for users to place coupon codes (normally found on their website) and enter that through the app.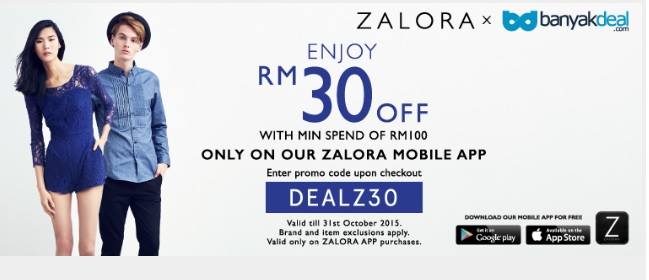 If a company really wants to adopt a mobile-first strategy, then thinking about having an app might just be the best move to show commitment.
Mobile optimize your email campaigns
You might be wondering why you need to optimize your email campaigns for mobile. The answer lies with the current trend of email reading. According to Email Monday, 54 percent of all emails are read first on a mobile device.
Automobile seller, Auto Trader, figured this little fact out and decided to make their emails more mobile-optimised. This resulted in a 391% increase in click through rates since they redesigned their emails.
Making your emails mobile responsive is not particularly hard. First of all is to find out what email clients tend to use. Once you have that data, see if that email client can support various applications like video.
Phone screens are much smaller than desktop screens so make sure that you use bigger fonts in your email. Good mobile-optimised emails have fonts that do not need any zooming in from the reader. Check out the following image for a side by side comparison of a small font on mobile and a large font one.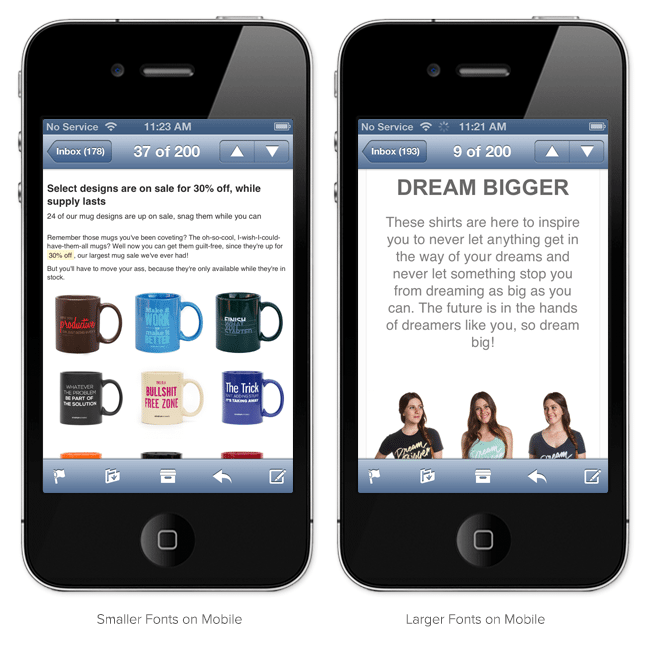 Image by HubSpot
De-cluttering your emails from less useful links and long paragraphs is also helpful in making your emails more mobile friendly. Make your words shorter and your headlines more concise. People don't want to be overwhelmed with so many things happening on a 5-inch screen.
Also, put touch friendly buttons on your emails. Don't forget to utilize sharing buttons so you could take advantage of the power of social media. Lastly, use a single column layout to make it friendlier to the eyes of mobile users. Check out this great email design from Superthings that looks great on a mobile device.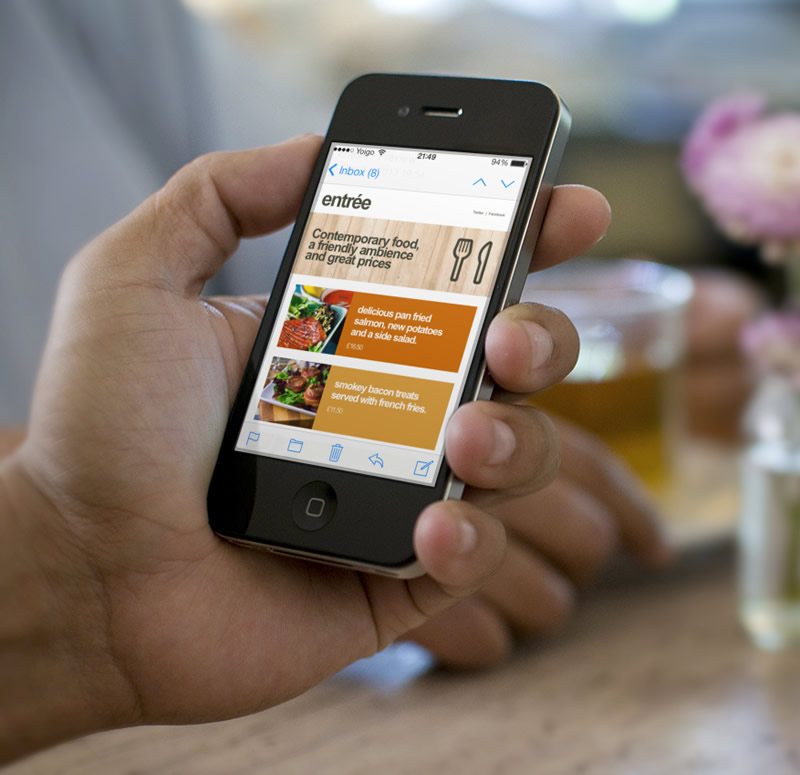 Image by SuperThings
Don't forget about SMS marketing
Despite cheaper online chat apps increasing in use, there are still companies sending us standard text messages with promos and ads. The reason is pretty simple – SMS messages has a whopping 82.1% open rate.
That makes SMS one of the most potent marketing tool for companies. Footwear retailer, Payless, still uses SMS to create awareness of their products through various promos. Below is an example of one of their SMS campaigns.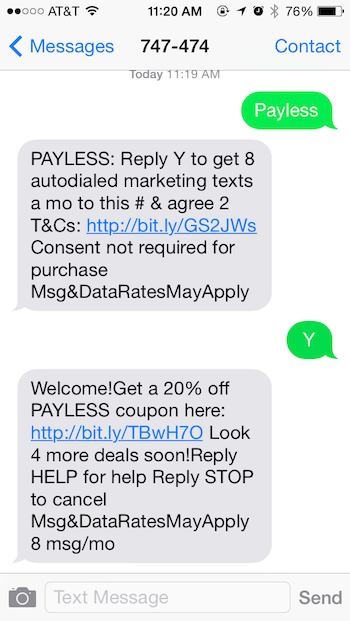 Sample SMS Marketing by Payless
Your SMS campaigns must have a clear call to action. For example, use simple keywords like BUYNOW or GETPROMO as what they should type before sending it to a number. SMS campaigns mostly fail because of unclear instructions which can cause users to leave your message quickly.
Keep in mind that you will need compliance before creating SMS campaigns. Check which entities govern the mobile industry in the country you wish to deploy your SMS campaign.
Take your company mobile in Asia
Mobile use in Asia is booming and marketers already started taking notice. There is no stopping this trend and it looks like companies are already taking a mobile-first approach. Emails, websites, and apps are just a few of the major things that a good marketer needs in order to be ready for the mobile-dominated future. With the rate of new technology and innovations, the next few years will be quite interesting in the field of mobile marketing.
Do you have any stories and experience about creating a mobile marketing strategy for the Asian market? Please feel free to write them all down in the comments section below. We'd love to hear from you!