It's not every day that we are given the opportunity to look through the keyhole and see what happens in the world of an energy giant, such as Shell. Marketing and communications for large conglomerates like Shell and its competitors is a fast-moving realm of whirling parts, constant evolution, and changing trends. Energy is vital to the world economy, allowing our human civilization to continue to exist as it does and grow. As we move into an era that is more aware of sustainability, these big conglomerates do so in tandem, looking to adapt to the changing needs of humanity.
In this issue of the Marketing Expert Series, we are privileged to be joined by Shell Malaysia's Jade Choong, who heads the marketing communications initiatives for Shell Commercial Fuels (SCF). Join us as we go deeper into this fascinating world of marketing energy.
---
Hi, Jade, thank you for taking part in the Marketing Expert Series! Let's start with some history, can you tell us a bit about yourself? How did you get to where you are now?
I would sum myself up as a working millennial who loves traveling (up until the pandemic) and is still happily finding her way parenting a boisterous 3-year-old. And while 'millennial' used to have a 'youth' ring to it, I'm well aware age is catching up!
One of my earlier marketing roles was in the telecommunications industry – back when mobile phones still had buttons on them and Bluetooth was a 'premium' feature! 🙂 I then moved on to British American Tobacco – which was great exposure to trade and brand marketing. I was then recruited by Shell Malaysia and have held various marketing roles in different lines of businesses including Commercial Fuels, Lubricants, and Bitumen. Throughout the diversified industries, I've loved the different adventures and experiences each brought.
Was there something that drew you to this line of work? Were there any specific experiences that pulled you towards it?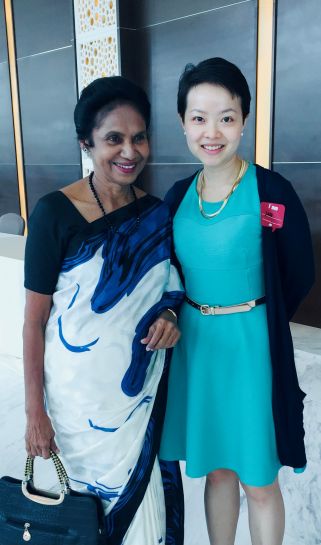 As much as my late mother would've loved me to get into medical school (an Asian thing perhaps?), I pursued marketing because I found it exciting; to me it felt like a study of the 'art of making people buy.' Advertising and Consumer Behaviour were my two favourite subjects during my postgraduate days and, naturally, it became my career choice after graduation.
Currently, you are a Global Marketing Communications Manager at Shell. What does that entail? Can you elaborate on the kind of role this is at Shell?
I lead the marketing communications initiatives for the Shell Commercial Fuels (SCF) line of business, which include driving our thought leadership program, developing creative assets across multimedia channels and supporting the SCF markets worldwide, in their key marketing activities. I work closely with the Global Fuels Manager as it's a collective effort to ensure our energy solutions and brand are well positioned externally.
What's it like to work with a large multinational corporation like Shell? Are there any challenges?
Exciting to say the least! Being in a world-class organization gives me the privilege to work with many first-class professionals, from teammates to agency partners, to our business partners – all of which are very rewarding intellectually.
Additionally, the breadth of a global role allows me to speak to various nationalities daily (it's a joy listening to different accents!), learn of different market dynamics and cultures, plus share best practices and learnings across markets.
It doesn't come without its challenges, of course. Given that this is a very much a role performed virtually (even before the pandemic) there's always been a need to find creative ways to bond with international colleagues and nurture a global 'family' – be it to support each other's market initiatives, to supporting each other's wellbeing during these challenging times.
On a business front, there are common challenges of increasingly aggressive competition and foreign exchange rates impacting businesses, to more unique ones. The latter for example, could be extreme weather or national incidents that make headlines worldwide, which consequently impacts a local market operations – where there's no standard playbook on how to respond but it has to be dealt with, as and how the incident evolves. It's an environment that requires being able to learn fast and improvising on the go.
Now, I think we can all agree that the world of energy corporations like Shell is an extremely competitive industry. How does one go about marketing a brand like Shell?
Good question! In the B2B marketing world, it's a key priority for us to communicate the value of our energy solutions, be it from our range of innovative fuels to our professional technical services. At times, there could be industry users who may perceive all fuels to be the same leading them to only make price-led decisions. To help with this perception, we set out to share the benefits of our premium fuels and the impact it makes on a machine/vehicle's total cost of ownership and overall, to the company's bottom line, whilst also considering tightening environmental regulations. In sum, we aim to be more than just a transactional supplier. We want to be a partner to our customers, that helps them with their profitability and evolving sustainability needs.
Let's talk about the elephant in the room for a moment: COVID-19 impacted a lot of companies and industries all around the world. How has it affected Shell? Have you needed to change your strategies to handle the obstacles it created?
The Shell Commercial Fuels business was impacted in tandem with industries that could not operate during their respective lockdowns, since we provide fuels to power their fleets and machinery. During this period, we provided advice to our business partners on how to manage their fleet including during periods of non-operations – since that's a new experience for many. Internally, the pandemic has accelerated our digitization. The B2B world we knew pre-COVID was still very much in-person exhibitions and customer meetings on site. Since then, we've seen a significant uptake in digital campaigns and we've had to train ourselves, our teams, and resellers to become masters in virtual communication platforms and webinar management.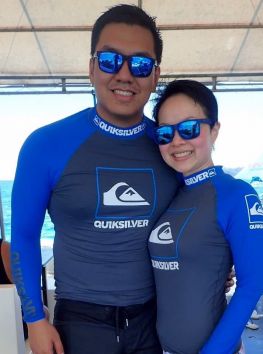 From a strategy standpoint, there was no major shift required since we've always had the long term in view, with lower-carbon fuel offerings and solutions that would help our customers be more cost-efficient. Given the financial impact the pandemic has had on industries and the growing focus on lowering emissions, we believe we are now poised more than ever to help customers navigate the increasingly complex energy environment.
What about for you, personally, when this pandemic is over, what's next for you?
Traveling would be nice! Although closer to a daily normal, I'd cherish being able to swim with my son again in the public pool.
Any advice you'd give to young and aspiring marketing specialists?
Never stop learning… If anything, marketing is always evolving and especially with the ever-changing social media algorithms, human needs and wants, I'd say this is definitely an exciting career if you choose it 😊
Thank you, Jade, for sharing your experiences with us.
The pleasure is mine!
---
The Marketing Expert Series features marketing and communications experts from across every industry. Every month, 2Stallions will showcase the stories and expertise of marketing experts from around the world, join us as we explore how marketers navigate the challenges of the regions and industries they work in. If you'd like to be featured in a next issue of the Marketing Expert Series. Please reach out to us via email.
📈 Are you ready to catapult your brand to new heights? Look no further than our top-tier social media marketing services. Our team of seasoned experts will collaborate with you to develop and execute a winning strategy that will elevate your online presence and propel your business to unparalleled success.