Are you searching for strategies to improve your company's regional presence? If so, you definitely want to focus on website localization to kick things off.
If you have a global or regional audience, digital marketing channels, such as your website, social media channels, and email marketing campaigns help you to reach out to them. However, you may find your concerted digital marketing efforts are not bearing fruit in the forms of conversions.
Why Localize My Website?
A big challenge is that most companies share a single marketing message to their entire audience, regionally or globally. This, in today's digital landscape, does not work. Every digital user that interacts with your brand looks for a personalized message that resonates with them. This personalization can begin with localizing your website.
Internet users are booming – with more and more people coming online. They speak different languages and prefer consuming information in their native tongue. In fact, a survey evidenced that language can have a direct impact on purchasing behaviours.
Website localization does not end with translating your content into different languages though.
The goal of localization is to build up your branding in each locale to foster trust in the audience from there. This, in turns, leads to growth and success in that locale.
Website Localization Considerations
Let's take a closer look at how you can achieve a localized online experience on your website for your audience. Effective localization entails the following elements:
1.  Branding
How potential customers perceive your brand matters a lot. If your website does not make an immediate impression, they are likely to tune out within a few minutes.
You may need to revise your branding message or tag line for different regions to connect emotionally with your potential customers there and establish your brand identity and awareness. A direct translation may lose its meaning, or even worse, turn you into a laughing stock.
Here are examples of popular slogans that fell into the direct translation trap:
Pepsi. Its slogan "Come alive with the Pepsi Generation" is translated into Taiwanese as "Pepsi will bring your ancestors back from the dead."
Ford. The Ford Pinto failed to break into the Brazilian market. The term "Pinto" is Brazilian slang for "tiny male genitals."
Mercedes-Benz. The luxury vehicle attempted to enter the China market under the name "Bensi," which means "Rush to Die." Later, the company changed its brand name to "Benchi," meaning "dashing speed."
2.  Cultural Nuances
Your localized website should communicate an understanding of cultural norms so that users can better relate to the information and feel at home on the site.
Culture-specific elements such as graphics, images, texts, and basic information like date, time and currency should be specific to that region.
For instance, you would not want to display or pun on hamburgers if your website is localized for India, where it is taboo to eat beef. The same sort of display would work perfectly fine in China and other parts of the world.
3. Transactions
E-commerce business sites offering transactions like product purchases or subscriptions should account for transactional elements like currency and payment options.
Your website should have an on-site price conversion to assist users in making purchase decisions, or even better, be able to accept the local currency.
Certain countries may have popular payment methods not found elsewhere. Being able to offer local payment methods reduces friction and results in greater sales.
For example, in Indonesia, payment processors like Xendit allow people without bank accounts or credit cards to complete transactions offline by paying in cash at over 10,000 retail outlets.
4. Communication
Communication plays an important role in engaging a local audience. A localized website should include trust elements such as local phone numbers, a local business address and in-language customer support capability.
Offering multilingual customer care unlocks sales opportunities. Foreign-speaking customer service representatives break through the language barrier issues, ensuring better service to customers and increasing trust in your brand significantly.
Benefits of Website Localization
1. Increase Brand Credibility
Websites that understand the linguistic and cultural distinctions across regional markets are more likely to receive customer's trust and respect.
As mentioned earlier, in-language content can influence a consumer's likelihood to make a purchase. This is because when you have a localized website with content in the local language, visitors perceive your brand with more trust.
Product or service information written in the widely-used native language could lead to increased profitable actions like product purchases or lead form submissions.
However, do note that you should probably hire professionals to translate your website. While automatic website translation via something like Google Translate is a lot more economical, the direct translation may lead to miscommunications via inconsistent brand messaging.
2. Effectively Cross Geographical Borders
While English is the most common language, only 20% of the world population or around 1.5 billion people speak it as their first language.
Website localization bridges the language gap and taps on a non-English speaking audience. This leads to increased customer reach within the specific region you are localizing for.
Over a period of time, this leads to stronger brand awareness in that region, generating increased word-of-mouth and better conversions for your brand.
3. Drive Better Results Online
Website localization also involves optimizing for search engines.
Local SEO optimization means your localized website has a greater chance of ranking on Google within that country for keywords that your global site would find difficult to rank for as your pages would not be as optimized for the local nuances.
For example, in the automotive space, trying to rank in both the U.S. and the UK – both English-speaking countries – is not that simple. See the table below for the nuances between the two. Your UK or US localized website would bridge that gap, allowing you to rank on search engines in both countries.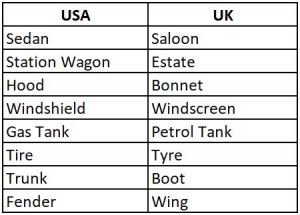 How Do I Localize My Website?
If you are convinced that you need to localize your website, here are five tips to adapt your website to a specific market:
1. Create Exclusive Content
You should develop exclusive localized content instead of doing a word-for-word translation of your existing website. The best approach would be to think of it as a new website when creating content, so you can use the appropriate terminology, expression and punctuation that is reflective of your target audience's culture and society.
This will avoid misleading messages and drive better customer engagement and increase customer loyalty.
2. Localize Images, Symbols & Colours
You may need to tweak your branding guidelines slightly for different markets. Pay attention to symbols, colours and imagery being utilized on your website.
Colours have different meanings in different cultures. For example, green is a traditionally forbidden colour in Indonesia and represents death in South America as it is associated with dense jungles. In most Western culture, however, the colour represents luck, nature, and environmental awareness.
Same goes with symbols. Hand gestures, for instance, can mean different things in different cultures. In the USA, horn fingers signify approval or "Rock on" while in Latin countries such as Brazil and Argentina, it is considered an obscene gesture that their spouse is cheating on them.
3. Seek Help from Local Experts
Producing unique content for every market can get time-consuming. Look for local experts who can help not just with translations, but also produce unique localized content for you.
Individuals who speak the local language and understand the local culture better can help your content come across as more authentic and allow your brand to resonate better with your target audience.
4. Plan Your Multi-Regional Website Domains
Catering to multilingual audiences means you need to plan for a multi-regional website. You can localize your website domain in several ways to signal to search engines like Google to start ranking you within that country's search results.
Country-Code Top-Level Domain (ccTLD). This two-letter domain extension is fixed to a specific country (i.e. .sg for Singapore and .my for Malaysia). Using this domain name will help users and search engines identify a website as being focused on a specific geographic location
Generic Top-Level Domain (gTLD). This is a generic domain name ending with .com, .net, and .org. You can set up geo-targeting for GTLD websites by using a geographic sub-domain or sub-directory structure. For example, sg.yourdomain.com or yourdomain.com/sg and then informing Google about that via Webmaster Tools Geographic Target setting.
5. Add A Multilingual Navigation Option
Set up a global navigation system that allows visitors to select their specific localized version of your website.
One of the most common designs used is a drop-down menu, wherein users select their language from a list. You may also use a dedicated landing page that allows users to select their location or language.
Additionally, you can choose to immediately redirect visitors to a localized version when they enter your global domain by checking their IP address. This further reduces friction, resulting in fewer visitors dropping off.
Go Local If You Can Afford It
Website localization may be a complex process, but it pays off. It will increase the appeal of your website for audiences in your specifically targeted markets and result in better conversions – purchases or leads – digitally for your business.
🚀 Supercharge your online presence with the Leading SEO Firm in Singapore. Our data-driven strategies guarantee more traffic, more leads, and online success. Contact us now to ignite your digital journey!