No matter what type of business you are in it is always a must to ask yourself one question – how much of the overall revenue should we put in marketing? And while there is not one definite answer to that question, there are a dozen blueprints from successful companies that you can use as a guideline to this question. Truth be told, even in the same industries, companies tend to have different budgets to their marketing efforts.
According to Chron, The U.S. Small Business Administration recommends spending 7 to 8 percent of your gross revenue for marketing if you're company is doing less than $5 million a year in annual sales and your net profit margin is in the 10 percent to 12 percent range. However, this is just a guideline and there a lot of big businesses that do not even follow this number.
For these bigger companies (those falling in the $25 million and $11 million range) the magic number is about 9 to 10 percent according to Vital. As stated above, this stat does not refer to all companies. As a matter of fact, a lot of those big brands that we know and love are way off when it comes to marketing budget.
To prove this point, you don't have to look any further than the giant tech company, Microsoft. Microsoft puts a huge 18 percent of its revenue in sales and marketing. That is about double what the recommended budget is. Shockingly, some companies are even taking it further than this figure.
The rise of digital marketing has a lot to do with this. As we go along, we shall learn more about this facet of marketing. First, let us first know more about marketing budgets of various companies and industries.
What's In the Marketing Budget?
Marketing budget often varies per company and marketers are always playing the guessing game on how much their competitor is spending. The Wall Street Journal reported that marketing budgets actually vary by industry with consumer packaged goods leading the trail with 24% of their overall budget being spent on marketing.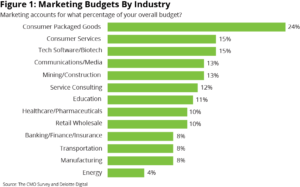 So, what does a marketing budget comprise of? It actually varies per company. According to the report, most companies put the expenses of their marketing employees in the general administrative expenses. But almost half of the companies that were surveyed include it in their marketing budget.
Another interesting thing to note is that majority of companies include direct marketing expenses such as trade promotions, direct marketing, and advertising in their marketing budget. This, again, varies from industry. Here's a graph showing what's in the marketing budget by industry.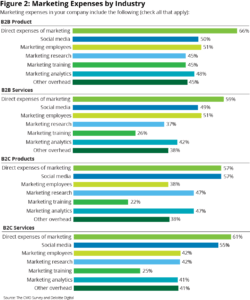 Marketing Spending On The Rise
This year, the marketing budget average is expected to be at 12%, which is an increase from the 10% average budget most marketers had back in 2014. This is definitely good news to marketers who want to expand their reach and efforts. But why is the marketing budget climbing up each year?
According to Resonate, the largest factor affecting the increase in marketing budget is an increased need for technology. Particulary one that can expand influence by using precise, target, and people-based marketing. Companies are now aware that marketing in the digital age is more than just brand awareness. Marketing is the driving force in getting more revenue.
Most companies are realizing the important value marketing brings in. Buyers are now smarter when it comes to choosing products and have been interacting more with the marketing efforts from the company. Therefore, more effort is put it on customer experience and digital experience.
Gartner's CMO Spend Survey found out that in 2017, website, digital commerce, and digital advertising will be the top 3 areas most companies will be spending their budget on.  The data shows 52% of marketers will increase the budget they spend on their websites. 61% agrees that digital commerce is a high priority in meeting their annual goals. And lastly, 65% of marketers will increase their spending on digital advertising.
How to allocate Budgets Across Channels
Given now the knowledge on what usually is included in a marketing budget and how it has recently been on the rise, the question about how to allocate your marketing budget must have come to mind.
Marketing budget allocation often factors in the nature of the business, competition, and customer behavior. However, here is an average on Marketing Spending in 2016.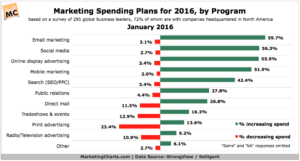 According to Web Strategies, there is a decrease in budget allocation for traditional channels. This might be the case since in a separate study in 2014, it has been found out that the most effective marketing activities in generating ROI are email marketing, organic search, and content marketing. These activities together with marketing technologies and automation have proven to achieve remarkable results in the past years.  This year, marketers from around the world are predicting that content marketing, big data, along with marketing automation will continue to rise as the most important factor in boosting sales and leads. The graph below will show you an idea on where to allocate your digital marketing budget for 2017.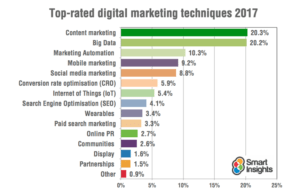 Chart by: Business2Community
Rapid Digitalization in Singapore and SE Asia
As of January 2017, there are 320 million Internet users in Southeast Asia according to a report by ASEAN Up. In Singapore alone, a whopping 82% of its population are Internet users. 77% of them are active in social media. Here's a quick glance on the digital population of Southeast Asia.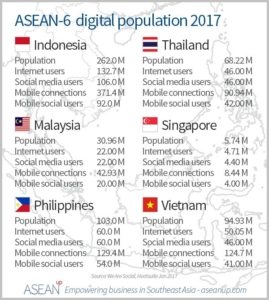 In 2014, only an average of 7% from the total marketing budget has been spent on digital channels in Singapore. However, given the rapid increase of digitalization in the country, it is estimated that by this year, 34% of the total marketing budget is going to be spent on digital channels. According to SPH Magazines, the Internet is a vital part of the decision making process of a customer since 55% of Singaporeans conducted both online and offline product research prior to purchasing.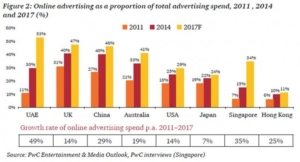 Marketing to consumers has evolved over the decades and that has also changed how companies budget themselves. Consumers are a lot smarter. With plenty of options and competitors around, marketers have focused on other avenues for their efforts. With the continuous rise of internet users in Asia, companies have begun allocating much of their budgets into digital marketing.
This trend will continue to go up for the foreseeable future. With all of this information about marketing budget, now is the best time for you to create yours. Feel free to share with us how you tackled your marketing budget plan in the comments section.
Look no further than our integrated marketing agency in Singapore to confidently empower your brand presence. With our highly effective strategy, we guarantee to drive traffic, boost visibility, and position you ahead of competitors for sustainable growth and unmatched success.