The Internet is an inexpensive way to spread the word if your company can do it effectively. Search engines, video streaming sites, and social networks have become the new television. An SEO agency or specialist can provide plenty of affordable solutions, but who should you put your money on if you're about to undertake a new campaign?
Digital marketing firms can be completely focused on SEO.  Most agencies offer an "all-around" solution to all your web needs including social media promotion, content production, local-oriented SEO, and other factors that can help you rank your website.
Another is the independent SEO specialist, who is considerably reliable based on their case studies, previous projects, and testimonials from previous clients. These individuals are often active in business forums, helping and providing informative, actionable solutions for businesses.
A business can spend an average of $75 – $200 an hour using SEO firms, according to Moz's SEO pricing costs survey of 600 and more agencies. The data also indicates that the service prices vary depending on which country the company is situated. Moz even shared its insight that an SEO agency working on a project basis with a client costs about $1,000 – $7,500, amounts usually set as budgets with defined expectations between the firm and the client.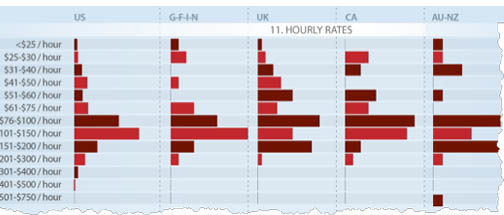 Moz's data also suggests another thing: Some SEO companies earning these amounts usually have 1-5 employees; about 52.2% of their respondents have a 1:1 employee-client ratio. If you will have a singular SEO specialist, then you can deduce that it can be affordable to use an independent SEO specialist instead.
If you get what you pay for out of an SEO project, you can consider it as money well spent. To ensure you do, the service must have done you a favor when it comes to the following areas:
Resource Management: An SEO agency or specialist's ability to use affordable but efficient sources to meet the deadlines often lowers their costs (and makes them reputable if they have previous case studies). They guarantee there are no overhead costs even after the project and they account for all receipts regarding any software, tool, or other resources they used.
Frees up Your Time for Priorities: Any business owner will hire a specialist or agency because industry-dedicated and studious professionals allow them to free up their time to focus on business growth and other business essentials.
Accountability on Results: Speaking of outcomes, the SEO agency or specialist, having not met the deadline's expectations, must hold itself accountable for extending their helpfulness towards a feasible resolution of the particular aspect with their clients. They can offer further revisions depending on the initial agreement before using their services.
Point by Point Comparison
Cost-Efficiency
Most SEO specialists, given their years of experience in the field, have all resources in place ready to process your issues and manifest the expectations you develop with them. These professionals work with your business intimately and handle any other issues that crop up personally. If you have a minor problem that limits the performance of your SEO campaigns, you can hire a specialist that works by the hour and spend less (which is excellent resource management on your part).
Agencies are often firms created by pals who have worked at one point as independent specialists, which is often true for many digital marketing firms. Given their collective experience in the field, they have a better variety of tools that allow them to meet your goals. Most companies also give you a budget estimate that they will strictly follow, making it unlikely to have overheads post-campaign implementation. Creative Cali believes the right company will never have hidden fees and will care deeply for clients, too.
Positive Contributions to Business Growth
Specialists handle each client individually and use a variety of solutions based on their knowledge and professional interpretations derived from their analytic tools. Given they work individually, they have a complete view of the entire campaign's details from keyword research to view-through rates of your social network or YouTube videos. They can let you focus on growing your business while they handle your SEO needs, but they can introduce overhead costs in some occasions especially if they outsource certain duties to other SEO specialists in certain fields to meet your deadlines.
SEO agencies work with your budget and have a selection of specialists that excel in certain SEO fields. Both senior and junior teams work together through structured processes, which make their analytic interpretations produced fast and accurate. The immediate presentation of data makes it faster to scale your campaigns because you can make an informed decision with the presented data. However, their contributions depend on the availability of their clients and the budgets you set; most firms will divert their attention on large-budget projects to meet deadlines.
Accountability on Results
Specialists work on a timetable and monitor campaign's performance consistently. They can offer a heavily discounted monthly rate for this service because the maintenance of the SEO's performance is the only goal. However, specialists on a project-based fee can provide one or two months of free maintenance to their clients.
An SEO agency can offer revision services after each project depending on the service packages they provide. In general, high-budget projects often have unlimited revisions.
Verdict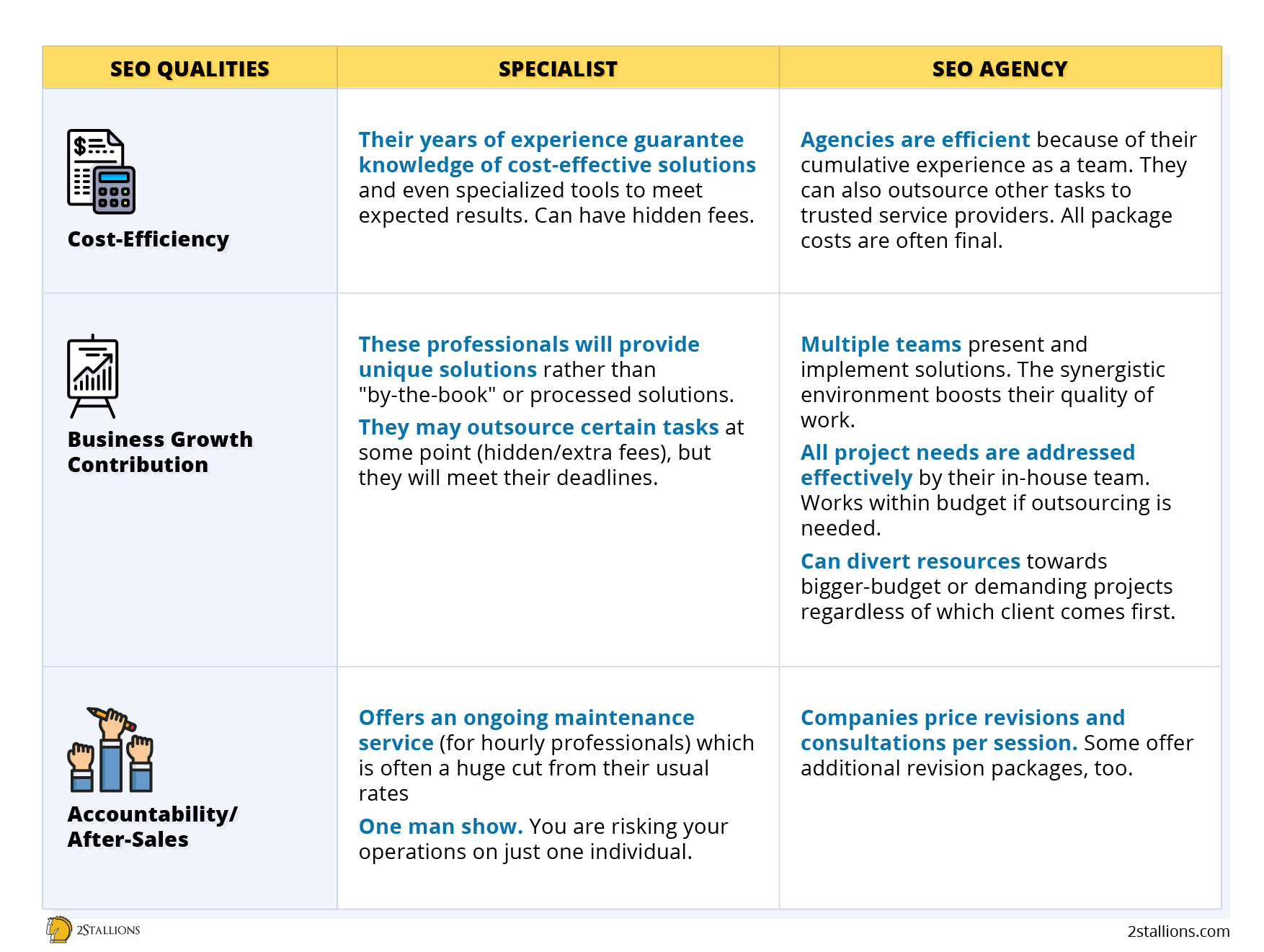 And the winner is…
Both service types.
Both SEO specialists and agencies can be used on a situational basis. If you have a big project that needs a wide-scale implementation within a short timeframe, you will want a team to focus on the task and only paying once regardless of costs makes agencies a great and profitable solution. If you have a small project that needs a quick solution at a fixed price, specialists can be right up your alley.
Wrap Up
Any SEO agency or specialist you hire must meet these three variables to ensure you get your time and money's worth when using their services. Small and medium-sized businesses thrive on a shoestring budget and every penny counts. Digital marketing is affordable, but it can still be costly if you invest in the wrong party.
Make sure to note the concept of the Iron Triangle before making any decision to hire. If you want it done fast and good, then you will have to pay a premium in exchange. Want something quick and affordable? Then you compromise the product's quality.
📈 Ready to elevate your online presence? Search no further! Our highly-rated SEO company in Singapore is staffed with a team of gifted and imaginative individuals committed to assisting you in making a lasting impression online. Don't delay any longer to leave your mark – reach out to us now!