Is your business barely getting leads from your email marketing efforts? If yes, that's one sign that you need to optimise your email marketing strategy.
Getting through your potential and existing customers' email inboxes doesn't always guarantee results. Not all of your email recipients will open your emails. Some of them might leave them unread for days, weeks, or months.
So how do you triumph over email marketing challenges? We have one word for that—tactic. The good news is that there's not just one but five tactics (5Ts) that can guide you towards email marketing success: target, tease, teach, test and track. 
5 Ts to Improve Your Email Marketing Campaigns
---
1. Target
In every marketing strategy, you must create campaigns or content that resonate with your target audience. You must offer personalised experiences whilst anticipating what they need and want at the moment.
The same thing applies to email marketing. The more personalised content you provide to your readers, the more chance to engage them and convince them in taking action.
Netflix, for example, is one of the companies that capitalise on the power of personalisation. Some of its notable personalised email marketing campaigns include "[Name], we just added a TV show you might like," and "What's playing next, [Name]?"
By tracking the user's activity, the streaming entertainment service giant gets to know the interests and preferences of their subscribers. The collected data helps Netflix craft emails with show recommendations or upcoming movies that match users' cinematic tastes.

This tactic is something that email marketers could borrow and practice. Tailor your campaigns according to your prospect and current customer's wants and needs to encourage engagement and re-engagement, respectively.
2. Tease
Teaser marketing campaigns are one of the most effective ways to build anticipation and trigger curiosity. They give the audience a sense of exclusivity as if brands share a special secret with them.
Guess what? You could also embrace the concept of teasing to optimise your email marketing strategy. But before you do, be sure to tease your target audience appropriately. 
Here are a few tips to employ this tactic in your email campaigns:
Write catchy, relevant subject lines. Since subject lines are the first thing people see when opening their emails, make them as engaging as possible. Avoid the click-bait route and tease your email content accordingly.

Also, long subject lines usually get chopped off, so keep it short and sweet. While the length is crucial, you should also consider adding words that reveal what's inside your email content, like:

"First look at your new fashion piece!"

"Our makeup MEGA sale is back!"

"Here's our birthday treat for YOU!"

"FREE SHIPPING for a limited time only!"

Know when to send your email(s).

Teasing can be harmless fun, or it can be hurtful — it's the same in email marketing. Your email teasers might trip up your efforts, especially when not sent at the ideal time.

Timing plays a pivotal role in the success of your email marketing campaigns. If you don't get the timing right, you're doomed. Here's when you should send out your email campaigns:

New product release – two to four months before the product launch. Reveal details one at a time to instil excitement. 

Special event – two weeks to one month before the event. 

Upcoming sale – days or weeks before special sales (i.e., Christmas Sale, Black Friday, Cyber Monday, etc.)

Use compelling visual elements.

Like subject lines, email campaigns with an eye-catching design promotes engagement. Play with colours and make the email copy visually appealing to boost your email engagement and conversion rates.
3. Teach
Most email marketing campaigns don't generate results because they lack an essential element: the takeaway. Campaigns should always touch the recipient's questions like "What's in it for me?" or "Can this product/service solve any of my problems?"
If your campaign fails in this category, it's about time to optimise your email marketing strategy. Begin working on fulfilling your target customer's needs by leaving them with helpful information.
So how can you incorporate the teaching tactic into your email content? Here are a few tested ways to do it.
Avoid hard selling. Approach your email recipients with education insights, rather than pushing them to buy your product or service.  

Provide solutions to problems. The idea is to present the benefits of making a purchase and not to enumerate the product's features.

Offer informative content. Writing valuable content pieces that follow a trend or recipients can use in the future. Suppose you run an e-commerce fashion store. You may send a newsletter on how to dress like Lily Collins in 'Emily in Paris' Netflix show. 
4. Test
Any email marketing strategy can never be proven effective unless tested. This is why you should test your emails to determine the best way to connect with your email recipients.
There are several email testing methods—and A/B testing is one. As the name implies, it works by sending two variations (A and B) of your email to two sets of subscribers.
Once the test has concluded, you will find which variation of the campaign garnered the best results. 
Let's take a look at the example HubSpot Academy cited in its "Testing Your Marketing Emails" lesson.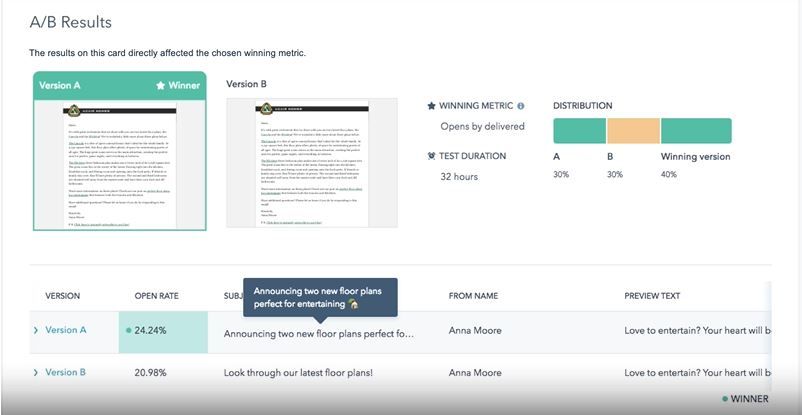 Source: HubSpot Academy
AdairHomes used A/B testing to optimise their email subject lines. The results show that version A, the more descriptive subject line has higher email open rates than the shorter subject line.

Running email tests like this lets you understand how your prospects or customers want to receive the information. Not only does it enable you to maximise open rates and click-throughs (CTRs), but it also helps you establish customer trust.
5. Track
Like testing, tracking your email campaigns also contributes to email marketing success. Constant tracking enables you to take the next necessary actions based on the collected customer data.
You could gauge the effectiveness of your emails using email marketing tools, such as Google Analytics (GA), MailChimp, and Bloom. If you're already using Google Analytics in tracking website performance, might as well use the tool in tracking your campaigns too. 
Follow the steps below to start tracking your email open rates and clicks using GA:
Log in to your Google Analytics account. If you don't have an account yet, click

here

to create your account with ease.

Create a trackable URL. Google Analytics works with JavaScript code to track the user's actions. For example, a recipient clicks the marked link in your email content. Google Analytics records the actions taken (i.e., clicks, downloads, video plays, etc.). Here's how to make a trackable URL:

Go to Google's Campaign URL Builder or any free link-building tool to build your custom URL.

Enter your website URL.

Enter your campaign source.

Input your campaign medium.

Add your campaign name.

Copy the URL.

Add the URL to your emails.


Start monitoring your email campaign results in your Google Analytics account by doing the following steps:

Open your GA account, then select Acquisitions. 

Click Traffic, then go to Source/Medium.
Email campaign tracking isn't something you can set aside, especially if you want to optimise your email marketing strategy. So, take a good look at everything to keep your target audience at the core of all your efforts.
Summing It Up
Email is far from dead, so is email marketing. You may be struggling now to generate results thru email, but that doesn't mean that the marketing tool is no longer valuable.
The solution to your problem is pretty easy—take your email marketing efforts up a notch. Incorporate the five Ts (target, tease, teach, test, and track) into your strategy to achieve your desired goals.
If you need expert help, 2Stallions would gladly take the challenge. We will help you reach out to and grow your community of fans and customers through email marketing. 
As a leading email marketing agency, 2Stallions can help you unlock the full potential of your campaigns. Let us tailor a strategy that captivates your audience, drives engagement, and boosts your ROI.