Email marketing is not dead. In the past, the focus of email marketing was coming up with attractive (and sometimes misleading) headlines in the hopes of grabbing someone's attention. While the headline is still important, marketers have evolved to make emails more noticeable.
Text based emails a requirement as they are best for those with slow internet connections. However, a clever combination of visuals and words are more effective in keeping your audience engaged. This is where HTML email templates come in.
HTML emails are more attractive to viewers as they are more visual and interactive. Don't let the programming term throw you off, though. Email marketing software should make it easy for you to set one up quickly. Before we get into that, let's see why email marketing is important.
Why is Email Marketing Important?
Emails are prone to be deleted or left unread by recipients. This results in some business owners and marketers dismissing email marketing without a second thought. However, according to Campaign Monitor, such dismissal mean you could miss out on:
Getting a wider reach
Having your message seen
Achieving higher conversion rates
Getting higher ROIs
These are just some of the benefits of email marketing. If you want to make more product sales and earn the trust of your audience, I recommend you start utilizing it. Still not convinced? Read the 10 benefits of email marketing.
While creating HTML email templates may sound daunting, most email marketing software are designed to make implementing them easier. Now, let's talk about the most popular one amongst small and medium businesses – MailChimp.
What Is MailChimp?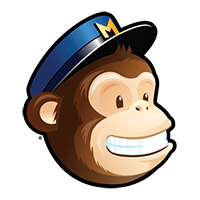 MailChimp is an email marketing software that will change the way you market your product online. It offers a variety of easy options for designing, sending, and saving email templates.
The software has an easy to use interface, making it one of the most popular software out there.  Just ask the millions of users who continue to use MailChimp as their email marketing tool. Already using MailChimp but finding it hard to build a mailing list? Check out Mailing List 101: Why You Need One And How To Build It.
Why Use MailChimp?
Here are a few reasons why users prefer MailChimp for their email marketing:
It will be your personal newsletter-publishing platform, allowing you to create newsletters of varying types, fast and easy.
Empowers you to build a list of the people you want to market your products to, and save the list for use later on.
Helps you to create and save custom templates for your products, thus saving you the trouble of writing a new one every time the need arises.
The best bit is that MailChimp offers a free-to-use version that lets you grow to 2,000 subscribers and send out 12,000 emails per month at NO cost.
Due to its popularity, I'm using MailChimp to show you how to set up a custom email template in the next section. If you're looking for options other than MailChimp – scroll past the next section to read about them.
How To Set Up A Basic Campaign Email Using MailChimp Templates
Once you've signed up at MailChimp for your account, you can follow this step-by-step guide to make a simple, yet beautiful, email using an existing MailChimp template.
1. Login with your account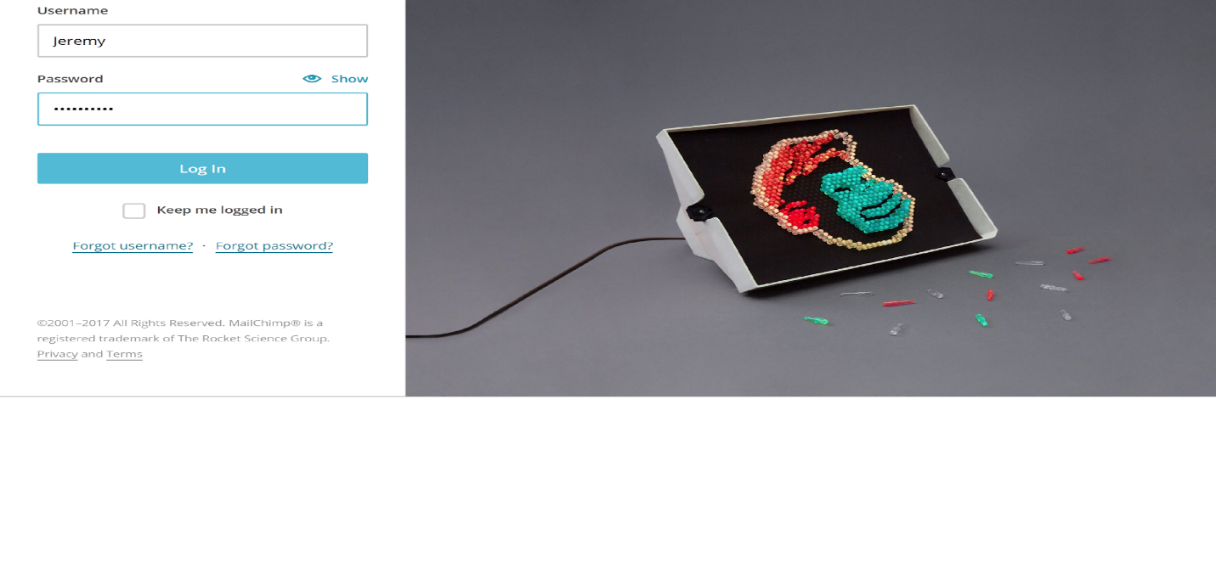 2. Click "Templates"

3.Choose"Create Template"

4. On the next screen, you will see three options to get started with templates -Layouts, Themes and Code your own.
Layouts provide you with a plain HTML email layout created by MailChimp.
Themes give you options of several complete email templates filled with dummy content.
'Code your own' is for developers, and shows you pure HTML code to work with and requires programming skills.

5. Choose Themes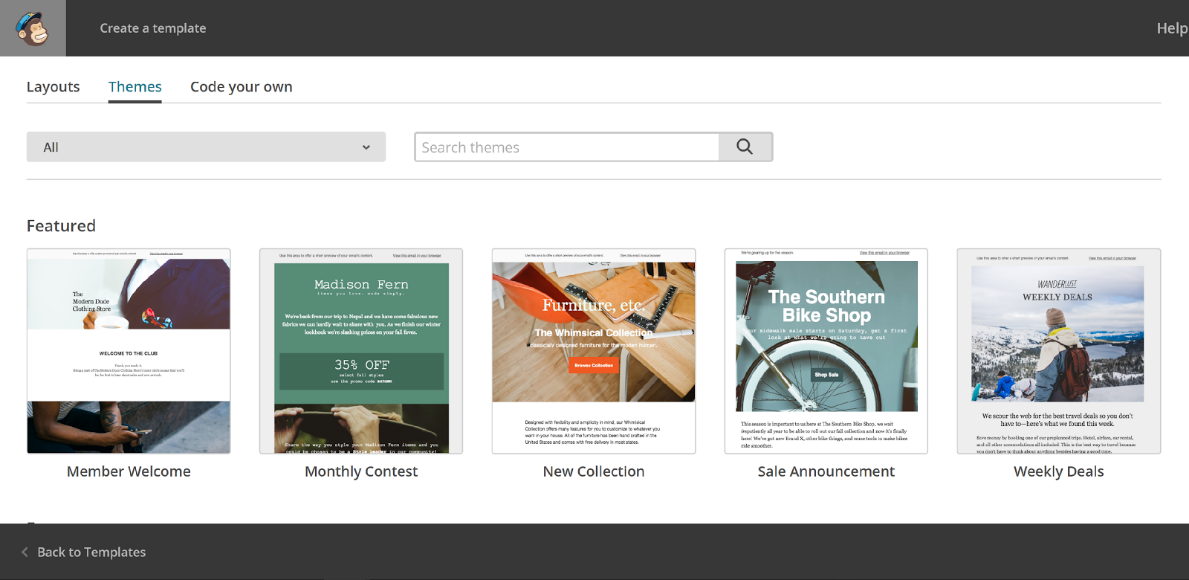 6. I will choose the "New Collection" Theme for this guide.
7. In the next screen, you should see the email to be sent out on the left and the Designing tools on the right.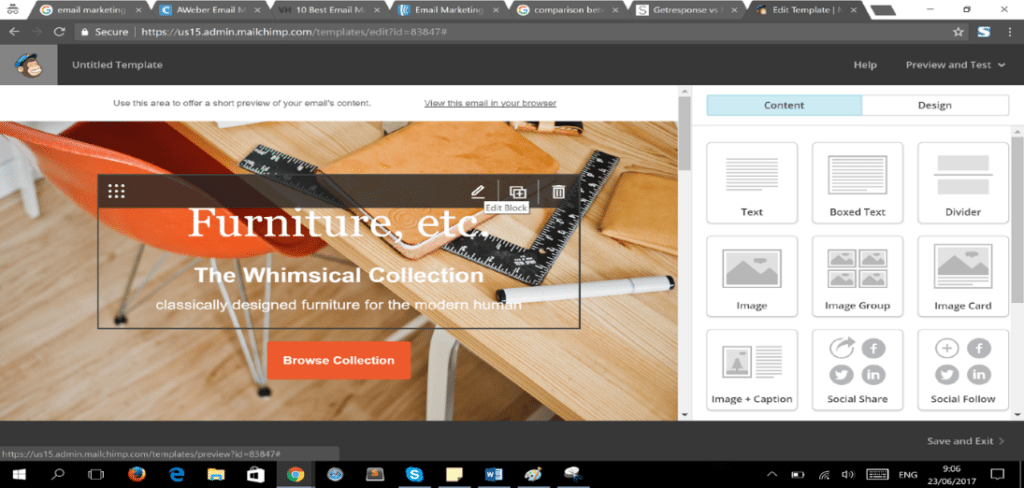 8. Designing tools have 2 tabs, for content and design.
Content includes elements used to design within our email template. 
Design is setting for overall email elements like text font size, font color, etc. 
9. If you want to edit an element within the email shown on the left, just hover your cursor over that element and it will show a black border around it. When this happens, just click the pencil icon and the Designing pane on the right will switch to display the currently selected element settings.
10. To add a new element, select the element you want from the Designing Tools under the Content tab and drag and drop it to the Email on the left side, placing it where you want it. The Designing pane changes to show the settings for the new element so you can make the changes you want to it before you hit 'Save and Close'.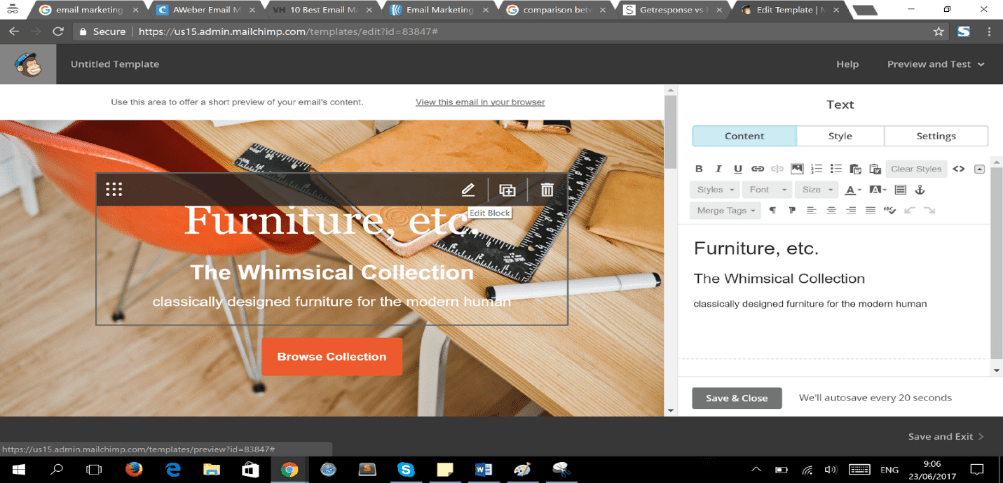 11. Make your edits and hit "Save & Close"
12. After you have made the changes you want to the email, you can click Preview & Test.
13. The preview screen shows how your email template would look like on both desktop and mobile.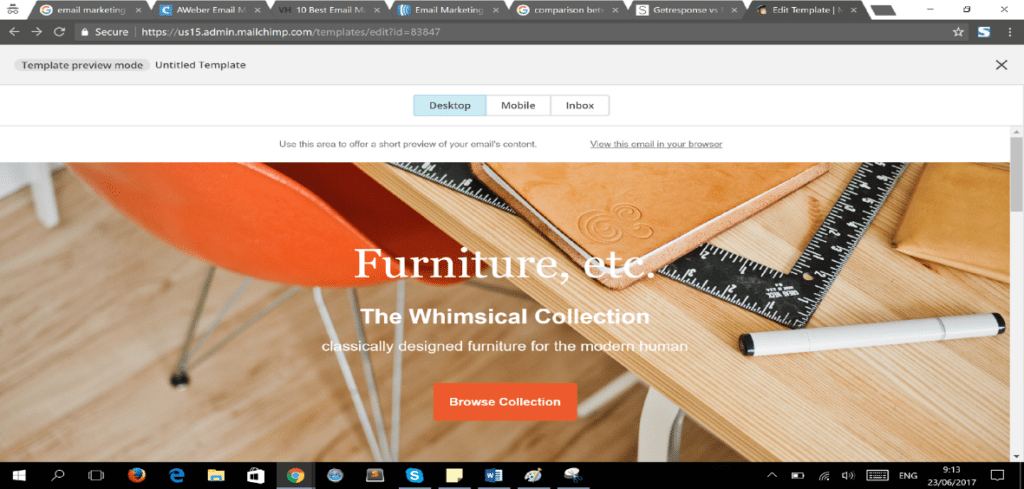 14. Test Mode asks you for a test recipient's email address. If you want to test the template on multiple emails, simply separate them with a comma.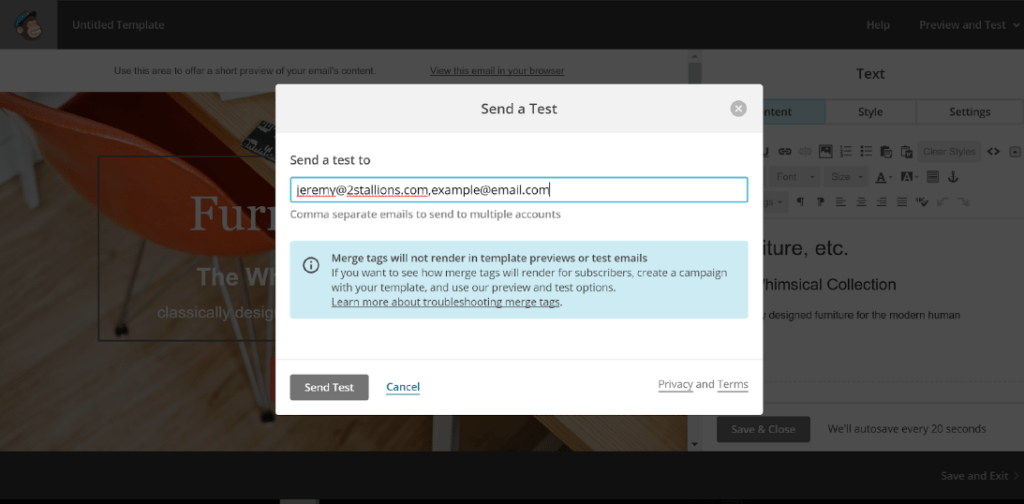 15. Once everything looks perfect, you're good to go. Remember to hit save and exit after giving your template a name.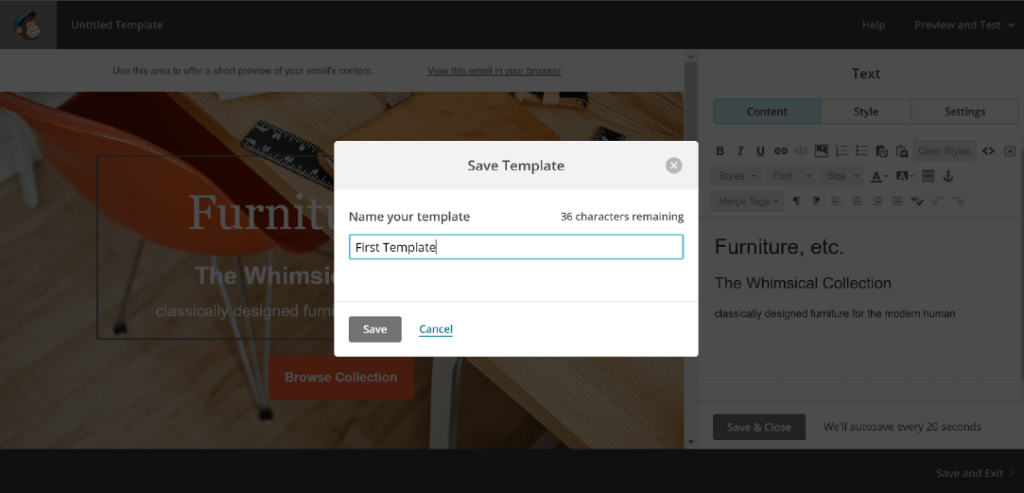 That's it. It's simple, right?
Tricks To Create An Email Template Using MailChimp
Here are a few tricks for creating an email template that is compatible with almost any email client (Gmail, Outlook, etc):
If you have coding knowledge, be sure NOT to use margins
Use " " (white space) instead of ' '
Use images instead of text
Less details, more links
Even though MailChimp will scale down images for you, you need to make the image size the same as the container size to avoid inconsistencies when sending to multiple email clients.
What other options are there?
If you don't think MailChimp is for you, don't worry. There are a lot of email marketing software options although most others do not have a free version like MailChimp. These are some of the others I've used or currently use:
SendPulse (https://sendpulse.com/)

Has a survey management system that can help us collect responses from our clients to know what they're interested in.
AWeber (https://www.aweber.com/)

Has a Spam check that will let us know if our email may be considered spam before we send it.
Infusionsoft (https://www.infusionsoft.com/)

Great email marketing software. It has powerful analytics, a baked-in CRM, campaign builder and an e-commerce platform. This is what we use at 2Stallions and it's very powerful and works great!
If you're already using email marketing software and are wondering what's next or how to optimize your business further – a marketing automation software may be what your business is looking for. Read Why Big Brands Rely On Marketing Automation To Do The Heavy Lifting to learn more about the benefits of automation.
Are you in search of trustworthy email marketing services? Look no further than 2Stallions – the leading email marketing firm. We specialize in creating bespoke strategies that captivate your intended audience, boost engagement, and optimize your return on investment. Enhance your brand with us today by clicking the link to get started!