eCommerce sales are on the rise, especially in Southeast Asia. The exponential increase in revenue from eCommerce is driving more businesses to adopt an eCommerce platform or sign onto a third-party marketplace. 
According to Forbes Advisor, the global eCommerce market is expected to total $6.3 trillion in 2023. Statista reports that eCommerce revenues are expected to grow 14.59% annually, with a projected market volume of US$249.70 billion by 2027.
Similarly, Accenture reports that digital commerce will dominate the APAC markets. The use of eCommerce will only increase from here, and if your brand isn't on the bandwagon yet, maybe it's time to climb on board.
Growth of APAC Digital Commerce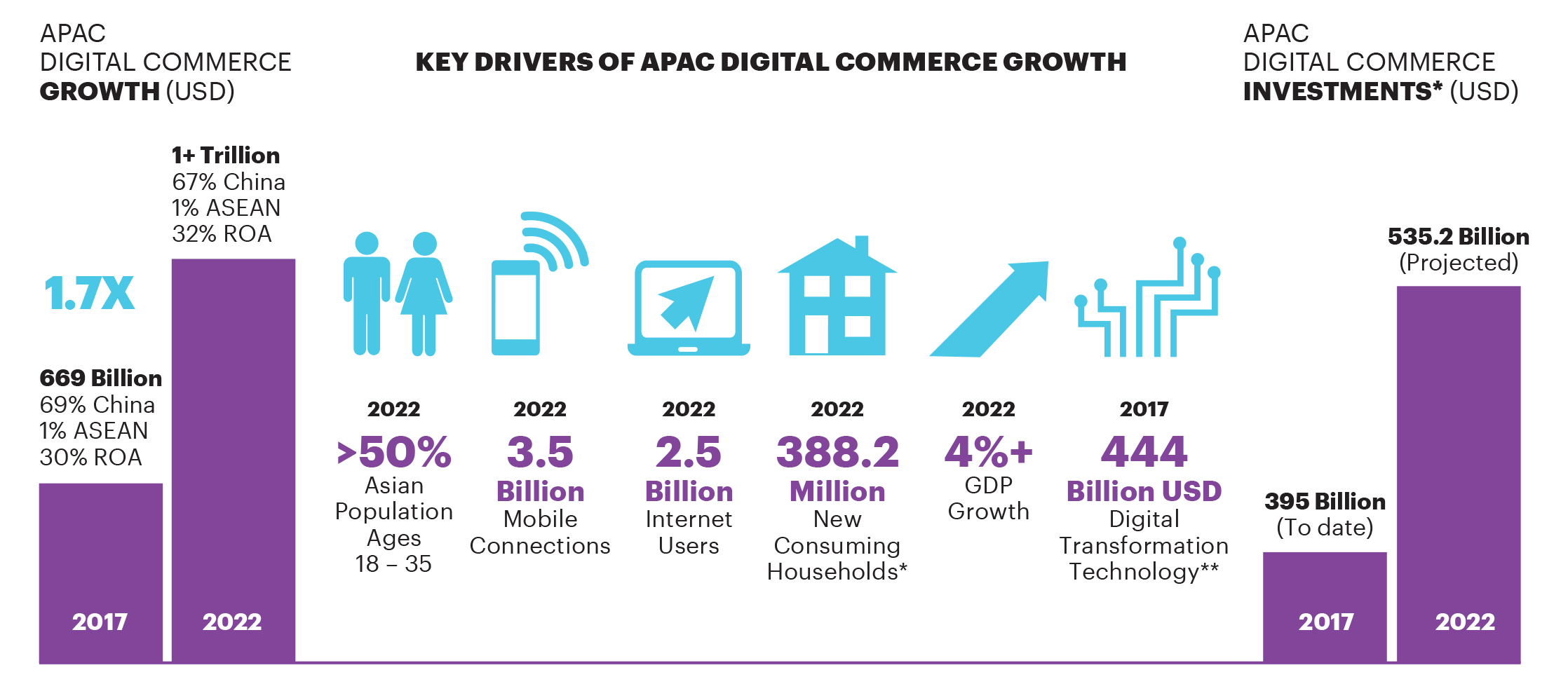 eMarketer reported in August 2023 that eCommerce sales can surpass US$6 trillion by 2025 despite the slight slowing of growth in the post-COVID-19 pandemic period. 
The digital commerce landscape in the APAC region is experiencing unprecedented growth, driven by various vital factors. 
One of the most significant drivers is the demographic advantage of having more than 50% of the Asian population between 18 and 35.
Technological progress has made it easier for businesses to establish online presence and reach customers across borders. From secure payment gateways to user-friendly interfaces, these technological developments have created a seamless shopping experience for consumers, further fueling the growth of digital commerce.
While multiple drivers are contributing to the growth of digital commerce in APAC, one cannot overlook the significant impact that a young and tech-savvy population has on shaping this thriving industry. 
As more businesses recognise these opportunities and adapt their strategies accordingly, we expect exponential growth in the region's digital commerce sector.
But where should you start? With so many options available, it's essential to put the right foot forward and not waste any more time, so let's get some basics out of the way first:
What is an eCommerce Platform vs. a Third Party Marketplace?
An eCommerce platform represents a sophisticated software application for online brands. It integrates various components essential for running an online business. 
These components encompass managing the brand's official website operations, executing targeted marketing campaigns, and facilitating sales processes. By combining all these facets in a single location, eCommerce platforms provide brands with a unified and efficient control centre, simplifying running an online business.
Brands can merge eCommerce platforms with their existing websites and other software applications, ensuring a consistent and immersive experience for their customers. 
For instance, consider an online cosmetics brand named "GlamHaven." By utilising eCommerce platforms like Shopify or BigCommerce, GlamHaven can offer customers its array of beauty products through a seamless and brand-aligned interface on its website.
Meanwhile, third-party marketplaces are online platforms that provide a marketplace for sellers to list their products or services. Instead of setting up an independent online storefront, sellers can leverage these third-party marketplaces' infrastructure and customer base. 
Examples of such marketplaces include Amazon, eBay, and Etsy. Sellers can list their items on these platforms, reaching a wider audience and utilising the marketplace's existing traffic and user base. 
However, the trade-off is that sellers might have less control over the presentation and branding of their products as they operate within the framework of the third-party marketplace's design and guidelines.
What Are The Differences Between an eCommerce Platform & Third Party Marketplace?
Think of it like this: using an eCommerce platform is like having your brick-and-mortar storefront with your business's branding and messaging – you've bought or rented some shelving from a provider to put into your store. 
On the other hand, a third-party marketplace is more like renting space in a department store to showcase your products or services – you don't have to do all the work of putting the shelves in place, nor do you get to stick your branding all over the storefront. However, you still get to stick out your corner of the store.
What Are The Benefits of Each Option?
Each path offers various advantages, catering to diverse business needs and objectives. Understanding these benefits is crucial for making informed decisions that align with a company's unique goals and resources. 
In this section, we delve into the advantages of both eCommerce platforms and third-party marketplaces, shedding light on the opportunities they provide to businesses aiming to thrive digitally. 
By comprehending the strengths inherent to each option, businesses can make strategic choices that propel their online ventures toward success.
eCommerce Platforms
An eCommerce platform comes in three key packages: OpenSource, SaaS (Software as a Service), and headless commerce. Each of these comes with its requirements and capabilities. 
For example, Open Source eCommerce platforms, like PrestaShop or OpenCart, allow you to customise practically anything by giving you full access to the software's internal code.
This can be incredibly useful, letting you tailor the look and feel of the platform to your – and your customer's – preferences. However, it can be time-consuming and more work without the required skill set. 
SaaS and headless eCommerce solutions are more straightforward options. These eCommerce platforms offer a more plug-and-play answer to the eCommerce question. 
A SaaS or headless eCommerce platform is an existing service that you use to power your online storefront, like Shopify or BigCommerce website.
These are ideal for people needing more time or skills to build their online store in an open-source platform. However, depending on your subscription, they may be less flexible regarding customisation.
Best eCommerce Platforms
When selecting the optimal eCommerce platform for your business, several standout options offer a range of features to meet your specific needs. 
These platforms facilitate seamless online transactions and provide tools to manage your digital storefront, enhance customer experiences, and drive growth. Here are some of the leading eCommerce platforms:
Third Party Marketplaces Vs. First Party Marketplace
Third Party Marketplace
Third-party marketplaces come in all shapes and sizes and are often busy websites with high traffic. This makes it an ideal place for many smaller businesses to get their products out and increase their sales.
The advantage of places like Shopee, Lazada, eBay, or Amazon is that they attract a large number of would-be customers, and with the right approach, even the smallest of sellers can reach their target audiences.
One of the great things about marketplaces is that you have the potential to reach customers who would otherwise never look for your products or services. 
That voluminous traffic, however, is also a double-edged sword. While it can certainly reach a vast number of customers, you also run the risk of not attracting the right ones. 
Another downside of third-party marketplaces is that you must compete for space and attention with many other sellers, even though they may be someone else's direct competitors. 
You risk losing your brand amid the marketplace host's branding and being unable to stand out among all the other vendors.
First Party Marketplace
A first party marketplace, or proprietary marketplace, is an online platform operated by a retailer or brand that exclusively sells their products. In this scenario, the retailer acts as both the seller and the platform owner. 
Amazon's first party retail operation is a prime example; Amazon Retail purchases products directly from manufacturers and sells them on its platform under the Amazon brand. 
Businesses operating in a first party marketplace have more control over their brand's presentation, product quality and pricing.
First party marketplace allows retailers to directly engage with consumers while maintaining control over various aspects of the online shopping experience. 
It will enable them to leverage their brand strength and customer relationships to drive sales and build loyalty.
Should You Go for an eCommerce Platform or a Third-Party Marketplace?
At the end of the day, it comes down to three key things:
Your Business Needs


Investing in an eCommerce platform better serves a more extensive brand with a massive catalogue. At the same time, a company with few products may prefer to start on a smaller scale in a marketplace or smaller platform. If you are a dedicated whole food company, you could tailor an eCommerce platform to your needs, while you may need to catch up in a third-party marketplace and miss out.
Your Customers


Do your customers like specific services you could offer with an eCommerce platform, or will they be just as comfortable in a marketplace? Are there particularities you'd like to provide your customers that you may be unable to do on a third-party platform? If your customers prefer to see your company's branding, then it's essential to give them what they prefer to maximise their experience.
Your Budget


It does come down to the money. Why not go for it if you have the funds to invest in an eCommerce platform? But if that's not the case, then a third-party marketplace might just be where you start. Remember that if you set up an eCommerce platform, you may need to hire someone to set it up for you or train you to use the back end.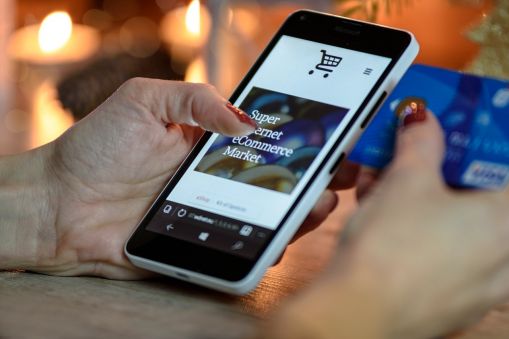 Answering all these questions will help guide you to making the right choice. Your brand should start on a third-party marketplace before setting up an appropriate eCommerce platform solution. 
Alternatively, if your company chooses to integrate its eCommerce platform, research and select the platform that meets your requirements and suits your capabilities, you'll also need to bring in a specialist to set it up for you if required.
If you're considering starting an eCommerce business in Southeast Asia, now is the time to start. When it comes to web and app development, you can rely on 2Stallions. 
As a digital marketing agency in Singapore, we can help to develop an eCommerce website that can market your business online and boost your sales.  Talk to us today!
Originally published: 15 October 2020
Updated: 7 September 2023
Frequently Asked Questions About eCommerce Platform vs Third Party Marketplace.
What is the difference between an eCommerce platform and marketplace?
An e-commerce platform is a software solution that allows businesses to create and manage their own online store. On the other hand, a marketplace is a platform where multiple sellers list their products for sale, such as Amazon or eBay. While an e-commerce platform offers more control over branding and customer experience, a marketplace provides greater initial exposure but less control and usually charges fees or commissions.
What is a third party ecommerce platform?
A third party eCommerce platform is a software-as-a-service (SaaS) offering that enables businesses to build, host, and manage an online store without needing to build it from scratch. These platforms are hosted on a third party server and often come with pre-designed templates, payment gateways, and other features. Popular third-party eCommerce platforms include Shopify, WooCommerce, and Magento.
What is the difference between eCommerce and online platforms?
The term "eCommerce" refers to buying and selling goods or services using the internet. An eCommerce platform is a specialised type of software designed for these transactions. Online platforms, however, can be more varied and not limited to eCommerce. They could be social media platforms, content management systems, or any other software that facilitates interactions over the internet. All eCommerce platforms are online, but not all are designed for eCommerce.
Ready to make an impact online? Our E-commerce Development solutions captivate and inspire your audience to take action. Let us help you achieve online excellence with cutting-edge technology. Set your digital presence apart and spark a revolution today!