Do you already dabble in digital marketing? Chances are you have probably created your company's social media profiles. This is a no-brainer, as social media platforms have exploded in recent years. According to Smart Insights, in 2017, there are already 2.789 Billion active social media users worldwide, so it is important to 'book' your vanity URLs on them before someone else does.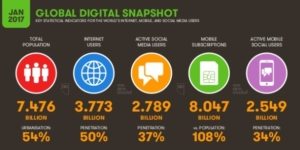 The same source states that social media will continue to grow in the coming years. 2017 saw a whopping 21 percent growth from the previous year. That is about 482 million new active social media users worldwide in the span of one year. Asia Pacific drives the growth with a 25 percent increase in new accounts or roughly about 303 million new users.
Saying social media has changed the way people live today would be an understatement. Of course, where there is a huge collection of people, commerce is sure to follow. Businesses ranging from billion-dollar companies to small start-ups have already taken to at least one social media platform in the hopes of cashing in on the marketing "gold rush".
Toprank blog states that 91 percent of marketers feel that social media has an immediate impact on their company's exposure to consumers. It further elaborates that 70 percent of those marketers experienced a surge of website traffic because of their social media profiles. For the cherry on top – a whopping 50 percent stated that their social media profiles contributed to a spike in sales leads.
Marketers start salivating at numbers like these. However, it is surprising to note that there remains a large group of marketers struggling to even drive traffic to their websites via social media, let alone generate sales leads. If you belong to this group, fret not! We're going to discuss the best ways you can drive the targeted traffic you desire to your website.
1. Get the social media platforms right for your company
Messing up this simple step is an all to common mistake for marketers today. There are a dozen social media platforms to choose from, and not all of them will be right for your company, nor will you have the budget or resources to target all of them.
You must have your intended target market defined before signing up on any social media platform. If you already have a dozen accounts, let the ones that will not help your company in the present moment stagnate without fear, knowing that the majority of your target market will not look for you there anyway.
So how do you decide on the key platforms for your business? First, identify your target demographics (age, location, income status, gender, ethnicity, etc.) since most social media platforms have unique user demographics.
For example, Sprout Social statistics show that 83 percent of adult women use Facebook compared to just 75 percent of men, so if adult women are your demographic, you should probably be on Facebook.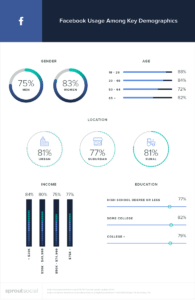 Your target market or geography is also a major factor. While Facebook rules in countries like the United States and India, it is virtually non-existent in China, where Weibo is the leading social media platform with an average of 313 monthly active users.
If you want to target high-income individuals, then you should consider LinkedIn. A study conducted by Pew Research Center shows that 45% of adults earning $75,000 or above use LinkedIn.
Choosing the right social media platforms to meet your company goals will make it easy for you to focus your content on your target audience on driving traffic to your website via social media.
2. Focus on your visuals
In the early days of the Internet, content mainly took the form of lengthy blog posts. However, ever-improving technology and faster Internet speeds have seen a boom in rich media online, especially on social media. Visual material grabs the attention of readers more than just words and the numbers say it all. In a report by Buffer App, visual posts get 39 percent more interaction, 104 percent more comments, and 84 percent more click-through on links than just worded posts.
Visual posts also include video, with video content set to represent 74 percent of all Internet traffic in 2017. When creating your social media posts, your visual marketing can include videos as well as engaging images like memes, infographics, comics, and of course photos.
Starbucks is a company that makes great use of visual marketing. Their Instagram page is always clear, vibrant, and represents what their brand is all about – which is not just great coffee but also a lifestyle.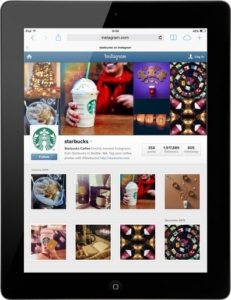 Photo by Socially.ie
3. Limit your posts per day
Bombarding your social media page with a new post every hour might seem like an excellent idea. However, doing this can often be counterproductive for your brand. Audiences do not like being spammed by posts, with information overload being something audiences have been dealing with a lot in the digital age. You don't want potential customers being turned off by your company because you post 20 different things per day.
If your audience starts shunning you on social media, then there is little to no chance they will direct themselves to your website. If you're wondering what the 'right' number of posts is – you can start by gauging the engagement from your followers until you hit a sweet spot. There is also a study from Buffer App, based on their data, that shares the right amount of posting on various social media platforms.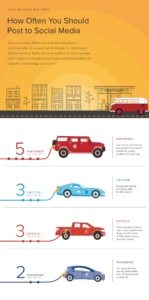 4. Link to your website on Facebook
Have you optimised your About Us page on Facebook? If not, head over there right now because you might be missing a great linking opportunity. Instead of just putting one general link to your website, try putting additional links to other, relevant pages on your website. For example, people interested in an attractive product or service can directly get there from Facebook while those interested in your blog can be directed to your blog page.
Also be sure to add links to your website when posting photos in the description section. The aim is not to spam your audience though. Great copy accompanied by a link to your website usually works well. Here is a Facebook post from Apple that shows how linking to your website can be done effectively.
By making a visually appealing picture of their product and encouraging their audience with a call-to-action to "learn more" about their product after a tantalising teaser about it is an excellent way to get better clickthrough rates to their link.
5. Analyse and learn from your results
Stop guessing which of your posts are working and which are not. Use the power of data to your advantage. There are powerful social media tools that can help you to manage not only multiple social media accounts but also provide detailed reports on your follower's demographics and interactions. If you don't have the budget, you can also analyse the data each social media platform provides de-facto these days.
Learn which posts garnered the most engagements and shares, and trace how much traffic your social media is driving to your website.
Use Google Analytics to help you determine which of your social media activity is working for your website by using a Campaign URL builder to track your clicks. This sort of insight provides you with an idea of what posts drive the best engagement and help with developing your future posts.
Drive website traffic with a strong social media presence
Marketers are continuously striving for ways to use social media to drive traffic to their websites. Simply put, the more traffic and engagement on your social media profiles, the better your chances of generating more sales for your business. If you follow the tips shared above and put in the extra time for your social media accounts, your website should be buzzing in no time. For those marketers with the budget, an agency like ours can also handle your social media accounts and get you results quickly.
Do you have any stories or experiences regarding our topic today? Then feel free to share them with us in the space below. We'd love to hear from you!