The continued growth of the digital world has changed the way that companies are marketing their products to consumers in Asia. Strategies have rapidly progressed throughout time and can be categorized to four distinct styles.
The Evolving Marketing Landscape in Asia
The first one is traditional marketing, which tackles marketing strategies that existed before the boom of the Internet. Marketing efforts utilize traditional media like mail, radio, television, newspapers, and outdoor marketing like billboards and events.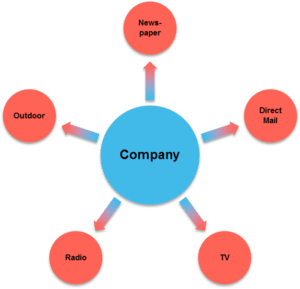 Pre-1995
The next one is mixed marketing where companies try to implement web based marketing, usually a static website, to the traditional ones.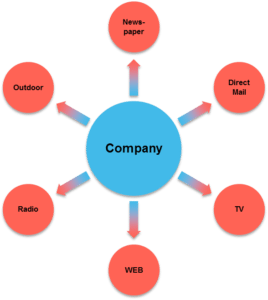 1995-2004
Then we have web centric marketing. This is where web based marketing has greater priority than traditional marketing. Search engine optimization and pay-per-click (PPC) and email are more greatly utilized – with the website a central focus. Traditional marketing remains a strong presence as these companies understand the need for online marketing but aren't ready to let go of the traditional formats.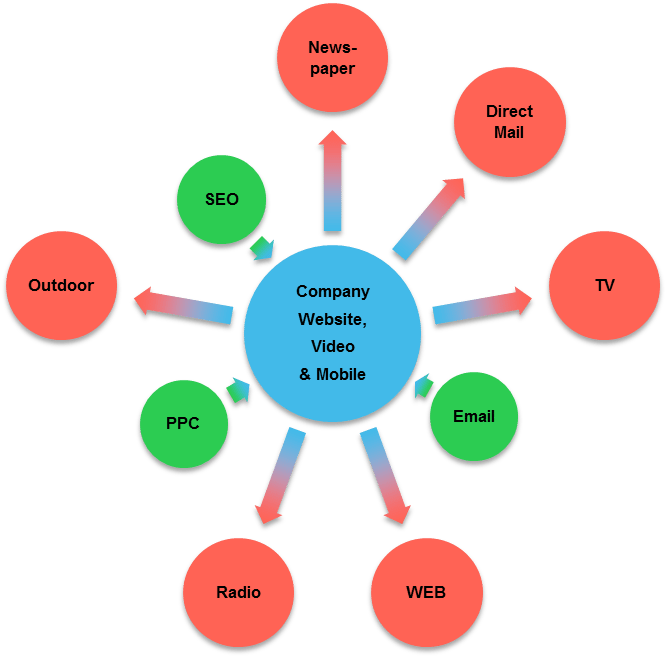 2005-2009
Finally, we have what is called modern marketing. In this type of marketing, the use of social media outlets like Facebook, YouTube, Instagram, LinkedIn, etc., are heavily prevalent and online marketing forms the bulk of the budget, with little reliance on traditional marketing. On the other hand, traditional advertising relied on diversionary tactics to get you to buy a company's product, modern marketing aims to form a bond with their customers and companies engaging in modern marketing have already realised this shift in their thinking.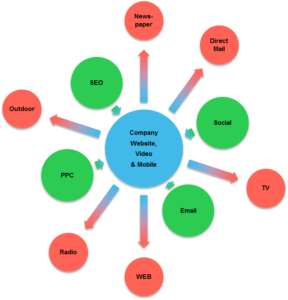 2010-onwards
As the digital space keeps evolving rapidly, marketing trends have emerged that could rapidly shift modern marketing in Asia even further in 2017, especially when it comes to consumer goods. Here are some of the big ones to keep an eye on:
Mobile Commerce
Large companies like Apple and Samsung have already launched their mobile payment services and for good reason. This is because 2016 has seen a huge spike in shoppers using their mobile devices to purchase goods.
Mobile-first apps like Instagram for example, is fast becoming the social media outlet of choice for businesses. According to Search Engine Land, this past year, Google has already announced that there are more searches done on mobile devices than on traditional desktop PCs. Mobile devices account for more than 60% of google searches.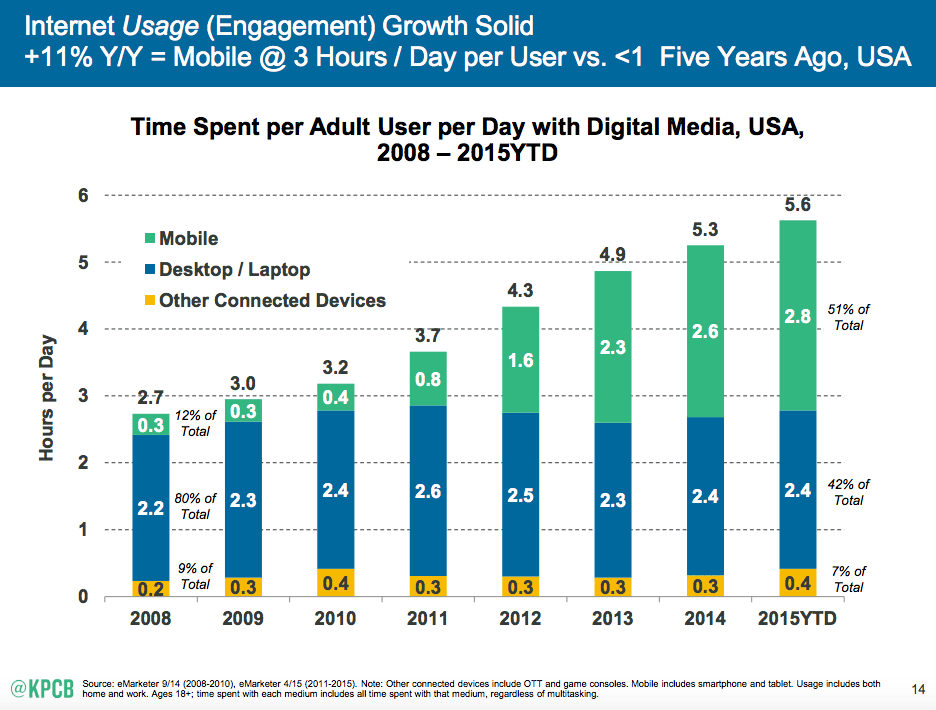 Apple Pay, Samsung Pay, and PayPal are continuously growing because of this recent boom. More businesses are going to implement "mobile-wallets" in their payment models this year.
Social Shopping
Social Media is fast becoming one of the best ways for businesses to reach out to their audiences. Various social media outlets like Instagram and Facebook are already gearing their sites to make it more optimized for businesses and consumers to connect easily.
In 2017, these platforms will most likely bridge the gap between online commerce and physical stores closer.
Chatbots
Chatbot technology is getting better and better and the results could be big for businesses. A lot of big companies like Facebook and Microsoft have already invested huge amounts in the Chatbot technology because of the impact it could have in the future.
Chatbots offer a more genuine and personalized approach with regards to the transaction process with customers. Chatbots can give that human responsive feel that customers really love.
According to Daze Info, around 80% of all companies want to integrate Chatbots by 2020. In the US, 37% of the population are already saying that they are willing to buy from a ChatBot. A good chunk of the population has also experienced interacting with a Chatbot. This is definitely a sure sign that Chatbots are here to stay.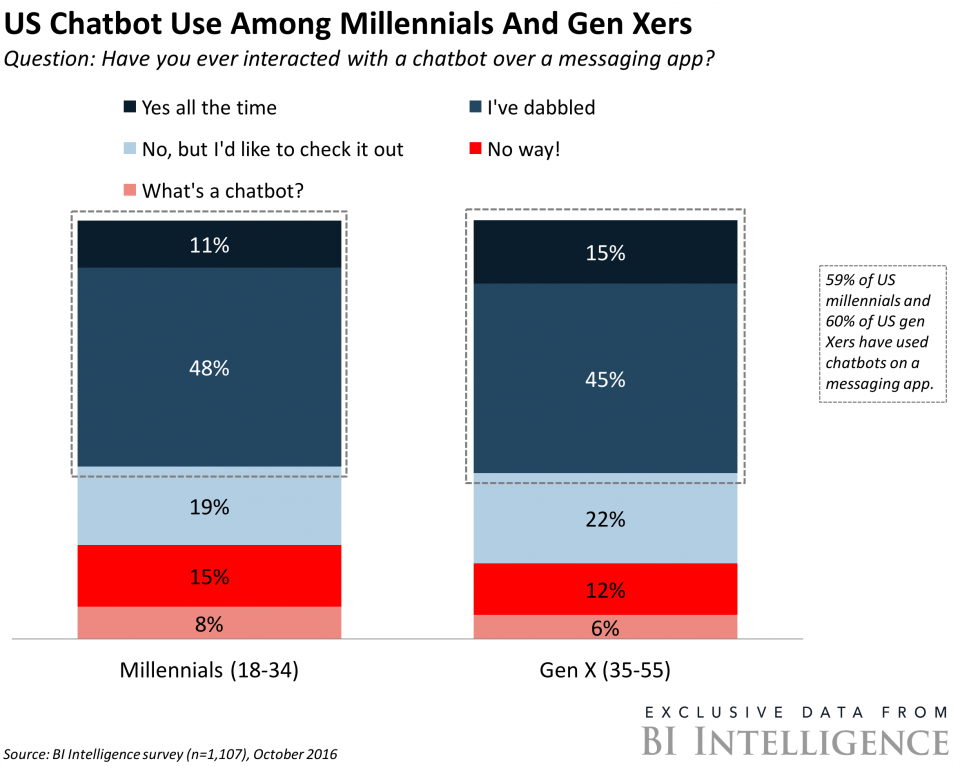 Personalised retargeting
The boom of mobile commerce has also given online retailers a problem. A lot of customers are abandoning their online shopping carts because mobile shopping also decreases the user's attention span.
Did you notice how many emails you get from Amazon reminding you of items that you looked at or added to your cart? According to Baymard, e-commerce cart abandonment has risen to alarming levels from 60% in 2006 to 78% in 2017.
Because of this, more retailers are using a tool called Personalised Retargeting which gives customers more follow-up emails regarding their abandoned online shopping cart items. This gained a lot of success in 2016 and will most certainly be used more in 2017.
Virtual Retail
Virtual retail is going to be huge in 2017. This technology will allow customers to merge offline and online environment for a unique shopping experience. For example, virtual dressing rooms will allow you to try on clothes and see how it will fit without leaving the comfort of your home.
According to Digi-capital, virtual reality will become a $30 billion industry by the year 2020. Virtual Retail will continue to grow with applications ranging from health and beauty to the medical space. The car company, Audi has already announced that they are going to use VR to create virtual showrooms for their customers. Feel free to watch the video below:
Augmented Reality
Just like Virtual Reality, one of the biggest hits of 2016 was Augmented Reality. The biggest reason for Augmented Reality's success is the mobile-app game, Pokemon Go, where users can catch their favorite virtual monsters in the real world. Augmented Reality application is really young, but because of the massive success of Pokemon Go, 2017 will be the year that Augmented Reality will really boom.
According to Expanded Ramblings, Pokemon Go has over a whopping 500 million downloads to date and has generated over a billion dollars in revenue. Expect a lot of other tech companies to follow this massive fad.
According to Digi-capital, the Augmented Reality revenue share will dwarf virtual reality in 2020 by a whopping $60 Billion.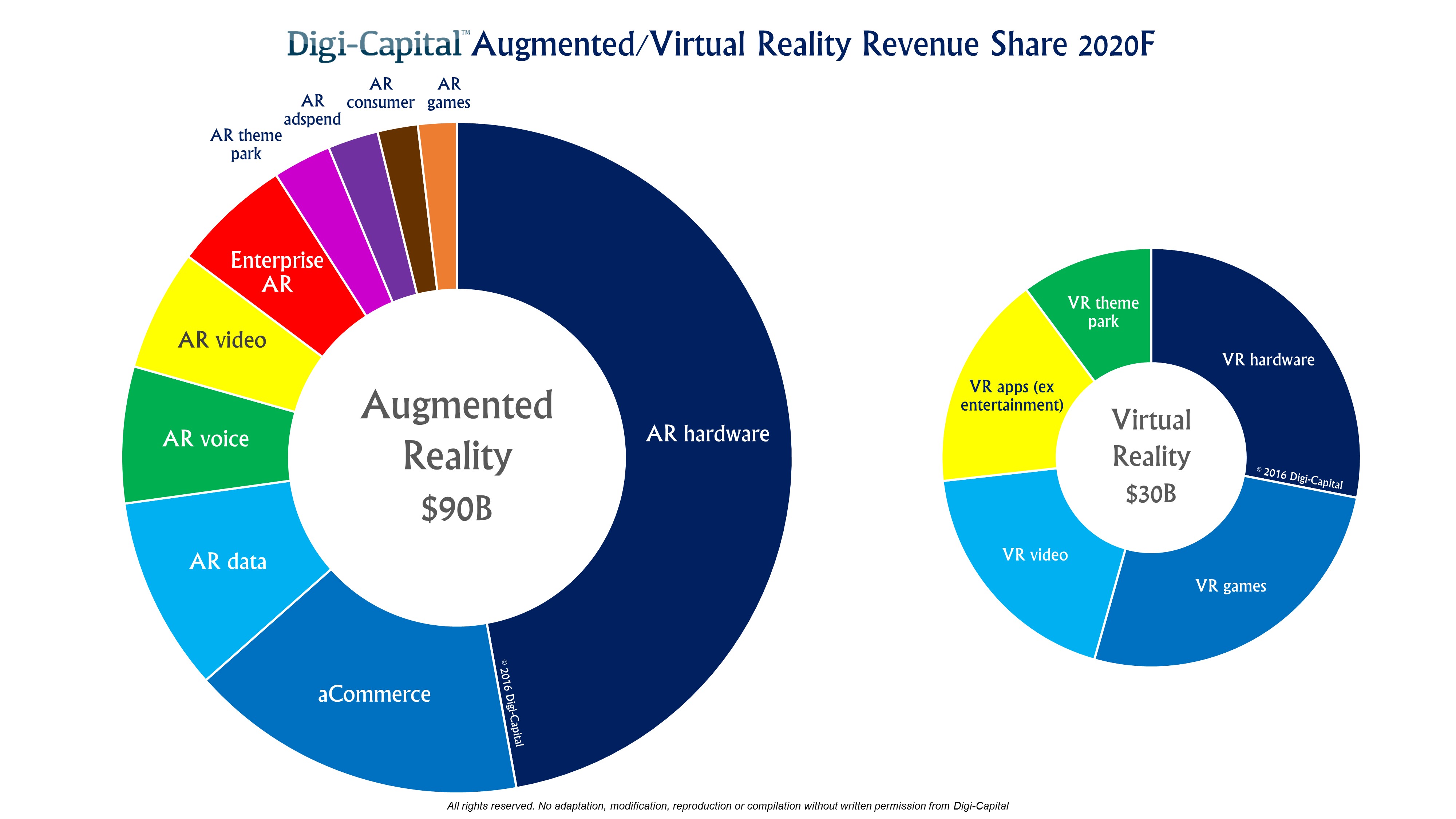 Photo by Digi-Capital
Live Videos and 360-degree video
More people, and customers for this matter, crave interactivity in this digital age of ours. That is why one of the most popular social media experiences of 2016 was live videos and 360 degree-video.
Customers who feel that they are part of the whole experience are most likely to form a bond with the company. Live Videos make customers feel as if they are really taking part with the event while 360-degree video allow them to feel that they are manipulating and holding the product themselves.
Dunkin Donuts is a good example of a company who took advantage of Live Videos. They recently did a live video for the Valentine's season where they  showed their "test kitchen." They ended the video with a sweet surprise – a giant donut-themed wedding cake. You can watch the Facebook live video here:
A lot of businesses in the tourism and sports industry have already fully utilized these tools to their advantage. 2017 is going to be no different when it comes to Live Videos and 360-degree video.
Consumer Goods Company going direct to consumers and cutting down on their retail channels
Fast Moving Consumer Goods typically have a gap with its customers when it comes to communication. Normally these type of products rely on their distributors and retail stores to talk and form relationships with their customers.
However, the advances in digital marketing has allowed these FMCG companies to directly communicate with their customers through social media. This will help companies of that nature to better understand their customers and gain new insights.
Dollar Shave Club used this tactic to compete with giants like Gillette and Schick. Men who wanted an alternative to this pricier razors wanted a much closer bond with their razor company. Dollar Shave Club used social media and viral videos. The company skyrocketed. Today they sold to Unilever for $1 Billion, which is five times more than they were actually worth. Check out their video below which currently has over 24 million views:
<div="video-container">
Marketing Automation
Marketing Automation is one of the best tools available for companies today. It is a type of software that enables business to put their marketing and sales efforts on autopilot by nurturing potential leads with highly personalized, useful content.
Marketing Automation has a huge amount of benefits as it can help a small sales team get invaluable insights into a business' customer base to help them make data driven decisions. It also helps a sales team get focused on closing the deal by allowing the software to do the heavy lifting of sending up to thousands of emails per day.
When people hear of Marketing Automation, many actually believe that it is just a more complex Email Marketing. However, once your knowledge becomes deeper, you will realize that Marketing Automation has a huge advantage over an email service provider. Below is a chart that can show you the difference between the two: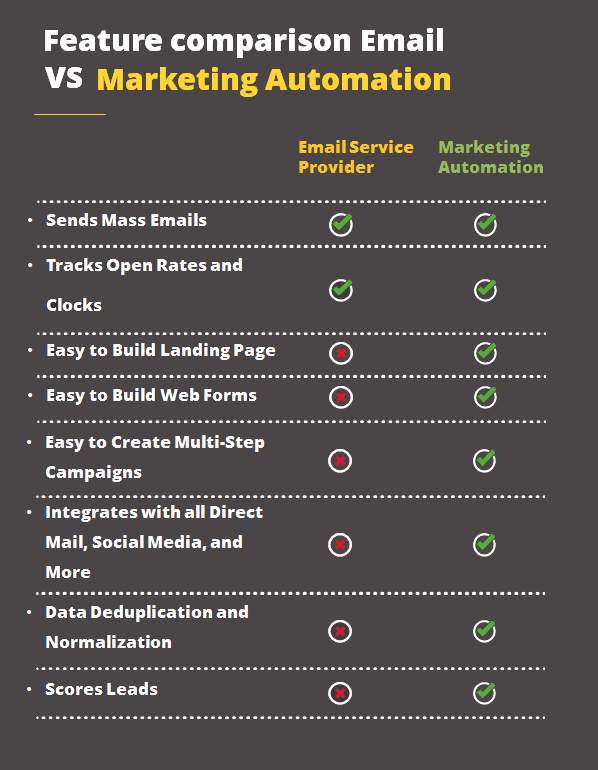 Marketing Automation software like Infusionsoft can help businesses capture more leads and improve their conversion rates. These tools can easily manage the sales and marketing processes for businesses.
A good example of a business that will benefit greatly from Marketing Automation is Events Management. Imagine being able to send thousands of emails per day to clients. Especially if the company has a huge client database, Marketing Automation will greatly aid in getting those leads and keeping clients in the loop.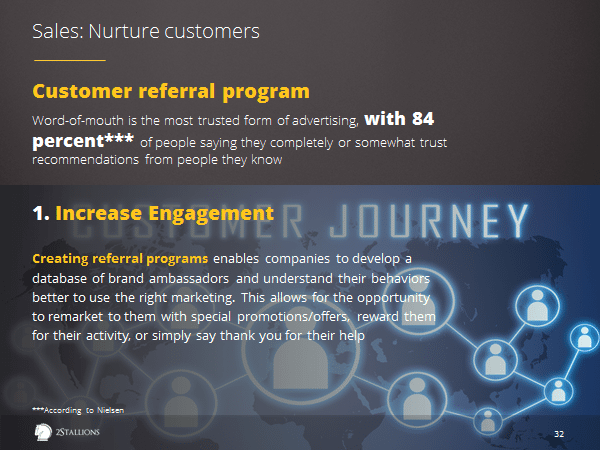 Marketing Automation can also have desirable effects like word of mouth marketing. By being constantly reminded of a company's offerings, there is a great chance that he/she will refer that company to others. Keep in mind that 84 percent of people trust recommendations from people that they know.
Marketing Automation will also fortify a company's repeat business because of efficient marketing. Selling to an existing customer requires less effort and results in a larger success rate than dealing with new customers.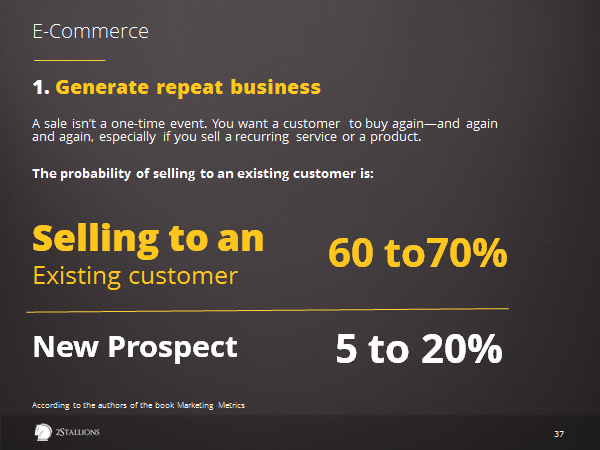 By streamlining the sales and marketing process efficiently, Marketing Automation is going to be one of the hottest digital trends of 2017. Still, think Marketing Automation won't help businesses? According to Salesforce, Businesses using marketing automation experience a 451% increase in qualified leads.
Mobile Commerce, Social Shopping, Chatbots, Personalised Retargeting, Virtual Retail, Augmented Reality, Live Videos, Direct to Consumer, and Marketing Automation are going to be at the forefront of the consumer goods landscape in Asia. If you are in the marketing field or own a business, keep an eye on these trends.
With all these digital trends booming in 2017 and beyond, which one are you planning to use for your company? Let us know in the comments below which digital trend excites you the most.[/fusion_text]
Ready to take your brand to new heights? Let's get started today with our dynamic online marketing solutions and watch your business soar! 🚀