Ever since man began selling his wares, the art of persuasion was never far behind. Marketing has always been at the heart of commerce, but it was in the Industrial Revolution where things really took off. The introduction of mass production heralded the need for more sophisticated methods to inform consumers about the new products being created. Thus the birth of the modern marketing tactics.
In the 1940s, competition amongst businesses started to intensify. Marketing suddenly became more sophisticated in a sense that various brands started dabbling with the idea of building customer relationships. To some extent, the bigger brands managed to foster some bond with their consumer, while the others that didn't, typically failed and died. The race to build customer relationships was on.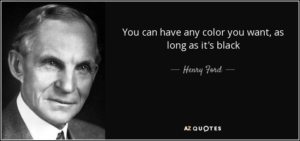 Image by Azqoutes
The majority of marketing techniques used back then were based on pure instinct. This does not always yield the best results, because of this, businesses who could afford to buy and analyse data began using it. Suddenly, companies started targeting their customers with better precision and accuracy. Bigger brands were using these data not just to improve their overall marketing strategies but to strengthen their logistic operations as well.
Data quickly became a valuable commodity with multinational companies and companies solely offering data services were born. These companies help marketers see the complete process of events that leads a customer to purchase what you are selling and why they love your brand.
Data-driven Marketing By The Numbers
If you haven't been implementing data into your marketing, then you are coming in a bit late to the party. According to CMO, over 78 percent of today's marketers are using data when it comes to executing their marketing strategies. Furthermore, Media Math reported that 63 percent of marketers are spending more on data-driven marketing over the last year, with an additional 10 percent expecting to increase it even more.
But if you have started employing data-driven marketing tactics for your company, then good for you. In a recent survey by Direct Marketing Association (DMA) and Winterberry Group, 40.9 percent of marketing professionals have reported a growth in revenue from data-driven marketing related efforts.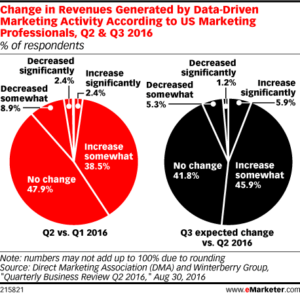 However, in the graph above, you will see that there is still a huge chunk of marketers that experiences no change in revenues. That means as a marketer, you should never be complacent with your marketing efforts to avoid being in a revenue slump.
6 Ways To Drive Your Company Using Data
Let's take a look on how you can push your data-driven marketing efforts even further and finally hit the revenue you want.
1. Rethink Your Customer's Journey
As marketing channels become bigger and mixed, data suddenly plays a significant role in making sure that the customer experience is as seamless as possible. A lot of times, someone goes into a department store and looks at their mobile device to learn more about a product on the shelf. The customer will then have the option to buy it right there or go home and purchase it online.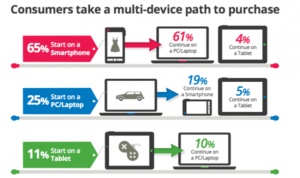 According to Marketo, 65 percent of consumers start on a mobile phone and out of those, 61 percent then continue their journey on a laptop. But that is not the entire picture when it comes to customer journey.
Algorithmic attribution is a model marketers can use to excellently measure the success of each point of the customer's journey when purchasing a product. This is becoming increasingly important, especially in today's world where customers jump from one device to another before buying something.
This attribution provides the marketer with a better insight on which stage in a customer's journey is the most critical and which channel and content work best. This data can then serve as a basis for the company's investment decisions
2. Use Data To Connect To All Your Customers
With the fierce competition, most companies experience today, relying on the general demographics to create your buyer persona is no longer sufficient. Creating content that will appeal to your customer and give you that coveted ROI is much more challenging.
Your customers are different individuals and have varying likes and dislikes. Marketers of today need to cast a wider net in creating content that is more personalised and fit their customers' needs and wants.
Take Arby's for example; they succeeded in using data to figure out what type of message and channel works well for their customers. They knew (with data, of course) that their customers use TV and Twitter connectively to watch the Grammy's.
Arby's social media director tuned in to watch the show too and waited for opportunities to engage himself in the conversation real-time. Check out the tweet below:
Hey @Pharrell, can we have our hat back? #GRAMMYs

— Arby's (@Arbys) January 27, 2014
The Twitter world loved it and re-tweeted it 77,000 times. This an exquisite example of how you can use data to create content that will connect with your audience.
3. Email Provides Great ROIs
By 2020, there will be 3 billion email users worldwide, which is significantly more than the 2.6 billion users in 2016. Given that data, it is not such a bad idea to push this powerful marketing channel even further.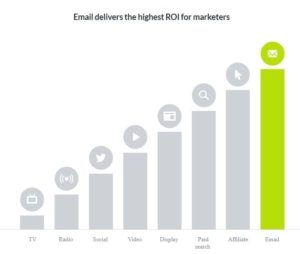 According to WordStream, email marketing is the most-used digital channel and Facebook, with its almost 2 billion monthly active users, can make email marketing even better. And here is where we'll talk about Facebook Custom Audiences.
Posting something on Facebook alone is not enough and might not give you the results you want. Facebook Custom Audiences is where you can use email addresses and create a custom audience for your company. Facebook will then use the emails you've listed and match it with actual Facebook users. Just define your audience, and you now have the power to reach the people that matter to you.
See: Mailing List 101: Your Guide To Building A Mailing List
4. Measure, Test And Adjust Your Marketing Efforts Using Data
Think about this; you may have a great video paid ad running on one of those popular news sites. Your sales are up so without looking at your data you figure that the ad may have something to do with it. But after a while, you decide to check the data, and you find out that you are not hitting your target market with the ad. Your sales increase was due to something else, and in this case, it was not the video ad.
By measuring your marketing efforts, not only will you know which one works, but you will also eliminate any need for guesswork. This is the beauty when your marketing relies on data, the need for any "gut-feel" type of marketing approach is considerably lessened, and everything can be backed up by data.
Once you know what works, you can allocate more resources to that channel, test it out, and gather more data. Through constant measuring and testing, you can continuously mould a personalised and highly immersive customer experience that cultivates a long term and profitable relationship with your target audience.
5. Integrate Your Online Platforms With Google Analytics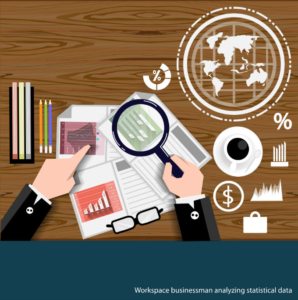 Google Analytics is one of those must-haves if you want to acquire some useful data in your online marketing. If you have a WordPress site, you can easily add Google Analytics via this plugin. This will enable you to find out how visitors search for and use your website and it also uses universal tracking, which lets you track users across devices and platforms. Another nifty feature is page analytics, which helps you figure out which pages and sections of your website are getting more attention. All this information is in real time, so you can react and adapt quickly to different trends.
However, before going into any of that, you need to set up your account through Google Analytics. It will only take about three steps, and you are ready to go. You can also create multiple accounts if you have more than one website. A good tip would be to use services like Cyfe to efficiently manage your website. This service allows you to monitor multiple websites and best of all – you can integrate it with Google Analytics for a more convenient way to track multiple data from various websites.
Once you have Google Analytics integrated with your website, you will be able to track or collect useful information like audience demographics, interests, location, language, and site visits.
As mentioned above, Google Analytics can also help you learn about the behaviour of your visitors. Lastly, Google Analytics can give you data regarding how many conversions your website has received and the path your visitor undertook to finish that conversion (i.e. how many landed on your website via your Facebook page.
6. Learn How To Automate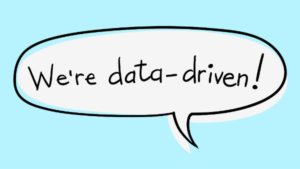 Marketing automation is one of the hottest buzzwords in the industry today. This is a software that helps put your marketing and sales engagements on autopilot. By doing the heavy lifting of sending out bulks of email and helping you prioritise your leads, marketing automation helps you generate more leads, close more deals, and effectively measure your marketing success.
A marketing automation software can send out thousands of emails automatically to your clients on a regular basis using a time that is set by you. The software can also determine which of your leads are ready to be engaged and which of them need a bit more time. This is done by the software recognising which of those possible leads are engaging your marketing efforts more.
Data is at the heart of this software – Marketing automation can also give you information on how successful your marketing campaigns are and where the leads are coming from. Without the need to do the heavy lifting of sending out emails and guessing which leads to pursue, the sales team could focus on closing deals with the hottest leads.
How efficient is marketing automation when it comes to determining the hottest leads? Simply put, the software can tell you when your lead is browsing your website in real time and will inform you through email that this will be the perfect time to call.
Marketing Automation software helps maximise the efficiency of your marketing and sales team. If you really want to have a data-driven company, getting a marketing automation software might just be your best bet.
Data Is The Future Of Marketing
There is very little doubt that cultivating a data-driven company is the future and the battle for the hearts of the consumer is bound to intensify in the years to come. It will still be up to the marketer to interpret information and turn it into a sound and effective strategy.
Data-driven marketing, however, is going to make marketers' lives so much easier. It helps them focus on what really matters and create stronger bonds with customers that continuously evolves in the future.
Do you have any experiences regarding data-driven marketing? Let us discuss it in the comments section below – we would really love to hear your thoughts!