"The Customer is Always Right" is a statement that holds firm for businesses even in this digital age. "Right" doesn't mean the customer's demands are always correct, but by focusing on customer relationships and doing right by your customers would certainly improve their loyalty and dedication to your brand.
Whether it's providing a service or fixing a complaint, delivering a positive experience for your customer is the best way to build a relationship with them. And better customer relationships lead to better sales.
The live chat is a modern example that proves being there when someone needs you builds instant rapport with them that leads to greater sales. This quick and open communication platform allows businesses to overcome objections and provide speedy responses. Research shows that you are 10X more likely to lose a potential customer just by being 5 minutes slower in your response.
This speaks to the importance of not just establishing good relations, but doing so quickly. Whether it's over live chat or phone, better customer relationships equate to higher conversions.
The challenge in today's digital world is the sheer volume of customer enquiries. It can prove difficult to keep afloat while responding to them all. Fortunately, there are tools that help you to not just keep afloat, but also push your business even further!
Loyalty and Advocacy
When customers have a problem, they expect businesses to respond to their complaints effectively and efficiently. If a service fails to respond quickly, at the very least, the customer will move to another business capable of providing the support they expect. At worst, you may have to do some reputation management online from irate customer rants.
Businesses with an effective support pipeline that takes care of its customers will create loyal customers that may even become advocates for your brand.
Australia's Official Queensland Business Site has some useful tips that I'd like to share again here –
On Good Customer Service:
Find out the customers' standards for good customer service
Research customers' expectations
Follow up on both positive and negative feedback you receive
Aim to improve the level of customer service you deliver
On Creating Long-Lasting Customer Relationships:
Show customers that you understand what their needs are
Build relationships with people who want your products and don't force those who don't
Go beyond the help you provide
Continue to keep customers aware of what's in it for them to do business with you
Manpower is the biggest hurdle businesses face when striving to establish excellent customer relationships.
This is where marketing automation can step in to streamline delivery of informative content, integrate social media updates, and drive customers through the marketing funnel through effective email campaigns. An efficient CRM system can handle repetitive customer support processes, which will ease the burden on your staff, while increasing the all-round feel good factor for your company. You can also check out our list of services to see how we can help you with this.
Ways To Improve Customer Relationships With Marketing Automation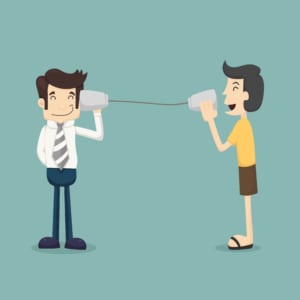 1. Maintain Every Customer's Concerns & Your Responses
Customers want responses and patience is no longer a virtue in the digital age. Your marketing automation system can automatically address simple concerns and for more complex questions, it can escalate it automatically to the right team to handle.
You can rest assured that no complaint or feedback is falling through the cracks and that for common concerns, your response times amaze your customers. You also build up a database of concerns that you can analyze to enhance your offered services, ensuring that common concerns are addressed with future customers.
Furthermore, the use of marketing automation leaves your manpower free to maintain human-powered live chat, email, or voice support for personal customer relationship management.
2. Improve Sales Funnels With Smart Email Marketing
Introducing automation to your email marketing campaigns helps your brand get "smart". How you ask? Marketing automation can help segment your CRM into different bands, identifying people highly likely to convert versus those requiring additional information. This then leads to more a more personalized journey for every person towards driving a sale.
Tailoring your emails for each customer introduces a positive experience where the customer identifies with your company values and feels that you understand their needs. Your customers are happy, and this builds greater brand loyalty and maximizes your profits.
For example, if someone adds something to their cart and then abandons it, sending them a small discount will encourage them over the line to a purchase. Or if a customer bought a product that usually lasts 3 months, reminding them close to the end of the quarter is something they'll appreciate.
Mailgen effectively used segmentation to improve their open rates from 20% to 29% in a short period by using behavioral segmentation. With an initial 20.5% email open rate, Mailgen improved the open rates simply by changing their headlines to better relate to their segment.
Meanwhile, MailChimp is another user-friendly email marketing tool you can use. You can read more about how easy it is to use here.
3. Be There For Your Customers' Important Moments
CRM systems give a lot of power to businesses to know their customers and collect important information about them. You can learn how your customer interacts with your website and your product/service offerings. You can ensure you know their birthdays and their anniversaries, and surprise them on those days with not just freebies, but with a specific item that they'd been last looking at on your website, making it a much more thoughtful gift. Marketing automation plugged in with a CRM can help automate this entire process.
If you use a CRM system for your offline sales team, you can keep notes from meetings and calls, so that before you meet them, you can refresh yourself. Even if you meet up again a few months down the road, they'd still be impressed by the personal details you remember about them. The best part is that you're not dependent on your sales rep for information as it is centrally stored and a lead can be reassigned easily without great disruption.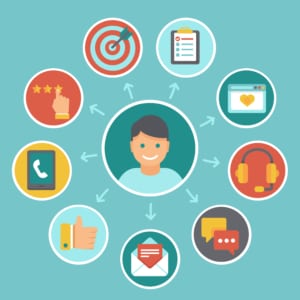 4. Connect Across Multiple Channels
Everyone has an account on social media these days. On average, people spend about two hours surfing social media on a daily basis, so they're highly likely to see an update you post.
By connecting your marketing automation tool effectively to social media channels where your customers are, you can send targeted messages DIRECTLY to them – whether it's via advertising or messaging. Reaching them on channels that they're comfortable on helps them connect and engage with your brand more.
Marketing automation tools can also help you manage multiple social media channels, allowing you to post a consistent update on multiple networks that are optimized for them.
Wrapping Up
Aside from its capacity to increase conversions, marketing automation tools and best practices reduce the need for hiring additional manpower and time organizing, managing, and responding to customer concerns. Therefore, it improves your relationship with customers without straining your operations.
Marketing automation creates well-informed customers. Information urges customers to make more purchases remain loyal as they place more value on your brand's product, and advocate for you if they experienced excellent complaint resolution. In addition, marketing automation gives businesses like yours an extra set of helping hands, allowing you to improve your services and brand as a whole.
Upgrade your marketing with our Marketing Automation Agency. Say goodbye to dull campaigns and hello to unique strategies that will help you dominate your market. Our wizardry will transform you into a marketing powerhouse. Let's connect and reach new heights! 🚀