Brand personality is critical in digital marketing. In an increasingly information-saturated world, it helps your brand stand out and lets you tell your company's story in an engaging and interesting way.
Your company profile is your public persona online. Everywhere you have an opportunity to tell that story – from your "About Us" webpage to your social network profiles – provides a chance to showcase your brand personality with an audience, and it's imperative that it resonates with them.
Take the two examples below, which company profile below piques your interest more?
Example 1:
"Hey, we're Company A. We work to provide solutions to your issues. We have several high-profile projects coming up in the next few months. If you'd like to work with us, you can always give us a call!"
Example 2:
"Hey, we're Company B! We've been part of the recent (high profile program you recognize) in conjunction with (company you've heard of). It is focused on improving the welfare of people from (community or area you know). Our recent case studies, (case 1) and (case 2), have been published in (publication you recognize). These projects have (results that you would value for your business). If you believe we can help your business with a solution, inquire with us. We're here to help!"
Shorter doesn't necessarily mean sweeter.
Besides its brevity, Example 1 lacks details. It is vague, using terms like "provide solutions", "several high-profile projects," and doesn't attempt to build any rapport. There's no substance to it and it comes across as a generic, automated email – no one is interested in reading more than a few of those in a week.
Example 2 is specific. It sends a "value-driven" message, with examples and results that you, their audience, can relate to. To top it off, it comes across as far more personable and approachable than Example 1.
What makes a company profile boring?
In Example 1, any audience considering the company's services may not get past the first line. There's no information available on the actual services on offer and no detail to make it appealing. Less ambiguous statements that are backed by data and specific can improve it tremendously.
In fact, Example 1 committed almost every company profile-writing sin on this list because it was too brief. In a way, it doesn't consider any interest of its audience, which just makes it plain boring.
The importance of company profiles for brand development
Your website is your virtual business card – your virtual office -, and your social media profiles are your online "outlets" representing your brand on their respective networks. Anything you say in these profiles reflects the image and values of your company.
A company profile should reinforce and proliferate your brand's authority in your respective niche or industry through a well-developed story. It is therefore important to invest some time in creating a good one. Here's how you can bank on your strengths without going overboard.
Five Ways To Create an Exciting Company Profile
1. Create Your Unique Tone Of Voice
Everyone knows this: black and white are boring when compared to the spectrum of colours on the colour wheel. In the same way that a colourful website drives attention to elements you wish your audience to focus on, a 'colourful' company profile can really make your brand stand out and be noticed.
It is first important to develop the right tone of voice that resonates with your defined customer persona. More importantly, the tone of voice is something you must be comfortable with personifying to the world. The table below shares voice characteristics you may consider for yourself.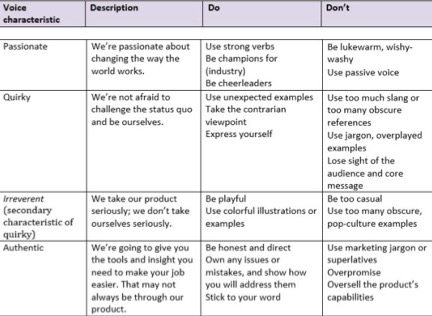 The right 'colour' for your company profile can have an amazing inbound effect as it proliferates.
2. Keep It Simple
A company profile should not be too short, à la Example 1 above. At the same time, being overly verbose can be detrimental too.
Here is an example that comes across as tooting its own horn without caring for what a reader may be interested in:
"Hello there, we're Company C!
"We have recently worked with Company A's project in Africa. Handled by our personnel A, B, and C, each specializing in (expertise 1, 2, and 3), we've achieved stellar results in the project that made (variables 1, 2, and 3) each have a respective 230% increase while having only a 2% margin of error."
On the surface, it seems like it has all the ingredients that might sell your company right. However, it is too lengthy and has lots of unnecessary details that borderline on narcissism. Your audiences want to know what you did, how you did it, and how it ended up with just enough details that are easily digestible in a few seconds.
In comparison, Example 2 is about the right length. Each sentence is focused on improving the understanding of the reader about their business. Specifics are kept to a minimum, enough to impress readers, but shies away from overloading them with percentages as listed above in Example 3.
The language utilized also needs to be simple enough that even an 11-year-old can understand it. It is important to ensure audiences outside your industry can easily understand your profile. This helps it to proliferate faster.
3. Tell a Story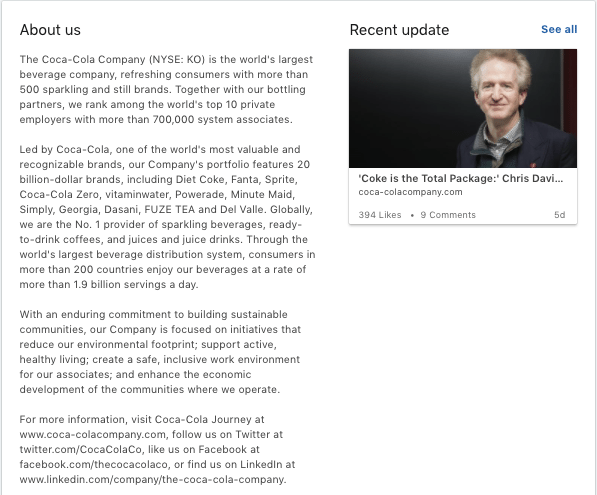 People bond over stories. While discussing your company's results with clients, your profile also needs to mesh its personality with a mission and purpose. Get readers to "be in your corner" when they read it. Humanize your profile to help your audience connect.
If pitching your profile online, via social media, for example, utilize the area provided for writing your "About Us" section. Try including the origin story of your brand and the values that make your company what it is.
Check out Coca Cola's LinkedIn profile as an example. LinkedIn allows more space to write a lengthier profile. On other social networks, you'll need to condense it while maintaining the story.
It takes practice and some work, but you can keep telling your brand story and keep your audience engaged.
4. Organize Your Narrative
As you may have guessed – there are many perspectives you can add to your company profile. We describe 3 different styles, each focusing on different things for their company narratives:
The Friendly Neighborhood Business: Small and medium businesses targeting their local communities benefit greatly from this type of narrative. The narrative focuses on the brand's values when it comes to creating its products or providing its services.
For example, Riverside Foods' narrative focuses on the founding family's first food mart and their experience forging the standards they have in providing their quality products and services.
The Professional and Clean-Cut Solution: Medium to larger businesses targeting other businesses use this particular narrative in their descriptions. It focuses on its processes and continuous development of practices to optimize its operations.
An example is Addiction Foods. It is a custom pet food manufacturer for dog food brands, writes on its 'About' page that they focus on reinventing and revolutionizing pet food formulation and production consistently for its clients.
The Doer: All businesses of different scales can find this particular narrative style efficient in developing brand retention despite its objective and achievement-driven voice.
Henrik Plumbing from California uses a third-person narrative approach in its description. It details their specialization in residential, commercial, and industrial piping services. Further stress is placed on their efficient operations due to their 25 years of experience providing their services.
5. Test It Out
Before publishing your company description, have someone else read your profile. This isn't just to spot editorial mistakes.
You can easily develop tunnel vision when writing descriptions. Another set of eyes helps to reveal areas to make it appeal even more.
The more people you share your profile with, the better. It'll allow you, over time, to collate feedback and craft an even better company profile that has a greater impact on your business.
Wrapping Up
Company profiles tell people what your company can do, how it began, and what it can, and has, achieved. It's something worth investing time in and crafting with care. Best of all, it's easy to do!
We hope these five simple steps can ensure that your profile stands out from the rest and creates the right traction for your brand.
Originally published: May 2 2018
Updated: 25 November 2022
📈 Elevate Your Brand With Our Expert Content Marketing Agency Services. Craft a compelling brand story that captivates your audience. Collaborate with us and let our content marketing expert help you. Pave your way to the top today!