When was the last time you updated your business website? If it has been more than six months, it might be time for a business website revamp.
Your site is your online beacon as it helps customers find information about your company. Before updating it, analyze whether its current design and content are still aligned with your current business objectives. Having business objectives helps you estimate the needed budget for the revamp and the possible Return On Investment (ROI) it could provide if it achieves its purpose.
However, this is easier said than done. The digital landscape is constantly evolving so it is important that your website keeps up with the trends. One recent trend that has picked up rapidly over the years is the way consumers access the internet. In Asia Pacific, 54.7% of internet users access it via their mobiles. So if your website is not optimized for smaller screens, it will not do well for your brand.
Making sure your website is mobile-optimized is a great starting point. However, if you're wondering what other criteria qualifies your business website for a revamp, you've come to the right place. In fact, 2Stallions can do a free analysis of your company's website to help you decide (just click on the widget to the right of your screen). In the meantime, here are five signs of a failing website to look out for.
Five Ways To Know Your Site Needs A Revamp
1. You Own a "Dinosaur"
It is not just small and medium enterprises that need to revamp their websites from time to time. Even tech giant Apple, with its recognizable logo and brand, constantly evolves its website with almost every new release, such as an update on the iOS.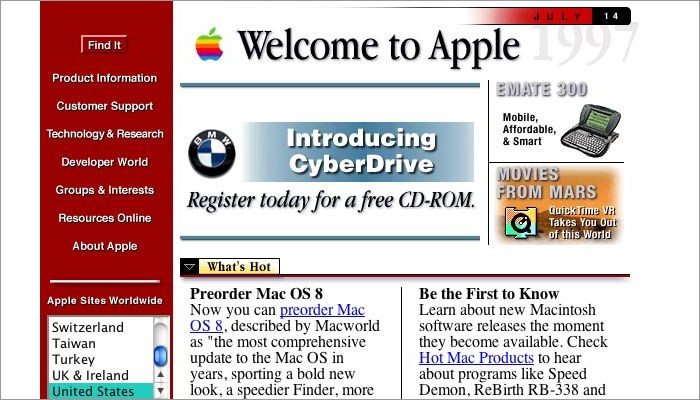 Apple's Dinosaur Website (Image by: CNN)
The way people consume content has changed. If your UX design does not keep up with the times, your website becomes a dinosaur – something prehistoric and outdated sitting on the internet. Having a dinosaur website gives customers the impression that your business does not keep up with current best practices. It also sends a message that you are not forward-thinking and your business is not concerned with covering all their online bases. People will assess the level of professionalism of a business website in the way the copy is written, how symbols are organized, and if access to all information is easy and convenient. Just check out the evolution of iOS below by 7 Day Shop.

With that being said, a modern website should have the following features:
Excellent Navigation and UX: A positive user experience leaves a mark on audiences. If a user finds it easy to navigate through your website and find all the needed information online, it not only aids their online experience with your brand but encourages the idea that you are an authority on the subject. Smooth navigation coupled with excellent information creates a professional tone for any business website.
Consistent Blogging: Blogs add personality to businesses and corporate websites because the enterprise's officials and other well-known personnel can share their thoughts, opinions, ideas, and other statements in this section. People love to hear from the people behind brands, their struggles and how they solve problems, as it humanizes the brands and adds to better customer experience. Read "21 Reasons Why Your Business Should Start Blogging" for more.
Addresses Customer's Concerns: Leave a channel for open communication with your customers. Without a feedback where they can raise concerns on the business products and services, or a way for customers to contact you online via a form or chatbot, customers that cannot get in touch with you might drop off, leaving you with the loss of potential leads.
A website lacking updates after one to two years definitely needs a revamp immediately.
2. Can Your Website Be Found On Google?
Google takes up the majority of search engine traffic when compared to Bing or Yahoo. In fact, Siri switched from using Bing to Google as its default search engine, to provide a consistent web experience as most users use Google to search for information. It is therefore important that your business website is "Google-able", or easily found on Google, in order to keep up with your competitors.
The easiest way to find out is, of course, to search for your brand name in Google. For example, if you do a quick search on our company name, "2Stallions," you will find it appears as the first search result.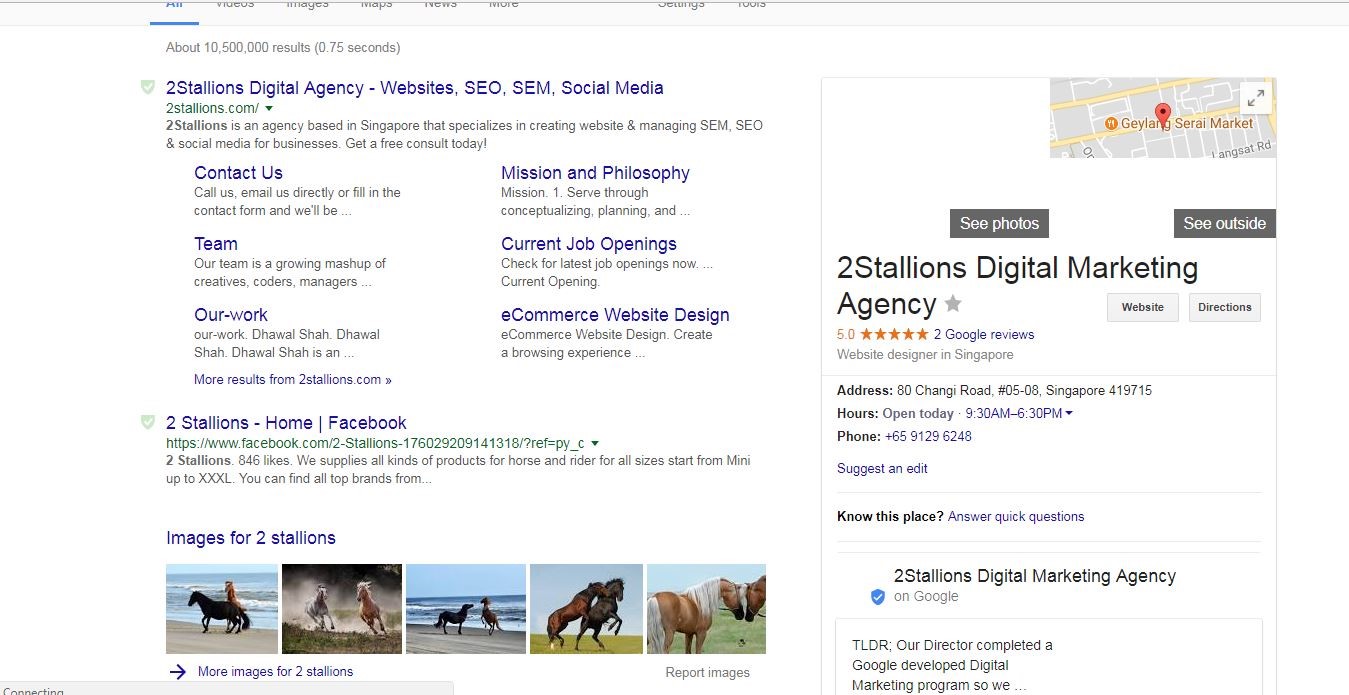 READ OUR ARTICLE ON RANKING #1 ON GOOGLE HERE!
If you want to check whether or not you're getting traffic from relevant keywords, you can analyze data from Google Analytics. Here are a few steps on how you can go about it.
1. Create a Google Analytics account
2. Create a custom report
3. Create a Metric Group
4. Add the following metrics in the "Metric Groups" option: Sessions > Average Time on Page> Goal Completions
5. In Dimension Drilldowns, add your homepage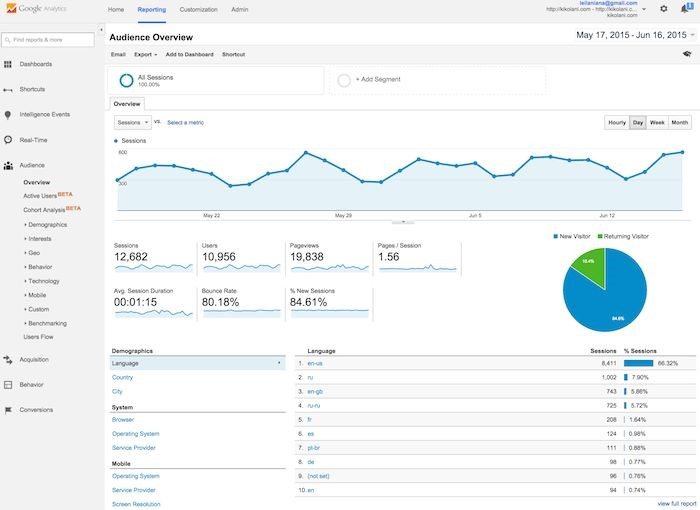 Google Analytics (Image by: Cloundfront)
Do a little research on what the industry norm is for the average number of visitors you should get for your business website. From there, decide if your business is receiving traffic that way below the average. If it is, it's probably time to revamp your website and get visitors back on your site.
3. Does Your Website Work FAST On Mobile?
A slow-loading website negatively affects your bounce rates. Most users want to find the information they need quickly and will navigate away from your website the moment it takes more than two seconds. Older websites, with uncompressed assets that take a longer time to load, have the highest bounce rates compared to newer and optimized websites. You can measure your website's loading performance with Google's free Page Speed Insights utility.
If your page speed score is below 30, you need to renovate your website. Having a score of 70 and below is a sign you need some minor renovations. A score above 70 means your site is doing well so keep it up!
Google's "Mobilegeddon" may have taken some businesses by surprise, but the tech giant encouraged sites to have a responsive format. Their prediction became true; in 2017, majority of people were using their smartphones to search for information. Smaller screens are the reason why table-formatted sites have become obsolete as they are difficult to navigate with thumbs. Responsive formats use columns and adjust their elements' sizes accordingly when the window is resized or if they appear on smartphone browsers.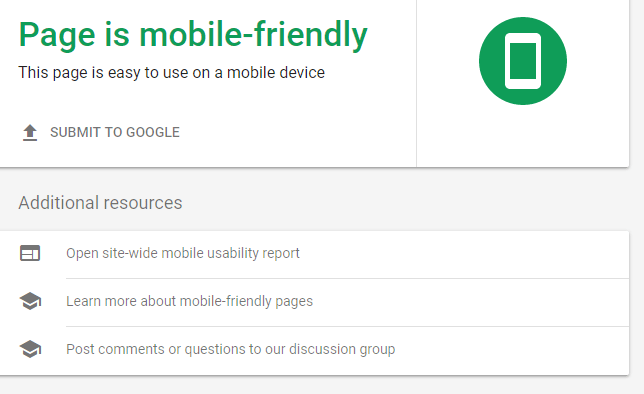 However, even if you have catered to the mobile generation's needs, you still have to beat out the competition. To know if your website is performing excellently in mobile, you can use Google's Mobile Test utility.
4. Are You Finding Trouble with Content Management?
Before WordPress, sites needed a website designer to upload content and images. Today, Content Management Systems (CMS) have made the job easier. These systems are truly powerful especially today when content is the most valuable part of any website. A well-organized content system does wonders for your SEO and the overall website experience.
If you're using WordPress, you can find some great tips on content organization and management from our WordPress Development Page.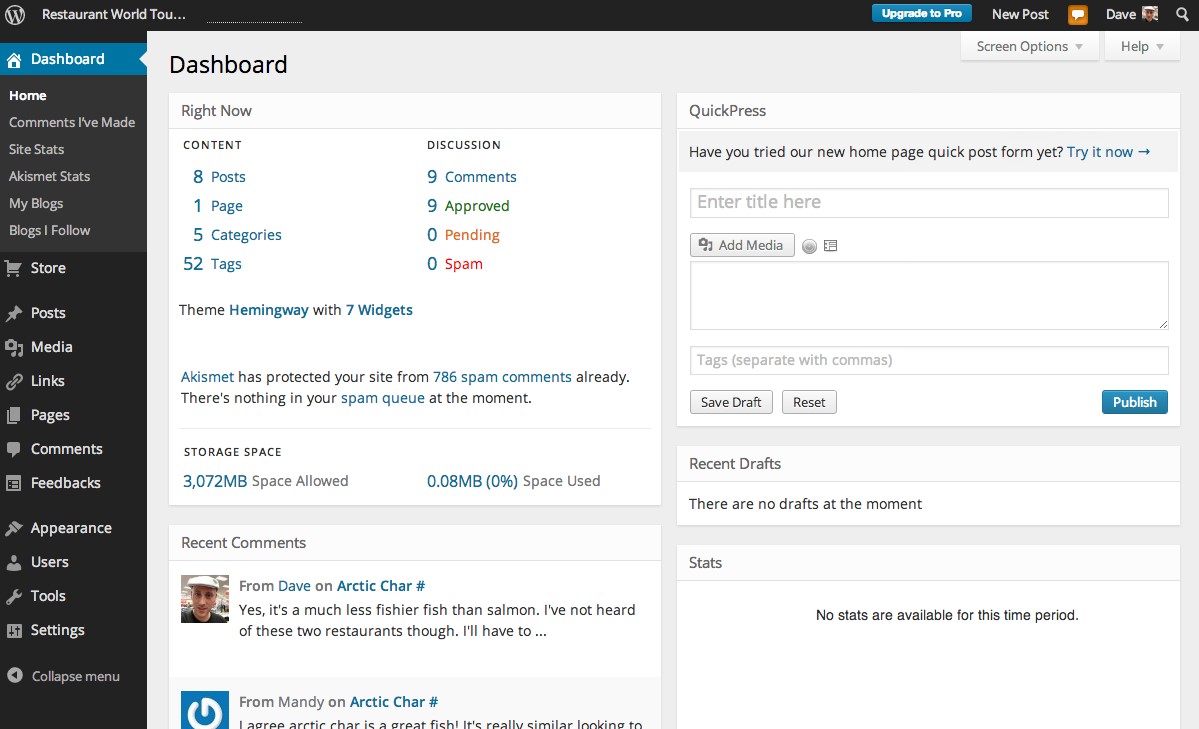 WordPress Dashboard (Image by: Wikimedia)
The speed of content production is linked to your marketing efforts to drive demand for your product or service. If you are seeing great demand for your brand's wares, you need to deliver regular content that aims to inform and educate potential clients.
If your website is still in version 1.0, it's probably dependent on the original site developer to inject new posts and content. This will not do well in keeping up with the demands of marketing efforts and consumer needs. CMS may look daunting to use at first, but with a little bit of training and reading up on the manual, it can help improve things significantly for your business.
5. Poor Call-To-Actions (CTAs) & Support
A call-to-action (CTA) is a "trigger" button or phrase that directs or urges the reader to take action on your site. For example, you may come across a phrase in a website like "Click here to begin." This phrase indicates to the user that they just need to interact with the link in order to begin something. CTAs can come in many forms, taking the shape of buttons, to bold text in attention-grabbing colors.
Your landing page is similar to the entryway to a showroom or promotional kiosk. You want it to grab attention and you'll want it to answer the primary questions audiences have about your offers. You'll also want it to urge consumers to take action and ultimately make a purchase.
This is where design comes in. A landing page uses its design to its advantage to perfectly position its CTA buttons, has a convincing message that asks for an action, and displays all elements with respect to visual hierarchy. Take a look at 2Stallions' home page below. The headline is in bold telling our customers what we do. The tabs at the top of the page tell people where to find content they're looking for and makes it easy to navigate from one page to the next. Our CTA is in red, urging people to take action and get in contact with us. Simple, yet effective.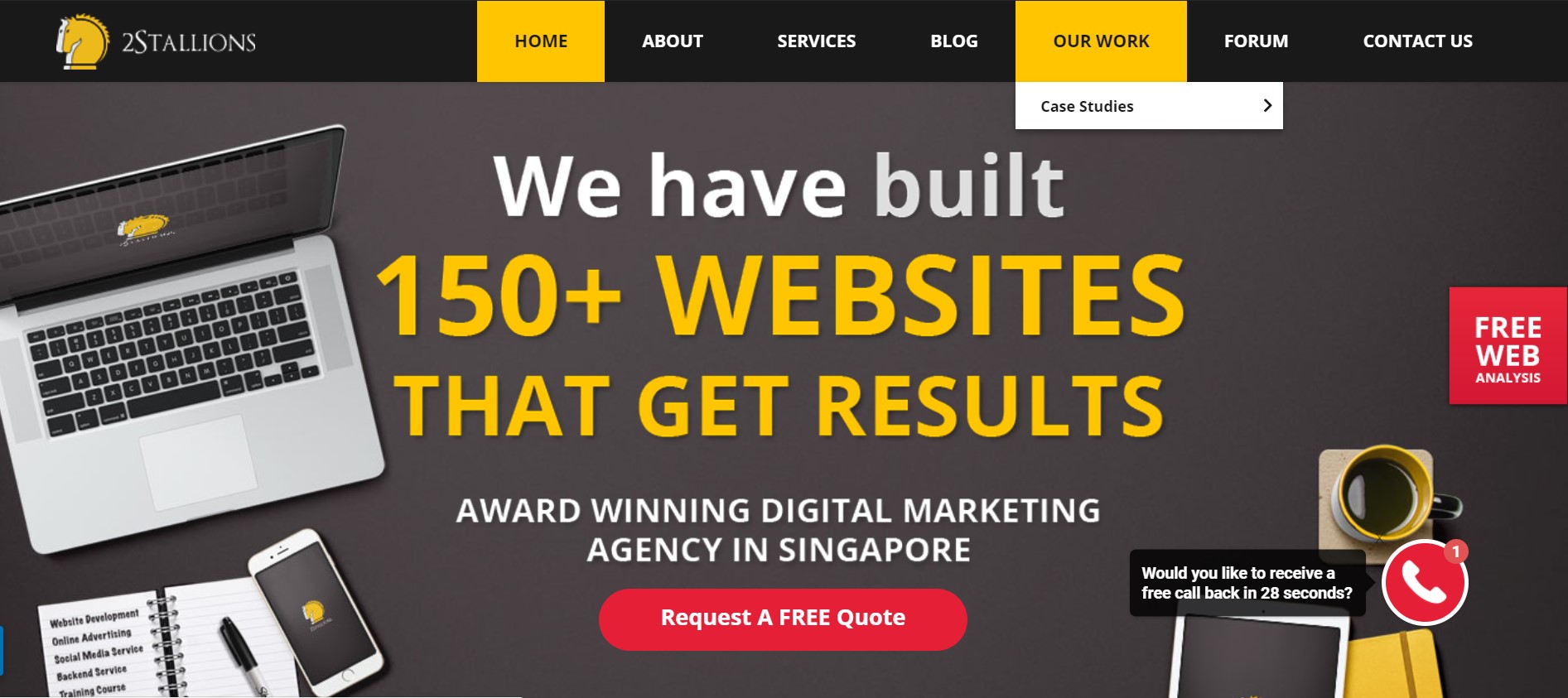 Your website must also offer support to returning customers that may have questions on the site functionality or complex issues that they have with the products or services. Having a Live Chat service can aid them not only by informing, but also to help in building brand trust and proficiency regarding the topic. Remember, brand trust helps bring in more customers from your current network.
Wrap-Up
A visitor to your website typically demands the following things: 1) load quickly, 2) be easy to navigate, 3) be informative through content, and 4) guide the consumer's actions.
Your website is the physical equivalent of your promotional venue or showroom. These five signs are important prognostics that would help you assess if your business website has an outdated and poor design. Remember, if your website is older or has gone through one or two years without a revamp, it's time for one.
If you've read this article and are thinking "Damn, my business needs a website revamp right now!" but are feeling overwhelmed, we can help! 2Stallions offers a free website analysis using these five criteria for our clients.