With more businesses seeing the need to increase its online visibility, it is important for owners to act quickly to improve their company's digital presence and stand out from the crowd.
Your corporate website or e-commerce store is likely to be one of the first touchpoints someone has with your business, making it a powerful marketing tool to build brand authority and generate leads. Therefore, a trusted and reliable website is central to any marketing strategy of a company.
Considering how critical a website is, we often recommend clients to conduct site analysis and website audits at least once a year.
With the help of a website audit, companies gain insights on the "health" of their website and can correct any looming problems an audit can detect. If left unattended, certain factors can greatly affect your website ranking on Google, thereby impacting your traffic and conversions.
What Is A Website Audit?
A website audit or site analysis is an evaluation report of your site's performance. An audit check will let you know how well your site ranks on Google's search engine results page (SERP).
Once an audit is completed, you will receive insights on what needs to be done to improve your site's search visibility. It detects SEO tasks that may have slipped, check for technical problems and identify missed opportunities to convert customers online.
What Happens When An Audit is Conducted?
In a website audit, we provide a thorough assessment of three major factors that affect your web search visibility:
Website performance
Search Engine Optimization (SEO)
Content audit
Evaluating your website's performance entails looking at the code and technical side of your website; making sure that it can be well-indexed by search engines. It deals with issues that affect user experience through performance and usability. Looking at your website's SEO, on the other hand, ensures that each page of your website follows SEO best practices that allow it to rank higher. Meanwhile, a content audit evaluates the written content of your website to make sure that it is relevant, accurate, and grammatically correct.
A complete website audit includes other assessments such as a social media audit and a website security audit. If you're interested to receive a FULL website audit, we're offering a FREE and personalised audit just for you.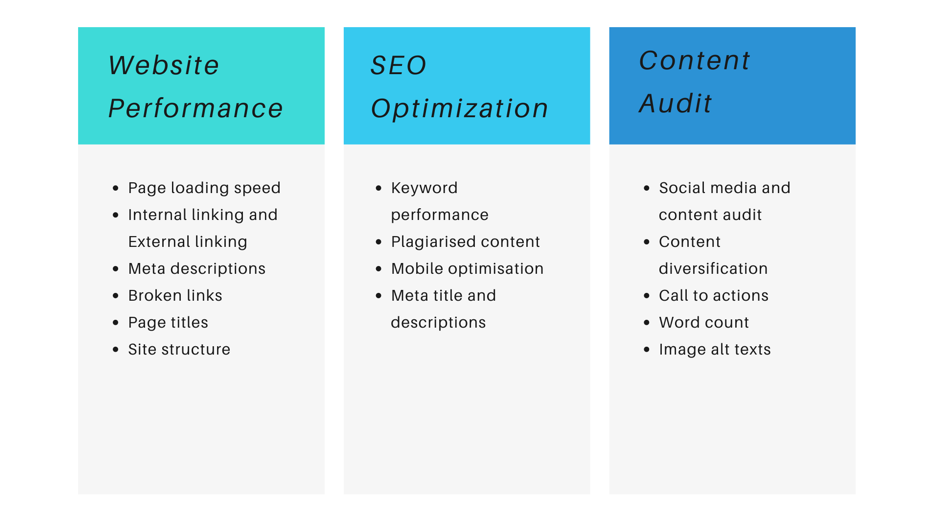 Why Are Website Audits Important To Your Business?
A website audit gives you the data that reflects your site's current problems and issues. It also provides insights in areas like your website's performance, SEO standards, and conversion points– all of which are important to helping marketers achieve their KPIs.
They also serve as a guide for your business to devise new marketing strategies to boost online visibility and eventually, improve conversions.
For example, a traffic report within a website audit will tell you where visitors of your site are coming from and the keywords they are searching for. This will help you determine the next steps you need to do to improve your content and identify the right keywords and links to include in it.
A website audit should also be the first step to your SEO strategy to increase your website ranking on Google's SERP. On average, results on the first page of Google get 91.5% of the clicks, while second-page results receive only 8.5% of the traffic. Needless to say, a high ranking on Google will be a great way to get high click-through rates (CTRs) for your business.
Furthermore, SEO is one of the best ways to drive leads to your website. According to Smart Insights, a top rank position in Google can yield a CTR of up to 30%. Meanwhile, ranking 2 positions lower is enough to bring your CTR down by 12%!
Companies should, therefore, make an effort to conduct regular website audits and act on these improvements to secure top rankings on search engines.
Wrapping Up
Running a website or an e-commerce site is always a work in progress. Things are fast-moving on the internet and content has to be refreshed from time to time for a site to stay relevant. We have to make sure we conduct regular check-ups on the "health" of our sites and build a solid SEO strategy to adapt to any changes on a search engine's algorithm. You may also learn more about other ways you can generate revenue and leads with your website here.
We are currently offering a FREE and PERSONALISED website audit for businesses. If you're unsure of your site's performance, do sign up with us for an audit check. We can help you identify issues on your site that you can improve on and get your conversions rolling in!