Many businesses are using marketing automation to improve their processes and support their marketing efforts. In fact, 75% of companies already use at least one kind of automation software.
According to Invespcro, not only are companies investing in marking automation, but marketers are also increasing their marketing budgets.
These statistics suggest that organisations have realised the value of automation in today's digital world. Most of them now rely on automation tools to do some of the marketing heavy lifting.
But what is with all the hype? What do businesses get from this technology and why you should jump on the bandwagon?
To answer these questions, we need to cover the fundamentals first.
What Is Marketing Automation
Marketing automation is an umbrella term for any platform, solution, or tool used for automating marketing activities. Tasks such as streamlining, managing, and online and offline workflow measurement, are good examples of marketing automation processes.
Using this technology, businesses can implement a digital marketing strategy without needing to perform each task manually. It lets users send emails, publish campaigns, and even analyse results automatically.
How Automation Drives Business Success
1. Improve Work Efficiency
Did you know that an average marketer spends almost a third of their time completing repetitive tasks? According to Hubspot, sending emails and collecting, organizing and analysing marketing data are the two major culprits.
Crafting new emails and sending responses eat up an average of 3.48 hours a week. Data-related tasks, on the other hand, take an average of 3.55 hours a week.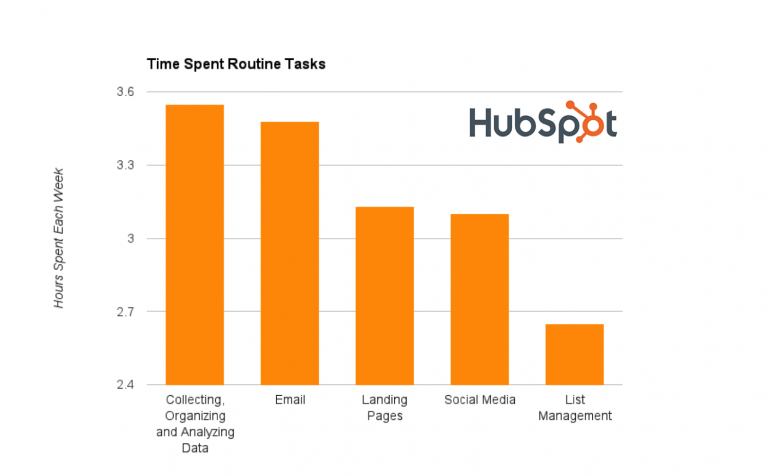 While manually sending emails, posting on social media, and publishing content are an integral part of every digital marketing strategy, automating them can increase efficiency.
This means that marketing teams can focus on strategic projects, making them more productive and allowing for reallocation of budgets and resources into something that can generate better returns.
2. Understand Your Customers
Marketing automation also helps businesses understand their customer's needs and interests.
Good automation tools can collect data about customer behaviour and intent. They can follow the footprints customers leave on your website, showing you what pages or content they have accessed.
Such a software solution can also keep track of purchasing data and customer support issues. This functionality enables companies to create solutions for any customer complaints.
One of the companies that reaped benefits from marketing automation is WGSN, a world-leading authority on consumer and design trends. WGSN integrated automation technology into its digital products to grow meaningful relationships with customers.
Now, when a customer buys a WGSN product, the software triggers pieces of content that are suited to the customer's behaviour. This has helped WGSN increase their sales and deepen bonds with their customers.
3. Deliver Personalised Campaigns
Your business can also use marketing automation to deliver personalized marketing campaigns using customer data.
Since most consumers want more interaction with brands, the automation tools can help your company create personalised experiences and build customer trust and loyalty naturally.
Here are some ways to successfully balance automation and personalisation:
Improve customer support. Research shows that 83% of online shoppers need support to complete a purchase. Working to eliminate any waiting time will improve shopper relations and their loyalty.
Chatbots are a techy alternative to human agents. Software applications like chatbots can emulate human language, making them a great option for automated marketing and customer care.
Offer timely, valuable content. Sending email blasts with the same content may bore customers. Create specific and fresh content for each customer segment (i.e. demographic, geographic, technographic, etc.) to form better customer relationships.
As a general rule of thumb, when sending out content, check whether it satisfies your customers' interests and needs.
Do not take personalisation too far. Anything that is over-personalised can make customers feel creeped out rather than impressed—and these five examples of creepy marketing are living proof.
Below are some ways to interact with your customers without going overboard:
Send a simple reminder based on their actions on your website.
Offer incentives after a certain number of online purchases.
Send an automated email confirmation related to their purchase.
Send an email reminder to finish the purchase and other items that may complement their order(s).
4. Identify Qualified Leads for Sales
Marketing automation goes beyond mundane tasks and tracking customer data, it can also be used for identifying qualified sales leads.
Most automation platforms can qualify leads. They provide a set of mechanisms that allows users to take control of lead generation, from converting website visitors into leads, to nurturing them and increasing their sales qualification.
To delve deeper:
Convert a visitor to lead. Marketing automation platforms can be used to automate some aspects of your lead generation process. The process is typically broken down into the following:

Sending content to capture email addresses from your customers
Offering extra content to identify interested prospects
Sending content as promised together with the online form
Turning over the list of identified leads to your sales team

Nurture leads. Marketing automation software makes lead nurturing easier. Through automated campaigns and clearly defined content, you can educate leads on how your brand solves their challenges.
Close the sale. Only leads that meet a threshold score get passed onto the sales team. You can pass over sales-ready leads using lead scoring, and automated strategy that adds or subtracts points from each lead based on actions they take or not.
Final Thoughts
With plenty of marketing software solutions available, there is no reason for you not to jump on the bandwagon.
Marketing automation can provide your business with opportunities for cost reduction, increased engagement, and high conversion rates.
The automation tool can enhance customer experiences, which are essential in converting leads to sales.
At 2Stallions, we recognize the need for automating marketing and sales processes. By helping you implement marketing automation for your brand, our team can optimize your business functions and improve your efficiency, letting you focus on your bottom line.
Revolutionize your marketing game with our leading Marketing Automation services! Say goodbye to monotony and hello to tailor-made, data-driven brilliance. Become a marketing dynamo with our wizardry. Connect with us today! 🚀