Did you know that artificial intelligence (AI) isn't limited to the healthcare, manufacturing, entertainment and gaming industries? You can also integrate AI in email marketing to drive your business forward.  
More and more marketers are utilising AI technology to reshape their email marketing strategies. Email plays a crucial part in business communication, so it's not a surprise that almost everyone is jumping on the bandwagon.
If you're not confident about AI's ability to hit the gas pedal on your email marketing efforts, let these statistics do the talking: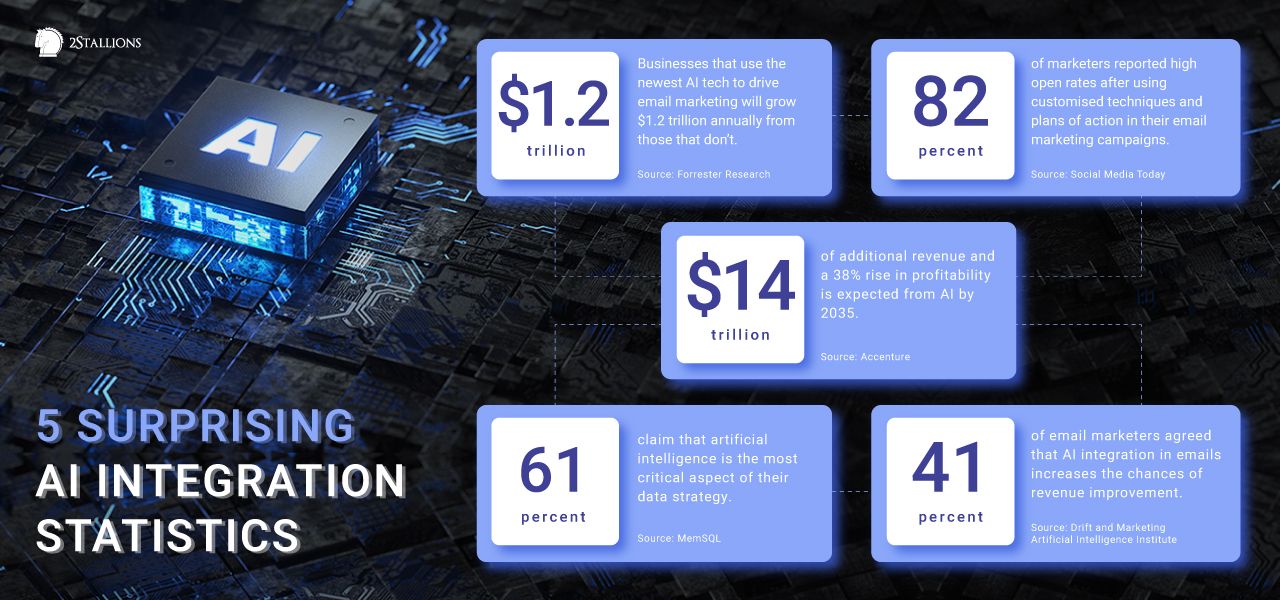 Still not convinced? Here are four ways AI can optimise your email marketing campaigns.
First, What Exactly Is Artificial Intelligence? 
In its simplest form, artificial intelligence leverages computer systems to mimic the problem-solving and decision-making capabilities of the human brain. It delves into the rational thinking and acting approach, where conclusions are drawn based on symbolic logic.
Here are the major branches of AI: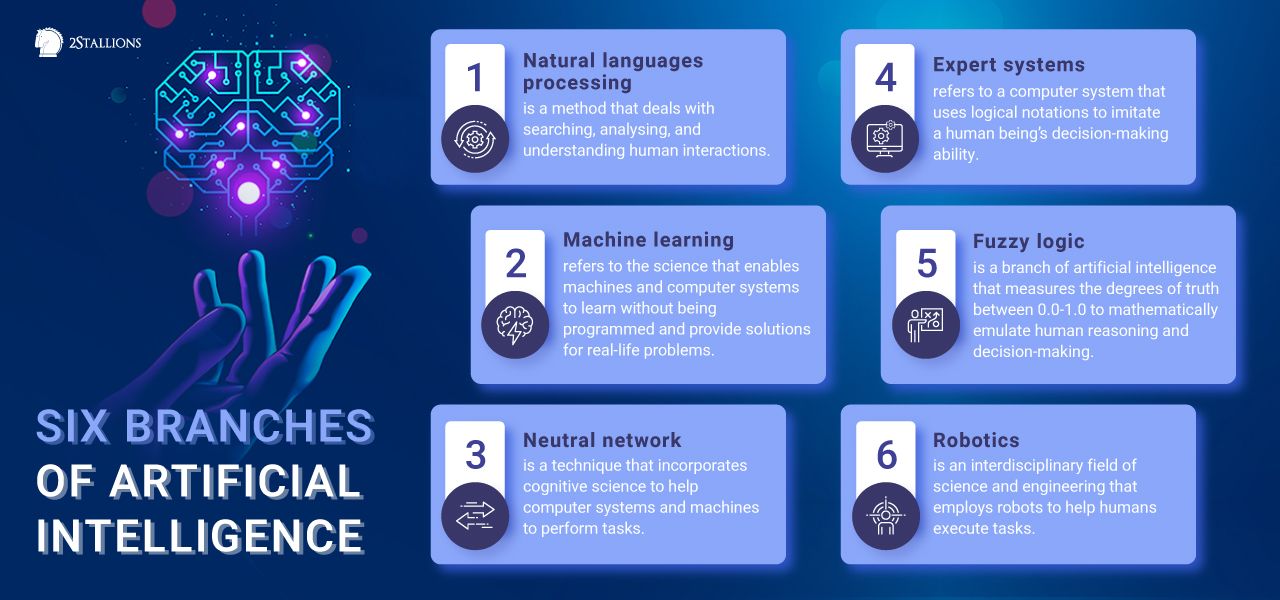 AI systems have numerous real-world applications. The most common applications include speech recognition, customer service, computer vision, recommendation engines, and automated stock trading.
4 Ways to Use AI in Email Marketing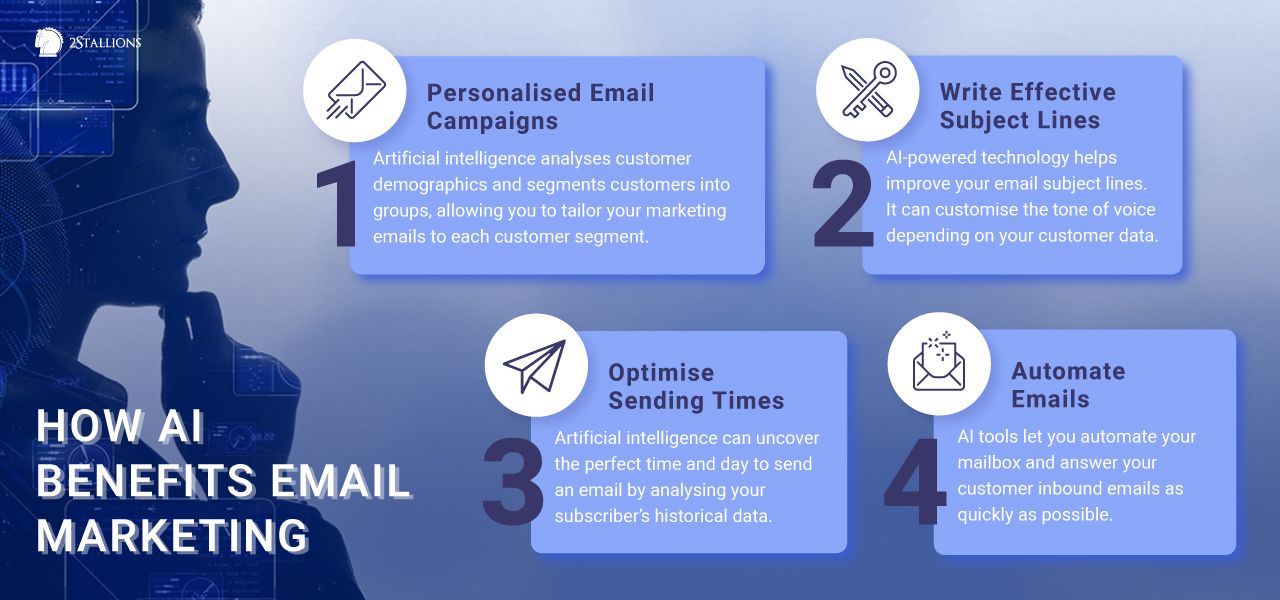 1. Create Personalised Email Campaigns
Like social media, the email also offers a wealth of benefits. This digital marketing channel allows you to establish brand awareness, promote your products or services to a specific audience, and drive traffic to your blog without worrying about the character limits.
On top of these, sending emails can also help build and nurture relationships with your current and potential customers—specifically millennials.
According to Adestra, younger consumers prefer email as a primary medium for communicating with brands. The report showed that 73% of the millennial generation find email ubiquitous despite the explosion of newish digital channels.
So if your customer base is comprised of teens and young adults, use email marketing campaigns to engage them more and make them repeat customers. Here's the good news: artificial intelligence can help you do just that.
Using AI in email marketing allows you to create messages based on your customer demographics or interests. AI technology predicts customer behaviour by segmenting customers into groups and analysing data from previous brand interactions.
The predictive analytics of artificial intelligence enables you to customise your email campaigns. For example, you can suggest recommended products or mail specific content that meets the customer behaviours, expectations, and wishes.
2. Write Catchy, Relevant Subject Lines
Did you know that emails with personalised subject lines have higher open and click-through rates than those without? The reason behind this is simple—subject lines that give a sense of exclusivity make people more valued.
Human beings are hardwired for connections. We are naturally inclined to engage with information that we find appealing and relevant. To back this claim, Dr. Rachna Jain, a psychologist, mentioned the concept of selective attention in a Social Media Examiner article.
"Most commonly, reticular activating system (RAS) is associated with the concept of selective attention, which means that we naturally orient to information or ideas that we are invested in."
Since people cling to personalised experiences, work on writing better email subject lines. Note that subject lines are the first thing that recipients recognise, so make them more relevant and appealing to boost engagement.
Below are three ways to make your subject lines more interesting:
Use your customer's data. Aside from sending an email with a subject line that mentions your readers' first names, it also makes sense to mention their interests briefly.
Check their transactions history. Offer a relevant product that your customers previously bought. This technique never fails in converting them into returning paying customers.
Use FOMO to trigger urgency. "Our SALE is ending soon," "Your subscription is expiring," "Few items left," "Last chance for 50% off". Subject lines like these use fear of missing out (FOMO), which triggers urgency and scarcity.
Oh, did we mention that artificial intelligence can aid in writing better email subject lines? AI-powered tools, such as Phrasee, write and test email subject lines by analysing email data.
But if you don't want to use AI technology in generating optimised subject lines, you can use it to gain insights about your customers. That way, you can create the best subject lines based on data.
3. Predict the Best Time to Send Emails
In email marketing, timing is a paramount concern. Your campaigns must get to your customers' inboxes at the time where they're likely to open them. Otherwise, your business will fall short of securing leads or purchases.
So, when's the best day to send an email? Studies have found that discovered clicks and pen rates were highest on Mondays, Tuesdays, and Wednesdays. Another research also uncovered the ideal time to send an email campaign on a given day—10 a.m. and between 3:00 p.m. and 4:00 p.m.
These times make a lot of sense because of two reasons. First, people prepare to work or start working at 10 in the morning. Second, others are about to end their workday around 3 or 4 o'clock in the afternoon. This means they have some time to spare to check their email inboxes.
However, that's not always the case because not everyone has the same 24 hours. Let's take work-at-home mothers (WAHMs) as an example.
Many of WAHMs juggle work and household chores at the same time. Most of the time, they get to check their personal emails in their spare time, either during the evenings or weekends.
So does sending an email on a Tuesday at 10 a.m. make sense for them? Probably not.
If you tap into artificial intelligence, you will not have to worry about uncovering the perfect time and day to send an email to your target audience. AI technology takes the guesswork out and suggests the best times to send emails based on your subscribers' data.
For example, AI found that most of your subscribers open emails at the start of the day. The extracted data allows you to fine-tune the schedule of sending out your emails. Now, isn't that amazing?
4. Automate Repetitive Email Responses
The use of AI in email marketing is truly encompassing. With the technology's ability to collect data and define patterns based on data collected, marketers can use all the information to improve their overall email marketing performance.
But if you think artificial intelligence only helps with analysing customers' behaviours, you're mistaken. It can also automate your mailbox and answer your customer inbound emails as quickly as possible.
This automatic email response function saves your marketing or customer support team a hefty amount of time, helping them focus more on other work that matters.
So how does AI technology write automated emails? Advanced AI tools use a generative pre-trained transformer or GPT-3, OpenAI's newest language model. This model is pre-trained on several unlabelled texts and for a variety of different language tasks.
If that's too technical to understand, here's a demo from OthersideAI, a budding company that uses GPT-3 to shorthand notes into written emails.
An email composed by OthersideAI
In this demo, Matt Shumer, a cofounder of OthersideAI, typed short lines in response to a mock email asking what features coders should build next. It turns those or notes into a complete email like the one above.
What's also great about this GPT-3 powered AI technology is that you can generate a new email over and over again. If you don't like the first two suggestions, simply click the 'generate' button, and you will get a tweaked text.
Wrap-Up: Use AI in Your Email Marketing Campaigns
Integrating AI in email marketing can benefit your company in the long run; it can promise increased leads, engagement and conversions.
The next time you map out your email marketing strategy, consider tapping into artificial intelligence. Use the AI technology to your advantage to study your customers' interests, figure out the best time to send emails, and tailor the experience for them.
Enhance your brand's digital presence with our meticulously crafted Email Marketing solutions at 2Stallions. Designed to engage and captivate your audience, our success-driven email campaigns are ready to boost your ROI and create a lasting impact. Launch your success story with us now! 🚀