For the April to June 2016 issue of The Singapore Marketer, I was interviewed by the Marketing Institute of Singapore. Here, I talked about how I started in digital marketing and gave vital information on how to be better at it. Check out the full interview below:
Daniel Heerkens is a Dutch Entrepreneur who has worked & studied in more than seven countries. Working previously for FMCG multinationals in The Netherlands, Malaysia & Singapore, he is now the Digital Marketing Strategy Expert at 2Stallions. TSM had a chat with Daniel to get his valuable insights on the digital marketing landscape and its correlation with public relations.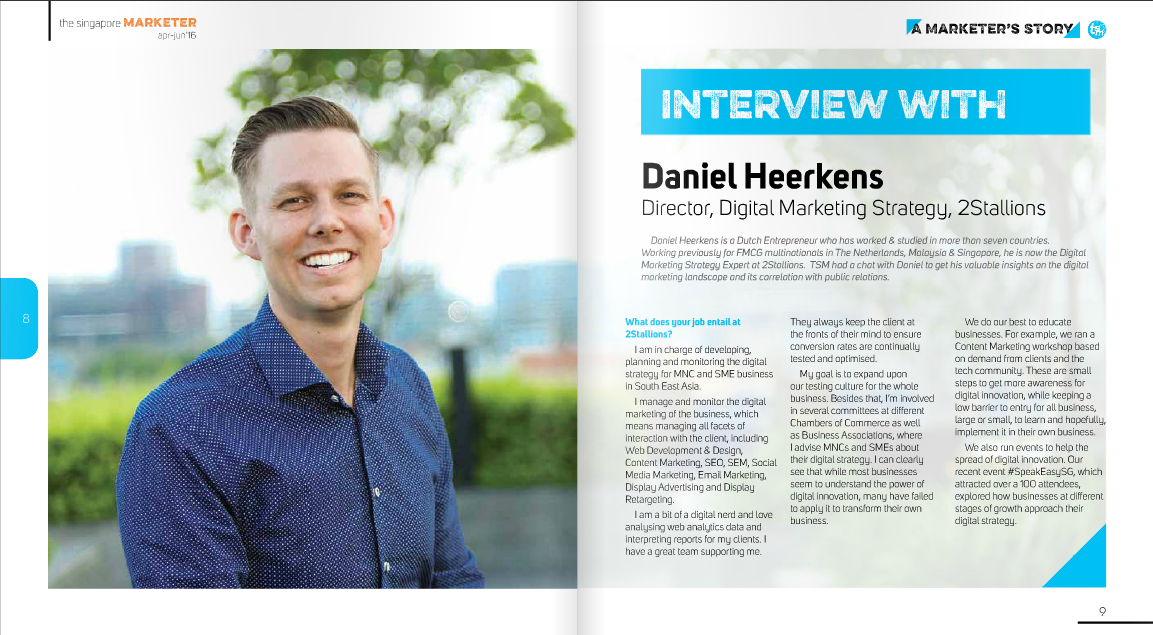 What does your job entail at 2Stallions?
I am in charge of developing, planning and monitoring the digital strategy for MNC and SME businesses in South East Asia. I manage and monitor the digital marketing of the business, which means managing all facets of interaction with the client, including Web Development and design, Content Marketing, SEO, SEM, Social Media Marketing, Email Marketing, Display Advertising and Display Retargeting. I am a bit of a digital nerd and love analysing web analytics data and interpreting reports for my clients. I have a great team supporting me.
They always keep the client at the front of their mind to ensure conversion rates are continually tested and optimised. My goal is to expand upon our testing culture for the whole business. Besides that, I'm involved in several committees at different Chambers of Commerce as well as Business Associations, where I advise MNCs and SMEs about their digital strategy. I can see that while most businesses seem to understand the power of digital innovation, many have failed to apply it to transform their own business.
We do our best to educate businesses. For example, we ran a Content Marketing workshop based on demand from clients and the tech community. These are small steps to get more awareness for digital innovation, while keeping a low barrier to entry for all businesses, large or small, to learn and hopefully, implement it in their own business. We also run events to help the spread of digital innovation. Our recent event #SpeakEasySG, which attracted over 100 attendees, explored how businesses at different stages of growth approach their digital strategy.
How did you get your start as a digital marketer?
I have always had a passion for marketing – or should I say understanding people's behaviour and how to help them solve their challenges. My first experience was with FrieslandCampina (also known as Dutch Lady & Friso in S.E.A), researching why mothers are uptrading from mainstream to premium infant formula and what the underlying reasons for that behaviour. Part of the research indicated that these mothers would surf the web and find relevant information to justify their purchase of more expensive milk for their babies. Their unique behaviour fuelled me to pursue a career in Marketing with an emphasis on Digital.
What has been your biggest challenge?
My biggest challenge and frustration is the lack of action taken by many businesses despite seeing the changing digital landscape. For example, in the Netherlands, where I'm from, I can see that eCommerce has made a significant impact on our shopping streets. Outside of the top 4 cities in the country, the shopping space is shifting to Digital, with shopping streets becoming emptier and emptier. This change happened within the last five years. This shows that Digital is rapidly transforming the entire business landscape and if businesses continue to ignore it, they may not be around for very long.
Share with us one campaign you did for 2Stallions with a remarkable result.
While we run many campaigns, our most recent one sticks out in my mind due to the remarkable result we achieved. We had a client approach us to drive online ticket sales to his event with TWO major challenges:
• We had only one week to promote the event.
• With eight other similar events happening in the month, there was tough competition for the same demographic.
We took on the challenge and ran the campaign for five days. Our team ran a three-pronged advertising campaign on Facebook and also ran online advertising on search engines to drive traffic to the ticket sales page AND convert these visitors. In five days, we were able to drive a staggering 2,772 in online ticket purchases. The client was over the moon as he saved on offline marketing channels, sales and printing costs AND he made an 18X return on investment. Needless to say, we've cemented a long-term partnership with this client moving forward.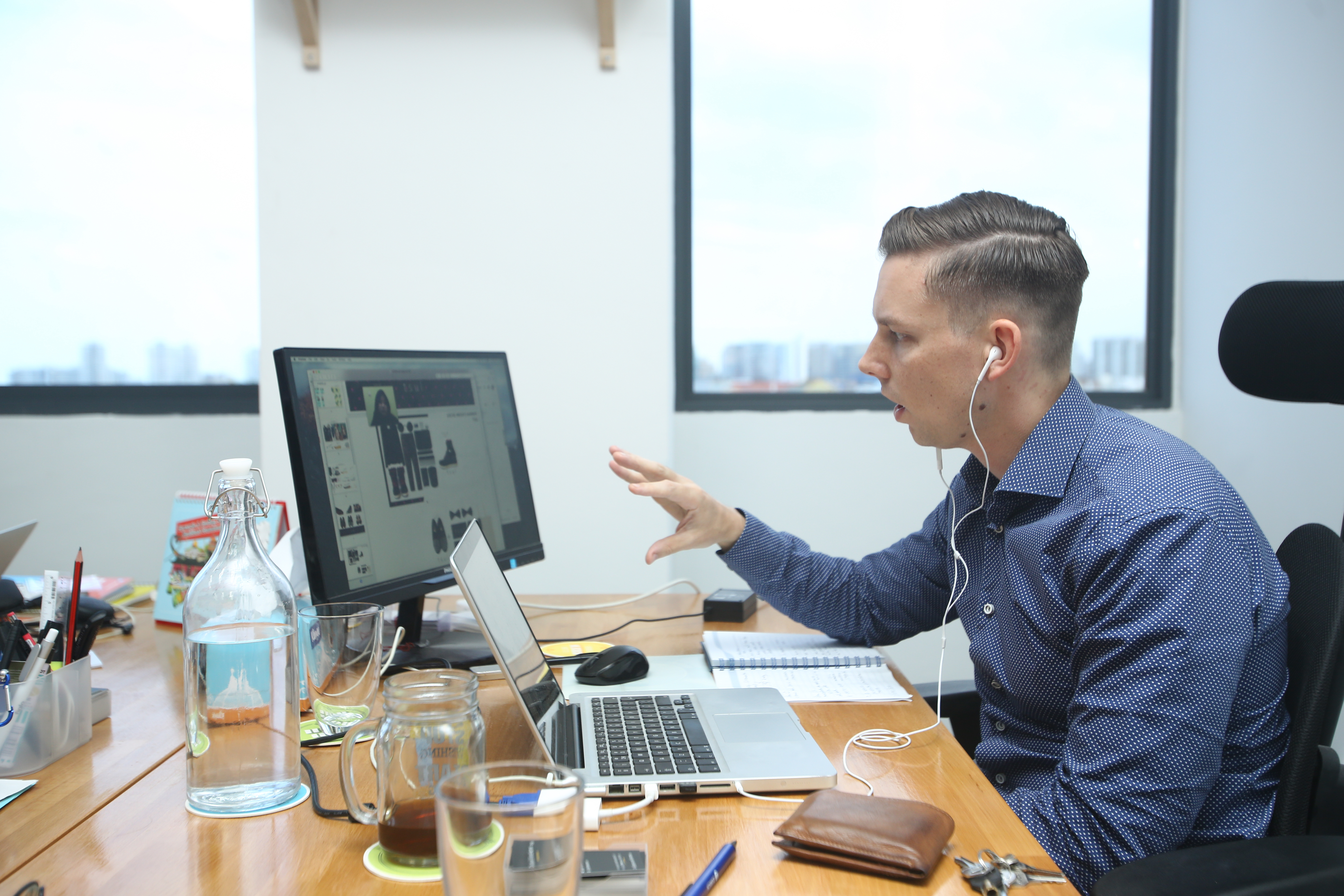 Please list three things one/company should be aware of when embarking on a new digital marketing campaign.
When hiring a digital marketing agency for your digital marketing campaign, you should do a check on the following:
1. Practice what you preach There is a very low barrier to entry into the digital space, which means there are many digital companies out in the field. You will find a very large spectrum in the quality of the work on offer. I honestly believe in walking the talk. When a company claims to be an expert in SEO/Content Marketing, don't just ask them for their portfolio of clients but also work they do for themselves. It's like dealing with an interior designer. Would you trust one who doesn't have a good-looking showroom to create a great space for you? For digital agencies, have a look at their SEO or traffic before they start an SEO/SEM campaign for your business. Alexa. com, owned by Amazon, is a simple and effective way to check their site traffic and ranking.
2. Price shouldn't always be a reference point Good quality comes with a reasonable price tag, especially when you expect proper development and design to be done. Don't expect the world if you are not willing to pay for it. Shortcuts also happen a lot in the Digital Space under the hood, so be smart about it and ask for clear explanations. A digital agency should be able to answer sufficiently your questions as to HOW the campaign they are running is effective for your business.
3. Change is the only constant in Digital Digital is changing so fast that even digital companies are continually playing catch up to the latest trends in SEO or Content Marketing. Always make sure you work with an Agency that knows the latest digital innovations and can implement for your business. See if they have their blog, how much traffic their website gets (see trafficestimate.com for reference) and whether they have good references.
Digital has quickly become a crucial component of every marketer's brand strategy, What are the important elements of synergising public relations and digital efforts?
Synergising public relations and digital efforts is the key to every marketer's brand strategy. I have done quite a fair bit of Digital International PR and based on my experience the most important elements are:
1. Be featured on websites with a high thought leadership authority that is ranked well in Google. This website are seen as the leader in their particular industry and other websites will take their news and put it on their websites.
2. When these websites feature you, it is crucial to receive a link back to your website. This will drive immediate traffic to your website and it may also improve your website's ranking on Google for SEO. 3. Analyse your closest competitor in your industry field and see how they are doing in the digital space. Also, study the industry leader in the Digital Space and try to find a substitute product or service you can leverage on.
3. Analyse your closest competitor in your industry field and see how they are doing in the digital space. Also, study the industry leader in the Digital Space and try to find a substitute product or service you can leverage on.
What is a digital one-big-thing that one should be looking forward to in the year 2016?
The Digital One-Big-Thing in 2016 is Content Marketing combined with Marketing Automation. Those two elements are crucial in attracting potential leads and converting them into customers. Content Marketing and marketing Automation are not simply buzzwords but important drivers of businesses online.
What kind of digital marketer would you call yourself?
I think of myself as a 'roll-up-my-sleeve-and-get-dirty' type of Digital marketer. I am hands-on with clients and strongly believe in explaining concepts to businesses to ensure they understand their investments fully. Our diverse team has excellent technical and design capabilities that synergise to help clients achieve their business objectives online.
Elevate your brand and soar to new heights with Singapore's premier digital advertising agency. Our tailored strategies fuel a seamless digital transformation to keep you one step ahead of the competition. Get started now!