The rise of social media has given small businesses an amazing opportunity to be discovered by engaged audiences that are too large to ignore. According to Zaphoria, there are 1.86 billion monthly active Facebook users while other social media sites like Instagram have a whopping 400 million active users.
Social media has allowed small businesses to get valuable customer insights, as well as a huge increase in loyalty and brand awareness. All of which can be done without breaking the bank.
While simply signing up and joining Facebook and the likes does not guarantee instant success, there are some small businesses that are 'owning' social media using various big-brand marketing strategies. There are a lot of examples of businesses that are social media success stories, here are some notable ones as well as tips on how your small business can start rocking social media.
Small Businesses Rocking Social Media
Cupcake Royale
Cupcake Royale is a small business that started out as Seattle's first cupcake café in 2003. Their Facebook page is the perfect example of using social media as a real-time surveying tool. They keep their customers engaged by asking them questions on their Valentine Day slogan and their summertime cupcake preferences. This technique seems to work really well for them, with high engagement levels from their audience. A great example of this would be a post that they did for President's day.
Cupcake Royale also has a blog that tells readers how they source their all-natural ingredients. This is a great tool to increase brand awareness and spread their story, as Cupcake Royale prides itself on using all-natural ingredients for their treats.
Coconut Bliss
Coconut Bliss is a dairy and soy free ice cream brand that utilised contests and promotions on social media to gain a big following. Visual storytelling is one of the most powerful tools in social media and Coconut Bliss certainly took advantage of this.
Coconut Bliss encouraged the public to submit their best and yummiest photos of people eating their ice cream. They accomplished this by starting out in-store taste-testing and building personal relationships with their customers. Eventually those people followed them on their social media pages and started participating and encouraging others – creating a snowball effect. This has grown their Instagram page rapidly, as well as opened them up to bigger partnerships with brands like VegNews.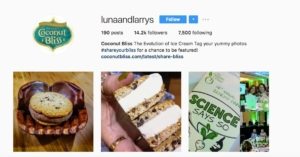 Coconut Bliss uploaded their first post on Instagram a year and three months ago. Today they already have over 14,000 followers.
Dollar Shave Club
Dollar Shave Club had a pretty unique offer back in 2012 – sign up for a razor subscription for disposable razors delivered to your doorstep every month. It sounds like a great idea, but the challenge was to get their message across.
Dollar Shave Club overcame this challenge by creating a video that was both funny and focused and cost them only $4,500. I say 'only' because the results were mind-blowing and well worth the investment, with 4.75 million views in the span of just three months. Social media played a big part, as the video spread like wildfire through Twitter and Facebook. As of today, Dollar Shave Club is competing with the likes of Gillette and was last valued at over $615 million in 2015. Not bad for a 'small business' with a simple idea.
The 3 examples shared above have hopefully whet your appetite for the possibilities to grow your own business online through social media. While reading success stories is great, it's only through taking action and executing that your business can grow. Here is a set of small business tips for you to implement TODAY to set you on your way to social media success!
1. Set Your Goals and Budget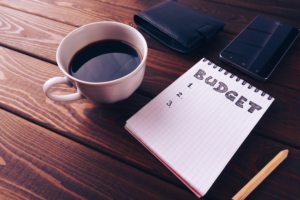 Any marketing, online or offline, that you do requires you to first set your goals. Here are some questions you can ask yourself to determine the aims for your brand and figure out what you really want:
Do you want more people to be aware of your brand?
Are you promoting a specific product?
Are you looking to widen your reach?
Do you want people to know where to find you?
Once you are able to figure out what you really want for your brand, you will be able to prioritise your goals. Focus on what you need most and the rest will follow. As soon as you have determined your goals, you will find it easier to set a specific budget for marketing. Your budget can be determined based on the expected returns on investment as well.
If you're still having trouble with your goals and budget, we would be happy to discuss social media marketing with you through the comments. You can also look through our social media offerings here.
2. Create unique, but relevant, content
With all the competition out there, you need to stand out. But how? Well, if you want the quickest, simplest answer, you just have to be "follow" worthy. So, maybe that doesn't really help you much.
What it means is that for your social media strategy to work, you have to create content for your page that captures the imagination of people and provides them immense value, enough to make them want to follow you for more. If you fail to do this, your page will sink into obscurity pretty quickly (yes, it's harsh but the truth).
Here are ways to develop social media content:
Come up with an idea – if you have a shortage of creative ideas, check out tweakyourbiz as it can help you generate outstanding titles for your content. You can also check out other blogs (even in an unrelated niche). It may give you the boost needed to get your creative juices flowing.
Research a lot – this might be boring for some people but well-researched content goes a long way. It will boost your credibility and increases the chance of your post being reshared as a resource by your viewers.
Make it eye-catching – first impressions matter in the world of social media and reflect on how people perceive your brand. Visuals that are unique, creative, beautiful, and eye-catching that can also get people inspired. Videos are also great.
3. Try to engage your audience
Granted that you've already nailed down the "follow-worthy" content, it is time to make sure that your audience finds out more about you. To do this, you have to keep them engaged and wanting more from your brand. Here are some ways to do this:
Run regular contests on your social media accounts
Create and promote discussions on social media using a customised hashtag
Post a fan photo to recognize a follower regularly on your social media account
Encourage conversation and idea generation among your audience
Give away free stuff once in a while to loyal followers
There are so many ways to keep your customers engaged. If it gets overwhelming, just ensure you're aligned to your goals when deciding on ways to keep your customers talking about your brand.
4. Use online tools to help you do the heavy lifting
Engaging your audience will require a lot of time and posting. One important aspect of a successful social media campaign is social sharing. This means that you will need to post important stories or links with regards to your industry. This will help you become more of an authority to your industry as well as open up possible important connections and networks. Getting lost with all the content floating around the internet is very easy.
One tool that you can use is called Drum Up. This service scours through millions of pieces of content across the web in real time. You can then sift through the content that you would like to post. The software also allows you to schedule important and influential posts.
Becoming an authority in your industry will get followers to flock to you. This will result in more engagement and, hopefully more business.
5. Start blogging
Blogging sounds tedious and you may wonder how it is relevant to social media marketing. As a small business owner, you sometimes need to showcase that you are as good as any other brand out there. Even if your business is on all the social media platforms like Facebook, LinkedIn, Twitter, and Instagram, you still need your own website for followers to learn more and make purchases.
Your blog posts can also be great sources for creating bite-sized content for your social media channels, connecting all of them back to your website as part of your online business strategy. Moreover, your customers will most likely trust you if they see how competent and well versed you are in your industry, yet generous with sharing your knowledge with them.
Blogging is also one of the best ways to build and cultivate your brand for people to connect to. If you have a blog that people follow, then there is a huge chance that those same people will also follow your social media profiles.
Here are 21 reasons why your business should start blogging if you're unconvinced.
6. Keep networking digitally
Social media is the digital version of the real world. Similar to the real world, your marketing can get better if you keep on networking.  You can join chat groups and forums to meet different industry leaders, and people passionate about the same things as you. Here's an idea from The Social Examiner that you can try for networking – host a social media event that focuses on your followers.
It is basically a digital party that you host and your followers can share links to their own pages on your page. It creates a community within your page, gets more people to follow you, increases your news feed visibility, generates more business, and get to know more people that can help you.
7. Focus on your landing page conversion rate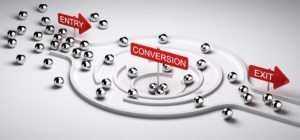 Your landing page can make or break your business. It is where a visitor gets converted to an actual lead or even customer. According to a report by WordStream, conversion rates vary by industry but the best advertisers have conversion rates at 10% or higher.
Focusing on your landing page conversion rates raises the return on investment from the money, time, and effort you have spent on your social media marketing campaign. If you find that your conversion rate is poor, you need to work harder on your copywriting, your offer, your call-to-action and also determine if you're targeting the correct audience.
Keep in mind that if you are getting a lot of followers on social media but most are not turning into customers, it may signify something is missing or wrong with your marketing strategy. According to Sharon Drew Morgen, "Marketing is searching for and cultivating leads who are likely to become your customers at some point." Therefore, your landing page conversion rate is the best way to check if your social media marketing effort is a success.
Not sure what conversion rates are and how to optimize them? Read our article on turning visitors to customers with conversion funnels for a quick primer.
8. Analyse and tweak your social media performance
Not everything is set in stone and although social media marketing is an effective tool, it does not give results overnight and may not work for everyone. Successful campaigns are regularly measured and tweaked accordingly. Your ability to know what is working, and actually being in tune with your audience, will greatly affect the outcome of your social media marketing.
If you are looking for ways to manage your social media statistics, BufferApp made a list of free tools that you can use.
It's a wonderful age to be a small business as you can finally go head-to-head with bigger brands using social media, without needing a mega-budget (although having that surely doesn't hurt). If you are willing to take the time to research and execute the various tricks and tools that can help you manage your social media marketing, there is a good chance that your social media performance will be satisfactory. A well thought out plan, together with perseverance, should reap you great results from your social media marketing.
If you have tried out any of these eight tips or have other tips you'd like to share (remember that sharing is the spirit to adopt for social media!), then do leave us a comment below.
🚀Elevate Your Brand's Presence with Our Top-Tier Social Media Marketing Agency in Singapore! Let our team of experts craft and execute a winning social media strategy to propel your business to new heights.