Welcome back to another edition of #2S Team stories-a series of short and fun interviews that allows our readers to take a peek into an agency's life. You get to meet the buzzing minds behind our projects and get up close and personal with members of the #2Sfamily!
This edition, we have a conversation with our Senior UI/UX Designer, Kisy Kumala Sari. She'll be sharing with us about her journey, of how she started as a freelance creative designer and eventually became a UI/UX designer at our agency. If you're an aspiring illustrator or creative designer, you're in a for a treat! Kisy has also shared with us some of her favourite design tools and guides that helped her grow and improve as a designer. Be sure to read on to discover what they are!
1. Hi Kisy! Tell us a little bit more about yourself.
Hello everyone, my name is Kisy, I'm a Senior UI/UX designer at 2Stallions Digital Marketing Agency. I graduated with a Bachelor of Arts, Visual Communication Design from Maranatha Christian University back in 2011.
I kick-started my career with a retail company in Indonesia. My job then was to design creative assets, ranging from branding, promotional, marketing materials to creating the design concept for the storefront and retail furniture.
In 2015, I joined 2Stallions. Till this date, I've been with the digital agency officially for 4 years & 9 months. Initially I was working with a lean creative team. However, we managed to recruit more talents into our team in the recent years. I absolutely enjoy working alongside my colleagues Gita, Ventina, Fira and Antayra (our Head of Creative Strategy & Accounts)! I am pleased to witness how much the company has grown since then.
2. What made you decide on a creative designer career?
It started simply because of my passion for drawing and illustration. I chose to study design because it had an illustration aspect.
Many people tend to misunderstand that a creative designer's job is simply about creating posters and brochures. But creative design is much more complex than that. It's a job that combines technology, design and psychology to create human centred designs in order to solve problems for real users in the world. The complexity and the freedom to exercise creativity was what made me fall in love with the job! I also love that creative design is something that's constantly evolving and expanding, so there's always something new to learn.
I am very blessed to work in a field that I am passionate about. Most of the time, work doesn't really feel like work to me.
3. How or where do you get inspiration for your projects?
As a start, I'd usually look through the creative brief provided by the client. I would then research and check out what companies in the client's industry favour in their design approach. This helps me to understand what works and what doesn't. As for visual references, I have a few go-to websites such as Awwwards, Dribbble, Béhance, Pinterest and Brandnew. After looking through these websites, I would collect a few of my favourite images or visual elements and create a mood board which I think would match the client's requirement.
4. What are some of your favourite tools/guide books as a UI/UX designer?
Tools
For website: Sketch, InvisionApp, Avocode, Zeplin
For general design: Photoshop, Illustrator, InDesign
For animation: AfterEffects
For illustration: Procreate
These programs are not just tools. As a designer, we need to constantly upgrade our skillset to keep up with technology improvements. I'd recommend creative designers to continuously practice with these tools to become better at the craft of creative design.
UI/UX guide
Steve Krug's Don't Make Me Think is still the best book out there if you are a UI/UX newbie. When I first started my career as a UI/UX designer, I also watched YouTube channel Flux to see what it was like to work as a UI/UX designer. UXpin also has a free e-book about UI/UX and basic UX design principle. For design beginners, I'd also recommend them to read articles from Nielsen Norman Group if they want a deep dive into UI/UX.
Design guide
For design guides, I like to watch TheFutur YouTube channel. To know about finding inspiration for design work, you can always count on Steal Like An Artist by Austin Kleon. Lately, I'm looking to learn more about the psychology aspect of UI/UX design. I'll let you guys know when I find something I really like in the future.
5. Can you recommend us 3 Instagram accounts you're personally a fan of?
Jessica Walsh – for a peek into a designer's life with vibrant visuals and snippets on mental health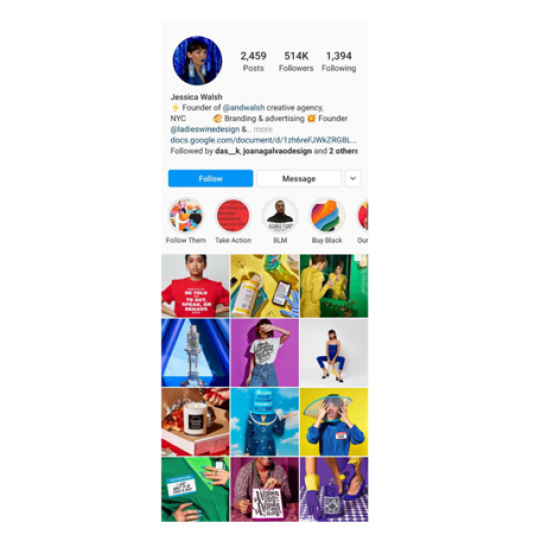 Jessica's Instagram feed is full of vibrant, playful and sometimes weird visuals that one cannot stop looking at them! I love that she uses her platform to share her life as a designer, as well as advocate her thoughts on social issues and mental health.
Mel Robbins – for bit-sized tips on motivation and personal development
Mel Robbins is a no BS life coach who will tell you everything you need to hear. From self-love, tips on motivation to personal development, she provides bite sized information and simple tools to help people in daily emotional struggles. Her advice has gotten me through some of the difficult periods in my personal and professional life.
Chrisdo and The Futr – to become a better designer with a business mind-set
Both accounts are owned by Chris Do. He provides useful and relevant design tips and teaches his followers how to become a better designer while developing a business mind-set for the creative industry. He used to host these live design critique sessions and uploads the recorded version onto YouTube. By looking at others' works, it helped me discover my own flaws within my designs and know areas which I can improve on for my next design.
6. What are your hobbies outside of work?
Outside of work hours, I like to work on my illustration skills. It has always been my dream to become an illustrator and I'm keeping that dream alive.
These days, I've started drawing stylized portraits on a commission basis and I've also created my own drawing challenge on Instagram. I've also been taking online lessons about figure drawing to improve my illustration skills.
When I'm not drawing, I read books. My favourite fiction is The Strike Series by Robert Galbraith. My favourite non-fiction is How To Fail at Almost Everything and Still Win Big by Scott Adams. This book gives me so many "Aha!" moments that I think everyone should read about too.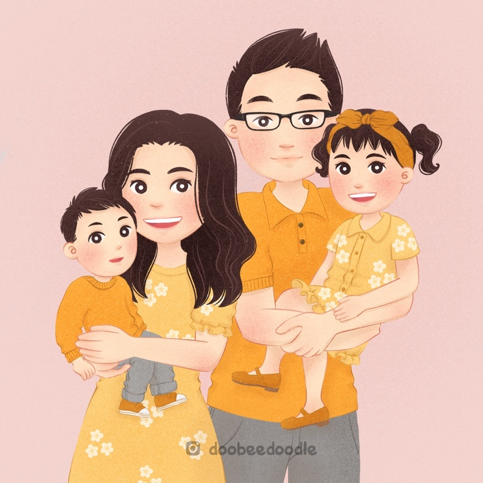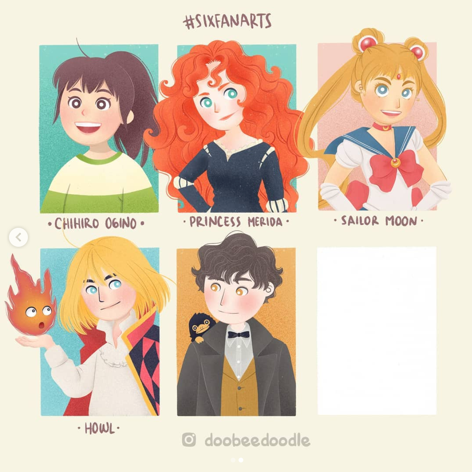 Wrapping Up
Kisy's passion for illustration and creative design is truly inspiring. Most importantly, we should learn from her the spirit of perseverance and continuous learning.
We hope you managed to take away some key learning points and learnt more about the world of creative design. If you're an aspiring illustrator or creative designer, be sure to check out the tools and guide she has recommended!
Discover more works done by our diverse team of creatives who'll bring your ideas to life with impactful designs. If you're looking for a branding and visual communications expert, don't hesitate to contact us.