Digital Marketing Is Growing In Demand
Globally, people are choosing the internet as a way to access information, communicate and carry out daily tasks such as shopping and banking. With over half of the world's population using the internet, it's no surprise that companies are going digital to sell their products and services online where their consumers are found.
According to Forbes, 70% of companies in 2019 already have a digital transformation strategy in place or are working on one. 52% of marketers around the world also made digital transformation as their key focus for driving growth.
The rate of digital transformation is accelerated when the world is hit with COVID-19.
With the pandemic keeping people in their homes and driving internet usage online, we're seeing the most rapid digital transformation in the history of the modern firm. Companies are scrambling to leverage digital to connect with customers and continue marketing their products online. As more firms turn online to sell, the demand for digital marketers to carry out online marketing also rise in tandem.
Digital marketing is likely an area of growth right now and a potential career path for many. Many companies may not be hiring right now, and you may be anxious about a job opportunity. Instead of worrying, focus on developing your skills and building your portfolio.
Don't let the speed of digital marketing change outpace your ability to adapt and expand your skills. This is the time for you to brush up your digital marketing skills and make yourself a potential hire after the pandemic situation improves.
If you are a fresh graduate or someone looking to enter the digital marketing field, here are 3 ways we recommend for you to upskill yourself and learn more about digital marketing.
3 Ways To Learn Digital Marketing
1. Make Use Of Online Resources To Self-Learn
Google and Facebook offer free certified courses
A great way to get started is to use online resources for learning.
Google's Skillshop and Facebook's Blueprint are popular platforms among aspiring digital marketers. Not only are they reputable and credible sources for learning, but they also offer a huge range of current and updated courses. Additionally, you can earn recognized certificates upon completion of the lessons!
Let us take a look at Google Skillshop. It offers important – and FREE – courses for their products such as Google Analytics and Google ads– all of which are essential tools used by digital marketing agencies and ad specialists today. Thus, it will be beneficial for you to learn how to use these Google products to their full potential and earn a Google product certification to showcase your expertise to future employers.
The lessons and content are also categorized according to their difficulty level, which will make learning easier for a beginner. One thing to note for Google Skillshop certification is that they typically last for 1 year, so you'll have to recertify annually. Not to worry, Google Skillshop will send reminders for you to recertify before your certification expires.
Other than Google Skillshop and Facebook Blueprint, another favourite learning platform for marketers is HubSpot. You will find on their website, that HubSpot hosts a vast library of free training and online courses. The courses are taught by industry experts that are typically less than 4 hours long, which also makes learning easy and less time consuming for everyone.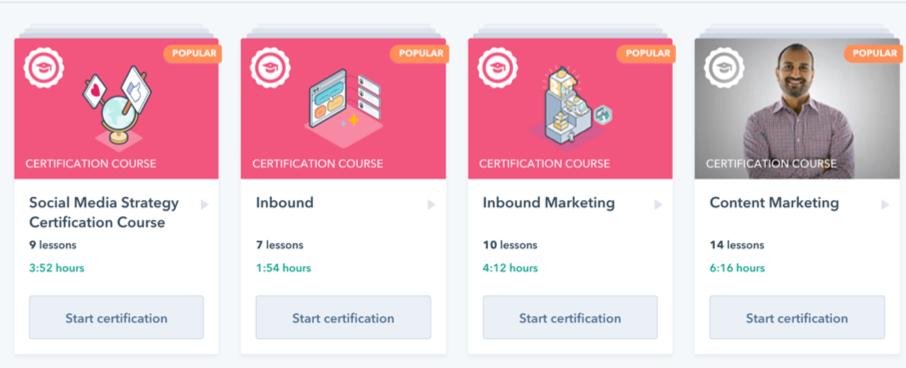 General assembly is another well-known educational site, which is currently offering "Free Fridays"- a list of free courses meant for digital marketing beginners. Although these are not certifiable courses, they are nevertheless informative introductory courses for anyone looking to enter the field of digital marketing.
Take advantage of discounted digital marketing courses
Equinet Academy, ClickAcademy Asia and Udemy are also great alternatives. Click Academy Asia provides public and corporate training in the areas of digital marketing, media and advertising, as well as leadership skills and professional soft skills. A great course series we recommend is the Certified Digital Marketing Strategist (CDMS) programme that will be up to 90% subsidized for self-funded Singaporeans. It's a course that will help you create a good overview of all digital marketing areas.
For a more detailed course into UI/UX design, you may take a look at Udemy that is currently offering a promotion for their web design courses.
2. Develop Hands-On Experience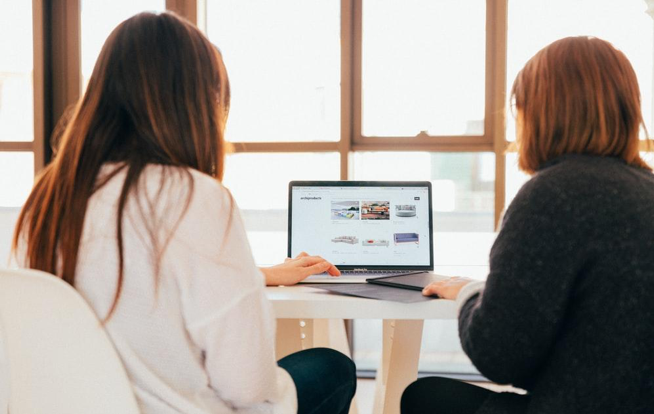 Whether it's running an Instagram page, writing articles or shooting videos, it's important that you have practical skills beyond theoretical knowledge.
You might be an avid reader and have a passion for writing. Consider starting a blog and build a list of articles you'd love to share with readers online. You may refer to our guide on the ways you can improve your content marketing skills and get some of our copywriting tips. The more you write, the better you'll be at content creation. 
If writing is not your strong suit, but you enjoy shooting and editing videos, you can work on improving your video marketing skill which is also an important skill needed for many businesses these days. It's not necessary to have a professional camera.  Start with your smartphone and experiment with different frames and angles. The more you practice, the more familiar you will be with the art of videography.
As you start working on your projects, you're also building your portfolio which will help showcase your best works to your future employer. This way, you'll gain a competitive edge over other candidates who lacks a portfolio because you have actual projects to demonstrate your level of knowledge and skills. 
3. Find A Fitting Company And Learn On The Job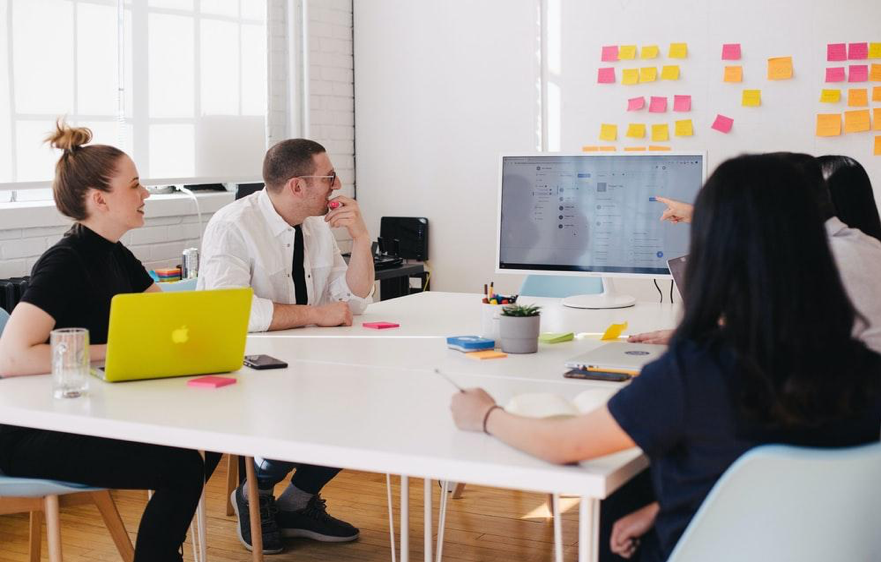 The best way to learn is still to get hands-on experience through an actual job. That is because it's the chance for you to ask questions, work on real projects and measure the actual results of your work.
However, in times where we work from home, this might not be an option yet. But you should still use the opportunity now to improve your digital marketing skills. Build your portfolio and equip yourself with knowledge of the industry to make yourself more attractive as a potential hire.
After the pandemic situation improves and companies start hiring again, you will find yourself better prepared to land a job with a digital marketing agency.  If you'd like to explore a digital marketing career with us, take a look at our job openings!
Wrapping Up
When we talk about Digital Marketing, we refer to everything from copywriting to enhancing customer experience through better UI/UX design. There are many fields for you to become an expert in and many ways for you to do so. Make sure to check out the online learning platforms we recommended and get started on your digital marketing journey! Remember to follow our blog to stay up to date about all things Digital Marketing.      
Supercharge your brand's online presence by partnering with our dynamic digital marketing and advertising agency. Our team has expertly incorporated a comprehensive marketing system that expands your reach across various platforms. Enjoy a personalized strategy that delivers tangible outcomes and enhances your brand's influence in the digital realm.