At present, the Asia-Pacific region is leading in global B2C e-commerce, with the total retail sales surpassing Western Europe and North America markets.
In fact, countries in the region are reported to have the highest levels of e-commerce adoption in the world. Currently, there are approximately 260 million users in the SEA region. This makes SEA the 4th largest market in the world and the region's B2C e-commerce market is estimated to be valued at US$770 billion.
According to GlobalWebIndex, Indonesia, Thailand, Malaysia, and Vietnam are all ahead of the global average while the Philippines matches the global average at 75%. Singapore, however, comes in just below that average, at 73%.
The SEA market is also a fast growing market , expanding at a 5-year compound annual growth rate (CAGR) of 14 per cent. The growth is further accelerated with the onset of a pandemic which saw 400% sales increase for products such as groceries.
The phenomenal growth in e-commerce is also not just about big, established platforms such as Shopee and Lazada. 2020 also saw other rising players in the region, including Vietnam's Sendo,  Tokopedia and Bukalapak in Indonesia as well.
With the increasing popularity of e-commerce, it's no surprise that Southeast Asia has adopted the industry well. If you are transitioning to e-commerce and unsure how to maximise your digital potential, there is no reason to fret. Here are 3 Rising E-Commerce Trends that will inform your marketing decisions and drive your brand forward.
Rising Trends in the APAC/SEA Region
 Trend #1: Mobile-first connectivity
High mobile phone user penetration is one of the major drivers of e-commerce growth in Southeast Asia.
A 2018 GSMA Intelligence's Mobile Connectivity report indicated that 33% of Southeast Asia's population is now covered by a mobile network, with 82% of the population living within the range of a 4G connection.
The increasing availability of affordable smartphones and the rollout of mobile telecommunication services across SEA markets also play an integral part in the growing mobile penetration in the region.
When it comes to internet penetration, Southeast Asian countries also lead the way. As of May 2020, Brunei ranks first with 95.3% followed by Singapore with 88.4% and Thailand with 81.7%.
This growing mobile consumption and internet use in the SEA increases the likelihood of consumers making purchases via their mobile phones. Not only that, but this could also mean a higher probability of them researching product information on their smartphones.
How to keep up with this trend?
Given the Southeast Asians' high mobile usage, you should optimize your website for mobile devices. Your e-commerce site must feature a responsive design—be it viewed through a web browser on a PC or a smartphone.
The loading speed of your website also matters. Most people prefer using mobile phones when they want an immediate response, so slow-loading products and sluggish checkout process might not help.
Building a mobile app is another way to keep pace with this trend. This will help you tap your customer base easier and engage with them faster.
Trend #2: Growing Number of e-shops
The rising demand for e-commerce has compelled many aspiring businesses to enter the industry.
Before, people are hesitant to buy things online. That is not the case anymore. Shoppers now prefer purchasing online primarily because it is convenient. Some online stores also offer a wider selection and better prices compared to physical stores.
This is particularly evident in today's Covid-19 pandemic, wherein more people are turning to e-commerce to purchase items they might have otherwise purchased in person.
Indeed, the Internet has transformed shopping in Southeast Asia—and studies have proven it many times. According to a report by Hootsuite and We Are Social, 63% of the SEA population use the internet, putting the region ahead of Eastern, Central, and Southern Asia.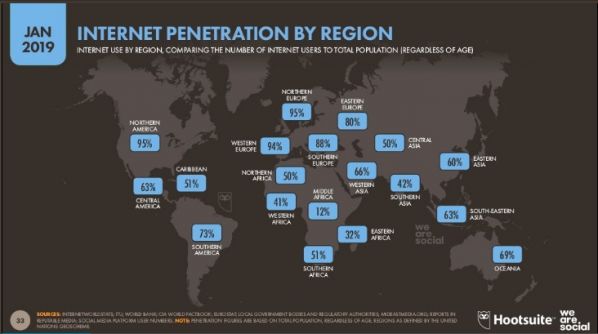 Also, the SEA's e-commerce big players—Lazada, Shopee, and Tokopedia—contribute to the growing e-shops in the region. It is no doubt that these leading platforms greatly impact the rapidly increasing popularity of e-commerce.
How to keep up with this trend?
Since more people are dipping their toes in the e-commerce field, you must take a step ahead in bringing your brand to life.
Learn to use technology to your advantage.
Incorporate tech features in your website to provide customers with a personalised shopping experiences. Many e-commerce stores have developed "virtual try on" for their products so that customers can shop in the comfort of their own homes.
Sephora's app has a Virtual Artist feature which allows you to try on makeup without visiting the physical stores. It is a time efficient way for customers to shop on the go, and it also solves the problems of customers who need to see and test the product when they're unsure of the actual effect and suitability of a particular product. 
Trend #3: Evolving Customer Journey
Business trends across many industries can change rapidly, and so do customer expectations. As customers' shopping behaviour changes over time, it's important that businesses models can capture and grow in tandem with these shifting expectations.
This is especially so for Southeast Asian customers, whose shopping journeys are becoming increasingly complicated. While most of them shop online, a significant portion of them also research offline before purchasing online.
According to Forrester, SEA consumers' shopping journey is a mix of online and offline touchpoints. Xiaofeng Wang, Senior Analyst in Forrester pointed out that they frequently research products and services on mobile phones, compare prices, look up product info, read customer reviews, and scan QR codes, to name a few.
Examples of such significant offline channels that customers go through are telephone, coupons, loyalty card, click and collect scheme, and so on.
How to keep up with this trend?
With customers in the region using varied channels for interaction, it's crucial to bring align the customer's online and offline shopping experience.
One way to do so is to implement an omnichannel marketing approach.  This will help make your brand a most trusted product supplier or service provider. Doing this also further increases the possibility of getting customer retention.
The Takeaway
Southeast Asia is a part of the world where mobile phones and the Internet are no longer just wants but needs—and this could also explain why e-commerce is booming in the region.
If you're thinking of starting an e-commerce business in the SEA, it's not too late to do so. Getting into e-commerce could greatly benefit your business especially in times like a pandemic. Of course, you'll ultimately need a strategy and a high-performance website or mobile app to stand out in a crowded field.

Are you primed to ignite a powerful online presence? Our E-commerce Development Services are not only captivate and inspire your audience but also propel them to take action. Let us be your partners in achieving online excellence through cutting-edge technology. Set your digital presence ablaze and lead the revolution today!