It is interesting that the business owners I meet even today, in the age of smartphones, tablets, and smart watches, still pose the question – "Why do I need a business website?" Having answered this question countless times, I finally decided to put pen to paper – digitally.
A Merrill Research survey in 2013 showed that 82% of businesses with an online presence would recommend it to their colleagues – which I think is quite interesting. For some business owners, this endorsement from their peers is enough to get them started on their own business website. For those of you that need more convincing, I have come up with 11 more compelling reasons on why you need a professional business website.
1. A Professional Business Website Lends You Credibility
The first reaction when consumers learn about something new – your brand for example – is to whip out their smartphone and try to find it online. They will look at your website or your Facebook page just to see what other people have to say about you and/or read reviews about your products.
So what do business owners think about this? The same survey by Merrill Research from May to June 2013 found that 65% of small businesses (with 1-49 employees) globally decided on creating a company website to lend their business credibility.
In fact, a 2013 survey done by Weebly found that 56% of people did NOT trust a business without a website, with the number expected to have increased in the years since.
So what are the characteristics of a trust-inspiring professional-looking business website?
First, a mobile-friendly website is a must. With everyone using smartphones, having a responsive website shows that your business is current and even Google wants you to have it. Ease of use, use of professional images for products and good use of visual design elements are also important. What this basically means is that unless you have experience building websites, you should probably hire a web designer to get your professional business site made.
2. You Save Money Over The Long Term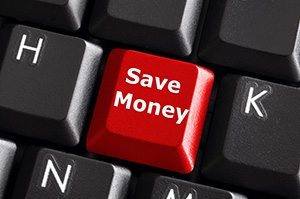 A lot of business owners take the "penny wise, pound foolish" approach when it comes to setting up a website for their business. You can easily set up a website using a website builder if you are the Do-It-Yourself type. As a business owner, however, that's not where your forte lies and it is likely your website will not look as polished. Your time can and should be better utilized focusing on sales and growth.
A well-designed and functional website done by a professional web development company may incur a larger upfront fee that will be outweighed by the long-term benefit to your business. A website does not need frequent major changes – which means it will serve as a brand awareness and/or revenue generation tool with immeasurable upsides (though with analytics on your site, you CAN measure these benefits). Most websites have low maintenance costs from as little as $20 per month.
3. You Get An Additional Marketing Tool
You can broadcast promotions and information about your business on your website. Easily proliferate this information via email to your existing customers/subscribers, via social media to your fans and followers or even to strangers you think might be interested via advertising on search engines and/or social media. All of this without leaving your chair!
This obviously does not mean that you forget your local area for marketing – online marketing should serve side by side with your offline (physical) efforts (get in touch to find out how) but having a website for your business greatly increases your marketing options and the probability of having your message seen by thousands more. This, surely, is not an opportunity anyone would want to pass on for the success of their business.
4. Your Website is Available 24/7
While your physical store has opening hours, your website works for you day and night – non-stop. It never goes to sleep. A visitor could go to your website at 2 am to check what time you're opening the next day and whether you have the item they want in store rather than waiting til 10 am the next morning to call and find out the same. This greatly increases the probability of them planning their trip down in advance and saves you the time of having to answer these calls and check your inventory manually. A customer wants to know when your next promotion is? It's on the website. Do they want to get in touch with some feedback? Do it via the website. They want to know what your latest product looks like and how much it is? You get the idea….

5. Your Business Can Go Global Digitally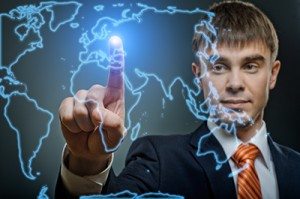 As a physical store or service, your business is limited by the footfall or traffic around your location. A professional business website opens up the entire world to your business. You can possibly be found by anyone looking for products or services that you offer through a simple search. Your business can become global – limited by your own logistics to deliver products or services – without leaving its physical location, just through having an online presence in the form of a website.
6. Gain Valuable Feedback
A website allows you to start discussions with your customers and get instant feedback from them, through a contact form, email or social media. Whether it's a complaint, a compliment or just general feedback – your website can facilitate better communication with your target audience – and how you react or respond to these can earn your business many more fans if it happens on a public forum like Facebook or via reviews left on your website.
7. Save Time While Providing Better Customer Service
As a business owner, you will notice many customers repeating the same questions to you. Take this as an opportunity to collate these questions and set up a 'Frequently Asked Questions', or FAQ, section on your website. Customers that find you online first will be able to have their questions answered quickly and feel you better understand their needs since you pre-empted their queries. You can personally save time by directing customers asking the same questions to your online FAQ and as we know, in business – time is money.
8. Your Competition Is Already Online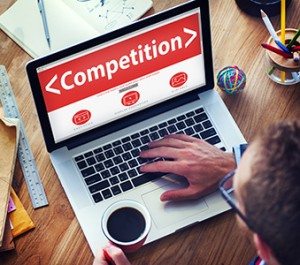 If your customers are not finding your products online, you can rest assured they are finding those of your competitors instead. While you debate whether or not you should get online, your potential customers are helping your competitors succeed.
Not convinced? A 2007 Webvisible & Nielsen study showed that 3 out of 4 people – that's 75% – use search engines, i.e. Google, to find a local business. If you sometimes see people walking past your store to your competitors' down the street, you can guess why. (psst… they found them, not you, online)
9. Get To Know Your Customers Better Than Ever
With analytics packages installed on your business website, you can get a much more informed perspective on the types of visitors your business is attracting. You can reach out to your customers much more easily with surveys to find out more about them, cater to their needs, and position your products better to serve them and improve your business.
Best part? Analytics and survey tools provide you with the data already crunched and collated for you to analyze, unlike your in-store offline surveys. If you have ever painstakingly collated hundreds of filled-in survey forms on paper, then you know the time and energy you stand to save! With technology these days, you can have a paperless in-store survey too via your website!
10. Measure Your Marketing Results
When was the last time you were able to measure the revenue your business generated as a direct result of the flyers you distributed on the street? With a website – especially eCommerce – and online marketing tools, you can now see EXACTLY how much you spent on advertising and what your return on investment (ROI) is. Measurable ROIs that will help you to make smarter, more informed decisions on the future of your business all starts with a professional business website.
11. A Business Website Is A Networking Tool
Add your website URL to your business card. Why? When I exchange business cards with anyone, chances are, I didn't have enough time to determine if our businesses have any synergy from the short conversation. What do I do as soon as I have the time? That's right – I go and check out the website address on their business card to find out exactly what they do. No synergy? No problem. I just saved myself a phone call and a coffee. Synergy? Great! Let me call the person up and set up an appointment!
In essence, your business website will work for you and do wonders for your business networking and growth.
Conclusion
As a business owner, you need to give your business every chance it can get to be successful. To ignore getting online with a website just does not make any sense. Let me know if you have any further doubts or more reasons besides those I've stated, through the comments below! And if you've reached the end of the article, then you've probably made up your mind about getting a business website. If you're ready for the next step, be sure to download our Article Bonus below – it's a checklist of questions you need to ask yourself before you hire a web developer!