Mission
1. Serve through conceptualizing, planning, and executing differentiated web and social media strategies for our customers
2. Shape an empowered community around the latest web and social media trends.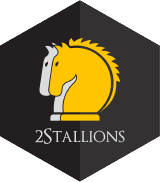 What We Stand For
Stallions are considered noble and spirited animals that last the distance and are a symbol of trust. 2Stallions (besides referring to the 2 founders of the company) also refers to 2 businesses – our clients and us.
In our logo, the gold stallion in the foreground is the client, and the white stallion in the background is us. This is significant because we work hard in the background for our clients, always one step behind them, doing all we can to help them to achieve their objectives.
The stallions depicted in our logo are also chess pieces known as knights, which portrays how we not only do what the client wants, but also think strategically for their business and how our work can push their business further.
Would you like to work with us?